Have you ever thought about the weather conditions so you can plan your day or week accordingly in advance? In that case, the best weather app for Android is an excellent idea. Relying on television news channels and newspapers is still considered a trustworthy approach. Yet, today's tech-savvy generation has solutions to almost everything within the limits of their tiny smartphones, and we are not complaining!
20 Best Weather App For Android To BookMark
The weather apps can help you decide whether you should step outside, or if you are stuck at a place, they will guide you by giving valuable information about when to expect clearance. You receive alerts about air-quality issues as well, and these apps only get as useful as you want them to be.
We have selected the 20 best weather apps for Android that will keep you regularly posted. You can customize them according to your preferences, pick from the multiple theme options available, and add them to your home screen as a widget. All the weather apps are obtainable from the Google Play Store. With a detailed look at the current weather patterns and minute-by-minute updates, be rest assured about not missing out on anything significant.
1. Arcus Weather
Arcus hyper-local weather forecast gives you precise weather information by the minute. It uses the Forecast.io API to retrieve accurate and current weather data. The home screen widget comes with customizable data points.
You can use the best weather app for Android without location services. If there is a danger or severe weather condition, Arcus sends out alerts. If you buy the Pro version, the additional features include no ads, ten custom locations, touch to refresh from a widget, etc.
2. Weather Forecast
Weather Forecast is an excellent weather forecasting app that uses your location data to weather updates in your area. It works in all locations around the world. It searches for your address and displays the current temperature in Celsius and Fahrenheit. Weather information such as temperature, wind, humidity, dew point, precipitation, visibility, pressure, sunrise, sunset is also displayed.
The best weather app for Android supports geo-positioning and retrieves the latest information in your area. You can add and track the weather info of multiple locations. There are chart graphs for hourly and daily forecasts. You can set the lock screen to show live weather information.
3. 1Weather By OneLouder
1Weather is the best weather app for Android, which boasts a simple and elegant interface. Users can track and view real-time weather updates by choosing the location manually or enabling their current location.
You can access graphs, precipitation forecasts, maps, weather facts and videos, severe weather alerts (U.S. Only) from the National Weather Service (NWS). Graphs are available on a 7-hour and 1-week basis. Maps can be viewed in full-screen mode with zoom along with terrain and satellite maps.
The weather layer includes radar, clouds, and severe weather. You can personalize it by creating your custom background.
4. AccuWeather
AccuWeather is one of the most popular weather apps. It is reliable and includes a combination of both basic and advanced features. The best weather app for Android comes with a feature called MinuteCast, where you can get precipitation forecasts on a minute-by-minute basis. It also displays current conditions at your location with a summary of other details, along with predictions of snow, ice, rain, wind, and probability of thunderstorms.
There are push notifications for severe weather alerts in the U.S as it can store an unlimited number of locations. You can keep an eye on approaching hurricanes through its new Hurricane Map feature.
5. YoWindow
The YoWindow app has the most exciting interface. If it's raining outside, it rains in YoWindow on your screen. Sunset and sunrise happen exactly as in real life, and real-time weather updates keep you informed. A single swipe will show you how the weather is going to change throughout the day.
The landscape changes beautifully depending on the season, and you customize the landscape to fit your mood best. The weather forecast for YoWindow is provided by yr.no and NWS. If you are looking for the best weather app for Android with highly customizable features, this one perfectly fits the bill.
6. Dark Sky- Hyperlocal Weather
The Dark Sky weather app has down-to-the-minute forecasts with real-time updates. For example, it issues warnings of whether it will continue to rain or stop. In the app's free version, you get the 24-hour forecast, current conditions, and weather maps.
The premium version of the best weather app for Android has added features including minute-to-minute forecast, notifications for rain, severe weather alerts, etc. You can schedule a daily summary for a morning weather report on your lock screen.
Dark Sky is currently available in the United States, Puerto Rico, and the United Kingdom.
7. Google Assistant
Google Assistant is already present on many Android phones. Although it is not a full-fledged weather app, it gives you weather information whenever you need it. Google Assistant updates users with useful information on the current weather conditions, alerts, and much more. You can simply ask Google Assistant, "Do I need an umbrella today?" for weather information.
If you want just some basic information about current weather conditions, Google Assistant is your best bet in addition to being absolutely free.
8. Local Weather Widget and Forecast
Local Weather Widget & Forecast has a beautiful widget and a fully-customizable digital clock and weather forecast. It has all the essential information you need, including current temperature, daily and hourly forecasts, sunrise and sunset time, and humidity. The wallpaper has a live weather background, which gives you a real-time feel of the current weather. This app also supports severe weather alerts and warnings about rain, storm thunder, and lightning. You can choose from multiple weather skins and live widgets.
Suppose you upgrade the free version to their Amber Weather Elite (Weather App Pro). In that case, you get access to advanced features, including extended weather forecast, simple moon phase calendar, moonrise, and moonset. The best weather app for Android has been downloaded by more than 50 million users worldwide and boasts an excellent Google Play Store rating.
9. MyRadar Weather Radar
MyRadar is one of the most popular weather apps. The best weather app for Android has a radar map to show weather conditions. You can pinch/zoom the map to check the weather anywhere in the United States. The animated display shows you whether the rain is headed towards or away from you.
MyRadar is simple to use in its free version, and if you want some extra features like hurricane tracker and other radar, you could go for the upgraded version. The professional radar pack allows greater detail from individual stations.
10. NOAA Weather Unofficial
NOAA Weather Unofficial is not affiliated with NOAA or the National Weather Service. The app's various features are forecasts, animated radar, hourly forecasts, and current conditions. The user interface of the best weather app for Android is simple, intuitive, and easy to use.
The app uses point forecasts from the National Weather Service (NOAA/NWS) and is only available in the United States. You can track multiple locations with this app. There are no severe weather alerts, but you can see a red warning icon in the corner in case of a crisis. You can customize it with different-sized widgets.
11. Appy Weather
Appy Weather is relatively new and still manages to classify as the best weather app for Android devices. It includes all the basic features you would expect in a weather forecast app, but the presentation style and simplicity make it a current favorite. The user interface is fun and fashionable. The app enables you to have a personalized feed, and you can customize what you wish to see daily.
The hyperlocal weather forecast feature ensures accuracy. The minimalist design makes Appy Weather suitable for the elders who don't want tons of unnecessary features. With exceptional ratings on the Google Play Store and several positive reviews by credible sources, Appy Weather has become the go-to option for many. Get your hands on the award-winning app and never miss out on any weather update.
12. Weather by WeatherBug
WeatherBug has been in the market for a long time now. It is the best weather app for Android, which is trusted by millions of users. It features fast weather alerts, real-time weather conditions, hourly forecasts, and 10-day forecasts.
WeatherBug includes 18 weather maps like Doppler radar and additional information on satellites, lightning alerts, precipitation, local temperature, local pressure, and wind chill. You can customize it by setting your favorite language from English, Spanish & Portuguese.
13. Carrot Weather
Another new app to make it to our list, Carrot Weather, is robust and keeps you posted using unique and hilariously twisted methods. The best weather app for Android devices, Carrot Weather, includes sarcastic and witty quotes and delivers forecasts and updates in unexpected ways. There is always a surprise element involved, and we will give the app full points for creativity.
You get hourly updates, temperature details, and accurate meteorological information powered by the global weather API service provider AerisWeather. The premium version gives you additional features like viewing the last 70 years' weather history and customizable home screen widgets. Carrot Weather overflows with personality and stylishly presents statistics on terrifying mists and torrential rains. You can pick from the 32 options available to set your location and keep changing to view what's happening on the other side of the world.
14. The Weather Channel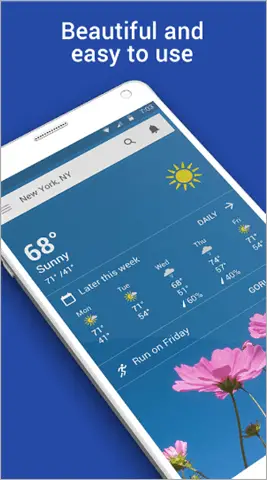 The Weather Channel is the most popular weather app and includes all the features you would expect from a full-fledged weather app. You can customize your screen with several beautiful widgets. The features cover the cognitive home screen, winter storm central, local & national forecasts, current weather conditions, weather maps, and plans for trips.
As the best weather app for Android, it sends many alerts: severe weather alerts, breaking news alerts, lightning alerts, daily rain alerts, and even pollen alerts. Other advanced features are GoRun forecast, 24/7 remote temps, weather widgets, and seasonal tools. GoRun Forecast is for those who like to run and need weather information before stepping out.
It answers questions like "When should I run?" "What should I wear?" "How far should I go?". This app is made for those who are looking for advanced weather features and free of cost. The Weather Channel is an excellent choice because of its great design and the incredible amount of information it offers.
15. Weather Underground
The Weather Underground app boasts millions of downloads, making it worthy enough to be classified as the best weather app for Android devices. Along with hyperlocal weather forecasts with interactive radar, it also includes satellite maps and severe weather alerts.
The other features include crowd reporting, National Weather Service Radio, health tile (monitor air quality, UV risk, & local flu outbreaks), customizable widgets, and much more. The free version has ads. The user interface is interactive and allows you to select from various weather overlays, including current conditions, animated radar, satellite, webcams, and severe weather.
The crowd reporting lets users report if they are experiencing weather conditions different from what the app is reporting. The hazard reports allow users to report hazardous road conditions.
The paid version costs $1.99 per year with no ads.
16. Overdrop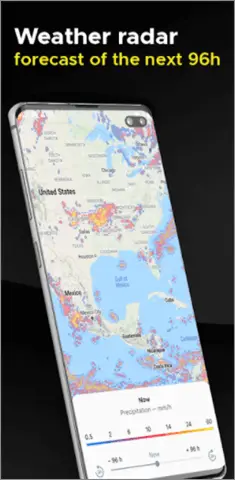 Relatively new, minimalistic look, and sleek design; Overdrop is the best weather app for Android devices. With an ever-increasing number of downloads on the Google Play Store and mostly positive reviews, Overdrop is slowly becoming a top favorite in the niche. Not too many redundant features but just the right amount of flashy attributes to give users an enjoyable experience, Overdrop is here to stay.
You get real-time weather updates and a 7-day weather forecast, enabling you to plan your week in advance. They have a 24-hour weather update feature, which is very accurate and ensures you take up the right tasks and errands to complete on any given day. Several widget options and six beautiful themes to choose from, customize the app as per your preferences and indulge in delightful glances.
Users get to choose from the three leading forecast service providers to bring them updates, details, and weather information. Receive comprehensive reports, severe condition alerts, and never get stuck in a storm.
17. What The Forecast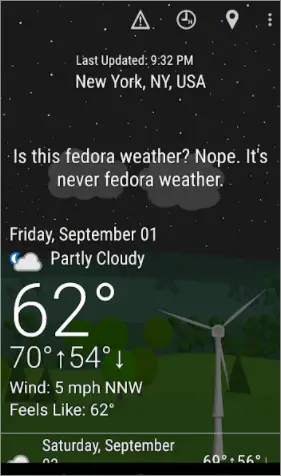 What The Forecast is the best weather app for Android, which provides highly accurate weather reports directly from the aforementioned AerisWeather, which is leveraged behind the scenes for several other apps as well. You get a daily forecast for seven days, along with hourly forecasts for 48 hours. You have options to select from U.S. (F) or international units (C).
The award-winning app enables users to indulge in text-to-speech technology for getting their weather updates. What The Forecast goes a step beyond offering the regular features by hoarding simple explanations of basic and complex weather terms. The app's background matches with the day's forecast, making the display a visual treat to the eyes. So, if the forecast says it will rain today, you will see either a heavy downpour or tiny raindrops on the app screen.
18. Yahoo Weather
The Yahoo Weather app comes with a beautiful interface and provides you accurate hourly, 5-day, and 10-day forecasts. It has details such as wind, pressure, and chance of precipitation.
The animated sunrise, sunset, wind, and pressure modules make it enjoyable to use. It makes it very easy to track weather information for all your favorite cities and destinations.
Scroll down for additional weather info, tap the plus sign to add cities up to 20, and swipe left-to-right to move between locations. With the best weather app for Android, you can keep a handy track of the weather conditions in all your favorite destinations and cities and plan your much-awaited trip accordingly.
19. Today Weather
Today Weather was released in the year 2017 and has made it to the Editor's Choice list in the best weather app for Android category. It is easy to use and boasts an intuitive interface. The layout is clean, colorful, and quick. You will find all the features expected in a regular weather app and some unique ones as well. Accurate updates, weather alerts, and 24/7 detailed forecasts, there is nothing that Today Weather misses out on.
You can refresh the temperature details every minute to check out the exact status anytime. You get your hands on sunrise and sunset time for any given day and view moon cycles. Avail of the customizable widgets and adorn your home screen with it. Check out the air quality index to decipher how polluted and contaminated the environment is in any city. The radar is gorgeous, and you get humidity updates as well.
20. Weather Live
Weather Live classifies as the best weather app for Android since it is downloaded by millions of users worldwide and boasts an excellent rating on the Google Play Store. The feature that stands out about the app is that it is highly customizable, so make it as per your needs. More often than not, people only wish to see the current weather status or temperature and are bombarded with other redundant details and information which is not required. This app solves the issue and allows you to see only what you wish to.
The in-build widgets give you instant weather updates, and users can check out the temperature status around the world in a glance. The app includes sunrise and sunset time for the nature-lovers accurate visibility conditions for people venturing out to drive. You also get information on precipitation and wind direction. Install Weather Live, rely on their updates, and adjust your schedule accordingly.
Conclusion
Our smartphones have always provided us with weather information, but things have only evolved for the better over the years. Pick the best weather app for Android devices and never miss any details by always staying updated and well informed. Be it a flash flood or a hurricane; these weather apps keep you posted, so you are never at the risk of exposing yourself to unexpected danger. Receive prompt alerts and stay away from a heavy downpour or other natural calamities.
From the basic ones offering just the right amount of features to some excellent apps that give users a unique set of attributes, we have got them all. You can customize the layout and add the weather widget to your home screen. Whether you are planning a long drive or hoping to complete an errand on the driveway quickly, these apps will always help you out. Pleasing to an eye with vibrant colors and an ever-changing display, according to the current weather, install one of these to meet your needs.
(Article updated on 21st January 2021)
Related: 25 Best Android Widgets That Give Faster App Access