When it comes to content consumption on the Internet, no medium of content can surpass the video. Be it educational, informative, entertaining, or for any other purpose, millions of videos are consumed daily across the globe. Video-making is an art, and so is video editing. Video editing is the need of the hour. There are many nuances to video editing, and the VideoProc Converter review is all about what users can get from it.
The name VideoProc is born out of the words Video and Processing. VideoProc Converter is an editing software that offers many features for making eye-catching videos. It is a one-stop-shop for video editing, trimming, converting, downloading, and recording any type of video.
VideoProc Converter Review: 4K Editing Was Never This Easy Before
Out of all the features that it offers, VideoProc stands out for simplifying the process of editing heavy 4K and 8K videos by providing a smooth and easy learning curve for beginners. This lightweight software has a straightforward interface and a powerful hardware acceleration support to process large-sized videos.
Before we get on with the review of this video editing software tool, it is essential to understand the perspective from which VideoProc views the term 'video processing.' Let's have a glance at it.
The New Definition of Video Processing, as per Video Proc
Video processing is an ancient term in electronics that describes how images are processed to create videos. However, VideoProc has coined a new definition of this term. This video editing software equates video processing with all the post-production activities of shooting, such as editing, decoding, encoding, compressing, and much more.
Why Should You Give VideoProc Converter a Try?
As we discussed before, 4K video editing can be an uphill task for beginners. Many video editing tools like Final Cut Pro X and Adobe Premiere Pro offer this feature, but the steep learning curve of this stool might reduce your interest in editing. It is this very issue that VideoProc aims to resolve.
Suppose 4K videos are incompatible with your browser or OS, consume too much space, or are difficult to upload and store on your device. In that case, VideoProc eradicates all these hurdles and allows you to perform all the operations with ease, irrespective of the device that you are working on.
Many tools often experience issues with video playback and quality. On the flip side, VideoProc offers technologies like Unique Auto Copy model and Deinterlacing to ensure every pixel remains unaffected.
Another common issue occurs when users try uploading videos to YouTube. Sometimes, videos get stuck and take too long to upload. In such cases, you can use VideoProc to downscale videos and adjust the bit rate and video size to speed up the uploading process.
Getting Started With VideoProc Converter
The installation process of VideoProc is easy to execute. Before the process begins, the software analyzes your device's hardware capabilities.
This analysis provides an in-depth overview of the features you will access when you use the software.
The main program offers four services, viz. Video, DVD, Downloader, and Recorder.
Video services contain all the necessary tools required to edit videos. The DVD converter service allows users to convert a DVD into digital video files, whereas with the Downloader, you can download videos from popular video-sharing websites. Along with it, the Recorder helps you record videos on a screen or via the webcam.
Video Editing Features
VideoProc Converter offers some great features for 4K editing for beginners. Let's see what the software has in store when it comes to the basic facilities.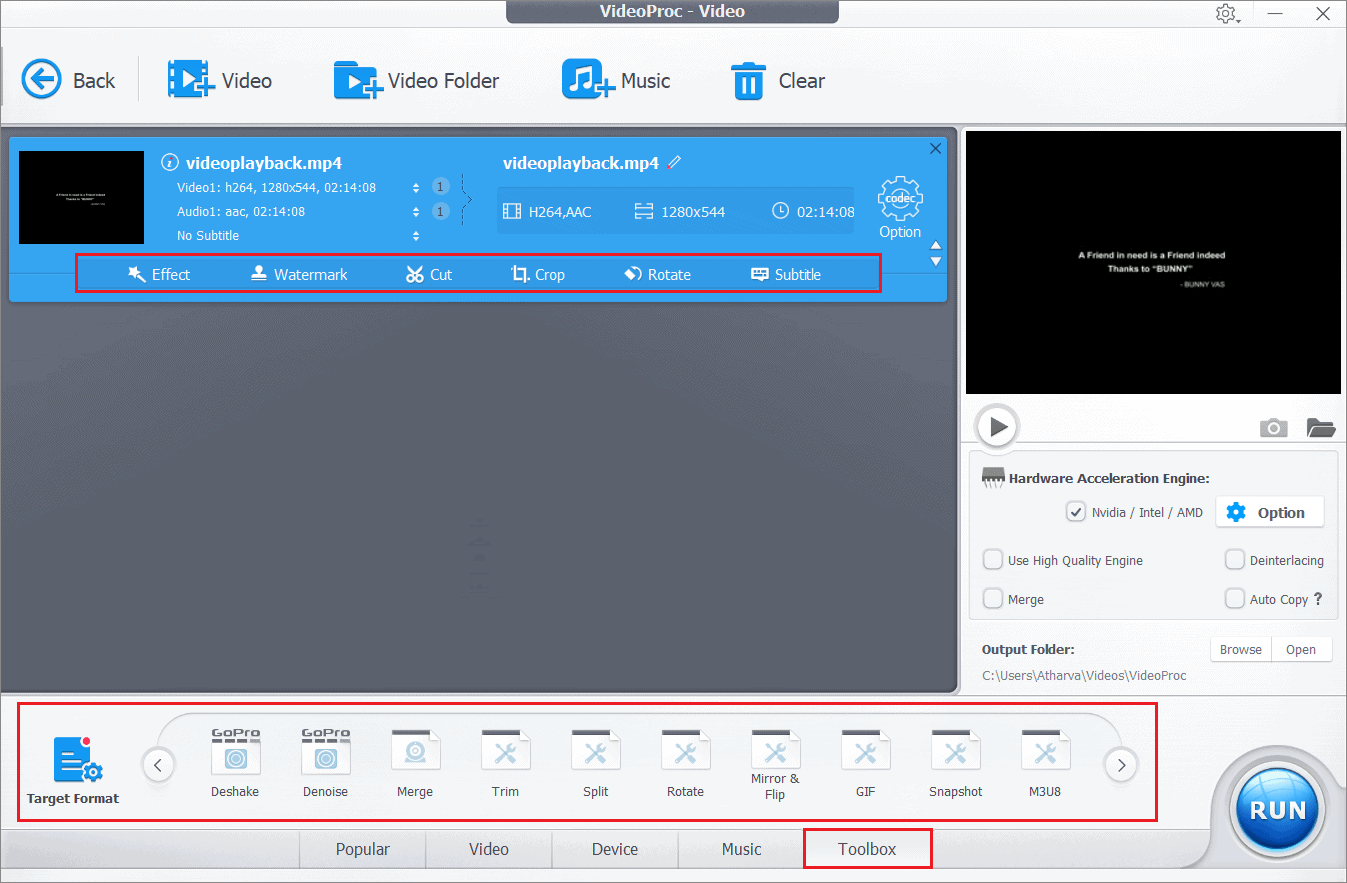 1. Cut – This feature allows users to cut out unwanted segments, rearrange videos, make short clips, and reduce the video size for YouTube
2. Merge – When we record video clips, we don't usually stick to a single video format unless necessary. With the Merge feature, you can combine videos of different formats like MKV, AVI, MOV, and much more to create your videos. This facility also allows the editors to adjust various factors like playback speed, video length, file extension, resolution, and more without worrying about A/V sync.
3. Crop – The Crop feature allows users to resize the frames and improve the video composition. If there are any unnecessary segments in your video, you can use this feature to cut them out and refine the video.
4. Effects – Effects are used to enhance the visual quality of an image or a video. VideoProc offers many good videos like Grayscale, Sharpen, Paint, Edge, Mirror, etc. You can also adjust colors by using options like hue, saturation, gamma, contrast, and much more.
5. Subtitle – Subtitles are an essential component of any video these days. Having subtitles allows users to watch videos in a language they don't know. With VideoProc, you can add subtitles to your video tracks. You can either upload the subtitles or even search for them online and then upload them.
6. Watermark – The Watermark feature allows the editors to authenticate their videos by adding text or logos to their videos.
7. Rotate and flip – You can rotate the video clockwise or anticlockwise and flip it as per your requirements.
In addition to the basic features, VideoProc has some impressive facilities in its 4K editing toolbox.
1. Stabilize – If your video is too wobbly, you can deshake it and stabilize it.
2. Remove Noise – This feature helps you eradicate the unwanted sound in your videos.
3. Make GIFs: GIFs are popular when it comes to social media conversations. With the GIF feature, you can extract images from videos and use them in conversations.
4. Make MKV – This feature allows you to convert your videos in the MKV format without changing the original settings of the video.
5. M3U8 – You can export the files as M3U8 using this facility and set the same segment duration.
6. Fix Fisheye – Editors can fix the fisheye distortion in their video using this feature.
7. Enhance video – Audio and video synchronization is a top priority while making videos. With VideoProc, you can enhance your videos and make sure the audio and video tracks are in sync.
8. Trim videos – Trimming helps you remove the unwanted segments at the start or end of your videos.
9. Snapshot – If you love a particular scene in a video, you can capture a snapshot of the same using this feature.
10. Split – This feature helps you divide your videos into multiple segments and work on them separately.
Standout Features for Large 4K/HD Videos
Compared to its competitors, VideoProc has many eye-catching features that will make you want to use this software at least once.
To begin with, VideoProc is the only video processing software that provides full GPU acceleration. The Level-3 GPU acceleration it provides encompasses hardware encoding, decoding, and processing. This feature enables a high compression ratio with a subtle pixel difference in the quality and no distortion. Video conversion of large files like an 8GB 4K video file is 16 times faster and does not affect the sharpness of the video.
VideoProc also has the ability to process videos taken from multiple devices like smartphones, drones, cameras, tablets, PCs, any 4K camera, and many more. It processes large-sized files like 4K/HD/Ultra-HD videos. Videos in 30, 60, 120, and 240 fps can also be processed smoothly. You can also process slow-mo, 3D, and VR videos. All these files can be edited and processed in formats like MKV, MP4, M2TS, HEVC, H.264, etc.
1. DVD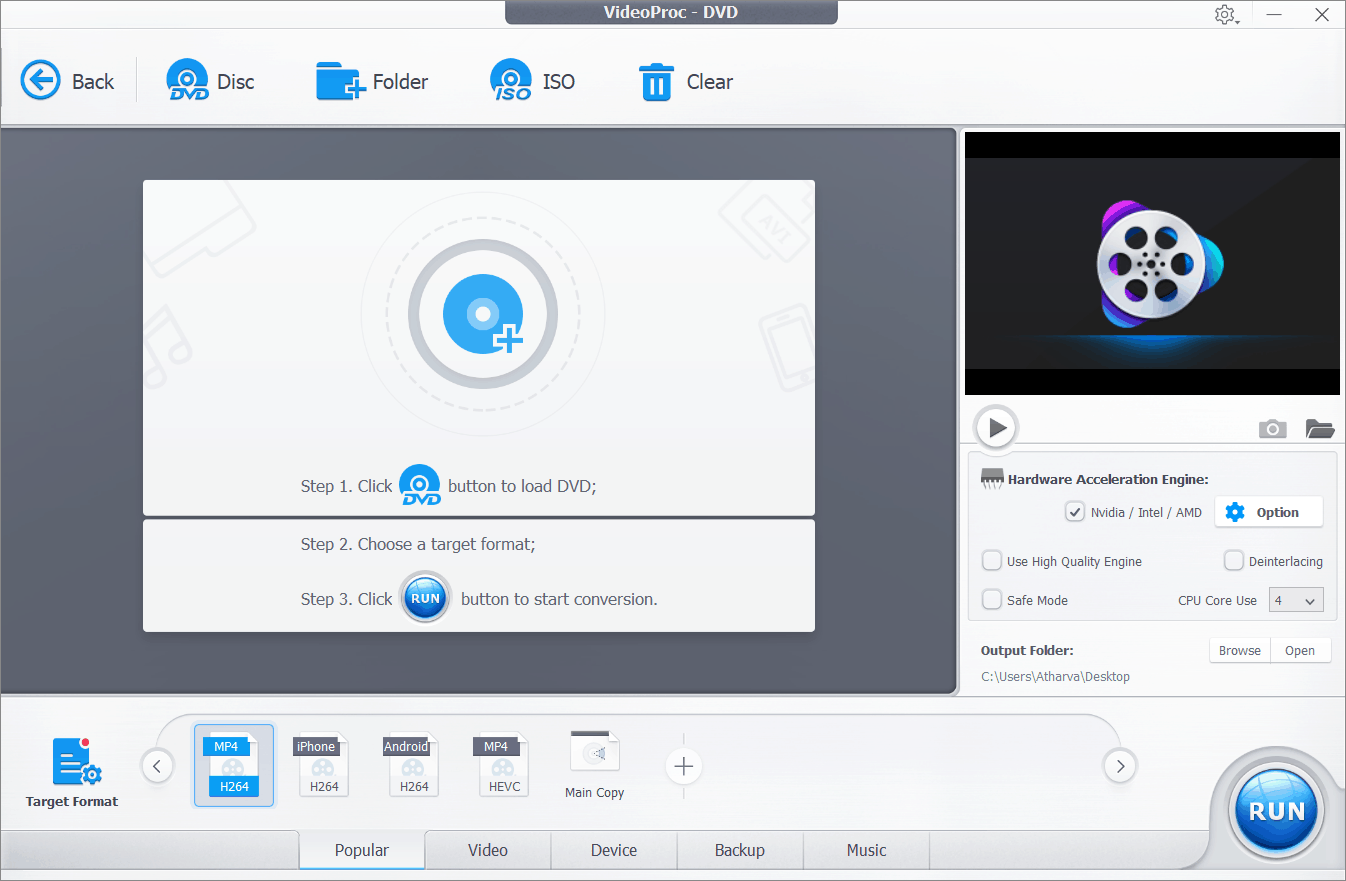 With the DVD converter, you can convert feature-length videos to multiple formats like HEVC, MVK, or any other format used on iPhone, Android, Tablet, etc. The DVD can also be copied in a 1:1 ratio without losing the original quality. Like the video converter, the DVD converter also has multiple profiles for conversion.
2. Downloader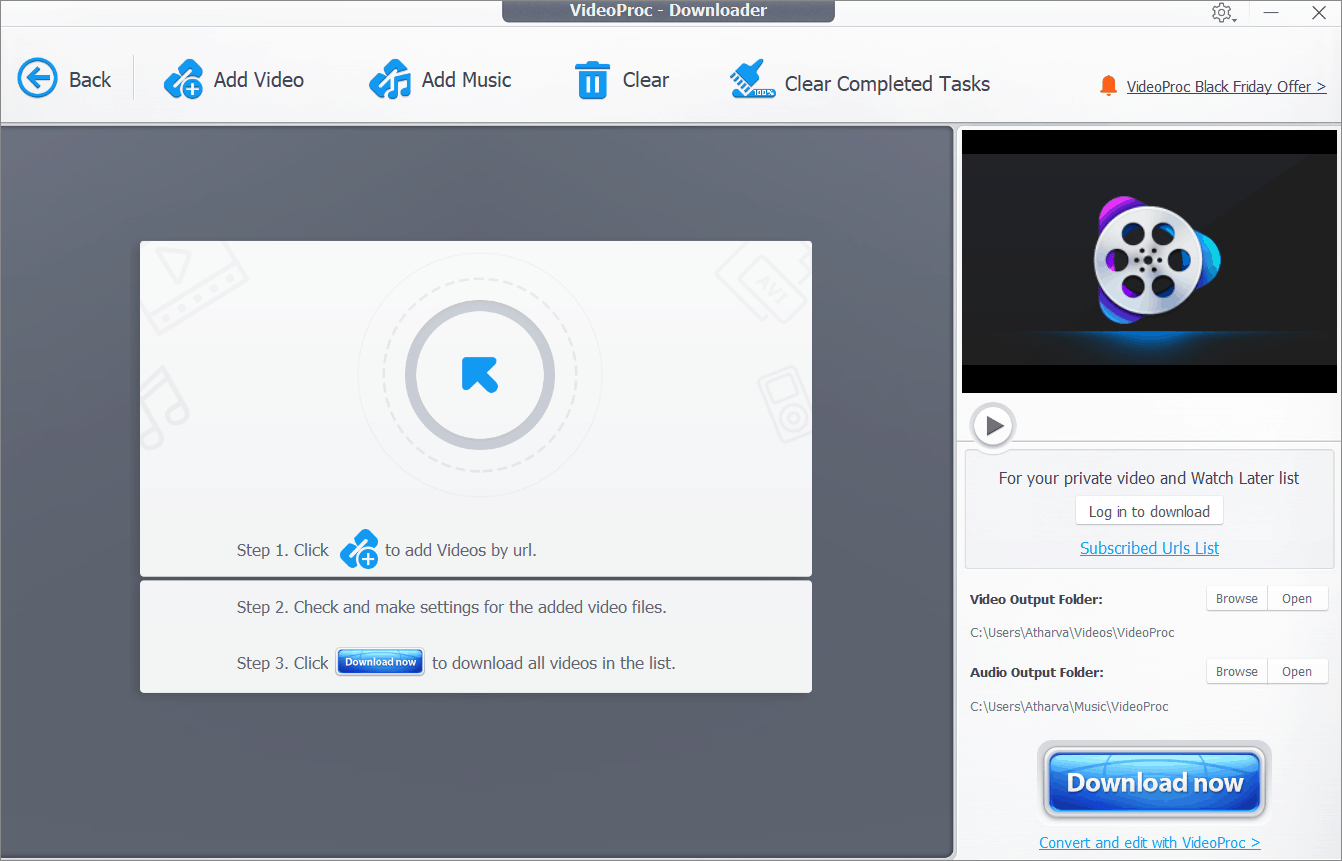 Having a video downloader in a video editing tool is not very common, but VideoProc makes sure it doesn't leave any of the essential features that editors may require. The built-in video downloader allows users to download video files from multiple sources like YouTube, Facebook, Instagram, Vimeo, Twitch, Vevo, and much more.
You can also use the GPU-accelerated media converter to convert the downloaded files into multiple formats like MP3, MOV, AVI, etc. VideoProc also provides live streaming features of games, news, events, etc. What's more, the proxy server in the downloader allows you to download content from any website.
3. Recorder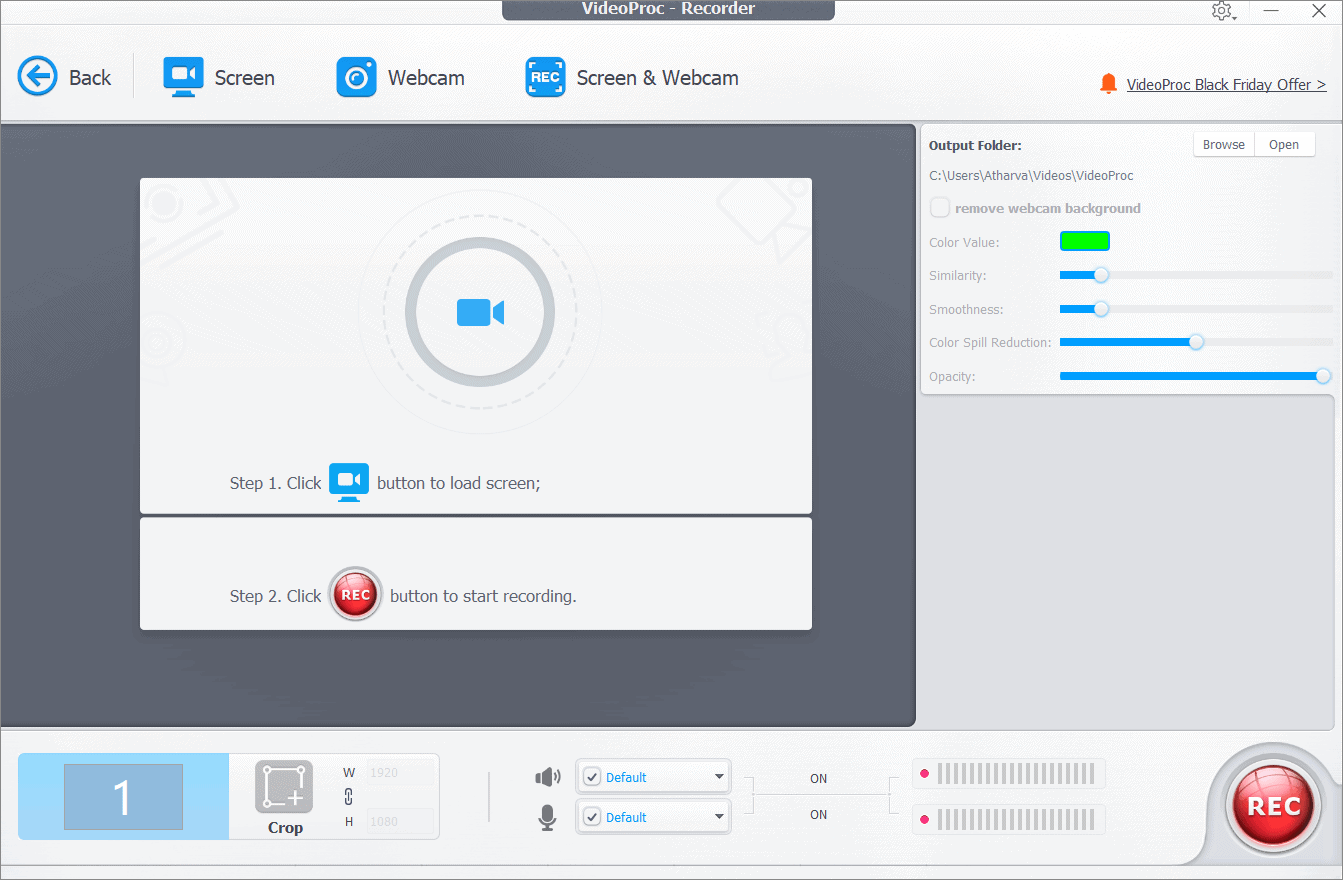 If you are a YouTuber, gamer, educator, or sports lover, this feature will tell you how VideoProc is the one-stop solution for all your requirements. The software offers a screen recorder to capture many things like gameplays, webinars, explanatory videos, presentations, etc. You can create content out of these recordings and use them to distribute to your audience.
The salient features of the screen recorder include three recording modes; you can perform a voiceover, record videos using a webcam, or create picture-in-picture videos. Various utilities will help you add or highlight content during the recording.
The Green Screen feature allows editors to remove the original background in the video and replace it with a digital background.
Audio & Video Converters
VideoProc offers powerful conversion features to create the video in your required file format, as is expected from a video editing software.
1. Video Converter
The Video converter offered by VideoProc supports 300+ input codecs and beyond 400 output codecs. It can convert 4K videos and also supports batch transcoding. Users can compress the video by 90% without compromising the quality.
The upscaling and downscaling feature allows editors to increase and decrease the video quality according to the device they use to watch these videos. The video converter also enables users to use multiple profiles for conversion.
2. Audio Converter and Extractor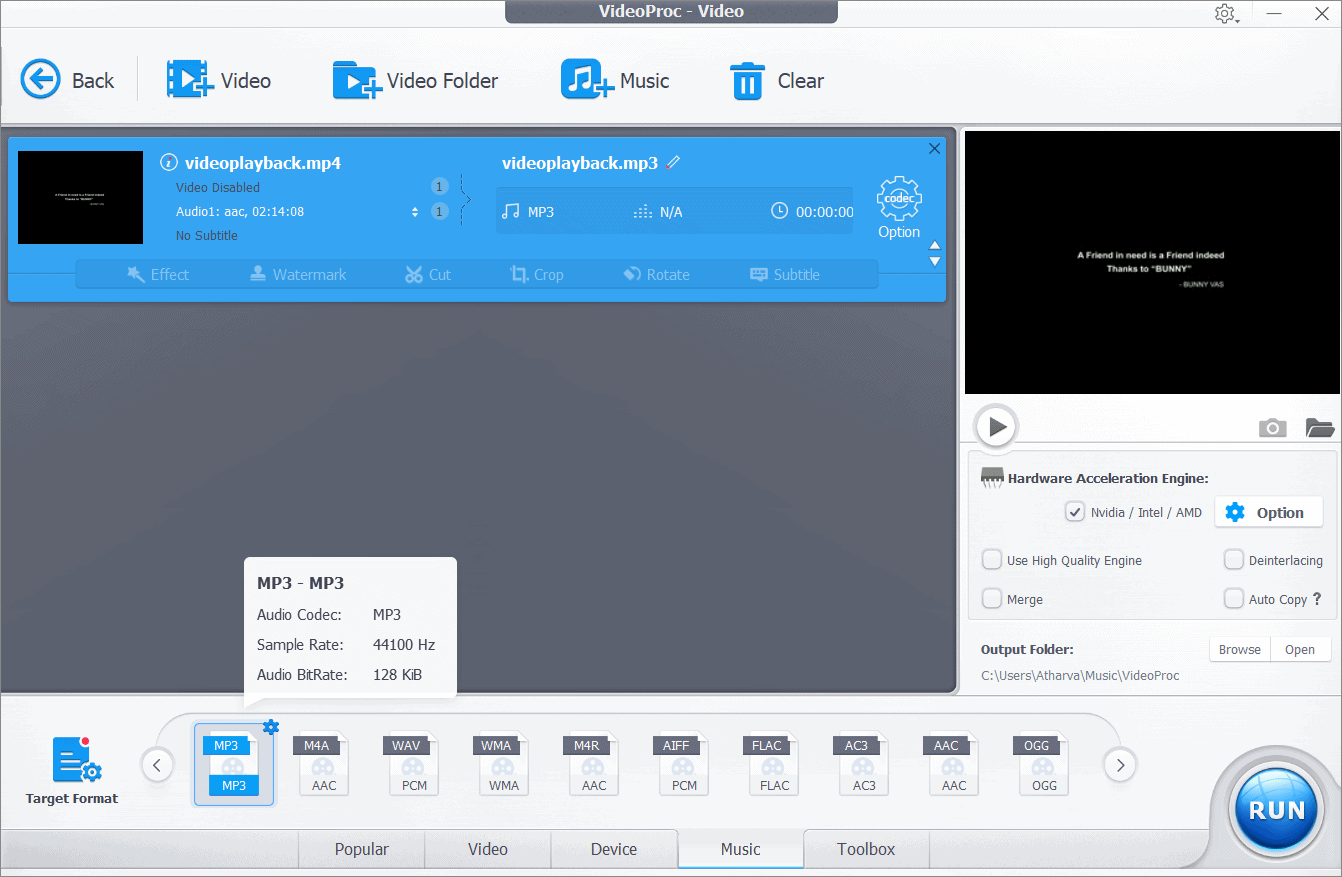 The audio converter and extractor can help you convert various types of file formats into the ones you want. It converts audio with 5.1 surround sound. You can also extract audio from a video file using this converter.
VideoProc Converter Uses In Different Scenarios
The beauty of VideoProc is that it is a multi-purpose tool; you can use it for the most basic or the most advanced purposes without having to worry about the learning curve.
On a personal level, you can use VideoProc for editing the video montages of your travels, footage of weddings, videos on birthday celebrations, pets, sports, and more. Editing with VideoProc also ensures quality videos for social media uploads.
For educational purposes, editors can use VideoProc to make how-to video videos, tutorials on various subjects. Language learners have the facility to create MKVs to choose multiple audio or subtitle streams for study.
If you wish to use VideoProc for business purposes, you can watermark your videos to maintain authenticity and prevent content theft. Editors can also polish their video resumes and use the software to touch up any business presentation.
VideoProc vs Competitors
Any VideoProc review would be incomplete without showcasing a comparison of areas where this tool prevails over its competitors. Here's a brief comparison of VideoProc with some commonly used video editing tools like Handbrake, Microsoft Photos, and iMovie over several parameters.
1. Video Editing
VideoProc offers better features in many aspects of video editing when compared with its counterparts. This tool 370+ input video and audio codecs when it comes to editing a wide variety of video formats. On the contrary, Handbrake approves only video codec, while both iMovie and Microsoft Photos offer a combined total of 14 audio and video codecs.
Furthermore, VideoProc allows a UHD Input of 4K, 5K, 8K, and Ultra HD at 60 fps. iMovie and Microsoft Photos offer a UHD Input of only 4K. Apart from the usual features, VideoProc offers many advanced editing features like video effects, stabilizing, denoising, fixing Fisheye distortion, and many more; none of these features aren't found in Handbrake.
2. Video Control
VideoProc allows the editors to control various video factors, such as resolution, frame rate, bit rate – something that iMovie, Handbrake, and Microsoft Photos don't provide. You can also perform transcoding with the help of VideoProc.
3. Video Processing
Video Processing is one of the most important parameters for judging an editing software, and VideoProc doesn't disappoint in this area as well. This software provides Level-3 Hardware Acceleration. In contrast to this feature, iMovie only allows the GPU to render the interface and apple effects. On the flip side, Handbrake offers Intel QSV Acceleration.
VideoProc provides exporting and video sharing options for every possible platform you can think of; all SNS, UGC sites, emails, clouds, mobiles, etc. On the other hand, iMovie and Microsoft Photos cater to only essential platforms like Facebook, Instagram, YouTube, Vimeo, iTunes, etc.
In terms of video compression, VideoProc can compress a video file up to 98% without losing quality. Handbrake offers a compression ratio of 92%, while iMovie and Microsoft Photos do not have this feature.
4. Additional Features
With VideoProc Converter, you can download any video from any platform you want; it also provides features for screen and webcam recording. None of Handbrake, iMovie, or Microsoft Photos provide these additional facilities.
Learn To Operate VideoProc Converter
VideoProc is very easy to understand and learn; beginners can learn this tool in no time and get started with 4K video editing. To learn how to operate the software, you can visit its YouTube channel and learn the different functions of VideoProc in the form of short 1-3 min videos.
Where can VideoProc Converter be better?
Like every other software, VideoProc also has its own advantages and disadvantages. This tool allows users to test only a 5-min video file with basic features in the free trial in terms of the cons. As a result, users won't get a full overview of the 4K editing features in the trial version.
Next, there are a few more tools like collaboration, social media sharing, media, and brand overlay, and much more can be added to the software.
Pricing
License options: 1-Year for 1 PC | Lifetime for 1 PC | Lifetime for 5 PCs (Recommended)
View VideoProc Converter Pricing 
VideoProc Converter comes with three pricing plans. The One-Year License costs $29.95 for one PC. You get a free update within one year on availing of this plan.
The Lifetime License for 1 PC costs $37.95; you get a free lifetime upgrade facility and unlimited downloads of the free version. The Family License offers multiple licenses for up to 5 PCs and is available for $57.95. The same pricing applies to the Mac version too.
Conclusion
If I am to take one thing from this VideoProc review, it's this – VideoProc is very light, fast, and easy to use software for anyone. It is definitely the standout performer when pitted against software like Handbrake, iMovie, and Microsoft Photos. It is also great software to start with if you are a beginner, instead of using Final Cut Pro or Adobe Premiere Pro.
The plethora of features available for editing makes VideoProc a worthy software given the cost of its Lifetime and Family licenses. What's more, the presence of the powerful media converter and video downloader coupled with the screen recorder reduces the hassle for editors to use different software and tools for various purposes. This makes it especially easy for YouTubers, live streamers, and vloggers to reduce time in post-production activities.
If you are looking for video editing software, VideoProc Converter certainly deserves a try.
(Article updated on October 18, 2021)