Gmail is one of the most commonly used email services for email communication by many people worldwide. When we send email messages to our contacts, the interface shows our email address and name in the Gmail inbox of the recipient. However, if you ever wish to change it, you should know how to change Gmail name in a few simple steps.
There are two essential facts that people need to know before commencing with the methods. You can change your personal info and your username in Gmail without changing your primary email address. But, the only way to change email addresses is to create a new Gmail account. Unfortunately, it's not as easy as changing your phone number in Gmail.
How To Change Gmail Name In 5 Simple Steps
The process to change Gmail name is simple and lucid. It takes only a few clicks to change the username in Gmail settings under which emails are sent to your recipients.
How To Change Gmail Name
1. Open Gmail on desktop.
2. Click on the gear icon to open Settings.
3. Go to Accounts & Imports.
4. Click on Edit info.
5. Enter a new Gmail account name and save changes.

Details On How To Change Gmail Name
Now that you know the quick steps, let's take a look at the details with pictures for how to change Gmail name.
Note: The option to change your Gmail name in your Google account is only available on the desktop; the Gmail mobile app does not provide this feature.
1. Open Gmail on the desktop
If you are on the Google homepage in your browser, click on the Gmail tab situated at the top right corner of the page.
2. Open Settings
Next, click on the Settings icon that appears like a gear in the top right corner.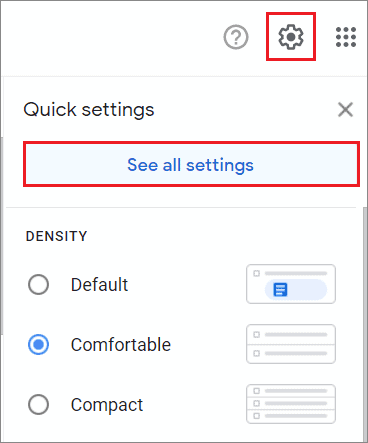 3. Go to Accounts and Imports
Now you are in the account settings. You need to find and select the Accounts and Imports tab in the menu bar.
4. Select 'Edit Info' next to 'Send Mail as'
Next, click the Edit Info button in front of the Send mail as section.
5. Enter the new name
A pop-up window will appear after you click on the Edit Info button. You can now change the old account name. Enter the new name you like in the field and select Save Changes to save the new settings. Your new account name is done.
Sometimes, you might get a message that says, 'This setting can't be changed for your account.' That is because the user has tried changing the profile username too many times during a short period. This error can also occur if the G Suite account admin doesn't allow you to make this change.
Unfortunately, the Gmail display name settings can't be tweaked using the Gmail app on a mobile phone. The setting to change the name is available only on a desktop.
Conclusion
Gmail is one of the most widely used email clients that offers several features for customization of emails. Gmail users can use this application to send an email message to their contacts for both professional and private purposes. However, if you have entered the wrong display name and wish to make it right, you can do that using the settings menu in your Gmail account.
The methods mentioned above will help you in knowing how to change Gmail name for your email account. Also, users can't change the Gmail address of a profile; the only way to do that is to create a new email account.