Home
Authors
Posts by Kyle Nazario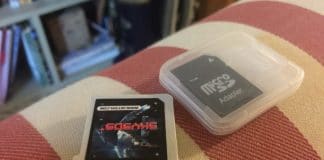 The Nintendo 3DS is five years old, but it's not too late to jump on board with Nintendo's handheld. It's had plenty of time to accumulate a large library of fantastic games.
If you'd like to try some of these games, there's an easy way to do so. Third-party resellers offer products called flashcards. These use external memory cards to store more than one 3DS game on a single cartridge.
For this guide, we'll use a Sky3DS, a flashcard that can cycle through multiple 3DS games. Setting up a Sky3DS can be difficult, especially given the confusing mess of guides out there written for different systems and versions. Here's what you need to know to have one 3DS card that can play as many 3DS games as you'd like.
It's finally here! We hit the short window where the latest version of iOS, 9.3.3, can be jailbroken. It's exciting and nerve-wracking and potentially shady and damn it I've already upgraded so no going back anyway.
This is a particularly tricky jailbreak to complete, so read this guide carefully before starting so you don't accidentally commit to something you don't want.
We laptop consumers seem to have decided that we don't need heavy-duty cooling on our electronics. As laptops get thinner and thinner, one of the first things to go is the fan.
That's why I was interested in trying out the Enhance GX-C1 cooling pad. It promises to be a clean, simple solution for keeping your PC cool. It's a pad built around four small fans and one large one in the center. It seems simple and effective, but is it?
Ads on the internet are annoying. Sure, sometimes they serve malware, but most of the time they're just in the way of you and...
Sometimes the best way to tell a story is without words. A good chart can visualize data without you having to do a ton of...
Steam is everyone's favorite DRM (Data Rights Management) system. It's fast, convenient and the gold standard in PC gaming. It's also a lot more powerful than you may realize.
There are features hidden in Valve's OS that you may not realize are even there. Here's how to take advantage of them and use Steam to its fullest extent.
I'm shopping for a gaming PC, and it's been a challenge. In the process, I've learnt a few things which I'd like to share with you.
Don't get me wrong, owning a MacBook Air is great. But OS X has never been great about gaming. Apple's sleek machines just aren't built to be power-hungry graphics powerhouses (outside of Mac Pros). Thus, the gaming PC.
Shopping for a gaming PC has taught me a lot. It's not easy to get into building your own computer, especially if you don't know how to do it right. Here's what I've learned so far.
I recently finished building my first PC. It was an experience, to say the least. Not a lot went right and I got it working by the skin of my teeth. Come to think of it, I'm still not sure that the thing came out of the process entirely undamaged. We'll see.
Anyway, let me save you the trouble and tell you how to put together the parts of a PC in a way that doesn't mess up your heat dispersion.
These are tips that everyone needs to know but a lot of the guides I found seemed to skim over.
It can be hard to stay within a budget, especially if you're not careful with how much you spend. It's hard to look at how much money is really going in and out of your accounts without checking through checkbooks (sometimes inaccurate), bank statements (too slow), or your bank's website (requires a PC).
The easiest way to track expenses is through a smartphone, and the best app I've found for that is Mint. It's available on Android and iPhone and it's pretty useful.
Windows is undeniably the best way to play games on a PC, but that doesn't mean you're left out in the cold on an Apple computer.
With more games ported to Mac than ever and a good external display, it's a great time to be a Mac gamer. Here are a few games (as of January 2016) you should try.