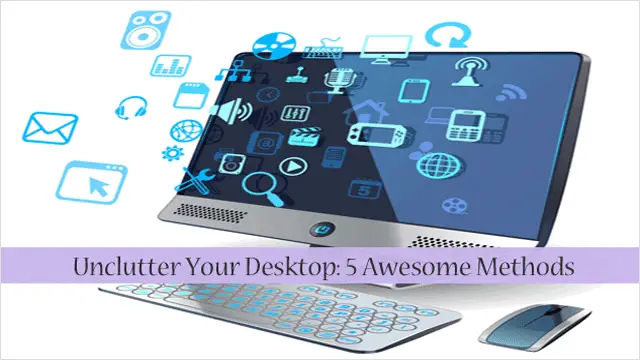 No matter what version of Windows you're using, chances are you've run into problems with your Desktop getting cluttered. This is a common problem, as so many things can suddenly make a mess of your perfectly organized Desktop, from downloads to installing new software.
While manually uncluttering one's Desktop has been the standard since Windows has been in existence, there are easier ways to go about cleaning it up, with shortcuts and software designed to help.
Our guide will outline 5 excellent ways to unclutter your desktop.
Pin Icons to Your Desktop
One of the easiest ways to make sure your Desktop stays organized and clutter-free is by making sure your Desktop icons stay in place, and one of the best ways to do this is locking them. To pin icons easily, you can use the F5 key.
To do this, first arrange the icons where you'd like them to be and permanently stay, then "press F5." This will lock all of your current Desktop icons in place. Otherwise, you can right-click your Desktop and click "Refresh" to lock them.
Enable "Auto arrange icons"
Windows also has a built-in "auto-arrange" feature that consistently cleans up the placement of your Desktop icons. To turn this feature on, right-click the desktop, select "View," and then select "Auto arrange icons."
You can also uncheck "Align icons to grid" in the right-click menu to help with auto-arranging your icons.
Use the Organizational Software Fences
For assistance from software to keep your Desktop organized, Fences from Stardock is one of the best options out there. It lets you put your icons into groups, which you can lock and move together as one. It also does a few other cool things like hiding your icons when they're not in use.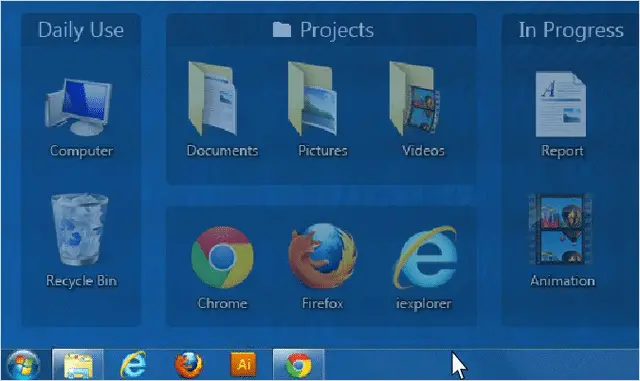 Unfortunately, Fences now only offers a trial version, however it's still a great piece of software for organizing your Desktop at only $10.00.
Download Fences
Streamline with Launchy
Another way to unclutter your Desktop is by using the application launcher Launchy, an open-source "keystroke launcher" application. What Launchy is a customized toolbar that can streamline how your Desktop looks, and it helps launch various programs, files and folders.
The downside to Launchy is that it can increase your CPU usage, however it can significantly cut the time it takes to open programs; that's the trade-off. Nexus is another great software tool for streamlining your Desktop by minimizing your icons.
Manually Unclutter and Organize
If you're more of a hands-on person, you can unclutter your desktop using a few simple rules. The first is to utilize folders as much as possible. Create an "umbrella" folder for several of your Desktop icons and store them there.
Also, remove any unnecessary program shortcuts you rarely use. These can take up a lot of real estate on your Desktop without you realizing it. The rule of thumb should be this – if you haven't clicked on the icon in the last six months, get rid of it or store it in a folder.
Conclusion
Having a nicely organized Desktop can be a great feeling. It can help you stay organized and clear of mind. Just remember – stay on top of the clutter before it gets too bad. Organizing a messy Desktop always takes longer than you'd expect.
For a beautiful way to organize your Desktop, check out our post – Customise Your Windows Desktop with Rainmeter