If you are an MBA aspirant or wish to join a business school, it is essential for you to get good scores in your GMAT examination. The GMAT exam is quite challenging, and getting a good score is one of the critical factors that decide your fate. But how do you decide the best GMAT prep course amongst so many GMAT classes and crash tutorials that are available online?
A detailed preparation, be it SAT prep courses or GMAT takes time and dedication. The GMAT examination evaluates students who want to enroll themselves in business schools and study business management. The computerized test deciphers your ability, thereby making it essential for you to learn from the best.
How to Select GMAT Prep Course: Factors to Consider
GMAT scores often end up determining whether you will receive fellowships and scholarships or not. Taking professional help, thus becomes mandatory. Which one to go for – Manhattan prep GMAT or Magoosh GMAT class? The Kaplan GMAT course or the Veritas GMAT tutorials? With unlimited choices, it is definitely not easy to zero down the best course.
In such cases, you must consider some factors before fixing on the best GMAT prep course:
Price: GMAT classes can be very expensive. It is, therefore, ideal for picking a course that suits your budget.
Improvement required: There are various free practice tests available online. Take one of those to check where you stand. If your score is not that good and needs to be worked upon, taking an online GMAT prep course should be ideal.
Study discipline: GMAT preparation courses are best for students who feel they will have issues maintaining a study schedule. The structure of the best GMAT courses inculcates discipline and routine.
Need for encouragement: GMAT prep courses have excellent instructors. Whether online or in-person, they can be a great source of motivation, encouragement, and feedback.
Learning style: If you are used to self-study without any problem, the correct GMAT prep course should be the best plan.
14 Best GMAT Prep Course – Prepare Yourself
The majority of the MBA programs will check your GMAT score as a part of the initial screening during the admissions process. As online courses are extremely popular, we decided to assist you and further help you decide. We have shortlisted the best GMAT prep course options that will help you come out with flying colors.
1. GMAT Prep Program from The Princeton Review
The Princeton Review has been offering students the best GMAT prep course options for nearly four decades now. The panel of instructors includes top GMAT scoring experts. They guide students on how to excel in the test by coming up with exceptional strategies. Students can either opt for classroom learning or choose to learn at their own pace.
You get to understand the test pattern thoroughly. The explanation sessions are very detailed, and various online tools help you in your preparation. Practice exams and mock tests enable you to decipher where you stand. You can personalize your study plan and participate in mock drills. The instructors are available for one-to-one discussions.
The website offers four GMAT courses for you to choose from. They use an exclusive prep algorithm to make sure the students maximize their scores. What more? The website claims to refund the money you invested if you do not score high or are not satisfied with the course structure.
Ratings: 4.1
Price: Starts from $399
Check out GMAT Prep Program from The Princeton Review
2. GMAT Online Prep from Magoosh
Highly popular and promising, Magoosh offers the best GMAT prep course. The process of application is quite quick. You apply via email, receive the reply in no time, and start your class as soon as possible. This online Magoosh GMAT class prepares you very well and ensures that every student improves in all the weak areas. You learn all the concepts, get to know the possible pitfalls, and overcome each one of them.
Students can bookmark important topics and jot down points during the lectures. The weekly study planner helps you in staying motivated and organized. Smart feedback is an excellent feature that highlights your strengths and weaknesses. The Magoosh GMAT course includes a progress tracker as well. It comes in handy to check how far you have come from where you started.
If you get stuck anywhere, there is instant email assistance to clear your doubts. You gain real test experience because of the customized mock question paper. You can access the Magoosh GMAT tutorial on your phone or desktop. There is a dashboard that maintains scores of all the students so that you can check your progress and how have you fared in comparison to others.
No. of students enrolled: 236,000+
Price: Starts from $149
Check out GMAT Online Prep from Magoosh
3. GMAT Coaching from Manhattan Prep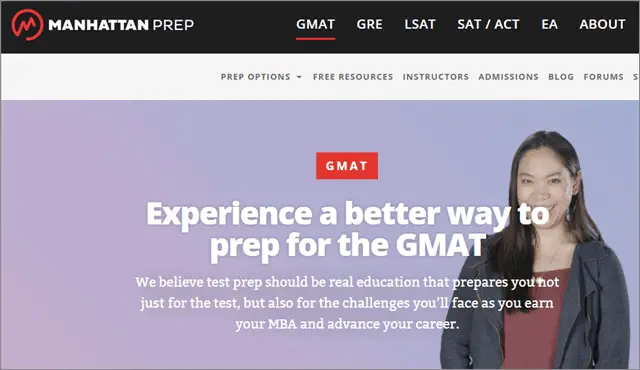 Anyone aspiring to learn more about the GMAT exam or build upon skills that they already possess, Manhattan prep GMAT is an excellent choice. The website provides you with blogs, forums, and practice tests. The best GMAT prep course addresses and solves every problem you might face during the actual exam. All the changes made in the official curriculum are frequently updated on the website.
There is an official guide tracker, and all the required content is available at your fingertips. Video guides for the crucial topics ensure that every student builds a solid foundation. There are several handy tips available that will help you on the final exam day. The top-level instructors have years of experience and teach you how to avoid making common mistakes.
The Manhattan GMAT prep website offers multiple courses, free events, boot camps, and workshops. The demonstrations are visually explicit, engaging, and fun. What more? Manhattan Prep is known for predicting the scores of the students with the utmost accuracy.
Ratings: 4.8
Check out GMAT Coaching from Manhattan Prep
4. Complete GMAT Prep Guide | Self-study Guide to GMAT 700+ from Udemy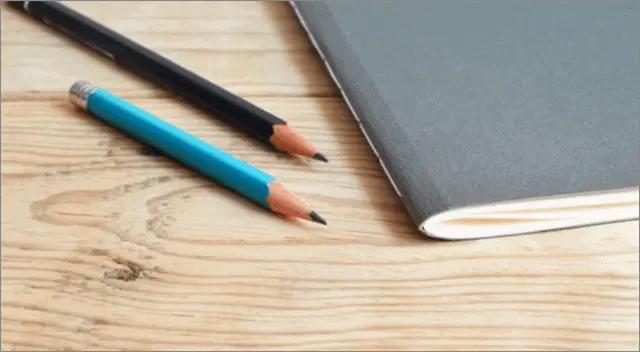 If you want to get a score of 700+ on GMAT and are clueless about where to begin from, this course from Udemy should be the ideal choice. The instructor boasts of a score of 740 in his first attempt and guides you through the tutoring process on how to deal with the nitty-gritty of the online exam.
There is an analysis tool used to measure your progress. You avail of the best practices that make your self-study approach fruitful. The best GMAT prep course boosts you up and prepares you well to deal with all sorts of questions. Potential problems and solutions are discussed, as well.
The tutorial is pocket-friendly, and the course structure is not overwhelming. Anyone in the hunt for a self-study GMAT course that is both comprehensive and consolidated must get their hands on this one. The preparation strategy becomes a cakewalk with accurate, concise, and the right amount of information available at your disposal.
Online course duration: 2 hours
No. of students enrolled: 260+
Ratings: 4.4
Completion certificate: Yes
Sign up for Complete GMAT Prep Guide | Self-study Guide to GMAT 700+ from Udemy
5. GMAT Prep Course from Kaplan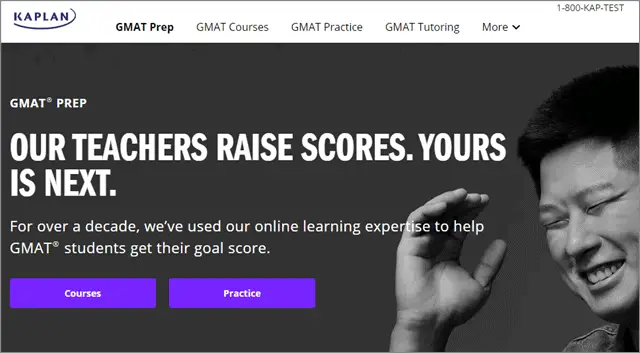 Kaplan GMAT course gives MBA aspirants a plethora of options. There are various kinds of GMAT prep classes to choose from. You can pick self-paced learning, practice courses, and live online tutoring. The curriculum is exceptionally designed. The high-quality coaching sees to it all students end up building a strong foundation. You also get to experience a mock GMAT exam with a similar setting and environment as the final day.
Students first learn the fundamentals. The difficulty level of the lectures and instructions gradually increases, thereby helping you to be comfortable with the pattern initially. The best GMAT prep course makes ideal practices available to ensure students get optimal scores. Kaplan GMAT prep classes assign separate one-on-one lessons for solving queries and resolving doubts.
Instructors share advice from their personal experience, and there are live instructions on the GMAT channel.
Ratings: 4.5
Check out GMAT Prep Course from Kaplan
6. GMAT Prep from Veritas Prep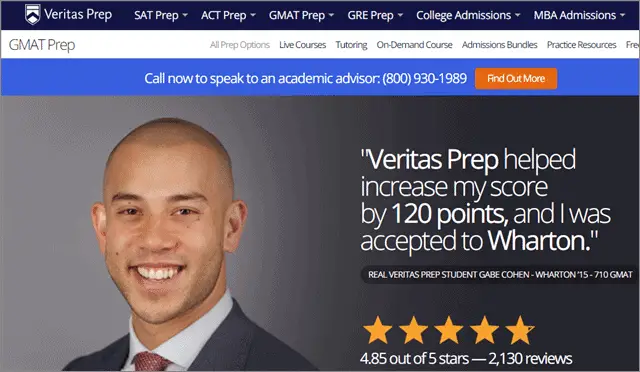 The Veritas Prep GMAT course is one of the best platforms to get trained for the online exam. There are myriad choices, so you can choose the best GMAT prep course that suits your style of learning. On signing up with the website, you get a free consultation session. This is extremely helpful in deciding the course structure that best fits you, and will be exclusively carved out for you. The admission process begins with this step.
Your study plan is curated, especially to bring out the best in you. This is the initial measure Veritas GMAT tutorials take to guarantee that each student gets optimal scores and comes out with flying colors. You learn and excel in the basics first. Next, you go to the complex topics and understand how to excel at solving practice questions. By teaching the art of rectifying mistakes quickly and with the help of regular practice, Veritas improves the performance quotient of every student significantly.
The lectures can be downloaded or viewed online. The content is accessible on iOS and Android smartphones, desktop computers, and iPad. What more? You also get live help from the tutors each time you are stuck.
Ratings: 4.8
Price: Starts from $699
Check out GMAT Prep from Veritas Prep
7. GMAT Prep Courses from examPAL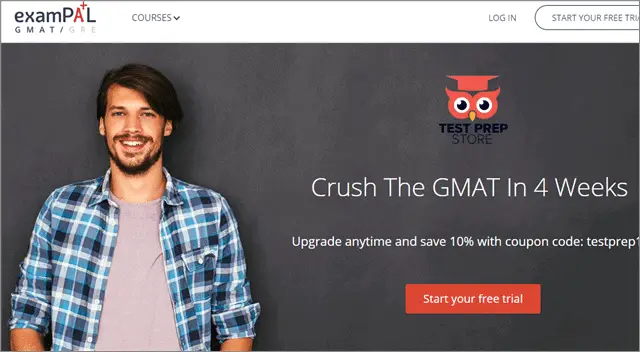 As soon as you open the examPAL website, you notice that they claim to help you crack the GMAT prep course in just four weeks. examPAL is ideal for anyone looking to get higher scores in the exam and is one of the best options available online. A thorough practice of the questions, combined with a similar pattern and time structure as the actual exam, ensures optimal scores.
You learn quick ways to solve complex problems. The website believes that every question can be solved in three consecutive ways:  precise, alternative, and logical. The best GMAT prep course is designed to keep this aspect in mind. examPAL guarantees that every student who takes up the course will improve upon his/her GMAT score and in the fastest possible way. They have various technologies and proven solutions to back this claim.
The instructors have more than two decades of industry experience. There are many fun quizzes and interactive videos available. You are given constant effective feedback. Apart from practice questions, examPAL offers strategies and solutions to build on your strengths and improve on your weaknesses.
Online course duration: 4 weeks
Ratings: 5
Price: Starts at $399 and offers a free trial
Check out GMAT Prep Courses from examPAL
8. GMAT Tutor from The Economist

The GMAT exam includes several sections. To get a high score, it is essential to excel in all the sections. GMAT Economist prep course ensures that every student improves upon the overall knowledge of every segment. Students get to focus on target areas and avail of handy tips that will help them in saving time. The Economist offers the best GMAT prep course since it uses adaptive learning technologies for developing skills.
There are in-depth sessions and realistic mock tests. The practice questions are very accurate and give the students a good idea of how they will be questioned during the main exam. The tutors ascertain the strengths and weaknesses and work upon them individually. The material is accessible across all devices. You can study anytime, anywhere, and on the go.
Your reading and comprehension skills are enhanced. Your vocabulary is strengthened. The website claims to return your money if they fail to improve your GMAT score. You also get a free subscription to their magazine.
Price: Starts from $785
Check out GMAT Tutor from The Economist
9. GMAT Test Preparation from e-GMAT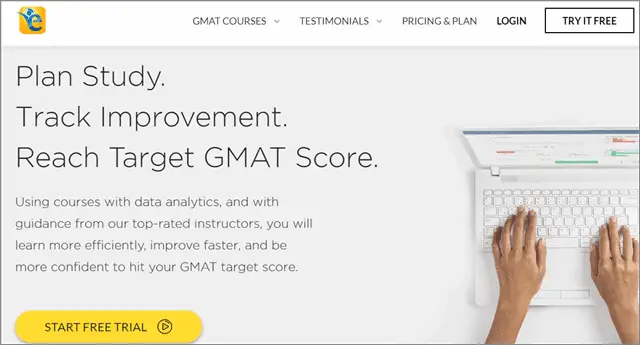 The instructors at e-GMAT are some of the best coaches who can prepare you exceptionally well for the online exam. Apart from hard work, they believe in smart education and smart learning. Guidance from people who are in the job for decades is always desirable. They use handy data analytics tools to impart knowledge. Their words shout experience and expertise.
Every fifteen minutes, there is a feedback session. You can ask your doubts and get instant clarification. The teachers also make you aware of the areas that need more attention. The study plan is then curated accordingly. The best GMAT prep course conducts mock exams. There are ability quizzes that predict your score.
Excellent repository of knowledge and strategy support make e-GMAT one of the best GMAT prep classes. What more? They track your improvement to keep an eye on how far you've come from where you first started.
Price: Starts from $249
Check out GMAT Test Preparation from e-GMAT
10. Dominate GMAT Verbal – Comprehensive GMAT Verbal Prep Course from Udemy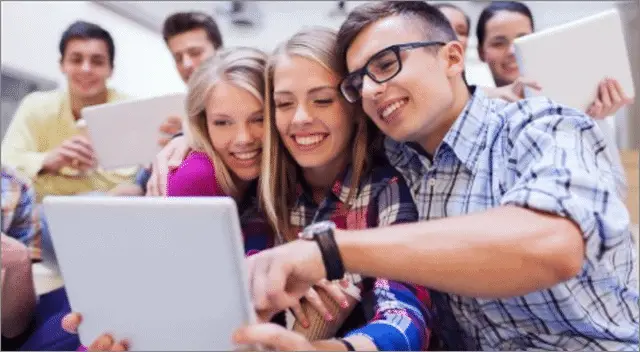 The verbal section of GMAT is most talked about. This comprehensive prep course from Udemy sees to it that you particularly excel in the verbal section. You get your hands on exceptional content, handy tips, and useful strategies to help you come out with flying colors.
You will be able to dominate the verbal section like a thorough professional. The best GMAT prep course develops your knowledge base and teaches you the art of overcoming and solving all sorts of questions. You excel in deciphering the right answers and reading comprehension passages. Pronouns, idioms, verb tenses, and critical reasoning, you learn it all. You also understand parallelism, subject-verb agreement, and modifiers.
Brett Ethridge has divided the tutorial into 36 well-structured lectures and is an excellent coach. If the verbal section of the GMAT exam is your area of concern, there cannot be a better course to brush up the skills.
Online course duration: 8.5 hours
No. of students enrolled: 8200+
Ratings: 4.3
Completion certificate: Yes
Sign up for Dominate GMAT Verbal – Comprehensive GMAT Verbal Prep Course from Udemy
11. GMAT Online Classes from EmpowerGMAT
EmpowerGMAT is a superlative source that helps you to prepare for your GMAT exam. They guarantee all students that there will be a significant improvement in their scores. The website claims to return the money you invested if the scores do not improve.
The video coaching sessions are led by industry experts. There is a customized study plan that focuses on your strengths and improves upon the weak areas. The duration is self-paced, so you can choose a timescale that matches your learning style in the GMAT prep classes.
There is prompt email assistance in case of any queries. EmpowerGMAT's curriculum is continuously updated, keeping in mind the latest changes in the exam pattern. You can access the content from anywhere and be ready to get your hands on rich content and tactical training.
What more? They let you try out the first hour of the course for free. If you like the pace and the method of teaching, go ahead and enroll for the best GMAT prep course. There are six different types of study plans for you to choose from.
Price: Starts from $99 per month
Check out GMAT Online Classes from EmpowerGMAT
12. GMAT Course from TargetTestPrep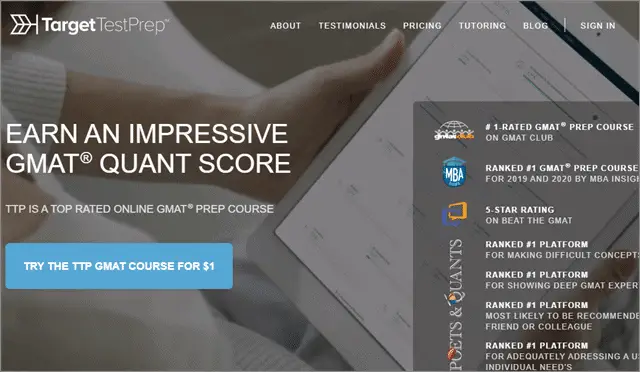 Are you confident about easily cracking the writing and verbal sections of GMAT? If yes, take up this best GMAT prep course from TargetTestPrep to improve your quant score. While the course we've listed primarily focuses on the quant section of the exam, the website offers private tutors who prepare you for the other sections, including verbal and integrated reasoning.
The online conferencing system ensures that GMAT classes are available worldwide. You get access to hundreds of HD videos on buying a study plan. There are three options to choose from in the GMAT prep classes. Every student receives live support and assistance. They have an effective learning analytics system that comes in handy to check every student's improvement and progress.
After completing one chapter, you are assigned a range of questions on what you just learned. The questions range in difficulty levels. Depending on how you fetch in these determine the plan of action and study structure.
Price: Avail of the 5-day trial period for $1/ monthly charges start from $99
Check out GMAT Course from TargetTestPrep
13. GMAT Preparation from 800score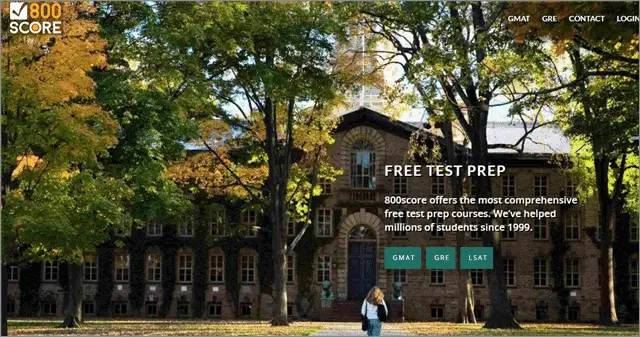 The website was founded in 1999, and ever since, it has helped millions of students to prepare for the GMAT exam. A popular choice for many MBA aspirants, 800score offers free resources. It is particularly famous in the United States.
The best GMAT course prep includes a 300-page guide that teaches you the verbal and math sections of GMAT. The study material is divided into handy bite-sized blocks. If you are confident about knowing a particular chapter very well, you can simply skip it and move to the next. This saves time, and you can focus on the areas that need more attention.
Apart from the written guide, there are hundreds of educational videos. The learning material is supported by visually descriptive instructions, animations, and graphics. These are very helpful in making you understand complex concepts and complicated GMAT questions.
The free GMAT preparation course makes available more than 200 questions replicating the exact GMAT-style. The GMAT prep classes come with video tutorials and explanations. Therefore, every student gains a complete understanding of the actual exam format. There are affordable paid options available if you do not want to avail of the free course.
Price: Free/ paid course for $24.95
Check out GMAT Preparation from 800score
14. GMAT Classes from PrepScholar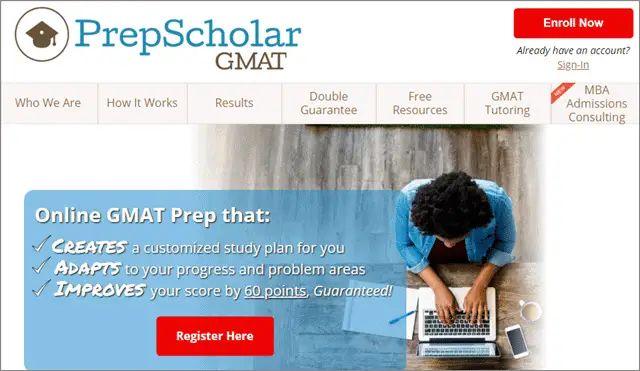 PrepScholar has a bunch of dedicated GMAT experts as instructors. The website ensures that every student will significantly benefit from the course and improve their scores. If your score does not increase by 60 points, they will refund you the invested amount. The best GMAT prep course also gives you a 7-day free trial. So, the double guarantee policy makes PrepScholar one of the most sought-after online GMAT prep classes.
The website uses a diagnostic assessment tool to ascertain the areas you excel in and those requiring special attention. This helps them in curating a personalized study plan for you. There are more than 800 practice questions, and the answers to them are described in detailed videos. You get your hands on strategy lessons and skill lessons. There is instant support provided via email.
Price: Starts from $139
Check out GMAT Classes from PrepScholar
Advantages Of Opting For GMAT Prep Course
The Graduate Management Admission Test (GMAT) is a computer-based exam conducted to test the students' aptitude for entering into a B-school. Here are the benefits of choosing the best GMAT prep courses:
Comprehensive study plans: GMAT prep classes will sharpen your skills and improve your craft. The innumerable options available make it easy for you to pick a tutorial that will help you in sticking to your customized study plan.
Simulates actual test: Mock GMAT prep classes simulate the real GMAT test. This is an excellent way to ascertain how well-prepared you are.
Identify strengths and weaknesses: GMAT covers a variety of topics. Until and unless you don't prepare for each one of them and check your scores, you will not be able to identify your strengths and weaknesses. The best GMAT prep classes give you a fair idea of the same with the help of advanced logistics. Discover the areas that need extra care and excel in those.
Score improvement: A good online GMAT prep course guarantees score improvement.
Quality instructors: If you opt for a GMAT course from a credible source, there will be qualified instructors with years of experience. They motivate and guide you. Their feedback is extremely crucial since you get to know the areas that require more work and the sectors you master in. Live tutors implement efficient strategies to put across points.
Conclusion
A good GMAT score increases the chances of landing in a top-rated B-school. However, you need hard work, dedication, and practice to achieve that. To ensure that your preparation for the globally-recognized online exam is up to the mark, you need to learn the nitty-gritty of GMAT from the top instructors. We've listed 14 of the best GMAT prep course options that you must check out to ace the exam. From Magoosh GMAT courses to Manhattan prep GMAT online course, from Kaplan GMAT course to Veritas GMAT tutorials, we have you covered.
All the platforms mentioned are credible online learning sources teaching students to master the format. Be it the verbal section, reasoning, or analytics; you gain a thorough understanding of the questions that will be asked concerning every niche. There are handy time management tips on how to time yourself well for the exam. The mock tests conducted during the GMAT prep classes help in deciphering your core strengths and weaknesses, and the study plan is created accordingly.