As the Kindle line of products becomes synonymous with reading ebooks, Amazon has done a wonderful job of evolving the Kindle devices. It has focused on making the user's Kindle library accessible to the user as easily as possible. Though a Kindle is awesome for reading, at times, you may not have it handy when you want to read a book from your Kindle library. That's where the Kindle Cloud Reader comes into the picture. 
Though it has been around for several years now, users still have many questions about it. We take a thorough look at this cloud reader from Amazon to address all the questions that a Kindle device owner or a Kindle library owner may have. 
Let's start with the basics and then dive into the usage of the cloud reader
What is the Kindle Cloud Reader?
The Kindle Cloud Reader is a free web app that you can use to access your Kindle books online from any computer or other devices via the compatible browsers. It enables you to access and read books from your Kindle library without having a Kindle device or another device with a Kindle app installed. 
Note that the Kindle Cloud Reader is also called the Amazon Cloud Reader. They are one and the same, and it is worth mentioning as the naming of products and services in Amazon's vast portfolio can easily get confusing. More on that later. 
How to Access the Kindle Cloud Reader? 
You can get to Kindle Cloud Reader from any laptop or computer that can run a compatible browser.

According to Amazon, Kindle Cloud Reader is compatible with the following browsers:
Google Chrome version 20 and higher on Linux, Mac, and Windows

Mozilla Firefox version 10 and higher on Mac, Linux, and Windows

Safari version 5 and higher on Mac OS X/iOS 5 or newer.

Internet Explorer 10.
You will need an Amazon account to use the Kindle Cloud Reader.
The first step to getting started with the Kindle Cloud Reader is to visit

read.amazon.com

.

Enter your email address and password associated with Amazon.com and click "Login." If you do not have an Amazon account, make sure you click the "Create your Amazon account" button to begin creating an account.

Once you are logged in, you will be redirected to the Kindle Cloud Reader.
Kindle Cloud Reader Set Up and Usage
Enable Offline Mode for the Cloud Reader
Once you log in, you want to enable the offline mode to get the most out of the cloud reader. Offline Mode allows you to have access to the Kindle books downloaded from your library when not connected to the Internet or 3G service on a device. Click "Enable Offline" to continue.


You might run into an error that says "unable to enable offline support" in the Kindle Cloud Reader and it might ask you to update your Chrome browser as seen in the screenshot below.




I did that, but it did not help. The simplest way to solve this problem is to go to the Chrome Web App Store and install the official

extension

manually. Then, refresh the cloud reader page and the pop-up asking to enable offline mode should not appear again.

Your Kindle Cloud Library and Downloaded Kindle Books
If your Kindle library is empty, the cloud reader will tell you so and prompt you to explore the Kindle Store.

Any books that you already have books in your Kindle Cloud Library will be shown in the 'cloud' tab.

You can download your Kindle books to read them in the cloud reader when you are offline. If you are using the Kindle Cloud Reader for the first time (on this device and in this browser), the download tab would be empty.

To download a Kindle book from your library to the cloud reader, right-click on the book and click on 'Download and Pin Book'.

This downloads your selected book, as well as any other book that you might have recently accessed.

Note that the downloaded books are browser-specific and available only in the browser in which you downloaded the books. The books would not be available even in another browser on the same machine. 
Access Your Kindle Book Highlights and Notes
As you read books on a Kindle device or via the Kindle apps, you inevitably start using the highlights feature. Amazon provides a simple way to access all the highlights from each of your books via your 'Notebook' where all of your notes and highlights are saved.

To access this notebook, click the 'Your notes and highlights' button in the top-left menu and it should open the notebook in a new tab with all of your highlights and notes organized by the most recently accessed book. 
Sync and Settings for the Kindle Cloud Reader
There are no real settings to work in the Cloud Reader. However, if you want to sync your purchases to multiple devices or check out the limited settings, you can click either icon in the left-hand bar at the top of your screen.

The settings only allow you limited options. Since you manage your library more through each title than you do overall, you can check out the help, terms of use and legal notices through the settings. You can also contact Amazon's Kindle service or Sign Out from your account here.
The only view settings supported are a tile or grid view for your books and a filter that can sort your books by Author, Title or Recent accent. 
Reading a Book in the Kindle Cloud Reader
The Kindle Cloud Reader reading interface is really simple with few settings and options for the user to worry about. While reading, scroll your mouse to the top edge of the reading pane to see the settings.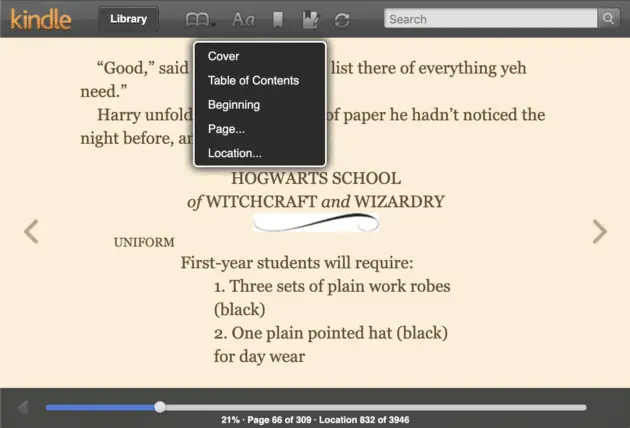 You have the navigation menu that lets you jump to the Table of contents, cover page, beginning of the book or a specific page or location. Then you have the view settings wherein you can customize the font size, color mode and column settings for the reading view as per your comfort.

You also have the option to drop a bookmark at the current page so that you can resume it later, view the notes and highlights for the book or sync your Kindle ebook info so that you can have everything from here available on other platforms too. 
Shopping for Books in the Kindle Store
Amazon tries to make it super simple to buy a book by providing options trying book samples or doing a 1-Click purchase. But the sheer number of options that the Kindle store provides can be overwhelming at times.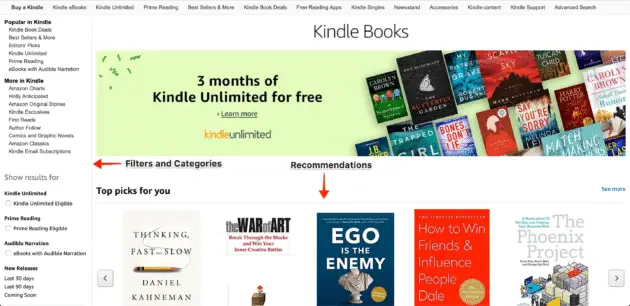 Few tips to get the most value from the Kindle Book store: 
Keep an eye on the Kindle Book Deals.

Explore Bestsellers list to get an idea about what others are reading. 

Read several reviews to get a fair idea about the book. (Warning: The reviews may contain spoilers)

If you are undecided whether to buy a book or not, see if a sample is available. 

Before buying a book, ensure that you have chosen the correct format. 

Check if you can get free or discounted add-ons like an audible book.

Select the device that you want the book to be delivered to. If you want to read it on the cloud reader, select the Kindle Cloud Reader to read it there almost immediately.
Any book you purchase is added to your Kindle Cloud Library and can be accessed via the cloud reader, or the Kindle apps for mobile devices, Mac and PC. 
How to Delete Downloaded Books From the Kindle Cloud Reader?
Removing books from the cloud reader is as simple as downloading them. Just right click on the downloaded book and click on 'Remove'. This will not remove the book from your Kindle library – just the local downloaded copy will be deleted.

What is Not Supported By the Kindle Cloud Reader?
Collections are not available
You can sort your Kindle books into collections – a feature which is very useful to keep your library organized as it grows. This feature, available on the Kindle mobile apps, is not available in the Kindle Cloud Reader. 
Hence, all of your books would be just be sorted and listed without any organization when viewed in the cloud reader. Don't worry about losing your collections though; they are not affected and would be available when accessed through a compatible Kindle app. 
Personal documents are not accessible
Amazon allows pre-approved email addresses to send documents to your Kindle devices. These documents are added to your library but they cannot be accessed from the cloud reader. 
Untangling Kindle-related Terminology
There are a number of services and products from Amazon that are related to 'Kindle' and it can make things quite confusing at times. Let's untangle these terminologies and see what each of them offer to the users. 
Kindle Devices like the Paperwhite and Oasis
The series of e-reader hardware from Amazon that has evolved over several generations to offer ever-improving ebook reading experience to users. These devices usually have a name and a version associated with them – with Kindle Oasis 3 being the latest one in the series.
Kindle Unlimited
The standalone subscription service from Amazon that lets you read an unlimited number of books per month, chosen from a range of over a million titles. One primary restriction you should know is that you can only choose to keep 10 active books in your library. To get a new title when you already have 10, you need to return one first. 
Kindle Unlimited is priced at $9.99 per month in the USA. It offers a free trial for a month and is not a part of Amazon Prime.  
Prime Reading
As the name suggests, Prime Reading is a perk for Amazon Prime subscribers that lets the subscribers read thousands of books for free. The catalog of free titles is periodically updated so Prime members get access to some fresh titles as well. 
Amazon Prime is priced at $119 per year or $12.99 per month in the USA. The first month is free and cancellation is easy. 
If you are unsure whether Kindle Unlimited or Prime Reading is more suitable for you, take a look at the detailed Kindle Unlimited review to read about our impressions about the service. 
Kindle Cloud Library
It is the library of your Kindle Books on Amazon's servers; hence the 'cloud' in the name. This library is not device-specific and can be accessed online via the cloud reader or via the Kindle apps. 
Kindle App
It is the free ebook reader app that, according to Amazon, is available on iOS, Android, Mac OS, Windows, and several other devices.
Amazon Cloud Reader
It is the same as the Kindle Cloud Reader – just a different name. 
Amazon Cloud Drive
Your online storage drive similar to Google Drive or Dropbox. This is not where your Kindle books are stored and has absolutely nothing to do with your use of Kindle books or devices. 
---
The cloud reader web app from Amazon is really useful to access your Kindle books and library from a computer that is not your own or any computer that runs Linux, Ubuntu or other operating systems that do not have a dedicated Kindle app. If you have not tried it yet, give it a whirl. 
If you are using a Kindle and have not checked out the Cloud Reader, you are missing out on an opportunity to stay connected with all your favorite reading material even when you do not have your Kindle in hand.
(Article updated on 5th August, 2019)