What is VR Tech exactly?
Virtual Reality aims to transform your regular desk space or your boring sitting room into an exciting space of your choice. To enjoy this unique experience, all you need is a headset, a platform or a set of props that VR (Virtual Reality) technology uses.
These can be plugged into a device like a smartphone or a computer among others and it transports you to a screen where the environment you want to experience or participate in, is created.
For example, while using Virtual Reality, you can be in front of a large virtual audience, practicing your speech; or walk through a snow blizzard or a sandstorm!
The VR technology helps to generate realistic images, sounds and other sensations which can make you feel you are physically present in an imaginary environment.
Platforms like the Gear VR and Oculus Rift are well-known to give you the most realistic experiences but they do come with a high price tag and if that's a deterrent then here's a list that you should definitely check out!
These are ranked among the best VR apps for Android and suited for small to medium budgets and are easy to download and use.
Also See: How to Set up an Oculus Rift Account with Samsung Gear VR
List of Best VR Apps for Android That Are Easy to Use
1) Google Cardboard App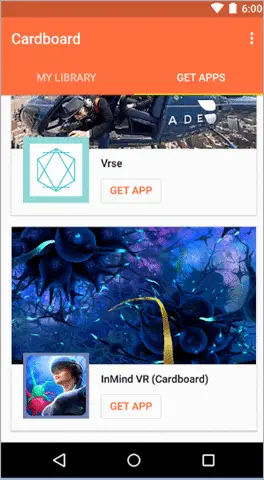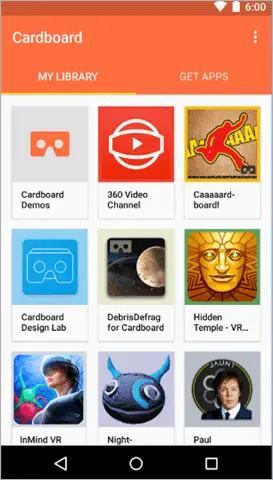 Heading this list is the  Google Cardboard app, one of the best VR apps for Android. Google Cardboard app puts virtual reality on your smartphone by helping you launch your favorite experiences, discover new apps, play VR games, and set up a viewer.
It gets its name literally from its fold-out cardboard viewer that the users can either build their own viewer from simple, low-cost components using specifications published by Google or purchase a pre-manufactured one. To use the platform, users run Cardboard-compatible applications on their phone, place the phone into the back of the viewer, and view content through the lenses.
It is the most cost-effective virtual reality viewer that turns your phone into a VR headset and the platform aims to serve a low-cost system to encourage interest and development in the VR applications.
(Would it help to describe the OS it uses?)
2) AAA VR Cinema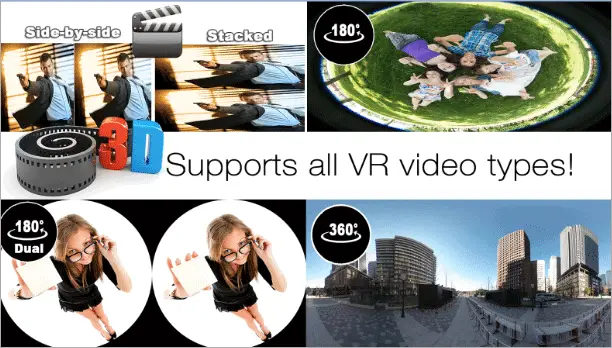 AAA VR Cinema is a VR video player and a cinema app for Cardboard. It supports unlimited video length. The graphics options of this app enable non-high performance devices to play video.
The 180-degree head tracking and 360-degree 3D help you watch videos in the VR without any interruptions. The resting head feature rotation allows you to lie on a bed and watch cinema.
It has tight integration with Google's gallery app where you can play video from the Gallery directly using the share button.
3) YouTube (The Essentials)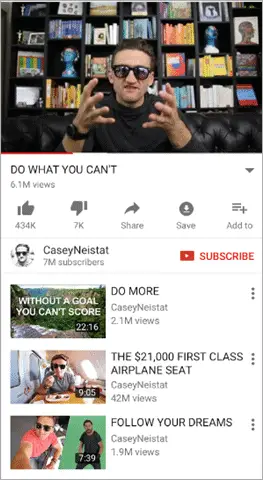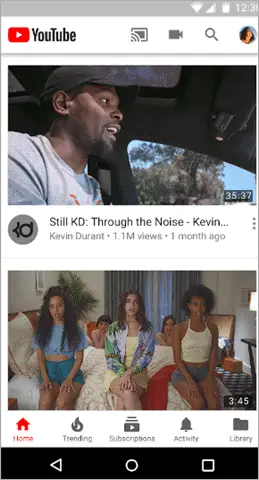 While we are talking about the best Android VR apps one can hardly miss out on the Mecca of all videos, the YouTube! With its vast collection of 3D videos, YouTube is a platform where the trendiest and most popular videos can be viewed. It also has a sizable cache of rare videos as well.
So simply log on to YouTube, subscribe to your favorite channels, share the videos regardless of the device you own. We promise you, you will have your very own ringside seat to the shows that you prefer to watch.
4) VaR's VR Video Player (The Essentials)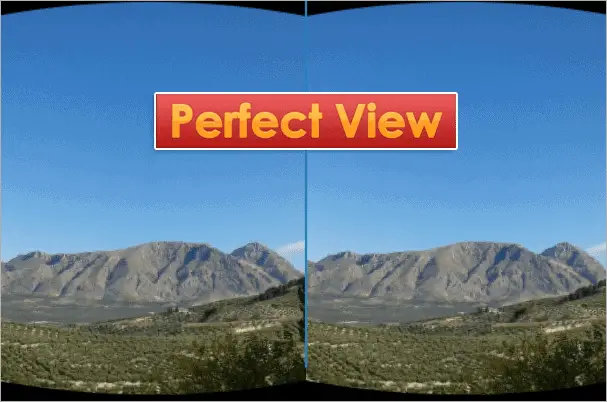 If you have a want to manage or access a huge collection of your videos then you need to take a serious look at the VaR's VR Video player. It gives you complete control of 3D videos while supporting almost all the popular formats.
It also boasts of featuring a perfect head tracking response and an excellent VR experience with real-time moves. Additionally, you can control display parameters, eye distance, lens correction, among other things to make your experience even more realistic.
For it to support all the modes like stereoscopic side by side, stacked, 180º and 360º, panorama 180º or 360º, among others, all you need is the Google Cardboard or a compatible Virtual Reality headset to use this app.
5) Expeditions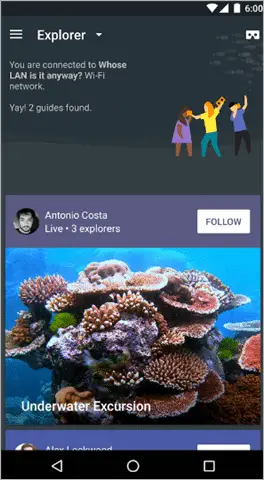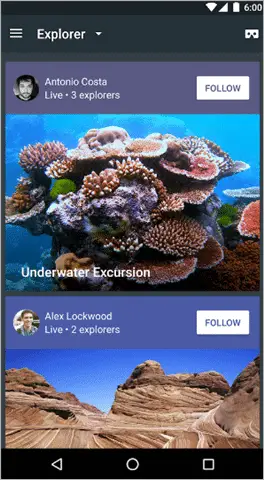 Want to make gaining knowledge an absolute pleasure?
Then you have to check you the Expeditions app. Popular more for its educational mission rather than entertainment, Expeditions as a teaching tool ranks among best Android VR apps, as it allows one to join or even lead virtual trips all over the world.
Imagine exploring historical landmarks or being mesmerized by spectacular underwater dives with sharks and other exotic flora and fauna!
The Expeditions app is useful for small study groups and if you happen to be a teacher with a small classroom then be assured your class will be ranked the most popular among your students for giving them the unique VR experience that spans a view of 360 degrees and 3D images.
There are over 200 expeditions where each one is a curated set of VR imagery with integrated descriptions. So simply connect your devices to the same WiFi network and enjoy!
6) Within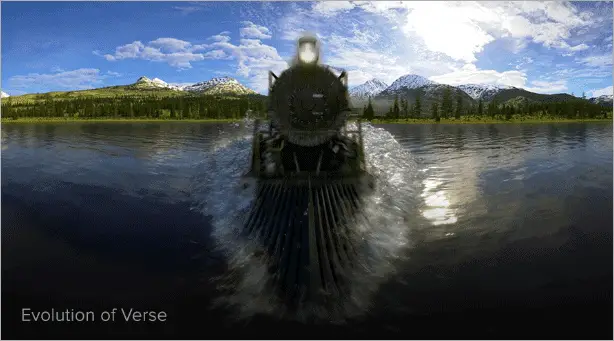 Within is basically a repository and a collection of some of the best VR content from some of the world's best VR creators. It lets you discover VR content from various genres like documentaries, news, etc. It even carries some popular series like Mr. Robot. One of the plus points for this app is that it works with Google Cardboard.
If you want realistic 3D spatial VR audio experience, Within is the platform to try! The use of headphone or earbuds is recommended to really get an immersive audio experience.
Within includes innovative, entertaining, and informative content from partners like Apple, The New York Times, NBC, Vice Media, etc.
7) Fulldive VR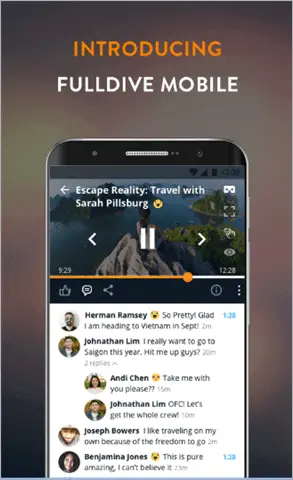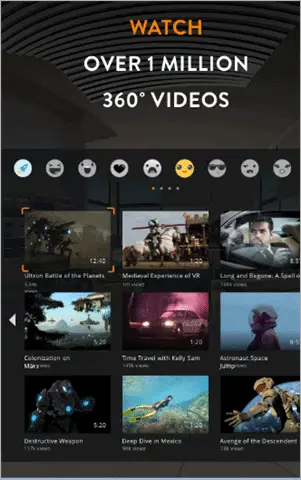 Fulldive is also highly ranked on the list of the best VR apps for Android since it also sports a huge collection of VR content. It is a user-generated VR content and navigation platform where you can choose to follow or keep track of what your friends watch, react and comment on.
Fulldive is also known to be a great browser where you can search and view modern generation of media like 3D and 360-degree photos and videos and you get to choose from over one million videos and 500 games to play.
Other benefits include videos that you can stream from YouTube whether 3D or 360-degree or regular ones. Their VR photo gallery includes normal pictures and 360 photos as well.
8) Google Street View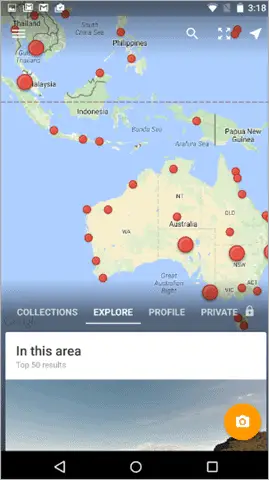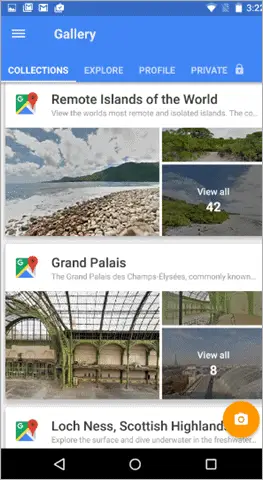 Google Street View is something that gives you an experience of both exploring a place and having fun at the same time. It provides you 360-degrees view of streets, roads, landmarks and other places. If you want to look for some good restaurants, museums, arenas, Google Street View is the perfect place to get a preview of things to come.
This app also allows you to create 360-degree photos using either your phone's camera or a certified Street View Ready camera.
9) Google Arts & Culture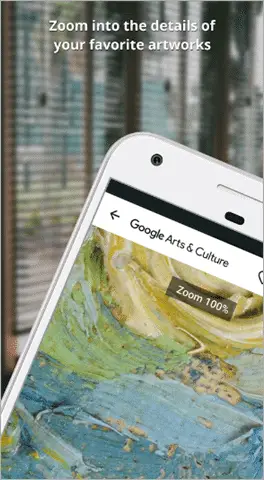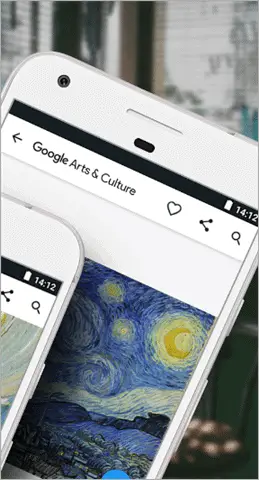 With Google Arts & Culture you can take virtual tours to places of historical prominence, museums, etc. to explore some of the very interesting sites across the world. You can immerse yourself in the stories depicted in the form of thousands of photos, videos, manuscripts, and artworks in virtual reality.
One can also create one's own collections and share them with friends. Google Arts & Culture has over 1200 international museums, galleries, and institutions from 70 countries to make their exhibits available for everyone online.
10) Titans of Space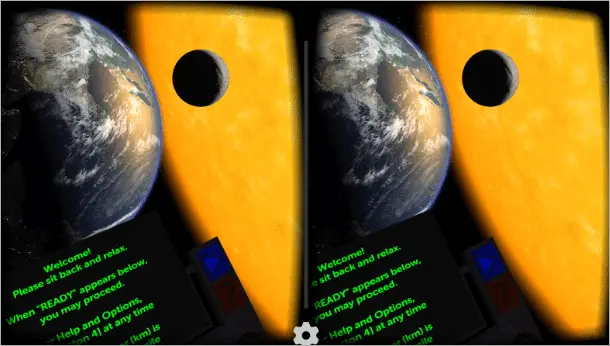 Titans of Space is one of the best VR apps for Android that takes you for a tour of the Solar System. You can experience the planets and the stars in virtual reality, and yes the good news is that it works with Google Cardboard too.
All you require is a phone with the NEON CPU extension; otherwise, it may not work with your phone. If you have a modern phone, then its hassle-free so simply appreciate this VR android app.
11) Public Speaking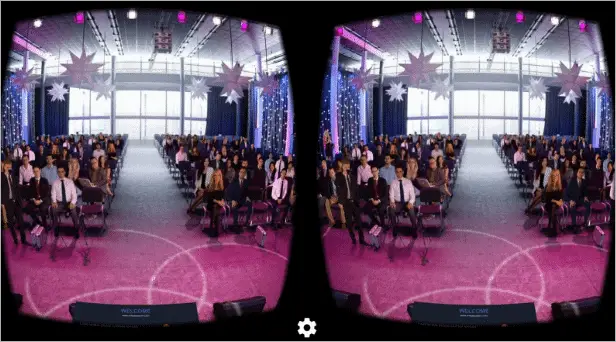 One of the best ways to get over stage fright is to get the Public Speaking VR app as soon as possible! You get to experience standing in front of a large crowd and practice your speech till you are perfect! Any human interfacing that scares you, like personal interviews or group discussions or making boardroom presentations, this app assures you of assailing those fears!  The app works with VR headsets such as Google Cardboard, Blitzwolf VR and Merge VR.
12) Inside Abbey Road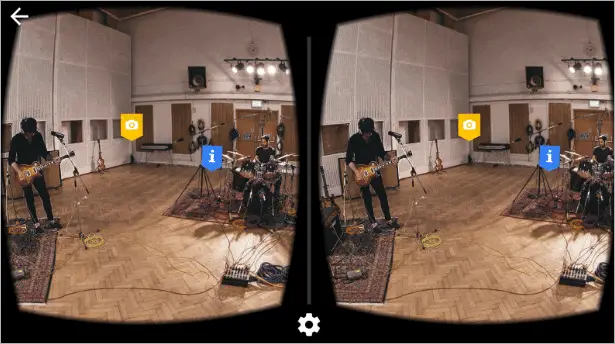 Inside Abbey Road is for all the die-hard music buffs! And if music and songs is your world then we don't need to tell you anything more about the world's most iconic musical landmark!
You get to start with a nine-part guided tour narrated by Giles Martin who shares some secrets and history of the studios from the 1930s to the recent ones.
All you need to have is your phone in the Google Cardboard viewer and you will get to re-discover the studios where Beatless, Oasis, Coldplay, Muse, and Adele have recorded tracks with all the juicy tidbits and trivia thrown in!
13) Apollo 15 Moon Landing VR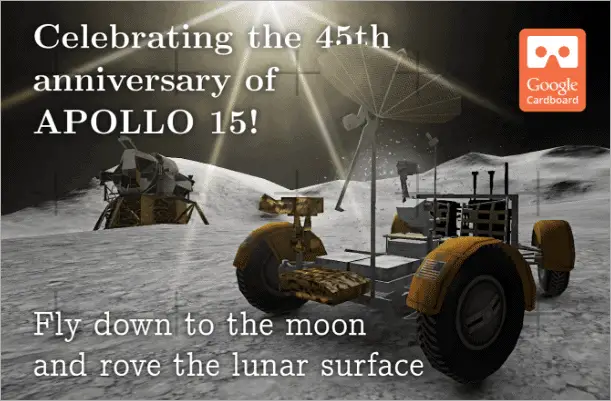 Now if you wish to say "I love you to the Moon and back," you can simply give your partner the experience too!
Simply using your phone and Google Cardboard to simulate the 1971 Apollo Moon Landing and recreate a realistic impression of the Apollo 15 moon landing using NASA data and footage.
You get the best experience with headphones. Now you can also walk on the moon like Scott and Irvin did, and unpack and drive the Lunar Rover.
Well, let us say that the possibilities over the Moon are really endless in this case!
14) Cardboard Camera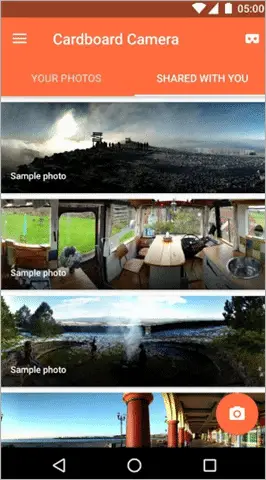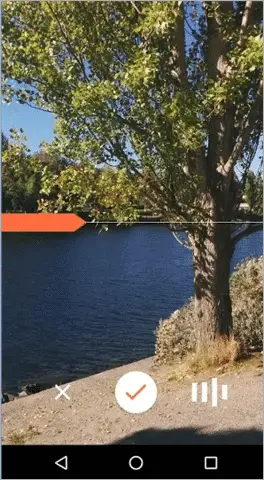 Among some of the best free VR apps, the Cardboard camera allows you to create your own cardboard images. You can capture and share moments with VR photos. The VR photos take you to the world of beautiful sceneries and the sound in a very 3D manner!
It will feel like you are living the moment in all those pictures. With this app, every memory of your family vacations or special occasions can be you can re-live every precious moment in VR.
15) Coastiality VR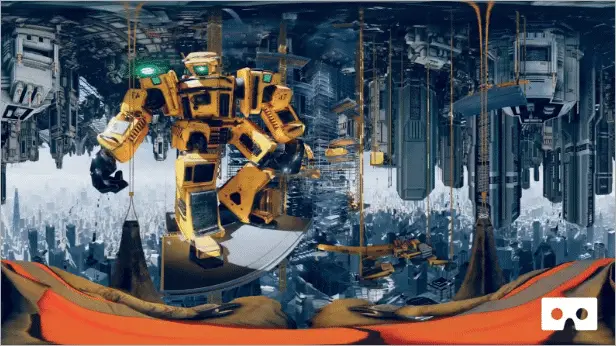 The Coastiality app has real-time recordings that make it seem as if you were actually at the center of the action. The app lets you discover a virtual world which is already being offered in theme parks worldwide.
You get the chance to ride your favorite roller coaster again and re-live exciting events whenever you wish in 360 degrees or virtual reality (VR). Another Plus? You can buy tickets for the journey with Alpenexpress Coastiality in Europa-Park directly through this app.
16) Trinus VR Lite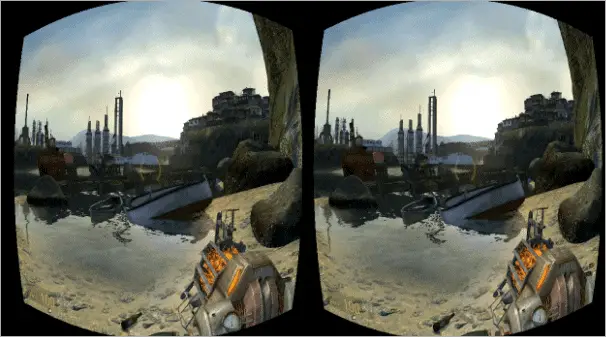 Now you can play your favorite PC games in VR without any expensive hardware. Trinus VR connects your Android phone to your PC that helps you play your favorite game in virtual reality. This all is done by sensors in your phone for head tracking. Trinus VR Lite works with all PC games including GTA, Elite Dangerous, and Minecraft.
It supports SteamVR and Oculus games via ReVive. To use Trinus VR Lite you need to have a headmount (Google Cardboard, Homido, Freefly, etc.), Android phone, Windows PC, and Trinus VR PC app.
Conclusion
For the time being this is our list of the best VR apps for Android! Do let us know in the comments below – if we have missed out any of your favorite ones! And do check us out again to see the if have updated the list shortly!
Related: Affordable HooToo VR Headset Gives You a Taste of Virtual Reality
Image: Woman Using VR Headset by Khakimullin Aleksandr/Shutterstock