Virtual Reality aims to transform your regular desk space or your dull sitting room into an exciting space of your choice. To enjoy this unique experience, all you need is a headset, a platform, or a set of props that VR (Virtual Reality) technology uses. The best VR apps for Android give you thrilling experiences and make you a part of the fun adventures from the comfort of your couch.
For example, while using a Virtual Reality app, you can be in front of a large virtual audience, practicing your speech, or walk through a snow blizzard or a sandstorm!
20 Best VR Apps For Android That Are Easy To Use
VR technology helps generate realistic images, sounds, and other sensations, making you feel you are physically present in an imaginary environment.
Let's check out the best VR apps for Android –
1) Google Cardboard App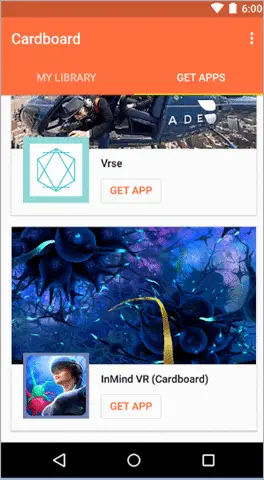 Heading the list of the best VR apps for Android is the popular Google Cardboard app. It puts virtual reality on your smartphone by helping you launch your favorite experiences, discover new apps, play VR games, and set up a viewer.
With this mobile VR app, the users can either build their own viewer from simple, low-cost components using specifications published by Google or purchase a pre-manufactured one. To use the platform, users run Cardboard-compatible applications on their phone, place the phone into the back of the viewer, and view virtual reality content through the lenses.
The Google Cardboard VR app is the most cost-effective virtual reality viewer that turns your phone into a VR headset.
2) AAA VR Cinema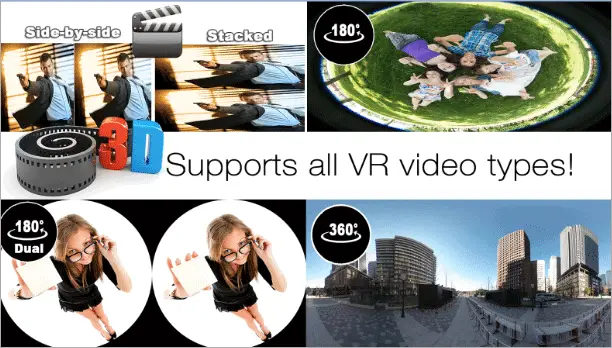 AAA VR Cinema is a VR video player and a cinema app for Cardboard. It supports unlimited video length. The graphics options of this app enable non-high performance devices to play video. The 180-degree head tracking, 360-degree views, and resting head feature help you watch videos in the VR without interruptions.
It has tight integration with Google's gallery app, where you can play video from the Gallery directly using the share button. AAA VR Cinema qualifies as one of the best VR apps for Android smartphones that is ideal for playing all kinds of VR video content. Just a tip – go full screen to indulge in larger-than-life experiences. You can also check out the Veer VR app in the Play Store to witness superlative virtual reality magnificence. 
3) YouTube VR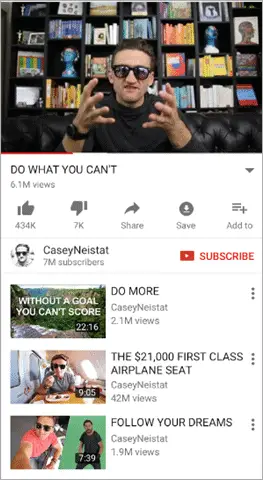 While we are talking about the best VR apps for Android, one cannot miss out on the Mecca of all videos, YouTube! With its vast collection of 3D videos, YouTube is a platform where the trendiest and most popular videos can be viewed. It also has a sizable cache of rare videos as well.
Simply log on to YouTube, subscribe to your favorite channels, share the videos regardless of the device you own. You can check out Discovery VR as well to get your hands on some exclusive animal-based shows in 3D. 
4) VaR's VR Video Player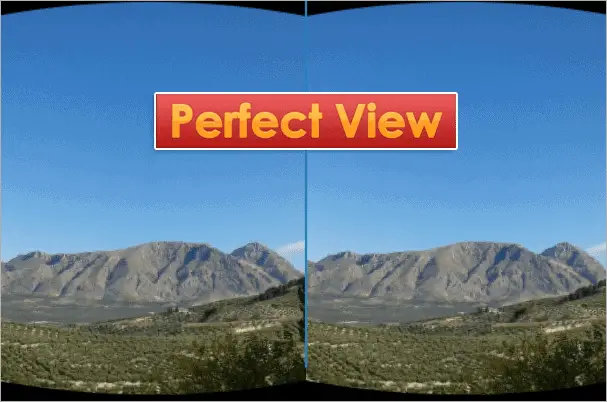 If you want to manage or access a vast collection of your videos, you need to take a serious look at VaR's VR Video Player. The Android VR app boasts a perfect head tracking response and an excellent VR experience with real-time moves. VaR's VR Video Player is one of the best VR apps for Android that enables you to become a part of virtual reality in the most fantastic way.
Additionally, you can control display parameters, eye distance, lens correction, among other things, to make your experience even more realistic.
Download VaR's VR Video Player 
5) Google Expeditions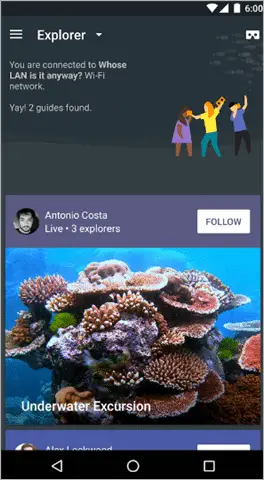 Everyone's favorite and the most popular Google Expeditions app makes learning immersive and fun. The app is known for its educational content, making it much more valuable than only being a source of entertainment. Google Expeditions as a teaching tool ranks among the best VR apps for Android since it allows one to join or even lead virtual trips worldwide.
The Google Expeditions app is helpful for small study groups. If you happen to be a teacher, it gives your students a unique VR viewer experience that spans a view of 360 degrees and 3D images.
6) Within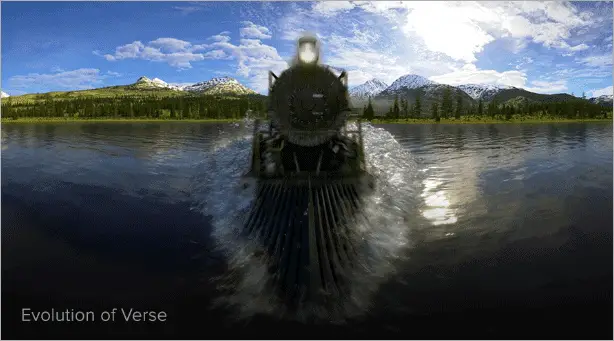 Within is a repository and a collection of some of the best VR content. It lets you discover VR content from various genres like documentaries, news, etc. One of the plus points of this virtual reality application is that it works with Google Cardboard.
If you want a realistic 3D spatial VR device experience, Within is the platform to try! Within includes innovative, entertaining, and informative VR technology content from partners like Apple, The New York Times, NBC, Vice Media, etc.
7) Fulldive VR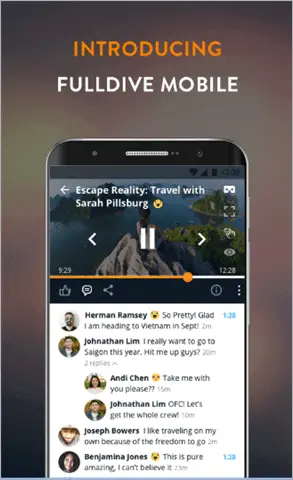 Fulldive is highly ranked on the list of the best VR apps for Android since it sports a huge collection of VR content. It is a user-generated VR content and navigation platform where you can choose to follow or keep track of what your friends watch, react and comment on.
Fulldive is also a great browser where you can search and view modern generations of media like 3D and 360-degree photos and videos. You can also stream from YouTube, whether 3D or 360-degree or regular ones. We recommend you not miss out on playing Minos Starfighter VR and Inmind VR!
8) Google Street View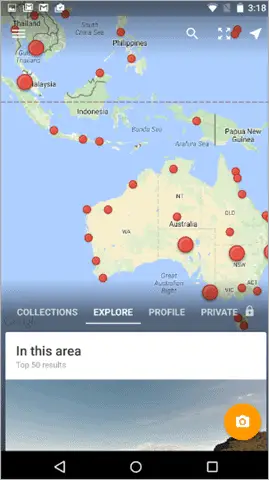 Google Street View gives you the experience of exploring a place and having fun at the same time. It is the perfect place to get a preview of things to come.
The Google Earth VR app also allows you to create 360-degree videos and photos using your phone's camera or a certified Street View Ready camera.
9) Google Arts & Culture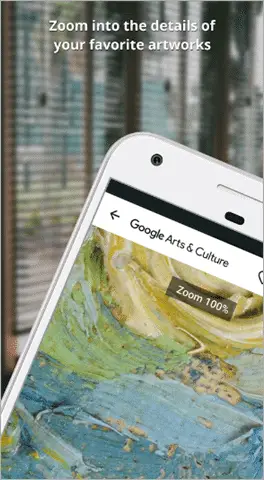 With Google Arts & Culture, you can take virtual reality tours to places of historical prominence, museums, etc., to explore some of the very interesting sites across the world.
Google Arts & Culture has over 1200 international museums, galleries, and institutions from 70 countries to make their exhibits available for everyone online. If you own the Samsung VR headset, this app will give you some of the best experiences. 
Download Google Arts & Culture
10) Titans of Space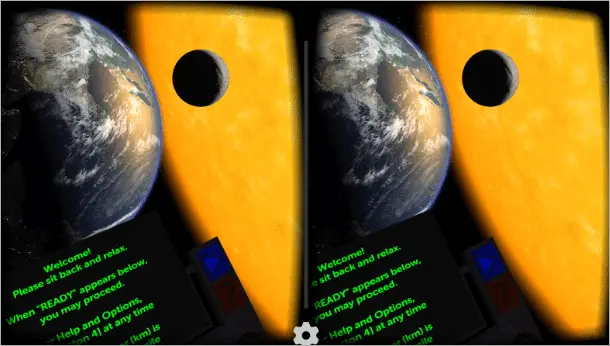 Titans of Space is one of the best VR apps for Android that takes you on a solar system tour. You can experience the planets and the stars in virtual reality, and yes, the good news is that it works with Google Cardboard.
The VR android app is hassle-free. With this smartphone VR, users can experience the dynamic soundtrack, catch up with all the solar system components, and buy the voiceover add-on for 50 minutes of narration.
11) Apollo 15 Moon Landing VR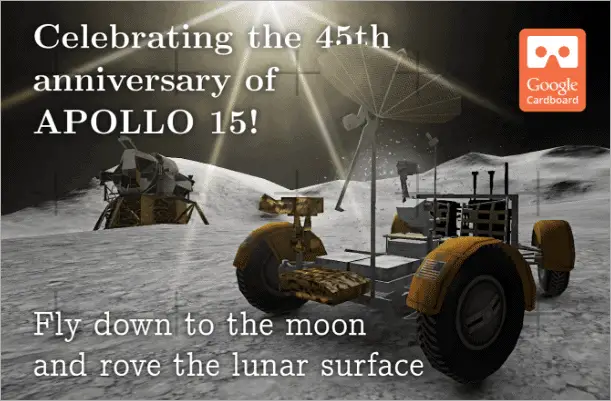 Now, if you wish to say "I love you to the Moon and back," you can simply give your partner the experience too! Simply use your phone and Google Cardboard to simulate the 1971 Apollo Moon Landing and recreate a realistic impression of the Apollo 15 moon landing using NASA data and footage.
One of the best VR apps for Android, Apollo 15 Moon Landing VR, enables users to feel like they are walking on the moon!
Download Apollo 15 Moon Landing VR
12) Coastiality VR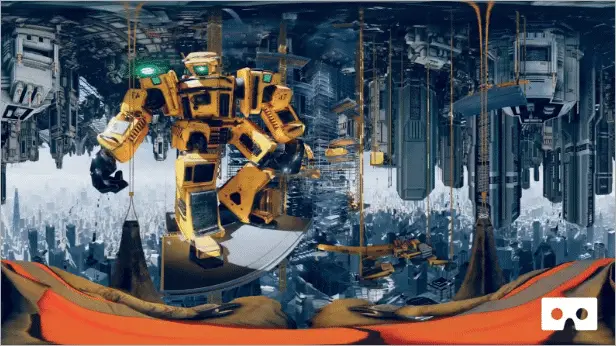 The Coastiality app has real-time recordings that make it seem as if you were actually at the center of the action. The VR player lets you discover a virtual world that is already being offered in theme parks worldwide.
You get the chance to ride your favorite roller coaster again and re-live exciting events whenever you wish in 360-degree views or virtual reality (VR). 
13) Trinus VR Lite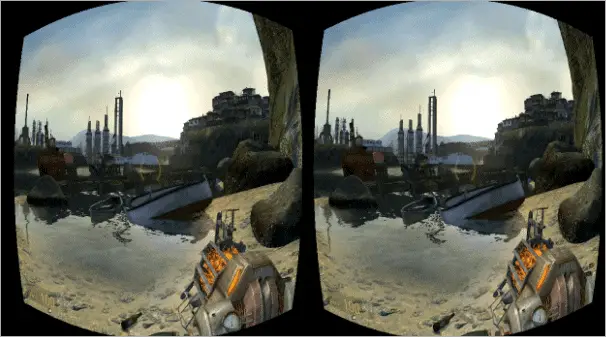 Now you can play your favorite PC games in VR without any expensive hardware. Trinus CBVR connects your Android phone to your PC that helps you play your favorite game in virtual reality. This all is done by sensors in your phone for head tracking. Trinus CBVR Lite works with all PC games, including GTA, Elite Dangerous, and Minecraft.
Trinus VR supports SteamVR and Oculus rift games via ReVive. To use the app, you need to have a head mount (Google Cardboard, Homido, Freefly, etc.), an Android phone, Windows PC, and a Trinus CBVR PC app. The user reviews of the app store are excellent, thereby making it a must-try. 
14) VR Thrills: Roller Coaster 360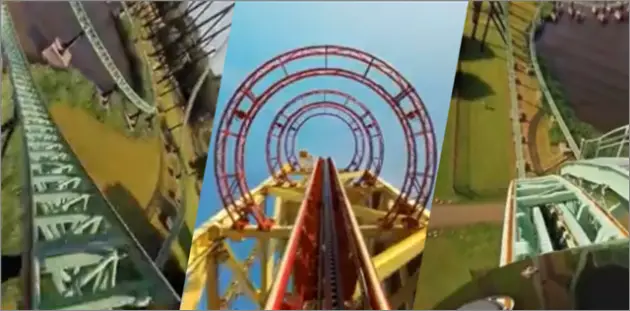 When your favorite roller coaster ride combines with a VR-based app, you know you are in for a fun ride. One of the best VR apps for Android, VR Thrills: Roller Coaster 360, gives you an adrenaline rush and is a must-download. In this VR game, you get to indulge in a thrilling ride without leaving your place.
The app boasts a collection of pre-recorded videos of people enjoying their roller coaster rides. All the recorded content is shot in first-person, so users feel that they are taking the ride themselves. The 3D multiplayer environment adds the icing to the cake and ensures you have an ultimate experience.
Download VR Thrills: Roller Coaster 360
15) Sketchfab
Sketchfab is a library of fun 2D and 3D models that work well on your Android phones. The app does not fulfill any productive or functional needs. However, if you are a Google Cardboard owner, Sketchfab can do tons of exciting things for you. You can check out more than two million objects and thoroughly enjoy viewing each one of them in a virtual reality environment. Sketchfab supports augmented reality as well. 
3D model creators extensively use the app to draw creative inspiration. One of the best VR apps for Android especially meant for having fun, Sketchfab is a big hit among the little ones and is among the must-have VR apps for kids.
16) VR Theater for Cardboard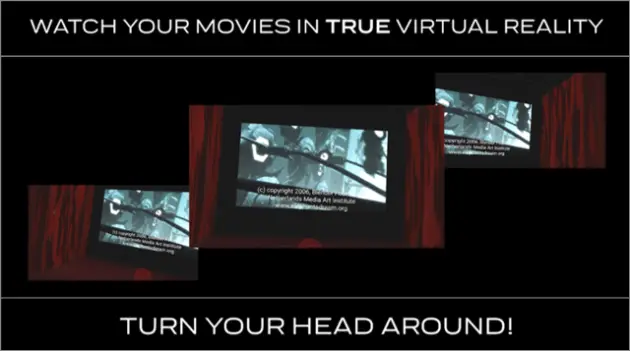 If you are in the hunt for the best VR apps for Android for the files and data that are a part of your smartphone already, VR Theater for Cardboard is an excellent choice. It is a popular video player app that includes a simple-to-use user interface with minimal confusion. VR Theater for Cardboard is free and offers no in-app or premium purchases.
VR Theater for Cardboard is a rare, fantastic, and unmissable find. The app's content is constantly updated, and it is the perfect VR media player for meeting all your VR needs. You can view virtual cinema and check out the 2D and 3D versions of your phone's content. 
Download VR Theater for Cardboard 
17) Sites in VR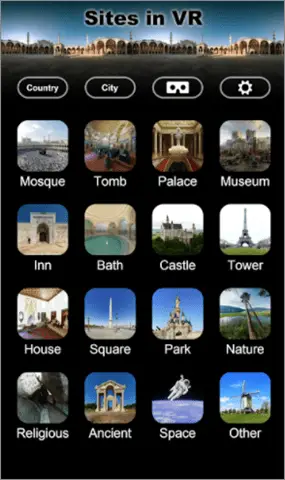 If you own a Google Cardboard, Sites in VR is one of the must-try virtual reality apps. The app is particularly aimed at people who love to travel as they experience the most exquisite scenic beauty from across the world right from their homes.
Everything looks clean, and you can watch the landscapes in a 360-degree panoramic view as well. Sites in VR even come in handy when friends interested in virtual reality wish to check out places or with kids who want to see the world. If you have the Ocean Rift, do not forget to view beautiful waterbody images and sign up for the best virtual reality experience of your life.
18) Google Daydream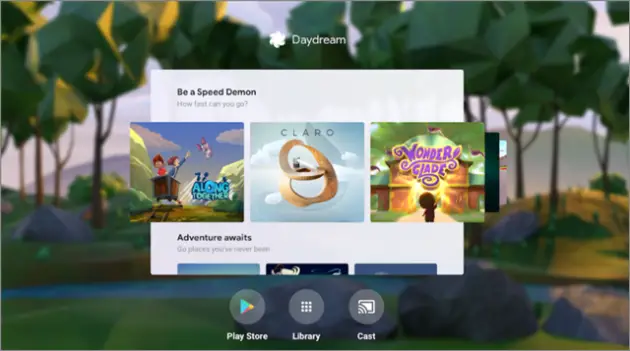 Irrespective of all the new additions to the best VR apps for Android, Google Daydream will always remain a good-old favorite. If we trace the history, the VR app was Google's second official release after Cardboard. Despite being discontinued as a product, the app and its functions are still available for most phones running on Android 7.1 and above.
If you own the headset, you can use your Daydream-supported smartphone for witnessing tons of great content. Once you configure your headset with the app, you become eligible for viewing beautiful masterpieces in the virtual reality space.
19) InCell VR
One of the best VR apps for Android for all gaming enthusiasts, InCell VR is unmissable. VR gaming is still in its infancy, but InCell VR is here to make it a more common phenomenon. The backdrop is set in the 2100s and contains great content for kids.
You play the role of a human defender who has been reduced to a size that can fit well inside the human body. The players travel inside the body, combat viruses, and gain knowledge about human biology along their way. You can also check out the non-VR mode available with InCell VR and avail of premium content.
20) Netflix VR
Yes, Netflix is everyone's favorite content streaming service, but did you know you can get your hands on virtual reality experiences through the site as well? If you subscribe to the site, you become eligible for viewing all your treasured shows and films in 3D. There are two viewing options available for binge-watching 3D content on Netflix VR.
If you opt for the static viewing option, the space around you will feel like a cozy den. The second choice involves a much more immersive environment and involves moving what you see on screen according to your eye movement. You can also check how to use Netflix on the Samsung Gear VR, preserve your battery life, and enjoy watching movies in virtual reality.
Conclusion
While all of us were waiting to indulge in the most immersive virtual reality experiences, the Google Play Store has made it convenient to do so. If you own any VR gadget like the HTC Vive and a compatible smartphone, you must try out the best VR apps for Android to lose yourself in the best 3D content.
The New York Times has come up with an NYT VR app, and we cannot wait to try it out. The VR industry is growing at a steady pace, and the developments are only bringing us closer to our imaginations. The future is already here, and you get to experience the best virtual reality occurrences from your couch. 
(Article Updated on 23rd April 2021)