Before the internet became a standard medium to search for anything under the sun, life was different! Even the credibility of teachers and professors across the globe was restricted. There was no concept as "rate my teacher!" One could know more about them only through the circle of students who studied under their guidance. The judgments were based on what you could gain from the respective students.
So, the theory was simple. If you want to join a particular teacher and happen to know his/her student, then you check with the respective person. Ask your peers and then judge accordingly. Were the professor's explanations too challenging to understand? Are their teachings methods fun? Based on what you accumulate, you take the next step.
But today, things have changed for the better. With the advent of the internet, one gets to access and see a different picture. The various professor rating sites serve as an exceptional resource to get an insight into professor reviews and ratings. The 'rate my teacher' websites allow you to rate your professors and also enable you to check out the various teacher reviews given by the students.
Moreover, apart from the teaching style and technique, you could also get to know how the professors have fared on other metrics like content expertise, personality traits, and the grading curve.
The grade my teacher sites help you prepare better, know what to expect from your professor or switch to some other teacher by avoiding enrolling for the ones who received negative reviews. You no longer need to wait to attend a class with them to ascertain whether you made the right decision or not!
We've listed the best rate my teacher websites for you to rate your professors and scrutinize the teacher ratings allotted by others.
Best Rate My Teacher and Rate My Professor websites
1. Rate My Teachers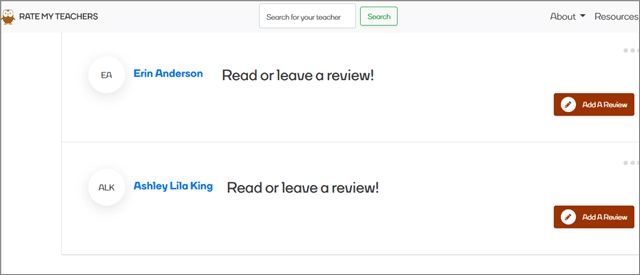 One of the best rate my teacher websites, Rate My Teachers mainly targets at the elementary and secondary school teachers and professors. As soon as you open the site, you'll be asked to choose your country. The options available are Australia, Canada, New Zealand, Ireland, the United Kingdom, and the United States of America.
You can search for a particular teacher by entering his/her name. Additionally, you can also select a school to avail of the list of all the employed teachers. On the teacher's page, you can either rate the teacher or read the reviews and ratings given by other students who took classes from the same.
The rating system is simple. The students need to assign stars next to the attribute put in by the website, depending on how you think the teacher fares in that specific aspect. The categories include empathy, respect, homework, effective, integrity, and determination.
If you're wondering whether Rate My Teachers is anonymous or not, let us tell you that it is. The teachers can read what you've posted but cannot ascertain who's written what.
Check out Rate My Teachers here.
2. Rate My Professors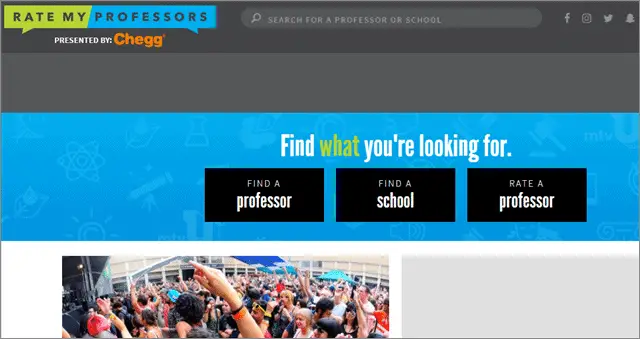 One of the best websites for checking professor ratings, Rate My Professors is extremely popular and widely used by students. It boasts of 19 million professor reviews and ratings given by around 1.7 million school and college going pupils.
The teacher reviews cover more than 7,500 schools in the United States, England, Wales, Canada, and Scotland. You only need to type in the name of the professor you want to rate or read reviews about or look for the particular school you want to check.
Every school's page will display a list of their top professors. They also show the average professor ratings, which indicate how all the professors of a specific school fare. The website has an interesting column called 'How the school stacks up.' The schools are rated based on parameters like happiness, reputation, clubs, location, and facilities, to name a few.
Are you wondering whether Rate My Professors is accurate? Most students believe that only consistent reviews can be trusted. Also, let's not forget the fact that we need to read between the lines, too, as some students might give a negative review due to personal issues.
Check out Rate My Professors here.
3. Koofers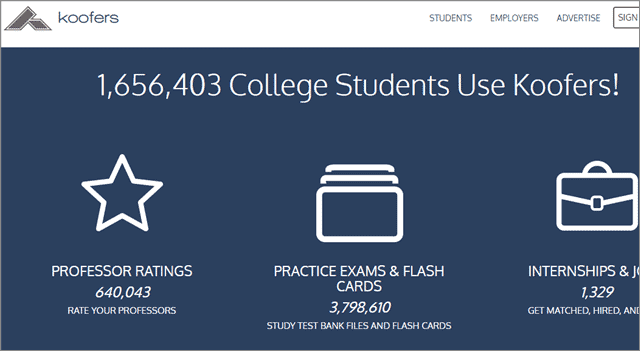 One of the best grade my professor websites, Koofers, is an extensive resource for college students that goes beyond teacher ratings and reviews. More than 1.6 million students across the world use this website, and we can assure you that your school is covered here.
The website has a multitude of professor ratings based on categories like helpfulness, clarity, knowledge, easiness, textbook use, and exam difficulty, thus providing a unique insight into their teaching methods. It also displays the overall rating of a specific professor, along with the GPA score of his/her students.
Additionally, Koofers has practice exams, test banks, and flashcards for the students to prepare well before the examination period starts. The website also helps the students to search and apply for jobs and internships. It, thus, provides a kick-start to your career even before you graduate.
4. Uloop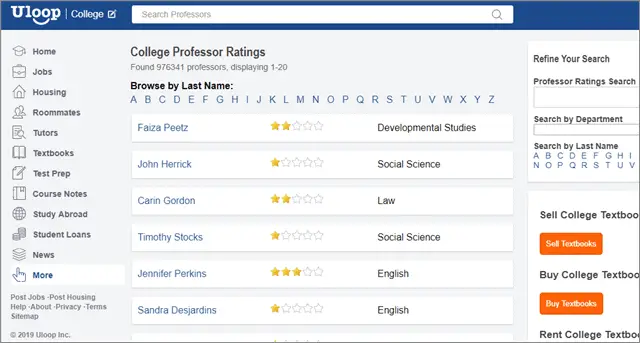 One of the best rate my professor websites, Uloop, is entirely powered by students and covers almost all schools in the United States. It is where every student in the United States goes to rate their professors or gauge an idea about them by checking out how others have rated them.
The website offers various services to the students, which include campus jobs, help in finding roommates, student loans, course notes, tutors, textbooks, and professor ratings, to name a few. The professors are rated based on their helpfulness, clarity, and ease.
Apart from teacher ratings, Uloop also provides teacher reviews. Former students of the professors write these comments and give you valuable insight into their personality and teaching style. It's better to know beforehand if a teacher's lectures are easy to understand or not?
5. Rate Your Lecturer
One of the best professor rating sites, Rate Your Lecturer, covers all the schools and colleges in the UK. Apart from allowing you to rate your professors, the website also engages the students in evaluating their cities and universities.
In the lecturer section, the students fill in the pros and cons of every teacher. They also rank the professors on a scale of 1-10 on categories like seminars, lectures, tutorials, feedback, office hours or approachability, and intranet support.
You can also filter your search by entering the name of a university, and the website will display a list of the top five lecturers/professors teaching there based on the ratings received. If you do not see your professor's name listed, you can add his/her name and give reviews and scores to the same.
Check out Rate Your Lecturer here.
6. Student Reviews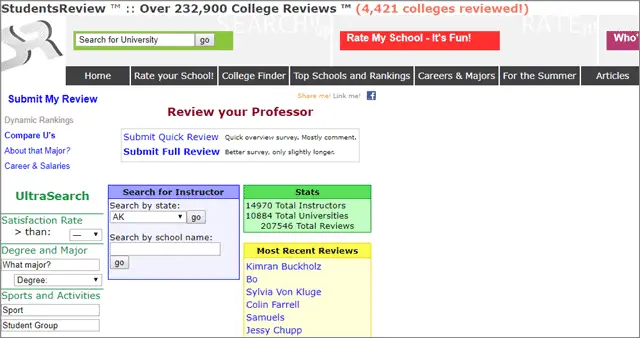 One of the best grade my teacher websites, Student Reviews, not only enables you to rate your teachers but also provides school rankings and ratings, college finder, researching careers, and pay rates, to name a few. The website also helps the students in choosing a career or degree subject by providing them with adequate information about the topics.
The interface of the website might not look organized when you open it for the first time. However, the reason behind the clutter is that Student Reviews makes a database rich in useful information available for the students. It covers schools and colleges from all around the world and consists of ratings for more than a hundred thousand professors, along with approximately two hundred thousand reviews by students.
On this website, the students rate teachers on a vast list of characteristics. Some of the attributes include- instructor effort, friendly/sociable, whether the professor enjoys teaching or not, if they are competent with material or not, respect for students, clarity in teaching, and the like.
Check out Student Reviews here.
7. Niche.com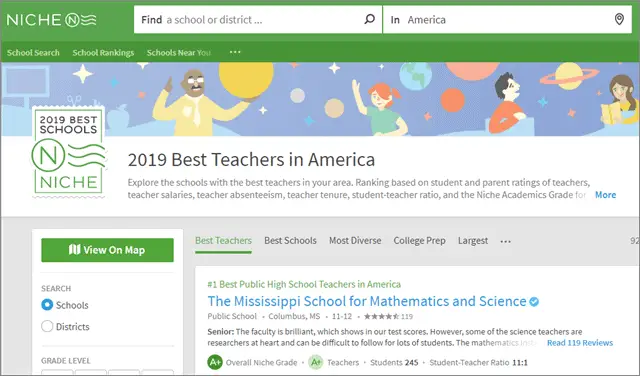 Niche.com is one of the best rate my professor websites, and also different from the ones we've mentioned listed so far. It provides a list of the best educational institutes in America, including a list of the best teachers and professors across all schools, colleges, and universities.
Here, there are no individual professor ratings and teacher reviews;  instead, a collective ranking of how a school fares in all the departments when it comes to the teaching faculty. The categories on which the college is rated include academics, clubs and activities, college readiness, student life, teachers, and overall experience. The ranking denominations include excellent, very good, average, poor, and terrible.
Niche.com has more than 100 million ratings, survey responses, and reviews from parents, students, and even residents, thereby giving you valuable information about how the school or a particular professor is going to be. Thus, by combining key statistics and student reviews, Niche.com provides useful data to the students and their parents while deciding what's best for them.
8. Campushopper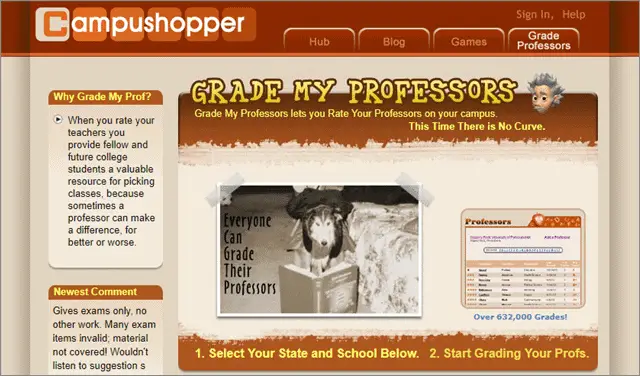 Campushopper is the favorite online destination for students to rate their professors and is also one of the best rate my professor websites. You can engage in networking with peers by talking in the College Chatter Board, upload photos, listen to Campushopper radio, and play free online games too.
The website covers around 5,400 colleges from across the globe. The students assign a grade to the particular professor and also writes feedback about the teaching style as well as any positive or negative trait worth mentioning. For example, if you see an 'A' grade assigned by a student, the comments will tell you why is the concerned teacher so good.
Likewise, if there is a 'D' next to a professor's name, the reason for negative ratings will also be mentioned. To grade a professor, you need to select the name of your state and school from the drop-down menu list.
The most striking feature of this website is that it gives due importance to the teachers having neutral and impartial political views. Hence, the site has a separate section where you put out the names of the politically biased professors.
9. rateyourprof.com
Fast, free, and anonymous; as the website claims to be, rateyourprof.com is one of the best grade my teacher sites. It's been on the run for more than two decades and provides first-hand information to students about college professors and school teachers across the United States.
The students can begin the search by typing in the name of the professor, school, or state. You can assign professor ratings from 1-5 stars against the name of the particular professor and also check how others have rated the same.
The ratings of each professor will be displayed, along with the average overall score, which is a result of combining all the ratings one has received. Therefore, when you click on a specific teacher's name, you get an idea about the quality, which helps you in making an informed decision.
Check out rateyourprof.com here.
An Indian version of the website is also available. Check out rateyourprof.com for India here.
How can you Find a Good Professor or Teacher
Are you wondering how you can choose a good professor? Well, at times, taking a class from someone you know nothing about can be worrying. This worry can increase if you are in high-school or university!
Grades are important, at least while you're still in school. Moreover, you don't want an inexperienced instructor or someone who isn't up to the mark to impact your overall GPA. Doing your homework and research beforehand and selecting the best professors is something that smart students should consider.
Professor rating sites do help when it comes to filtering out the teachers initially. However, do remember only to follow grades that are consistent; consistently good or consistently bad. Also, some professor reviews need to be taken with a grain of salt as they can be the result of personal bias or vengeance.
Nevertheless, one should not forget that opinions differ. If the professor ratings are pathetic, you can ignore taking classes from them. Whereas, if the teacher reviews are reasonably decent, take a few classes, and judge accordingly.
Also, check out multiple fact-checking websites to get a balanced opinion about any topic.
Conclusion
We've listed the best rate my teacher websites which will help you do some initial screening, instead of going in blind.
In our opinion, Rate My Teachers and Rate My Professors are the best teacher ratings sites. You get to know about the first-hand experience of the students and their point of view, whereas, Niche.com has a different approach. It gives the parents a clear idea about the teaching faculty of an educational institute, thereby influencing decisions in the right direction.
Let's not forget that every student has a different perspective on his/her professor and an individual relationship with them. Therefore, you may or may not completely agree with what they have to say. The internet, today, is divided between helpful versus harmful when it comes to rate my teacher websites. The ball is in your court! Take your call and decide.