Windows 10 was released by Microsoft in July 2015 and was an addition to the Windows NT family. Microsoft constantly evolves Windows 10 with frequent updates to add features and also fix various issues. But, some issues like Windows explorer not responding, memory management error or registry, and group policy editor problems cannot be solved by updates and need Windows 10 Repair tool.
Windows 10 repair tools can help you quickly fix minor as well as major problems with Windows in a convenient way. Some repair tools are all in one that can fix all the issues, while some are problem-specific tools that can repair your registry or complications in the booting process. Windows 10 also has some inbuilt tools to troubleshoot the problem.
Best Windows 10 Repair Tools To Fix Your PC
The list below covers Windows 10 repair tools that can fix any issues for you. All you need to do is download and install these tools. The problems are fixed by the tools on their own.
1. Tweaking.com Windows Repair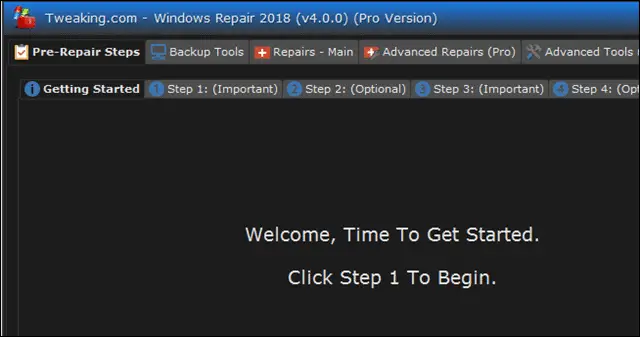 Windows Repair is all in one Windows repair tool provided by Tweaking.com to fix all Windows 10 problems. You can fix the registry, internet, Windows firewall, updates, and many such problems with Windows Repair.
Malware and software installed from unofficial sites can change your system settings, resulting in poor functioning of your system. In such cases, the Windows Repair tool can restore the original Windows settings.
Tweaking.com offers a repair section free for personal use. However, if you need support for updates, memory and driver cleanup, speed tweaks, and performance enhancement, then you can go for a Pro version.
Windows Repair tool is available in a portable format, which makes it possible to carry it anywhere in a USB drive. You can download the free version from their official site. The official site also has information about the different licensing categories.
If you wish to purchase the license for shop or commercial use, you need to visit the site. The Pro version license starts from 24.95 USD.
Download Tweaking.com Windows Repair
2. FixWin 10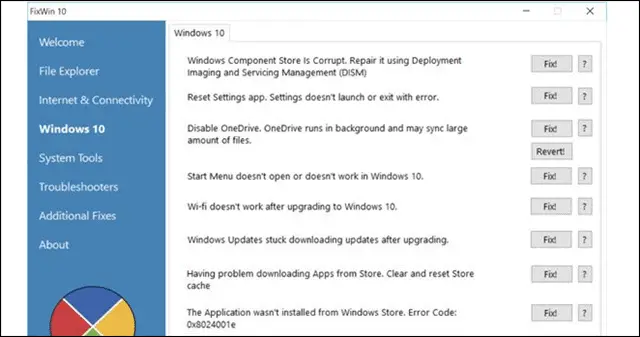 FixWin 10 is a Windows repair tool developed by The Windows Club. It has 6 categories to fix Windows related issues, which include File Explorer, Internet & Connectivity, Windows 10, System tools, troubleshooter, and other additional fixes.
Each of the categories has a wide range of fixes. The troubleshooter categories have covered all the hardware devices like printers, network adapters, and many more. FixWin 10 can solve all the issues in a click.
FixWin 10 may not run if you have modified the Windows Image using some third-party software. The modification removes some core components required for FixWin 10. So, if you use a modified Windows Image, opt for a different Windows repair tool.
It is a portable freeware to ease the process of troubleshooting Windows 10. The features, UI, ease of use, and portability can make it one of the best PC repair software.
3. Ultimate Windows Tweaker 4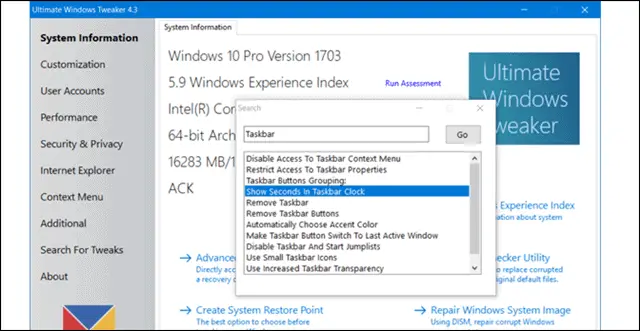 Ultimate Windows Tweaker 4 is the best tweaking tool. If you are tired of searching for different Windows 10 settings, then you can use this tool to get all Windows settings in one place.
Ultimate Windows Tweaker 4 cannot help you repair any of the Windows 10 problems but can ease your work related to accessing different Windows components. You can find Windows 10 Settings app, Group policy editor, registry editor, users, and internet-related settings under one roof.
It provides an easy to use UI with over 200 tweaks. The UI is similar to FixWin 10, as The Windows Club develops both the tools. Ultimate Windows Tweaker 4 can make your work easier by having access to all the settings in some clicks.
This tweak tool is only of 750 KB in size, and its portability makes it free to access it anywhere.  It has no ads feature that offers a clean UI and saves you from crapware.
Download Ultimate Windows Tweaker 4
4. Missed Features Installer for Windows 10
Are you missing the old Windows features in Windows 10? Then Missed Features Installer is the tool for you. Windows 10 has many additional features to wow at. However, if you miss the old traditional features in Windows 10, you need to install this tool.
If you wish to have the desktop gadgets of Windows 7 in Windows 10, you can download it using this installer. It can also help you install the games, the traditional start menu, and Aero Glass with one click.
This tool was last updated on 21.01.2016 and is available in version v1.0 for download. Create a restore point before installing Missed Features Installer and adding any specific feature.
Download Missed Features Installer
5. O&O Shutup10
If you feel all the data you access via your Windows 10 Operating System (OS) should not be passed on to the Windows developer, then you can use O&O Shutup10. It is an anti-spy tool that allows the user to stop the OS from accessing specific data.
You can also disable the unwanted features using O&O Shutup10 without making any changes in the Windows 10 settings. It is a tool that does not require installation and is free to use.
A person from a non-IT background can also use this tool because it's easy to use user interface. All you need to do is slide the button to disable the services and stop OS from accessing the data.
It informs you about recommended and limitedly recommended settings to help you make decisions accordingly. The detailed information regarding how a stopped service can affect Windows 10, can give you a clear idea of whether to stop a particular service or not. A system restore point creation option is an added plus point.
6. Windows 10 DPI Fix
Windows 10 DPI Fix can fix your DPI scaling issue. Windows 10 adjust the screen resolution based on the monitor. Sometimes when high-resolution widescreens are used, the contents on the screen become blurry.
If you wish to have large icons and texts for better readability, without tempering the Windows settings, then you can use the DPI Fix tool.
DPI Fix is configured in a way that makes it start with Windows OS to make the required changes to display and auto-close itself, without hampering your work.
DPI Fix can help you fix all the DPI related settings without actually restarting your system. It has simple to use UI and is free to use.
7. Regsofts Free Registry Repair
A registry is a place where all the lower-level settings related to Windows 10 is stored. If there are any issues in the registry, the PC performance can get affected. If you are wondering how to fix the broken registry in Windows 10? Then Regsofts Free Registry Repair can help you.
Free Registry Repair can scan and fix all the registry errors in your Windows 10 system. This tool should be used regularly to keep your PC away from any registry errors.
After fixing all the registry errors, your PC will not only give you a stable environment but will also function faster. Free Registry Repair makes a registry backup, so if you feel to restore the old registry settings after any changes, you can do it.
It is a free tool without any spyware or adware. A clean and straightforward user interface makes it user-friendly.
Download Regsofts Free Registry Repair
8. Glarysoft's Registry Repair
One more tool for registry repair in Windows 10 is Glarysoft's Registry Repair. It is an intelligent tool, which rectifies the smallest wrong changes made to the registry. The tool scans all the registry files and gives detailed results if it finds anything wrong.
Glarysoft's Registry Repair identifies 18 types of errors. The scanning process includes Regedit optimization and invalid entries. The tool includes whitelist to add safe registry keys, so in case of system failure, you can easily restore them.
Glarysoft's Registry Repair automatically creates a backup of the registry files every time you fix registry errors in Windows 10. It lets you restore the old settings in case of any issues.
It is a 100% clean tool, which means it does not have malware, including spyware, viruses, trojans, and backdoors.
Download Glarysoft's Registry Repair
9. FixMyPC – Advanced System Repair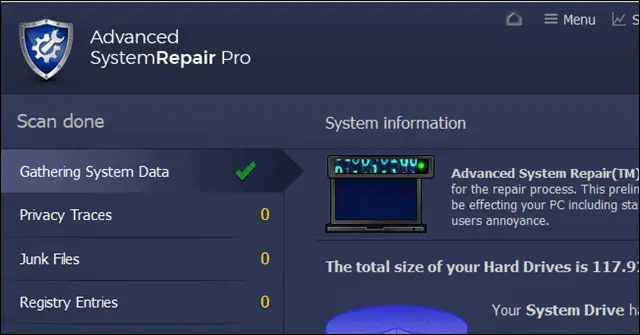 Advanced System Repair is the product from Fix My PC, and as the name says, it can fix all the PC related problems. It is easy to download and install. As soon as it is installed, it starts scanning your PC.
It is all in one free PC repair tool to scan and fix the computer. It has a total of 10 categories to repair all the possible problems. If there are any invalid registry entries or broken registries, then Advanced System Repair can fix them for you.
It has a count of cookies collected by different search engines on your system. You can also delete the junk files to solve memory management related errors in Windows 10.
The other categories include system and startup optimization, corrupt files, driver updates, malware threats, and security holes.
Download FixMyPC – Advanced System Repair
10. Paragon Rescue Kit
Paragon Rescue Kit is the boot repair tool for Windows 10 with excellent compatibility and usability. All the problems related to disks are solved using this tool. It can help you undelete a particular partition and also solve the issue related to network configurations.
Paragon Rescue Kit provides an excellent backup facility. It can backup the mounted external media, network drives, and virtual drives with ease.
It helps to generate recovery in a fast and easy way. You can create an ISO image of the backup, and store it in a CD/DVD or USB drives.
All the disk repair tools for Windows 10 are offered for free by Paragon Rescue Kit. Paragon Rescue Kit is a part of Paragon Hard Disk Manager, so you can start using it for free and upgrade whenever necessary.
11. Windows Boot Genius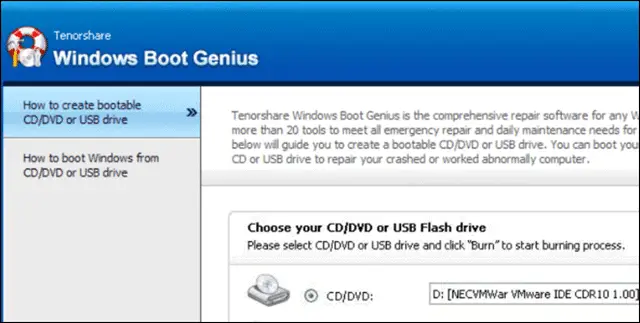 Windows Boot Genius is a utility to help you backup and restore the Windows OS, partitions, and hard disk. The tool allows you to create bootable CD/DVD or USB drives.
Windows Boot Genius can help you recover your Windows domain and local passwords, Microsoft product keys, and other such deleted data.
The accidentally deleted data or data loss due to system crashes are recovered using Windows Boot Genius. It is easy to use tool with extensive instructions for every process. However, it cannot work with the discontinued Windows version.
If you select a permanent data wipe feature by mistake, there is no chance to recover the wiped data back. Hence, one should be careful while using the Windows Boot Genius tool.
12. Ultimate Boot CD
Ultimate Boot CD, also known as UBCD, allows you to run floppy-based diagnostic tools from CDROM drives. UBCD is not like the other boot repair tools mentioned in the list.
However, it is a tool that permits you to consolidate as many diagnostic tools as possible into one bootable CD. It also enables you to run the Ultimate Boot CD from a USB stick.
Whenever you boot with the CD, a list of tools appears on the screen, which you can select based on your requirements. There is a list of tools provided by UBCD based on different categories.
The categories include data recovery, boot management, BIOS updates, CPU, system, and many more. You can check out the complete list here. UBCD is free for download or could be bought for a small fee.
13. Hiren Boot CD
Hiren Boot CD is a tool that offers a preinstallation environment. If there is any problem with your Windows booting process, you can use Hiren Boot CD to boot up for you.
Once the booting is over, the preinstallation environment tries to install drivers like graphics, ethernet, video, and audio. These drivers make it possible to connect to WiFi and Ethernet after you log in to the PC.
Hiren Boot CD contains all the free and legal tools and does not have any pirated tools. It is developed for new age computers to support the UEFI booting process. It requires 2 GB RAM.
Hiren Boot CD was developed by fans after 2012 update to make it compatible with new age computers. It is free to download and use.
Download Hiren Boot CD for USB Booting
14. Windows Repair Toolbox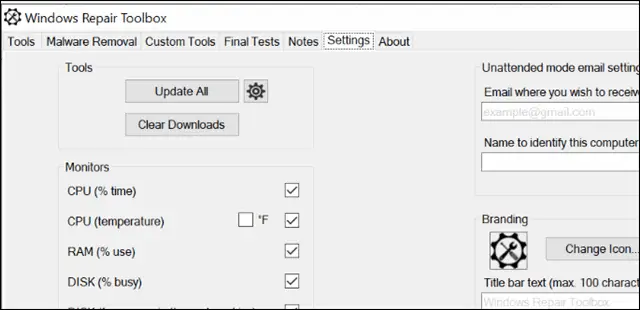 Stuck with many PC problems? Then Windows Repair Tool offers different tools for advanced computer system repair. All the tools are classified into 6 categories, based on different problems.
The 6 different categories are hardware, repairs, backup & recovery, Windows, uninstallers, and other useful tools. One of the plus points of using the Windows Repair Tool is you can have multiple tools running in the background in unattended mode.
Windows Repair Tool has a facility to send an email containing logs after the process is completed. A functionality called AVLeftovers helps you to identify the previously installed antivirus.
This may help you solve the problems caused by incomplete installation. Windows Repair tool is a software repair tool available for Windows XP to Windows 10. It is free to download and use.
Windows 10 Troubleshooting Tools
If you are not comfortable using any third-party tools, then you can trust Windows 10 inbuilt repair tool and startup repair to fix your PC.
15. Windows Startup Repair
You can try Windows Startup Repair to fix the problems faced by the PC. To start with the startup repair, follow the steps mentioned below.
Step 1: Press Windows key + I to open Settings and click on Update & Security.
Step 2: Navigate to Recovery and click on Restart now under Advanced Restart.

Step 3: When Choose an option screen appears, click on Troubleshoot.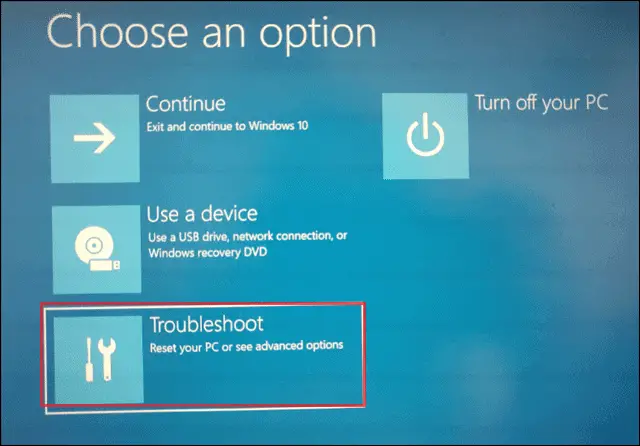 Step 4: Click on the Advanced options.
Step 5: Click on Startup Repair.
The repair procedure will start with diagnosing the PC.
Related: A Simple Guide On How To Use Startup Repair In Windows 10
16. Windows Inbuilt Troubleshooter
If you are facing a particular issue in your PC, then you can go with Windows inbuilt troubleshooter. Windows 10 troubleshooting tools can quickly fix the problems in internet connectivity, audio, printer, Bluetooth, and other hardware/software related issues.
Step 1: Go to Settings and click on Update & Security.
Step 2: Navigate to Troubleshoot from the left panel. In the right-panel, there is a list of options available. Click on the issue you wish to troubleshoot, and then click on Run the troubleshooter.
Windows 10 troubleshooter tool can fix your issues in one click.
Conclusion
Using a Windows 10 repair tool is an individual's choice. There are many tools available in the market for PC repair. The tools vary from specific tasks to all in one package. If you wish to have a software that can fix all your PC troubles, then you can go for Windows Repair tool, Tweaking.com Windows Repair or FixWin10.
Software like Regsofts Free Registry Repair and Glarysoft's Registry Repair can help you fix broken registry in Windows 10. If you are specifically looking for disk repair tools, then you can opt for tools like Paragon Rescue Kit, Windows Boot Genius, Ultimate Boot CD, and Hiren Boot CD. However, if you feel Windows 10 troubleshooting tools can fix your PC, then you can also go for two options mentioned in the above list.