When it comes to contemporary art, 3D animation is its highest ranking discipline. But first, let us quickly tell you what exactly is 3D animation. It is the process by which you generate 3D moving images in a digital environment. 3D animation software is used for making movies, creating characters, and adding voice-overs to characters.
Apart from knowing their software well, 3D animators need to have a substantial understanding of the game engine's specifics, shot composition, the renderer, and, most importantly, must be talented enough as a storyteller to ensure that they get your message across.
Note: We've listed the best 3D animation software that is both free and paid. Exploring these programs should be great fun.
Best 3D Animation Software (Free)
3D animation creates an image that looks real to whoever's viewing it. It is not easy to create pictures and make the objects appear natural by their motion. An object's motion is a complicated and complex task, but 3D animation programs and 3D modeling software make it much more manageable.
1. Blender
This free 3D animation software is an open-source, public project made by hundreds of professionals, students, artists, VFX experts, scientists, and animators. Blender supports everything that is a part of the 3D pipeline like modeling, animation, simulation, video editing, game creation, rigging, and motion tracking.
It is ideal for students and small studios whose requirements are not very demanding. It is extensively used in smart classrooms for educational videos that are VFX and 3D enabled. You can even go ahead and enroll yourself for Blender tutorial and online courses.
Key Features:
Performs rendering and creates renders with the use of high-end production path tracers.
Performs modeling and offers tools to perform activities like sculpting and retopology.
It comes with an efficient in-built video editor.
The software's new 'game engine' feature comes in handy for game creation.
Robust simulation using industry-standard libraries.
Limitations:
Lack of proper motion-capture support.
System Requirements:
OS: Windows 10, 8, and 7
Processor: 64-bit dual-core 2Ghz CPU (minimal)
RAM: 4GB
Graphics Card: 1GB Ram, OpenGL 3.3
2. Cascadeur
Cascadeur is an animation software for creating accurate, physics-based animations for games and movies. Cascadeur can help developers create realistic animations of almost any type of characters – humans, animals or any other creatures – without the need to use motion capture technology.
Cascadeur introduces a way of animating that eliminates drawbacks of the traditional methods. Cascadeur's main purpose is to provide animators with convenient tools, that will allow them to either:
a) create realistic and believable action animation from scratch and then fix the physical characteristics of the animation with the help of physics-tools or
b) take existing MoCap data, modify it to the desired result and then fix the correctness of the physical characteristics.
Cascadeur can be integrated in most existing animation workflows and they offer extensive documentation as well as numerous tutorials for beginners and advanced users. Cascadeur is free of charge for non-commercial users and small enterprises. There are also paid versions of Cascadeur for larger companies that offer access to better support services, among other benefits.
Key features:
Physically realistic character animation without the use of motion capture
Particularly suitable for use in action-packed scenes in games and movies
Easy workflow integration with other software (import and export of FBX/DAE data)
Physical tools for the correct determination of inertia, angular momentum, ballistic curves, etc.
Deep-learning-powered character auto-posing tool
System Requirements:
64-bit Intel® or AMD® multi-core processor with SSE4.1 instruction set support
2.4 Ghz or higher
4 Gb memory
NVIDIA GTX 550 ti or better with OpenGL 3.3 support
3. Wings 3D
Whether you are a professional animator or not, you must get your hands on Wings 3D. The powerful animation software comes for free, is easy to use, and is an unconventional sector modeler.
The software provides users with excellent support for lights and materials and a wide range of modeling tools. It has a customizable user interface and a built-in AutoUV mapping facility.
Key Features:
Context-sensitive interface
Configurable interface and hotkeys
Virtual Mirror for symmetrical modeling
Wide range of Selection and Mesh tools
It supports all popular image formats.
Built-in AutoUV mapping facility.
Limitations:
Its UV mapping system is not very intuitive.
System Requirements:
OS: Windows 7 or later, Mac OS X, Linux
RAM: 1GB
Graphics card: OpenGL 2.1
4. K3-D
K-3D combines flexible plug-ins with a visual pipeline architecture, making the software a versatile and powerful tool for artists. The program supports polygonal modeling, as well.
Using the look and feel of the interface you are familiar with, K-3D ensures consistency with the applications you know and use already. The 3D animation software is available for free and is open-source. New artists will find it easy to use, and professionals feel like home.
The program gives you the liberty to create combinations as you've never seen before.
Key Features:
Consistent and intuitive
Parametric workflow
Consists of basic tools for 3D animation, curves, NURVS, and patches
It enables you to interact with 3D objects during playback
Also, renders with a wide variety of engines
Limitations:
You might come across some rendering bugs.
Lacks proper tutorials
System Requirements:
OS: Windows all versions, macOS
RAM: 2GB
Graphics card: 512 MB
5. Source Filmmaker
Source Filmmaker enables you to make a movie inside the game engine Source. Wondering how? Simply because Source Filmmaker uses the same assets that are present in any game. Therefore, the assets of the game are used by Source Filmmaker and vice versa.
The professional animation software enables storytellers to work in an environment where they see what they get. The program can do this by using the hardware rendering power of a modern gaming computer.
Key features:
Manages the entire workflow that is required to make a movie into one single system.
It renders the power of a modern gaming PC.
What you see in the software is what you get in the movie.
It is almost like a virtual movie set with actors, props, cameras, and lights.
It also allows you to create the movies of your choice as per your requirement.
Limitations:
Since it is a 32-bit application, it is prone to crashing.
Maps, characters, effects, and props are of low-resolution.
System Requirements:
OS: Windows 7/Vista (Recommended)
Processor: 3.0 GHz P4, Dual Core 2.0 (Higher) or AMD64X2 (or Higher)
RAM: 2GB (4GB suggested)
Graphics Card: NVIDIA GeForce 200 series card or better, or AMD Radeon 3000 series or better
6. Houdini
Houdini is developed by Toronto-based Side Effects Software and covers every aspect of an excellent 3D animation software. The software is designed for artists working in 3D animation, virtual reality, TV, video games, and VFX for films.
Unlike any regular animation program, Houdini uses a node-based procedural workflow. This makes it easy to explore iterations as artists refine their work. Other software such as Blender or Maya store changes in the user's history, making it difficult to go back to a previous version of your work.
Key Features:
Powerful and accessible 3D animation experience
Time-space motion path handles
Robust in-built rendering solution
Rigging animated characters
You can import and export to a wide range of formats.
Limitations:
The software is not easy to use.
It is helpful for simulations and effects but not ideal for creating characters.
System Requirements:
OS: Windows versions 8, 8.1, and 10, macOS, Linux
Processor: Intel or AMD x64 CPU with SSE 4.2
RAM: 4GB
Graphics card: GL4.0
7. Daz3D Studio
Daz3D is a powerful software that enables you to create scenes and animations by manipulating model presets. It allows artists to use a vehicle, human, object, and animal models. Choose your models and the accessories that you want and begin to create your digital animation scenes.
Even if the models seem to be lifeless in the first look, you can simply put into the right scene details and convert it into an art masterpiece.
Key Features:
The software's figure content comes with excellent morphing capabilities and high adjustability to become any character.
GPU-accelerated real-time rendering.
Facial-expression interface and dress modeling
Built-in flexing of major muscle groups
Detailed characters and realistic human figures
Limitations:
While we'd recommend Daz3D is a good animation software, it is not ideal for newbies.
System Requirements:
OS: All versions of Windows, Mac
Processor: 1.6 GHz
RAM: 1 GB
Graphics card: OpenGL 1.6
8. Clara.io
Clara.io runs in your browser and is a free 3D animation software. It is a full-featured cloud-based software used for 3D modeling, animation, and rendering.
You can create beautiful photorealistic renderings, make complex 3D models, and share all your creations without installing any software. Since Clara.io features basic keyframe animation, the program is used for creating animated films, as well.
Key Features:
The interface is modern and familiar. You can undo/redo and drag/drop.
Powerful modeling tools to indulge in sub-object editing and use a ton of mesh tools
VRay cloud rendering with a huge photorealistic material library and easily advanced materials
Import/export anything.
Easy sharing and embedding.
Limitations:
Rendering is sometimes slow.
System Requirements:
9. SmartBody
SmartBody is an animation software available for free that accepts both motion capture and keyframe animation as input sources. It comprises a set of comprehensive 3D animation tools. These tools work in real-time.
The program is also a fully functional 3D scanning tool. Artists can create 3D characters in minutes using Kinect. SmartBody's most striking feature is its auto-rigging tool. It enables users to rig 3D scans automatically and use them in 3D animation.
Key Features:
The software includes some excellent animation tools like locomotion, object manipulation, steering, lip-syncing, and gazing.
The reshaping tool manipulates 3D characters to look fatter, taller, or skinnier.
You can incorporate SmartBody into game engines, for example, Unity or Ogre.
System Requirements:
OS: Windows, Linux, macOS
Best 3D Animation Software (Paid)
1. Maya
Undoubtedly the best animation software available, Maya, is ideal for developing games, making movies, and creating 3D scenes. The software's cool, uncomplicated features make it perfect for animating, coloring, and modeling.
The developers of this software have added multiple new features. The speed enhancements make your scenes work much faster. You can also create ocean surfaces with waves.
Animators can accelerate their performance with the interactive workflow. The program enables you to work in a higher-performance, higher-fidelity environment to edit the images and assets in a short time.
Key Features:
Use Arnold RenderView to see scene changes in real-time.
Create complex procedural animations and effects with instanced objects.
Make high-level animation edits with a non-linear, non-destructive, clip-based editor.
Use the intuitive brush-based grooming tools to exercise greater control and accuracy.
Create branding, flying logos, title sequences, and more projects that require text.
Limitations:
The node-editor is a bit cumbersome to work with.
Scene-hierarchy is a known headache-inducer.
System Requirements:
OS: Windows 7 and 10, macOS, Linux
Processor: 64-bit Intel or AMD multi-core processor with an SSE4.2 instruction set
RAM: 8 GB of RAM (16GB or more recommended)
Price: You can avail of the free trial for 30 days and buy the monthly subscription for $195.
2. Cinema 4D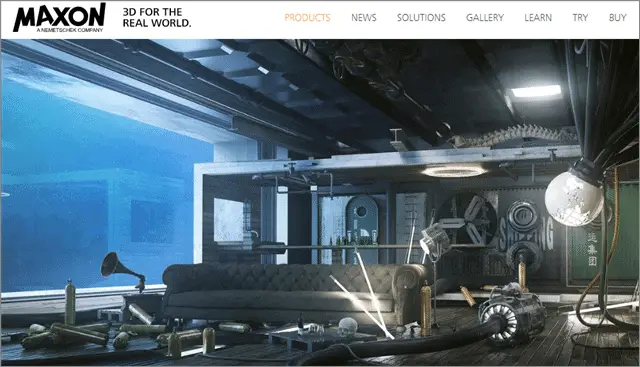 One of the top names in the industry, Cinema 4D, is used for advanced character animation. With the help of the software, you can easily create character rigs using numerous tools.
The compelling program is easy to learn and a perfect package for all 3D artists. Whether you are a beginner or seasoned professional, make sure to take full advantage of the vast range of features available for achieving astonishing results in a quick and hassle-free manner.
Key Features:
Intuitive and straightforward interface
The new functions work very well and are what users need
Customizable layout to suit your needs
The software's stability is excellent.
All tools are tested before release.
You get numerous options for working non-destructively, for example, parametric modeling and procedural shaders.
Extensive library of objects, materials, and preset scenes
Limitations:
The modeling workflow is not up to the mark.
UV editing and bodypainting require a few tweaks.
System Requirements:
OS: macOS, Windows 10
Processor: 64-bit on Intel or AMD 64-bit CPU with SSE3 support
RAM: 4GB
Graphics Card: OpenGL 4.1
Price: $94 monthly
3. Aurora 3D Animation Maker
One of the best computer animation software, Aurora 3D, features an extensive range of functions. The program enables users to create eye-catching animations that transform your logos and text into beautiful creations.
Users can control all aspects of animation, such as the length of the playback's energy and speed. You can create movie title animations for the web in minutes without mastering the basics of 3D design.
Key Features:
Keyframe animation allows you to control all the aspects of animation using a single timeline.
The software makes available splendid scene effects, for example, rain, snow, and space radiation.
Quick Styles enable you to change an object's appearance quickly.
Use the freehand shape tool to create and edit your shape.
The Internal Animation Style sees that every object can have multiple types of animations, for example, rotate, beat, wave, and swing.
Limitations:
System Requirements:
OS: All versions of Windows, Mac 3.7 or later
Processor: Intel Core 2 Duo or later
RAM: 1GB
Price: You either avail of the free trial version or by the software for $69.95
Download Aurora 3D Animation Maker
4. Mixamo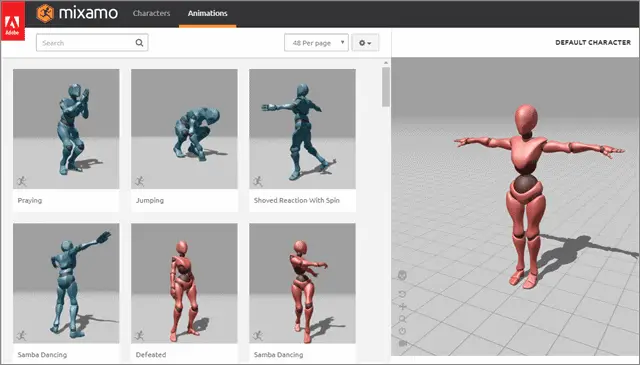 Mixamo is a niche 3D animation software from Adobe. It is a reliable tool for creating animated 3D characters. The best part about this is that you do not need any prior 3D knowledge to get your hands on it.
The software makes available a massively huge animation library. So, for instance, there is no need to animate every step that your character takes. Just go to the Mixamo store and choose the right animation to suiting your needs.
Key Features:
The software is time-efficient since only using a few markers instantly calculates visual characteristics.
The interface makes it easy for users to find, create, and organize assets and animation.
Fast character and animation browsing
Fully customizable animation packs
User experience is streamlined
The program enables you to download multiple animations at one go.
System Requirements:
OS: Windows versions 7, 8, 8.1, 10
RAM: 4GB
Graphics card: OpenGL 2.2
Price: Paid
5. ZBrush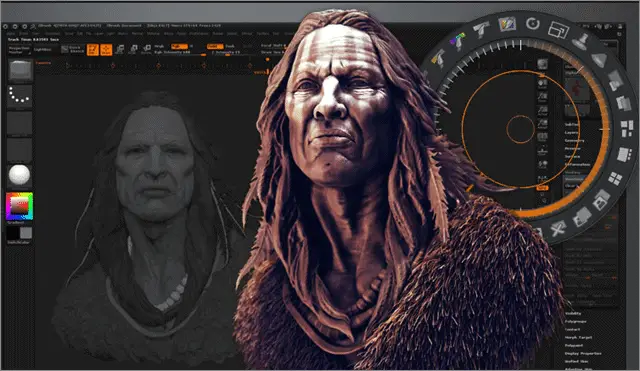 ZBrush is more focused on texturing and modeling but comes in handy while performing animation projects.
The software also helps artists create models in 2.5D and are full of brushes that fulfill this need. Using ZBrush, you can either create beautiful sculptures or import them to any animation software choice.
Key Features:
It comes with a rendered that provides you with a full 360 scene map using HDRI images.
ZBrush has ZRemesher and Fibermesh that are useful in the creation of polygon fibers in the models. You can use it to create trees and plants.
The software includes a Polypaint function that enables artists to paint the object without assigning the texture map to the object first.
Limitations:
It is a very steep learning curve.
Bugs might crash your page often, but autosave comes in handy then.
System Requirements:
OS: 64-bit versions of Windows Vista or newer
Processor: Core2duo or AMD equivalent with SSE2 technology or better.
RAM: 4 GB
Graphics card: OpenGL 3.3 or higher
Price: You either avail of the trial version for 30 days or buy ZBrush 2020 for $39.95/month.
6. iClone
iClone is one of the best tools for creating real-time 3D animation. It facilitates producing animation for video games, films, content development, education, and various other fields.
The software enables users to create stylized and realistic animation without any hassle. iClone simplifies the world of 3D animation by blending character animation, cinematic storytelling, and scene design. It quickly turns your vision into reality.
Key Features:
You can manage and assign materials through a simplified interface to control textures.
You get ready to animate motions, accessories, and characters
iClone's drag and drop facility can be used to light any interior or exterior scene.
You can turn a regular 3D scene into a photo-realistic world.
Tools for the body and face to animate any character instantly
Limitations:
System Requirements:
OS: All versions of Windows
Processor: Dual-core CPU or higher
RAM: 5GB
Graphics card: NVidia Geforce GTX 400 series/ AMD Radeon HD 5000 series
Price: You either avail of the trial version for 30 days or buy the software for $149.
7. MotionBuilder
MotionBuilder is a 3D character animation software by AutoDesk. The program is used in traditional keyframe animation, virtual cinematography, and motion capture.
The software enables you to manipulate material efficiently and refine data with more excellent reliability. You can capture, playback, and edit complex character animation in an interactive and highly responsive environment.
What more? MotionBuilder ensures that both animators and directors work in an optimized display.
Key Features:
Artists can capture, playback, and edit character animation.
You can manipulate motion capture data.
Create realistic movements of any character.
Exchange data between other animation software, for example, Maya
Limitations:
The interface is poor. Changing and snapping the layout is limited.
System Requirements:
OS: Windows, Linux
Processor: 64-bit Intel or AMD multi-core processor
RAM: 8 GB
Price: You either avail of the free trial or buy the software for $1765/year.
Download and buy MotionBuilder
8. Poser
Poser is a 3D computer graphics software developed by Bondware. It makes available ready to use 3D human figures, clothing, hair, props, scenery, and everything else to bring your stories to life.
Be it sci-fi, fantasy, historical, or contemporary, Poser is the 3D graphics software tool hobbyists and studios use. The program delivers the power of interactive 3D figure design by making available ample opportunities to portray human diversity, expression, and form.
Key Features:
You can create art and animation with 3D characters in a hassle-free manner.
Create human life for animation, art, illustration, comics, and more
Poser allows digital artists to have access to various third-party digital content.
Limitations:
The interface is chunky and needs a modern update.
System Requirements:
OS: All versions of Windows
Processor: 1.4 GHz Premium or newer, Athlon 64 or newer
RAM: 3GB
Graphics card: OpenGL
Price: You either avail of the free version or buy Poser Pro 11 for $199.
9. 3Ds Max
One of the best 3D animation software, 3Ds Max, comes with a comprehensive feature set that makes it a popular choice for visual effects production, architectural visualization, and game development.
The program brings its scripting language to the table, includes particle and light simulation, and a cloth-simulation engine.
Key Features:
3Ds Max features consist of two-character animation tools – character studio and CAT. The former is designed to work for bipedal characters, while the latter rigs and animates non-humanoid characters.
The program consists of a tool that enables setting up and controlling scenes with many people dubbed "Populate."
"Motion Mixer" allows you to take full control of your 3D animation. It is a tool that takes its cue from audio editing.
Motion paths enable users to modify animations directly in the trajectory.
Limitations:
It takes time to learn the software.
UV mapping and normal align tools take a little time to work.
System Requirements:
OS: Windows 7, 8.1,10
Processor: 64-bit Intel or AMD multi-core, Intel core i5 or higher
RAM: 8GB
Price: You can avail of the free trial or buy the software for $1545/year.
10. iPi Soft
This program became famous for its consumer-friendly markerless motion picture solution. iPi Soft can track up to five actors without the need for them to wear motion capture suits. Instead, artists plug depth sensors and Sony PS Eye cameras into their PCs to generate 3D animations.
The 3D animation software helps you in cleaning up and editing the data. This eliminates the need for any third-party software for this stage in the pipeline, and you also end up saving money.
Key Features:
Live feedback that accelerates motion capture workflow.
Your 3D creations can be used in other programs like Maya or Blender for further processing.
iPi Soft provides support for Azure Kinetic Sensors. Microsoft has recently released this new generation of popular Kinetic depth sensors.
Integration with Unity: Closer integration of iPi Soft with Unity gaming engine gives you the ability to stream tracking results to Unity via offline tracking mode and live feedback. It allows you to see how the motion looks in a 3D setting.
System Requirements:
OS: All versions of Windows
Processor: Intel Premium 4 or higher, AMD Athlon or higher
Price: You either avail of the free trial for 30 days or buy the software for $195.
11. Modo 3D Animation Software
Modo was developed primarily for VFX professionals and design industries. The software's most significant selling points are a particle engine, procedural animation, and polygon and subdivision surface modeling.
Components can be loop selected, paint selected, pattern selected, and the list goes on. It means that Modo has a suitable selection mode for every situation that enables users to make global changes to their models.
Key Features:
It includes 3D sculpting tools that expand the range of artistic expression.
Some animation tools, for example, the spacing chart, are designed for 2D animation artists. It enables you to manage key poses and in-betweens to create animations quickly.
The software includes onion skinning for 2D animators.
You can display audio files in a window of Modo. It helps to sync lip movements to dialogue.
Limitations:
Modo is a bit troublesome in the texturing process.
There are not too many tools for liquid or fluid simulation.
System Requirements:
OS: Windows 7, 8, 10, Mac, Linux
Processor: Intel, Core i3 or higher
RAM: 4GB
Graphics card: OpenGL 3.2
Price: You can either try the software for free or buy the individual license for $1888/year.
12. Dragonframe
Have you seen recent stop motion films like Coraline? If yes, the movie is a product of Dragonframe's power. It is an industrial-grade stop motion program.
You get to plan your animation with drawing tools that outline motion paths. Want to keep track of your progress? Use the X-sheet in the side panel for notes, adjusting timing, and viewing reminders.
What more? You can also add reference videos to the screen in case you need them as a guide.
Key Features:
You are in charge of the camera, so be ready to take control over comprehensive settings like aperture and shutter speed.
Exercise full control over the environment by controlling the lights that enable you to focus on the hands-on animation.
Onion skinning.
Dragonframe supports a host of cameras from Nikon, Sony, Canon, and more.
It features multi-audio track editing for production purposes.
Limitations:
If you are dealing with a lot of data, the software slows down sometimes.
System Requirements:
OS: Windows versions 7, 8, and 10
Processor: 1.33 GHz CPU
RAM: 2GB
Graphics card: OpenGL 2.1
Price: You either try the software for free or buy Dragonframe for $295 (USB), or $325 (wireless.)
Conclusion
The list above includes the best 3D animation software that is both free and paid. The best free 3D animation software, in our opinion, is Blender, Daz3D Studio, Wings 3D, and Source Filmmaker. We'd place our bets on Maya, Aurora 3D Animation Maker, ZBrush, iClone, and 3Ds Max when it comes to the paid options. Be it 3D movies, motion graphics, video effects, animation videos, or VFX, the animation programs we've listed come in handy to create great projects.
(Article updated on March 7th, 2021)