Everyone dreams of being a Hero and thanks to Virtual Reality technology, ordinary mortals can now experience being Super-Heros. All they have to do is play any of the best VR games for Android.
Android Virtual Reality Games allow people to live their fantasies and step into an alternate reality using just their smartphone. By simply encountering wonderous spaces and environments regular lives are more exciting for some time.
One need not have a desktop or a laptop, your phone screen also offers you the same simulation. A seemingly real three-dimensional image can be played with just your Android screen.
Your phone is all you need to transport you into your fantasy world. Simply put, Virtual Reality games help you to have a 'real experience' in a virtual world.
Also See: Check out our list of the Best Offline Games for Android 
Selection of the Best VR Games for Android
1) Eclipse: Edge of Light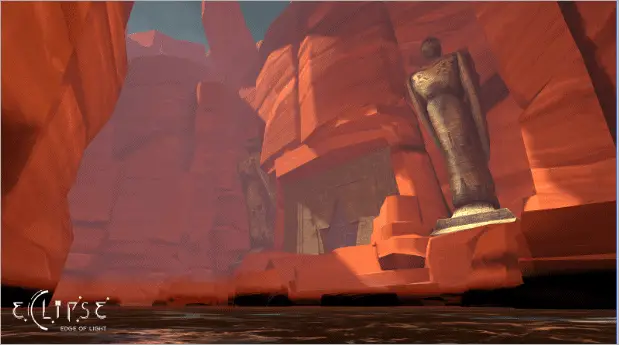 Eclipse: Edge of Light is a good Daydream's game where you have crash-landed on a sentient planet. When you awaken you discover an alien wonder. You are just armed with an artifact that helps you discover the past doom of the planet. It shows you the secret to survival.
By using your jetpack-equipped space suit you get to investigate the ancient ruins. You will also uncover the planet's perplexing past and face daunting challenges.
The game task lasts over three hours and keeps you occupied every moment; easily on one of the best VR games for Android.
2) Caaaaardboard (Cardboard Games)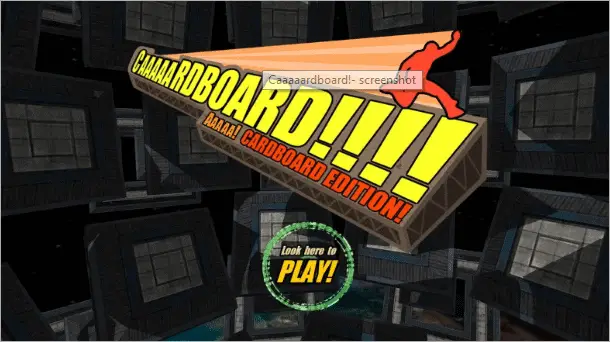 If you fancy jumping off buildings or diving off skyscrapers then the Caaaaardboard is just right for you. It is a custom-tailored version of Aaaaa that works with Google Cardboard is one of the best VR games for android.
The Owlchemy Labs have brought up Dejobaan Games PC title to Android with custom-built VR support. Whether played standing or sitting it promises you a great experience.
3) InMind VR 2 – A Scientific Brain Quest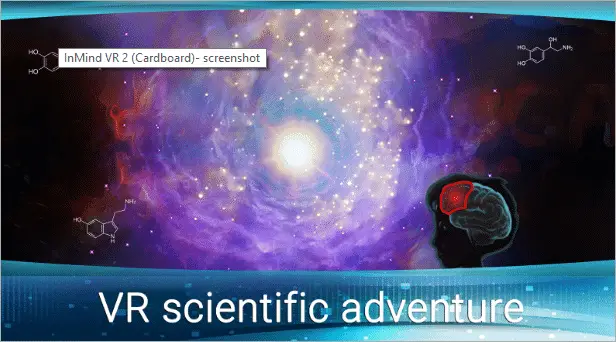 We all have aspirations to become like someone, like a space astronaut or a time traveler.
The InMind 2 as a VR game offers you an unusual experience that combines play and study. Therefore it is an action/arcade game based on educational purposes.
It shapes your aspirations of becoming like someone you admire. The game allows you to have a 'brain experience' that tests your different abilities like decision-making, facing and overcoming challenges.
You literally go on a brain journey sensing the neuropathy and other energy paths. All this within the micro world of your recreated brain. That's why the game is so crucial that even a small molecule can change a person's destiny.
This VR game for Android is about the chemistry behind human emotion inspired by the Pixar/Disney movie "Inside Out". InMind 2 is something experimental made by Luden.io to test the opportunities of Virtual Reality provided by Google Cardboard.
4) Whispering Eons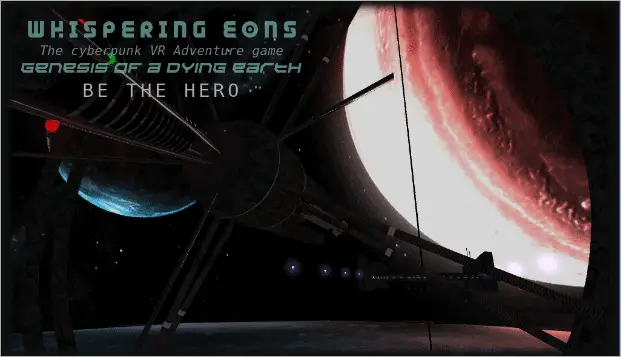 Cyberpunks in science fictions refer to a subgenre in a futuristic setting that combines lowlife and high-tech. So if you are a fan of being a hero in that world then Whispering Eons is good for you.
It is one of the best VR game designed for you by Google Cardboard.
With this game, you just don't play the story, but you live the game. The Whispering Eons comes with immersive puzzles and breathtaking scenes.
The cyberhero Ryan Condrad helps you to explore his planet Gaea. The experience is quite real as you get to meet and interact with a few non-playing characters too.
An added bonus is the beautiful soundtrack that makes this journey very mesmerizing.
5) Sisters – Best Horror Android VR Game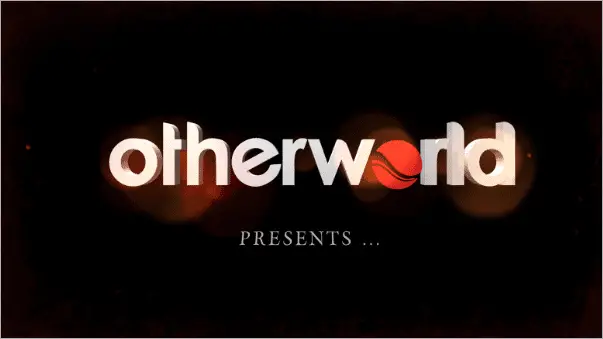 Easily one of the most popular genres in the gaming world is horror and 'Sisters' certainly earns its place among the top contenders.
This game allows players to watch the terror unfolding around them. With immersive 360-degree visuals and enhanced audio, the controls are simple for easy play.
Can you imagine how challenging it is to simply survive when 'someone or something doesn't even want to bear your presence here'?
So, yes, do be careful where you look or what you do and have a horrifying time.
6) Gravity Pull – Android VR Puzzle Game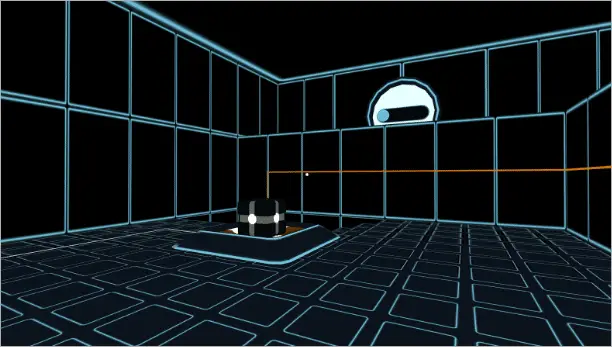 If you like to move as you play, then do check out Gravity as a perfect VR game for Android.
For this, you have to use your head and legs, walk or even jog around. So make sure you have no space constraints while playing.
The Gravity Pull VR puzzle game is designed for Google Cardboard and Daydream. It lets you solve 16 mind-blending physical puzzles by strategically placing cubes on switches to open doors.
We recommended that you play the game with Cardboard V2 that has a headset with a capacitive touch button.
7) Haunted Rooms: Escape VR Game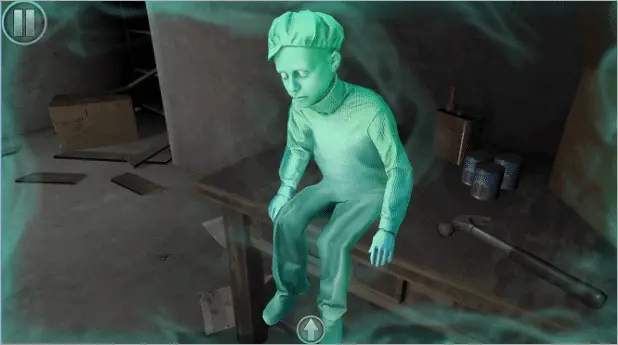 Jostling for a higher place among the list of the best VR games for your Android is the Escape the Rooms.
Haunted Rooms game is playable on Google Cardboard. It has detailed graphics used all over, with highly effective soundtracks.
With some really challenging puzzles to solve, the scary effects it is sure to be a terrifying experience.
If you are prone to motion sickness then don't play it with a headset.
8) Minos Starfighter VR Game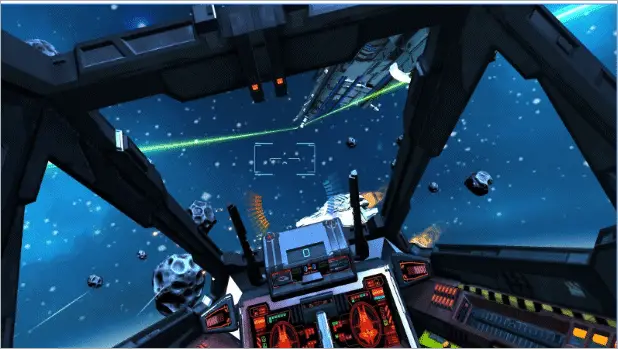 Ride and zoom through the galaxy and space with scary challenges in Minos Starfighter VR game for the Android.
But before starting with this game make sure your phone is compatible with Google Cardboard app. This is because the game is built specifically for Google Cardboard type VR headset.
Minos Starfighter VR is a first-person arcade space shooter game featuring triple AAA graphics.
Moreover, it comes with endless gameplay with progressively harder waves of enemies and you can also share your scores with other players. So get ready to race through the stars.
9) Proton Pulse Google Cardboard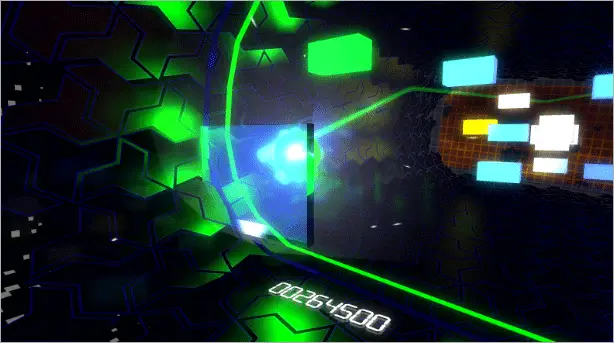 With over 50 levels to cross and beat the famed M.O.A.I. this is easily one of the most popular Android VR games.
Proton Pulse Google Cardboard is a 3D arcade brick-breaking game with a new perspective. The entity called M.O.A.I has attacked, and you have to save the world. You are chosen to compete in the game of atomic paddleball.
You have to use your paddle to direct the proton and destroy the M.O.A.I core. The proton is an energy ball with great power.
10) BAMF VR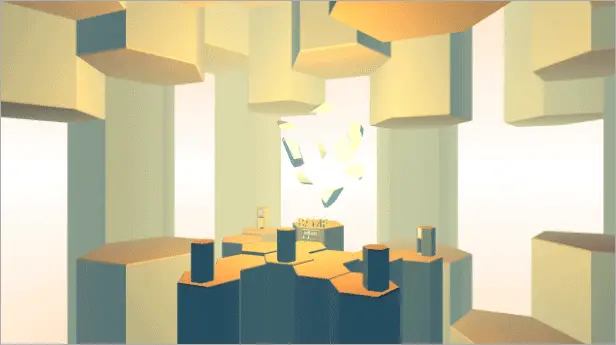 Collecting trophies is always fun in VR games and BAMF is such a VR platforming game. There is no running and jumping but only teleporting.
To find these trophies there are Crystals that are found in challenging situations. So you will have to explore, get lost in mazes, and tackle times obstacles.
At present, it is compatible with screen-tapping, Bluetooth/USB controllers, and magnetic switches and therefore makes it to the list of best VR games for the Android.
Although it is a Google cardboard game and requires a compatible phone. We recommend that you play the game on a swivel chair or standing up as it facilitates the 360-degree turns easily.
11) VR Wrong Voyage for Cardboard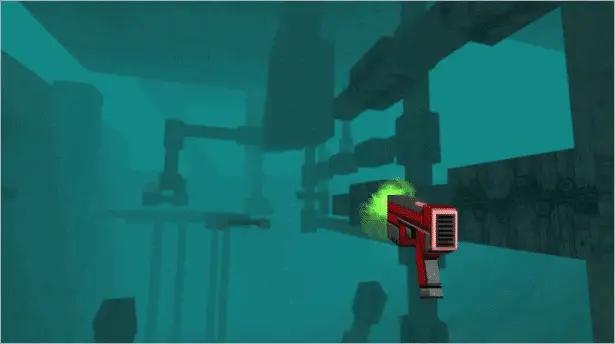 Sometimes wrong turns are best turns says this Android VR game with its title being VR Wrong Voyage.
Made for the Cardboard it is an fps/puzzle hybrid game with retro style made by Team Fguillotine and is compatible besides Google Cardboard also with FreeFly VR, Archos VR, MIRVirtality, Dive VR, etc.
To Play this game, you must have Bluetooth gamepad and Virtual Reality HMD like Google Cardboard.
It is a crazy world that you get to experience especially since you meet ancient construction and modern technology. Maybe getting stuck or lost in an unknown environment is your great gaming experience.
12) VR Fantasy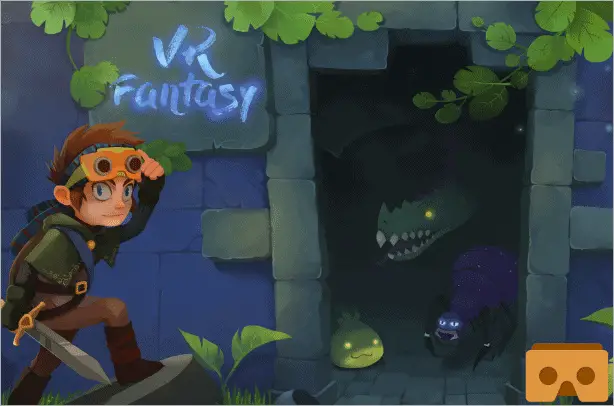 Ah! A game that makes you feel like a knight in shining armor. Explore the dungeons of an old fortress and fight with your sword in this VR Fantasy game.
To play VR Fantasy game, you must have a Virtual Reality viewer like Cardboard. You get to test your agility with ancient fighting weapons like the ax, the sword, and a powerful magic staff that helps you to shoot fireballs.
This game is definitely on our list of favorite VR games for Android.
13) VR Thrills: Roller Coaster 360 (Google Cardboard)
In the gaming zone, roller coaster rides have been most popular as well as well-tried out experiences.
So the VR Roller Coaster game lets you experience 3D fantasy ride with variations to suit different senses of adventures and thrill levels.
The music is an added benefit that works well with the fun aspect. It is one of the best VR games for android was roller coaster rides will never go out of fashion.
If you have a device without a gyroscope sensor, then simply tilt your head left or tight to rotate the view. The 360-degree video rides come from real footage that makes this roller coaster simulation very real.
The Alien Music Ride puts you on both relaxing and high-speed ride that interacts and visualizes music. This VR app is optimized for Android mobile phones and Google Cardboard.
14) VR Abyss: Sharks & Sea Worlds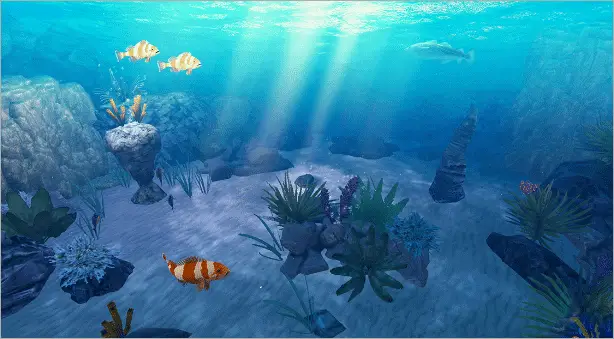 Do you want to dive deep into the ocean without getting your feet wet? Then do it with VR Abyss: Sharks & Sea Worlds made for Google Cardboard.
The game consists of shark attacks, sinking ships, and the coral reef and that too in 360 Virtual Reality. If you have the dare, then move down in a shark cage and experience the violent attacks.
As they say, jump right into the deep end with this popular Android VR game.
15) VR Zombies: The Zombie Shooter Games (Cardboard)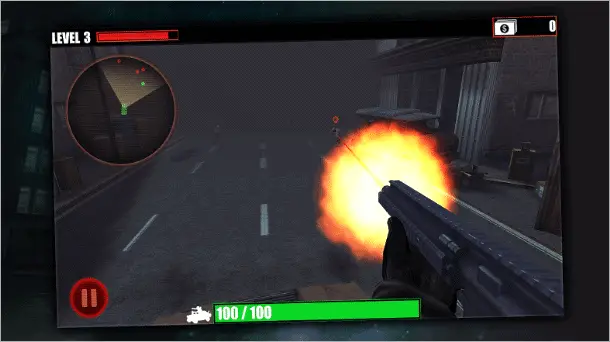 VR Zombies is a beautiful Zombie Shooter Game that requires nerves of steel and skills of a true marksman.
A sort of modern-day gladiator or killing games were introduced in which criminals were zombified through the injection. You have to enter the game as an ex-bounty hunter. He has too much idle time and has joined a brigade of private contractors. They go out together and hunt the zombies.
You can have the best VR game experience using Google Cardboard.
16) Hidden Temple VR Adventures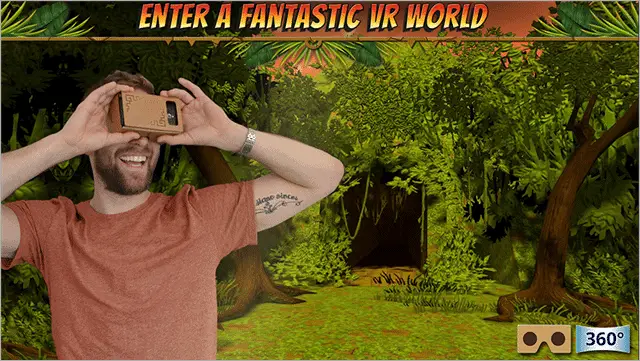 Unleash the treasure hunter within you in the deepest fo the jungles! The Hidden Temple VR game offers you a mystery, riches and a great adventure. Therefore this Android VR game is one of the most popular among all age groups.
The game is a classic point-and-click type one where you have to collect and combine items to solve riddles. You will discover the secret chambers, have corridors to explore, views places and find the hidden treasure of jewels and gold.
Best to play The Hidden Temple with VR-headset that affords a 360-degree view and a great gaming experience!
17) VR Noir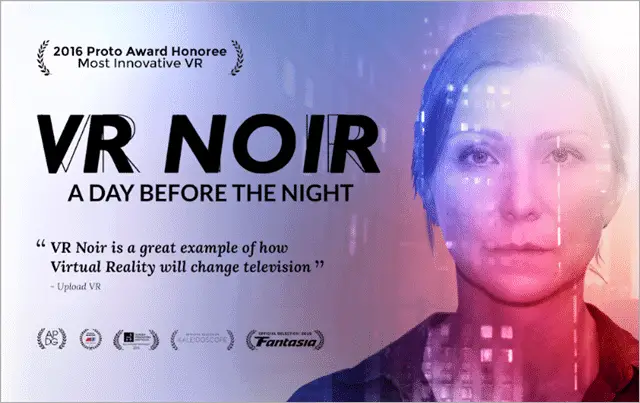 If you find comfort in the familiar then do look at playing this Android VR game called VR Noir.
Not a new but worth playing one; VR Noir, where you play the role of Veronica Coltrane who is a private detective forced to take a job for the sake of money. The game includes a fantastic storyline and immersive gameplay.
You require Google Cardboard to play this conspiracy game. So if you are keen on investing things and concluding solid points about cases, this game is definitely for you.
18) BattleZ VR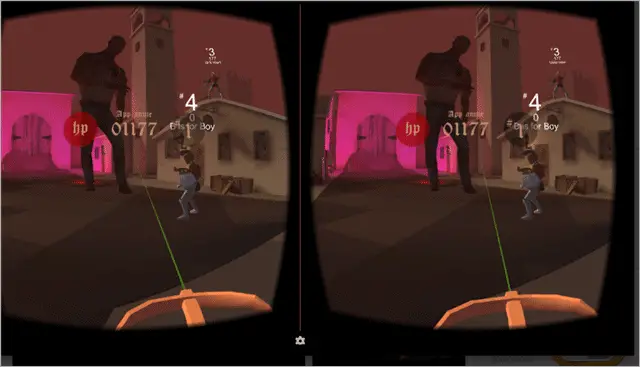 BattleZ VR is a multiplayer FPS game compatible with Google Cardboard and Gear VR making it most popular among friends who want to play together. Using the hashtag #BattleZ. You can also share on Facebook and Twitter.
Team up with your friends and defend their homes that are ruled by zombies in this popular Android VR game.
For a completely thrilling experience, you need a Virtual Reality Viewer and a motion-tracking controller like a RealViewer or a RealControl. You can get it from www.realiteer.com.
19) Hunters Gate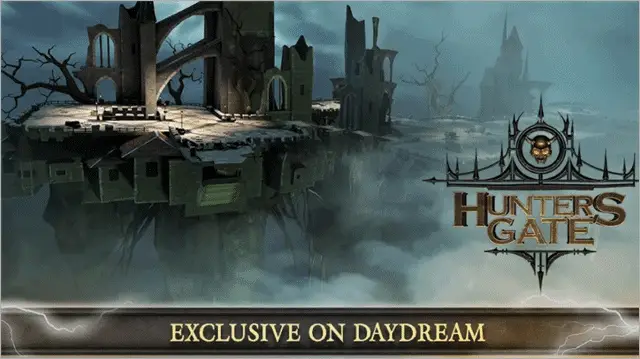 If you fancy a gothic themed dungeon crawler adventure with plenty of hack and slash challenges, then you might want to check out this VR game for the Android. In addition to this, you also get to become one hell of a bullet shooter.
For example, you can choose to be either Forge who is a lucky gunslinger or Payne who is a revenge-driven mage. You have to start defending the town from the demon invasion. It ends when you take the fight to the demons by invading their homeworld.
In short, you can also unlock and upgrade powerful weaponry, spells, and Hunter Skills. As you move further in the game you destroy demons. The game is simple yet addictive.
20) Twilight Pioneers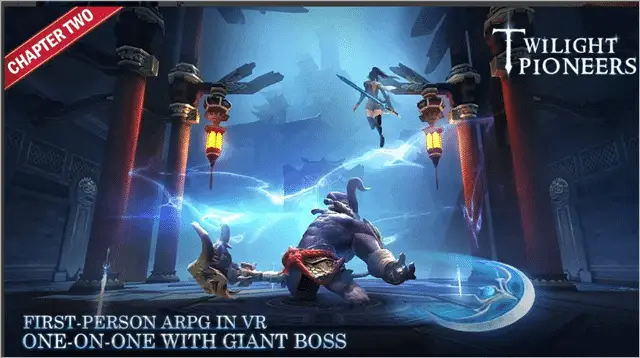 Twilight Pioneers is first-person ARPG in VR by Netease and is specially designed for Google daydream that uses the Daydream controller and headset to the best of its capacity.
The players are pushed into an Eastern-inspired fantasy world. They have to save this world as the magic-casting and sword-wielding heroes. They are allowed to navigate the game the way they want from a first player perspective.
Definitely makes it to the list of best Android VR games.
Conclusion
Fantasy is at its best with zombie world, treasure hunts, space odyssey, lost worlds and even under the sea or inside the brain.
At a double-click or a simple swipe on the screen of your phone, you have easy access to the best Android VR games that transport you into different realms of adventure and thrills. To have some VR fun, simply get started.
(Image Credit: VR Headset on a table Daniel Krason/Shutterstock)