Board games have been around for a long time, probably as far as 3500 BC. From ancient history to modern history, board games are great fun to play. With the emergence of smartphones, board games are now available in apps as well. Some of the best board game apps such as Monopoly or Chess can now be played on your phone without actually having to buy the game.
From revisiting your childhood memories to the best past-times, anyone could ask for! Let's have a look at the best digital games for Android you can choose to play as per your needs and requirements. They come in several genres, such as action, adventure, strategy, card games, puzzles, etc. And for those who want to get an overall gaming experience, try the best offline Android games.
Play These Best Board Game Apps On Your Smartphones Right Now
When it comes to games today, users have a plethora of options to choose from. Be it best VR games for Android or the trending idle games, there is an unlimited amount of fun waiting for you. But then, what makes board games so popular? The old-school charm and warmth still linger in them. Whether printable board games or best board game apps, it's all the same.
With many board games currently available on the Google Play Store, we have listed the 20 best board game apps you can refer to before making a choice.
1. Chess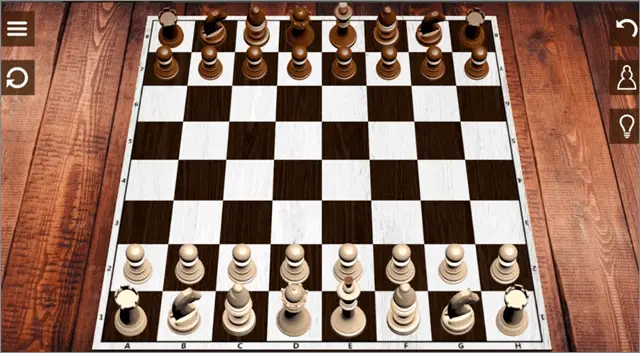 Any list of the best board game apps will be incomplete without the game of chess. A classic old war strategy game is one of the most favorite past-times for people in their leisure time. The history of chess can be traced back to the 6th Century A.D in India before it spread to Persia.
When it comes to chess, the rules are pretty simple, accessible, and easy to understand. One king, one queen, and four factions of horses, camels, elephants, brooks, and pawns are what you get at the start. The player who kills the opponent's king ultimately wins the game.
AI Factory Limited develops the app we are talking about. There are several Chess games on the PlayStore, but this is the best amongst the lot.
There are 12 difficulty levels from novice to expert and also a chess tutor to teach you the game. You also get to keep a record of your achievements and leaderboards. There are different landscapes for both phones and tablets, and you are also assigned an ELO rating based on your performances.
Price: Free
Download Chess here
2. Monopoly Bingo!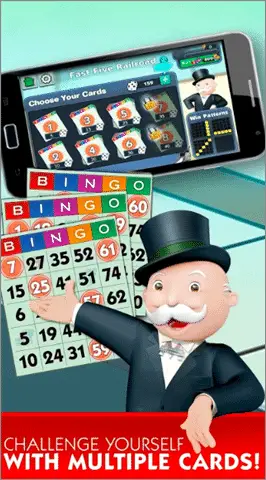 Monopoly Bingo! is just an Android adaptation of the famous Monopoly board games which everyone must have played at least once. Loved by kids and adults alike, this game brings out the best in you. It's all about making money, buying properties, and collecting rents from opponents until you are the wealthiest player amongst the lot, and all others go bankrupt.
Monopoly Bingo! has action cards like RailRoad, Jump Sprint, Balloon, Police Car, and so on, which are required to move the game further. You can also play this game in real-time against opponents from all around the world.
Players can also create Clubs to share their wealth and cards with other players and attend various individual or club events. One of the best board game apps in the market, isn't it?
Price: Free with in-app purchases
Download Monopoly Bingo! here
3. Cluedo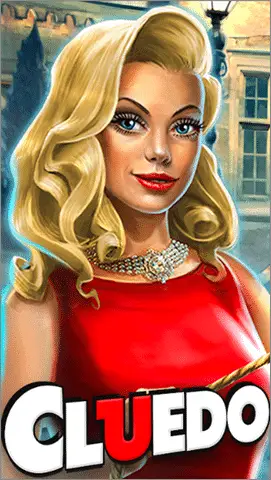 Cluedo is one of those unique digital board games that you will enjoy playing. It involves solving a murder mystery by answering questions WHO, with WHAT weapon, and WHERE. You can avail the right to ask only one question at a time after playing the dice.
As the storyline goes, the Tudor Mansion experiences the murder of Dr. Black. Miss Scarlett, Colonel Mustard, Mrs. Peacock, Reverend Green, Dr. Orchid, and Professor Plum make the list of suspects, and you have to identify the murderer by asking the three questions mentioned above.
The game uses an innovative logic-assisted virtual Clue Sheet so that you can cancel out the red herrings by taking appropriate notes. Have fun solving the mystery first!
Price: Free with in-app purchases
Download Cluedo here
4. WordStreak: Words With Friends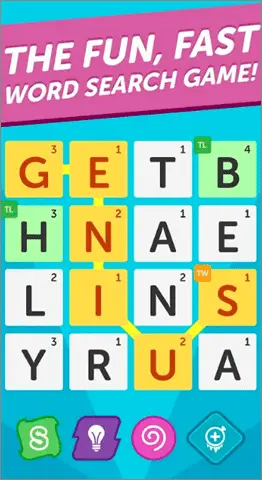 WordStreak: Words With Friends is one of the best board game apps to play if you wish to improve your vocabulary and learn new words.
The ultimate aim is to spell as many words as possible in two minutes. WordsStreak also tests your word skills by pitting you against a Coach in a three-round match of wits. You can also compete in head-to-head tournaments in this game.
WordsStreak: Words With Friends is available in 9 languages: Spanish, French, German, Italian, Dutch, Danish, Swedish, Turkish, and English. This game could also be a great learning aid for improving your vocabulary if you are learning a new language.
Price: Free with in-app purchases
Download WordsStreak: Words With Friends here
5. Battleship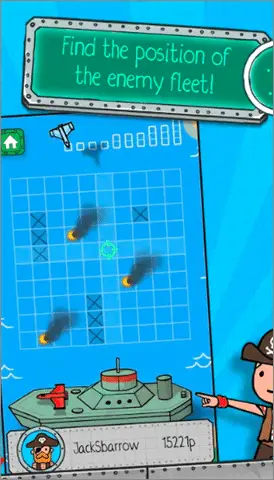 Battleship is one of the most frequently played digital games on both Android and PC. Now, however, Hasbro has transformed the world-famous game into a board adventure.
There are two modes in the Battleship board game: Challenge Mode and Commander's Mode. You can challenge players for naval combat in both methods. The only difference between the two modes is that the Commander Mode is more tactical, strategic, and fast-paced in nature.
The ultimate aim of the game is to sink the opponent's ship. There are unique characteristics and abilities assigned to each commander, and three new core abilities add up a different dimension to the gameplay altogether.
You can earn medals as you win battles and become the best commander on your fleet. Good luck on your way to being one!
Price: $4.99
Download Battleship here
6. Dominoes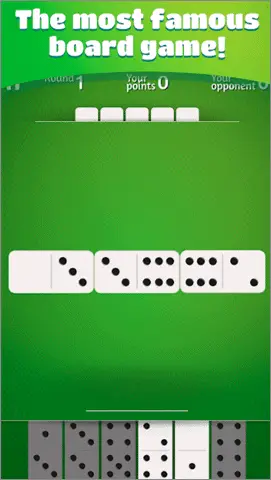 Domino games have been played around for several hundreds of years, and it's no surprise that following their popularity, the games have an Android version available as well.
One of the best card game apps in the market, Dominoes, offers five games to play: All Fives (Muggins), Draw Game, Block Game, All Threes, and Kozel. The games are primarily played online with opponents who could also be from your Facebook friend list. Dominoes are multiplayer games that can be played between 2 to 4 players.
Price: Free with in-app purchases
Download Dominoes here
7. Draughts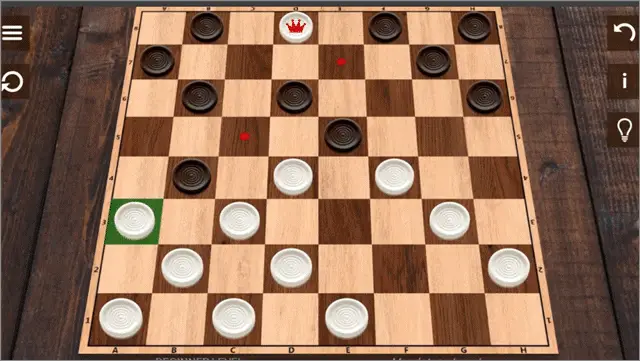 Draughts is yet another name for Checkers – the ancient game we have all grown up playing. It has seven themes: white, dark, gold, art, light gray, gold, and black.
Draughts has a 2D vertical view and a 3D horizontal view. The game also boasts a multiplayer mode apart from the usual single-mode.
Draughts supports twelve rules of the game and has ten difficulty levels that test players and their ability to play games. The graphics are realistic, and the sound effects too are satisfactory, making Draughts a game worth trying at least once.
Price: Free with in-app purchases
Download Draughts/Checkers here
8. Pandemic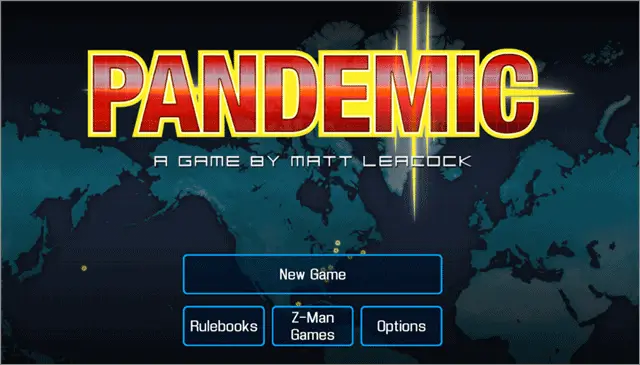 Pandemic is one of the best board game apps in the thriller genre. If you love nail-biting adventures with time-constrained challenges, this game will leave you excited.
Pandemic puts you in an apocalyptic situation where you have to find cures to four diseases in a specified time limit. You act as a part of a team that aims to save the fate of humanity from being destroyed due to the spread of the diseases.
As a player, you get to perform four actions to perform on each turn. You can perform several actions such as fly to a city in need, remove disease cubes, trade cards, and much more. Make sure you manage to get the cures in time as the destiny of humanity rests upon you!
Price: Free with in-app purchases
Download Pandemic here
9. Spider Solitaire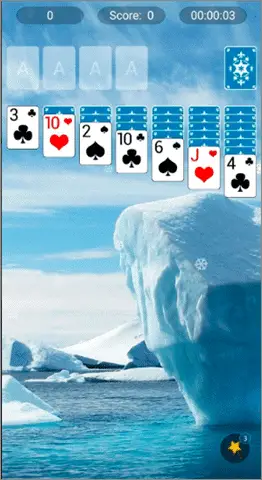 Solitaire is the number one card game around the globe. It is a very addictive game loved by millions around the world.
The Solitaire card game app offers cool personalization with 14 kinds of app backgrounds and 31 types of card backgrounds to select from. You can keep track of your statistics, records, and also set a timer for a game to improve your playing skills.
There are two levels of gameplay. One is Easy where you can draw only one card, and the other one is Difficult, where you have to draw three cards at once. Solitaire's simple user interface and easy to understand gameplay makes it one of the best board game apps for Android.
Price: Free with in-app purchases
Download Solitaire here
10. Mini Metro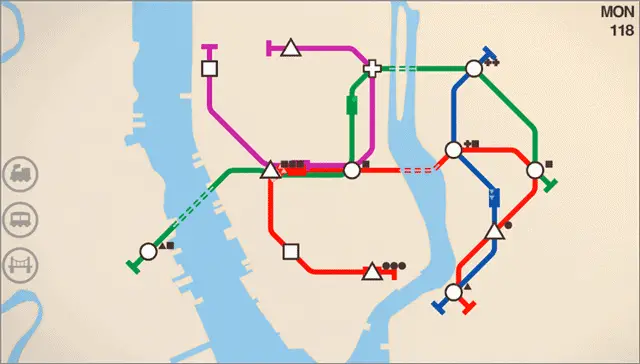 Mini Metro is one of the most exciting digital board games you will come across on the PlayStore. In this game, you have to design a subway map for a growing city. It is a subway simulator game that can keep you glued for hours.
Mini Metro forces you to rethink and redraw your lines again and again as new stations come up, providing a challenge to the players. The game has 20 real-world cities, meaning every game is unique and challenging in its own manner. The Normal mode is for quick scoring games, Endless for relaxing, and Extreme for the ultimate challenge. Colorblind and Night Modes are also available.
Make sure you plan in the best manner possible when you play this game!
Price: $4.99
Download Mini Metro here
11. Mr. Jack Pocket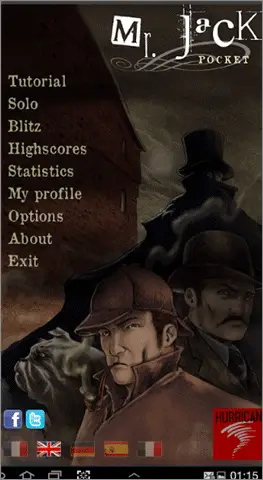 Mr. Jack Pocket is one of the best board game apps for Android. Concept-wise, it is unique and exciting enough to compel you to play at least once after you read this.
Mr. Jack Pocket is a cat-and-mouse game with two characters – Sherlock Holmes and Jack. You can select any of the two characters and adhere to the challenge that comes with him.
If you are Sherlock Holmes, you must try and unmask Jack, who had committed a murder and has disguised himself as one of your detectives. As Jack, all you have to do is stop Holmes from discovering your true identity throughout the night until dawn so that you can run away.
As the gameplay goes, Sherlock has a line of sight of his fellow detectives, and each night Jack must tell if he is visible or not. This allows Holmes to eliminate other suspects.
Price: $2.99
Download Mr. Jack Pocket here
12. Potion Explosion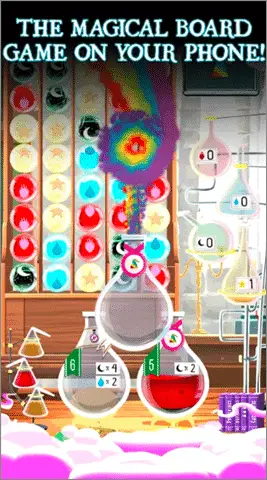 Potion Explosion is an award-winning puzzle board game that can be played in solo as well as multiplayer mode. You have to concoct a potion with various ingredients such as unicorn tears, fairy dandruff, and other special effects.
You can test your skills and strategies against three adjustable AIs in the solo mode. Potion Explosion also contains The Fifth Ingredient – an expansion of the game that has new challenges, new rules, and the addition of new characters as well.
Potion Explosion is regarded as one of the best board game apps for Android, thanks to the number of challenges that it offer.
Price: $5.49
Download Potion Explosion here
13. Splendor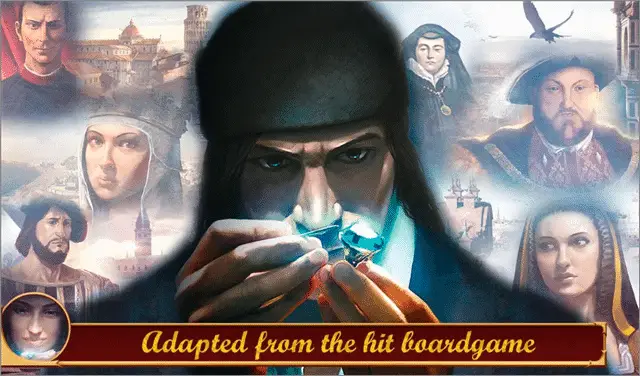 If you love to trade and business games, you should definitely try out Splendor. It's a splendid game with rich graphics and a 16th-century setting that will keep you engaged for hours.
In Splendor, you play as a rich merchant in the Renaissance period. Your aim is to extract raw gems, turn them into beautiful jewels and sell them to the nobles to earn money and prestige. You have certain resources required for mining, hiring artisans, and deciding on transportation methods.
The game is easy to understand but quite challenging to master. There is multiple Artificial Intelligence based on unique strategy behaviors instead of difficulty. All in all, Splendor is one of the best board game apps if you wish to play business and trade board games. Totally worth every penny!
Price: $6.99
Download Splendor here
14. Ticket To Ride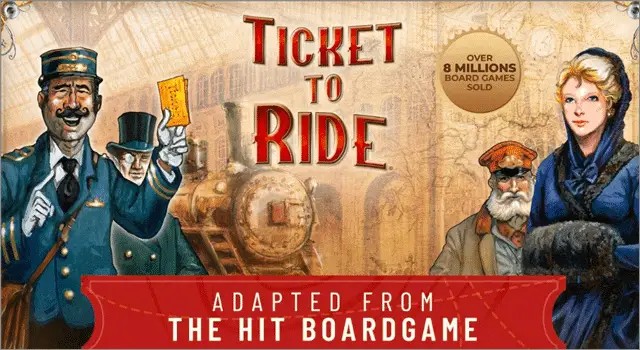 Ticket To Ride is more like Mini Metro, the only difference being you have to build railway tracks instead of roads. You have the entire world open for building tracks and connecting cities internationally.
Your aim is to build the biggest network of railway lines throughout the globe and block your opponents or take over their lines. There's a tutorial that will teach you how to play the game so that you don't have any difficulty in understanding it.
Ticket To Ride is one of the best digital games for people of age groups. Make sure you build a vast network of railway lines if you want to win this game! It
Price: $6.99
Download Ticket To Ride here
15. Fleet Battle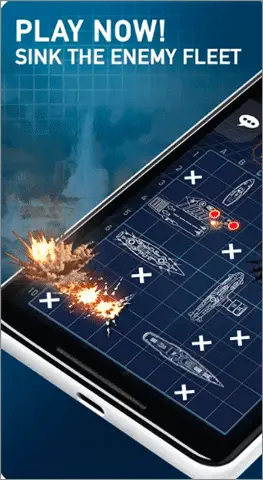 Fleet Battle is a battleship board game that will make you make you revisit your childhood memories. One of the best board game apps, you have to build a fleet of battleships and command it as a sailor.
The primary aim is to destroy all the rival forces to win the game. You can play this game in multiple, as well as a solo mode on Bluetooth or WiFi.
You can also earn medals as you pass certain levels and upgrade your fleet. Have a good time sinking opponent ships and winning the game!
Price: $5.49
Download Fleet Battle here
16. Galaxy Trucker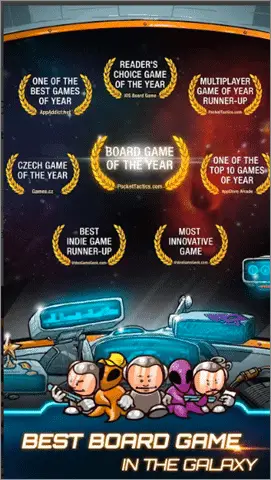 Galaxy Trucker is all about building space ships, avoiding meteors, and fighting off bad guys – all just to be the trucker with the maximum cosmic credits at hand.
One of the best board game apps, Galaxy Trucker is family-friendly and suitable for people of all age groups. Players can play in solo or multiplayer mode. For building the ships, all you have to do is draw tiles. The game is fairly simple to understand and you will enjoy it once you start playing.
Price: $4.99
Download Galaxy Trucker here
17. Words With Friends 2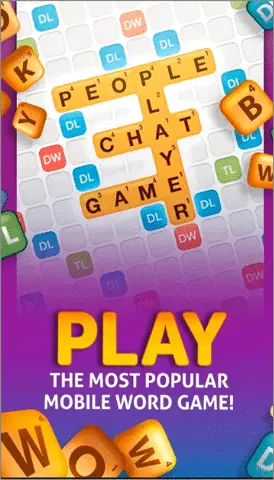 Yet another game that not only entertains but also educates you in the process. Words With Friends 2  is one of the best board game apps to play if you wish to strengthen your vocabulary.
The game has many challenges, puzzles, crosswords that you can play in various modes. You can also play against fictional characters and keep track of your competitive streak against your opponents.
Words With Friends 2 also tests your speed in word-building by offering fast-paced exercises with time limits. All in all, it's an engaging game that will not disappoint you for sure!
Price: Free with in-app purchases
Download Words With Friends 2 here
18. Carcassonne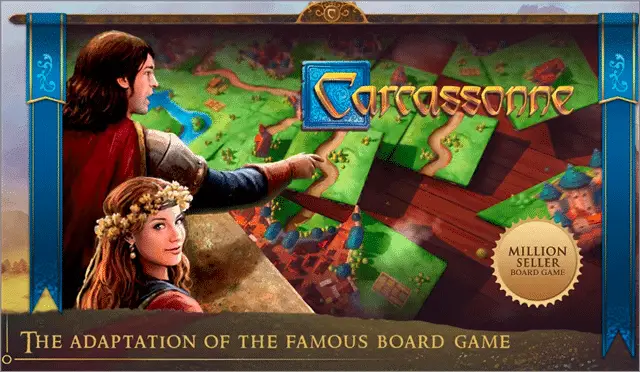 Carcassonne is a tile-based strategy board game in which you have to build an empire by placing tiles in the correct manner. You can build cities, roads, and much more and place your followers, the meeples, in each territory. These meeples need to be placed in the right positions as they can win you points and stop opponents from winning the game.
There are six expansions in the game that make the game more exciting and enable users to enjoy it for a long period of time. It also offers solo and multiplayer modes and 4 AI behaviors, which make the game harder to win.
If you are looking out for strategy board games, Carcassonne is one of the best board game apps to try out.
Price: $4.99
Download Carcassonne here
19. Ludo King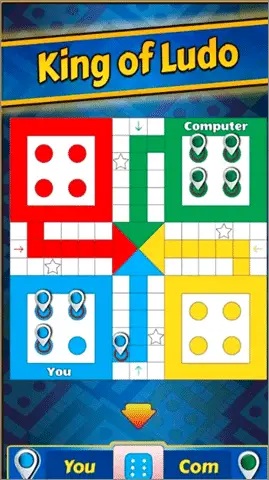 Ludo is another famous board game that needs no special introduction. One of the most played household games in the world, there are many game companies having their own Ludo game apps on the PlayStore.
Ludo King is one of the best board game apps to download if you wish to play the game online and offline. The player offers solo and multiplayer modes of play.
There are a number of themes available for the background. You can make friends worldwide and challenge your Facebook friends to a game of Ludo.
Price: Free
Download Ludo here
20. Tsuro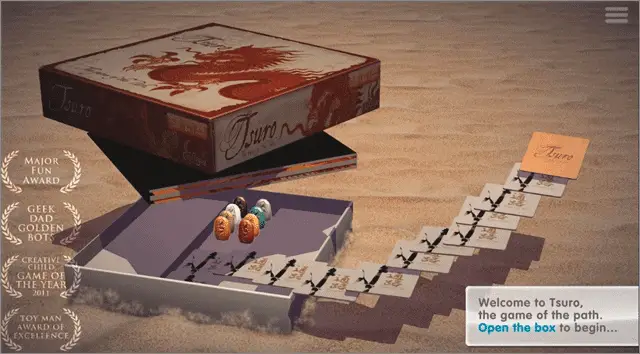 Tsuro is yet another tile-based game where you have to build paths using tiles and move your stone across it. However, you must be careful not to take the path created by other players as it can lead you off the board, and you may lose the game.
Tsuro offers three modes of play in the latest version: Solo, Loop Battle, and Longest Path. The game supports eight players, and you can choose from 3 AI personalities to test your strategic skills.
There are over 50 achievements to unlock, which will test your skills and help you develop your strategies. All in all, Tsuro is one of the best board game apps to try out in your leisure time.
Price: $3.99
Download Tsuro here
Final Thoughts
Board games are usually one of the favorite past time for most people. Apart from providing entertainment, these games also improve various skills of players, such as cognitive thinking, decision-making, strategic thinking, and problem-solving.
There are several best board game apps for Android you can play on your phone. Chess and Solitaire are some of the traditional board games you can play if you love strategy and card games. Pandemic is an excellent choice if you like thrillers. Splendor and Monopoly are good games to go for if you love to trade and do business.
No one game can be classified as the best among the lot, given that there are different genres. The choice of the game depends on a player's interests, needs, and requirements.