In the ever-changing world, something new is constantly happening in some corner or the other. How do you decipher which news is authentic and which is not? Well, an ideal option is to have the best Android news app on your smartphone, which will always keep you updated. These news apps keep you posted about the events around the world, so you do not miss out on any breaking story.
Newspapers and tabloids have become a thing of the past. Our smartphones are an indispensable part of our daily lives; out of the multiple apps that you cannot do without, one should be giving you updates about what's happening around us. So, no more relying on what the advertisers want to show you during their broadcast.
30 Best Android News App in 2020
Did you know that more than 30% of the first-world population consume news on their Android devices? Yes, the internet is full of news sources, but not all are reliable. While you are casually browsing or skimming through your smartphone, there are several news items you come across. However, instead of trusting anonymous sources that are not authentic, check out our list of the 30 best news apps for Android and stay in touch with world affairs.
1. AP News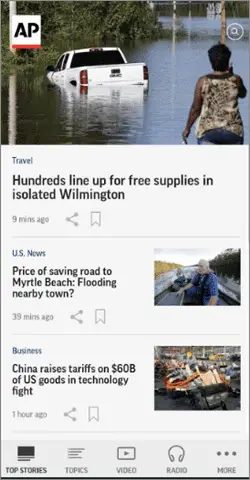 One of the best news apps, AP news (The Associated Press) is exceptionally reliable. The report is brought to you by collecting information from hundreds of credible sources. The user interface is clean, and you will see a variety of topics on display. Click on a specific niche to read the news on the subject.
AP News is highly recommended for sports, technology, entertainment, and travel. However, if you are looking for the best Android news app that would keep you updated on politics, AP News is not ideal.
AP News is known for debunking rumors. You get local as well as national news. If anyone is looking for a news app that is effective and does not come with any frills, they most definitely get their hands on AP News.
Price: Free
2. Google News
The search giant has a smart news app that disseminates local and world news. On opening the best Android news app, you will see the top 5 stories doing the rounds. This is a mix of the latest developments and the most important headlines. You can customize the feed as per your requirements.
Underneath every headline, there is a button called 'full coverage.' By clicking on it, you will come across all the news articles that cover the same topic. This approach enables readers to have an in-depth and holistic knowledge of the subject.
The user interface of the Google News app is neat and elegant. Too many redundant features do not block important news content, making it one of the best Android apps. You can subscribe to any news publisher you like by signing in with your Google account.
Price: Free
3. Feedly
Feedly is a popular news app and an RSS reader. Being an RSS reader indicates that the best news app for Android pulls information from multiple news sources and sites. The aim is to build a news network by collecting vital information from trustworthy places. Feedly integrates with Facebook, LinkedIn, Twitter, Pinterest, among others.
Feedly is connected to more than 40 million feeds, so users can look for their area of interest and the niche they want to dive deeper into. Be it design and marketing or business and technology, you will find valuable news and information about every sector.
The app loads quickly and gives you a clean reading experience. You can directly share a news item on your social media page and share the stories with the world.
Price: Free/$9.99 per month
4. Yahoo News
Yahoo News curates news and information from the top sources across the globe. You can customize your news feed according to your preferences and always have news items from your favorite publishers at the top. Their team includes 360 examines who thoroughly check and study what's being published.
You can also watch live videos concerning the trending topics. For example, most news articles are from credible sources like TIME, USA Today, and The New York Times. There is a small section of opinionated articles as well. The editor gives you insight into what he/she thinks about an ongoing issue. You can overlook this section if you want unbiased and direct news only. It is the best Android news app also gives you weather updates and excellent coverage of political affairs.
Price: Free
5. Flipboard
One of the best free news apps, Flipboard, works on the same lines as Feedly. Users can create a custom feed based on their preferred topics from the most trusted news sources and websites. However, Flipboard is much more flashy than Feedly. The user interface makes you feel like you are skimming through a news magazine. The images used are quite large, and there are fun animations as well.
Be it technology, entertainment, lifestyle, or sports, the best Android news app delivers the latest information and headlines related to all the topics. You are well-informed about what is happening around you throughout. Undiscovered gems or must-read stories, which ones will you get your hands on first?
Price: Free
6. Microsoft News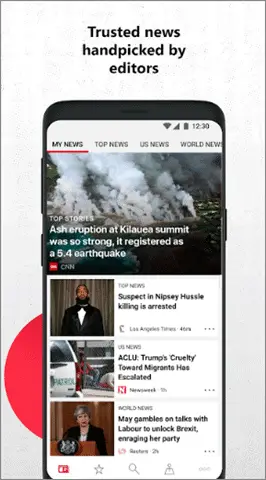 Microsoft has dipped its toes into the news app domain as well. It brings you a well-curated range of news selected from various sources. You can use a personalized and topical news feed to avoid encountering topics you do not want to read. It is the best Android news app that includes Today Widgets and a Home Screen that ensures your news pieces are easily reachable. Microsoft News pulls information from mainstream newspapers, entertainment websites, magazines, and credible media outlets.
The interface is free of distraction and clutter. You can optimize the layout, sync settings across other devices, and select the dark theme mode for night-time reading. The breaking news app enables you to save articles for offline reading.
Price: Free
7. Drippler
The most different app to make to our list of the best Android news app options is Drippler. It is your one-stop-solution for gathering all the news that surrounds the Android world. Keeping a tab of what's happening in the world of Android is not easy, and this is where Drippler comes in. You are constantly updated about all the events, tips, tricks, and news related to Android.
The app's design for news is excellent, and it also provides you with some funky widgets. Tech news, app reviews, hacks, and secrets; you name it, and they have it. The information is collected from the leading reliable Android sources, so you never miss any update. Shortcuts, launchers, secret menus, and software updates, you get it all under one roof.
You also discover new, fun, and exciting stuff that can be done with your Android devices and the apps you can download.
Price: Free/$0.99 per month
8. Podcast Addict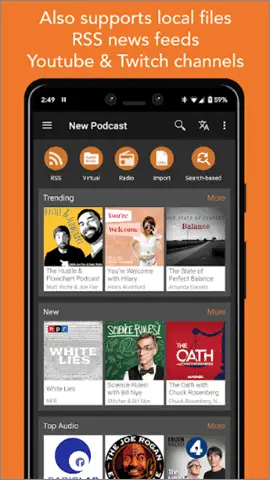 If you are looking for an all-in-one solution to get your daily dose of news, you must try out Podcast Addict. The best Android news app is a combination of a podcast app put together with an RSS reader. Podcast Addict boasts of a massive collection of more than 450,000 podcasts. Moreover, users can subscribe to any news source they wish to.
Podcast Addict supports Twitch and YouTube. The app includes news feeds that are organized categorically and podcast playlists. It also integrates with Chromecast. You will find better RSS and podcast apps, but there cannot be a better fusion of both these worlds like in Podcast Addict.
There is live streaming from popular news networks like BBC. You also get to hear some news in the form of radio commentary.
Price: Free, in-app purchases available
9. Reddit
Reddit arranges news and topics into communities. You can directly go to a genre you would like to read about, without skimming through the rest. Users can create a personalized feed that can include sports stuff, top headlines, viral images, and the best memes.
You can subscribe to the subreddits. The topics of the subreddits range from Android and iOS to technology and fashion. Every trending news piece finds itself a place on Reddit. The user experience of the best Android news app is impeccable, and you will find yourself spending a lot of time glued to the screen.
Overall, Reddit is excellent for news and a superb community forum where you can share your ideas. The premium version gives you some additional features and no ads.
Price: Free/$3.99 per month
10. Pocket
If you are looking for the best Android news app that offers something unique, you must check out Pocket. It does not display content. The app saves everything you come across while browsing throughout the day. When you find some interesting reads on a chat, Facebook, or Twitter, but cannot read it immediately, you can save it on Pocket for later.
Whenever you have time and wish to go back to what you saved back then, simply open the app and start reading. Pocket includes some exciting features and an offline reading mode. It gives you a great reading experience and unlimited storage capacity.
Capture what you have wanted to read, stuff that into Pocket, and curate your own space. So, no more missing out on the latest news stories and articles.
Price: Free/$4.99 per month
11. SmartNews
One of the newer news apps for Android, SmartNews has carved a niche for itself in no time. It sources its news from various credible outlets like The Huffington Post and USA Today and brings you the top trending stories. If you do not like to miss news items and current affairs everyone is talking about, SmartNews should be the best Android news app for you.
Do you want to read opinion blogs? If yes, SmartNews has got quite a few of them. The award-winning app analyzes millions of news stories daily and decodes what's influencing the world at the given moment. You can also read offline and customize your feed on the best news app. SmartNews is an excellent alternative to all the mainstream news apps. It enables users to glance through the top headlines quickly.
Price: Free
12. Palabre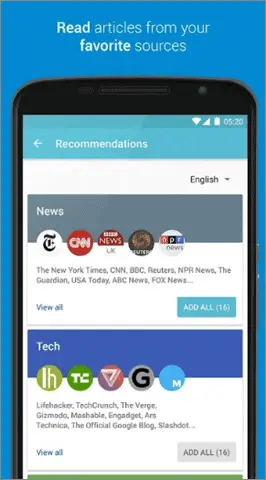 Do you absolutely enjoy reading RSS feeds? If yes, Palabre is the best Android news app for you. It is an all-in-one news app. The personalized Android reader gives you the best user experience. You can opt for additional features like offline reading and choose the dark theme. The design of the app is beautiful and modern. It feels like you are reading a magazine.
Palabre sources the daily news content from BBC, The New York Times, USA Today, The Guardian, and other prominent news agencies. You can add plug-ins to the app and decide how you wish to consume the news. You can also add an unlimited number of articles and news stories to the offline reader and sync Palabre with your Twitter account. So, whenever you open Palabre, you will spot all the specific Twitter account feeds that you wish to follow.
Excellent integration, comfortable user experience, and illustrative widgets make Palabre worth downloading and one of the best news apps.
Price: Free, in-app purchases
13. Inoreader
If you wish to try out some new news app that more or less works on the traditional methods, you must get your hands on Inoreader. The best Android news app allows users to customize their news feed as per their tastes and preferences. Inoreader consists of 28 pre-made topics. If you do not want to look for your own news sources, you can simply pick and choose from the 28 available options.
Inoreader has a decent collection of news stories and topics. The app will not let you down in covering and showing you what exactly is happening around the world. It supports offline reading and tracks what you read. The tracking helps in deciphering your preferred subjects and showing up recommendations accordingly.
Anyone who does not wish to set up a news feed manually should consider using Inoreader. From research institutes to techies and digital marketers, Inoreader is used by one and all.
Price: Free
14. Twitter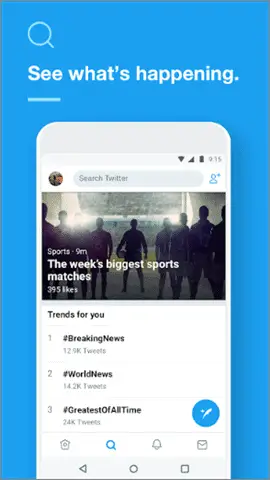 When it comes to social network platforms, Twitter is the best news aggregator. It is one of those rare mediums that still sticks to posting news in chronological order. Therefore, the best Android news app displays what exactly is happening at the moment.
You can use hashtags to browse through the trending topics and issues and explore various interesting features. Follow news sources you want to keep track of. Once done, every time you open the app, you will come across feeds from these sources only. Do not approve of a particular page? Use the block or the mute option to shove them off.
Twitter, hands down, is our favorite go-to social media app for keeping ourselves updated about what's happening across the globe. Celebrity gossip, political affairs, sports updates, and local news, you can have it all.
Price: Free
Related: Best Twitter Schedulers To Target Right People At The Right Time
15. The New York Times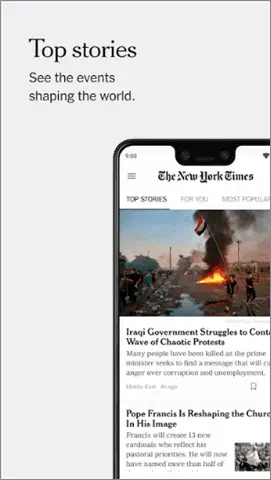 The New York Times is undoubtedly one of the world's most popular and trusted news sources. It includes everything a user would expect in the best Android news app. Alerts and notifications for breaking news, top headlines from across the globe, social media sharing, and convenient offline reading, you name it, and they have it.
What more? The NYT also consists of options that are not available with the other news apps for Android. One of the most unique and exciting features is making you a part of augmented reality. You can interact with top athletes face-to-face and peep into the wardrobe of your favorite celebrities. There are various other audio and video facilities too.
Paid subscriptions will make additional stuff available to you, such as cooking tutorials, a bonus publication, and the NYT crossword.
Price: Free/$15 per month
16. Financial Times
Financial Times is one of the oldest publications we have. It is the one-stop solution for anyone looking to update himself/herself on the latest and the most significant events worldwide. Financial Times is different from the other best Android news app options that we've listed because it emphasizes on financial and business news.
With the FT app downloaded, you will ever miss out on any development in the business world. You can follow topics and pages that interest you the most and turn on alerts for breaking news. The app makes way for offline reading. The interface exactly resembles the newspaper.
You can also save any article or news story and read it later. You can browse through securities to check the status of the stocks you have invested in and monitor the markets.
Price: Free, in-app purchases
17. BBC News
BBC News is universally accepted as one of the top sources for keeping us updated about world affairs. The worldwide news organization is dedicated to ensuring that readers are aware of all the latest news and crucial developments. Unlike some of its competitors, BBC News adds a little bit of a fun element to some of its stories, and it takes courage for any mainstream media house to do that.
They have a live-streaming news channel that can be accessed via the app as well. You can turn on notifications for receiving alerts when there is breaking news or some important headlines doing the rounds. You can personalize your news feed and select what you want to see on the top, each time you open it.
The best Android news app boasts a global network of journalists who claim to break the stories to their consumers the fastest.
Price: Free
18. CNN News
CNN was the first cable news channel to broadcast 24-hour news coverage. Their official app, CNN News, works just like a condensed version of the channel. They offer tons of articles on a variety of topics, with the U.S being the target audience. This is the primary reason why CNN always includes news stories that are unique, fresh, and not covered by anyone else.
If you are a fan of watching video news, CNN should be the ideal choice. The best news app for Android covers a large part of its daily broadcast via showing video news. They have custom alert settings as well, so you'll never miss out on anything significant. CNN allows you to dive deep into the stories by making news clips and photo galleries available.
Price: Free
19. Reuters
Reuters works from more than 200 locations and has a massive strength of 2,500 reporters and journalists. They cover anything and everything that is quantified as news. If you have the Reuters app downloaded, you will never miss out on any news story worth knowing worldwide.
You can have a customized news feed and keep checking the stock market. You can also turn on breaking news alerts, which will notify you each time something significant happens. The most exciting part about the best Android news app is their Editorial Highlights feature. This section allows users to catch up on the major events quickly. Users can also save an article or a news story to be read later.
Reuters News app includes night-reading mode and offline reading mode as well.
Price: Free
20. NPR
Most of us are already aware of the National Public Radio organization. It is a non-profit media house. The media outlet offers a news app to its dedicated consumers to keep them updated. The best part about the headlines news app is the multimedia content it provides. You can tune into and listen to your local NPR radio station and also lend your ears to the official NPR podcasts that are accessible within the app.
Want to catch up with the day's news while commuting or in a car? You can select the audio option and get going. Users can also skim through news by picking their favorite categories. NPR has been in operation for more than five decades now. It is an excellent source of news for keeping the U.S. and the world informed.
Price: Free
21. News Break
News Break is the best Android news app that has grown at a staggering rate. It caters to more than 20 million users who regularly check the app to get their daily dose of world news. The news aggregator pulls articles from top sources like the AP, NBC, CBS News, and CNN. The list also includes a few small publications. Since New Break checks abundant news sources before delivering the news to the consumers, they are always known to have a holistic coverage of world affairs.
You also have the option of viewing more coverage from specific news channels. Want to see more content from sources like NPR and Fox? You can do so with a few clicks and personalize your browsing experience. Another great News Break feature is that they make local news available for you. The local news feed displays headlines that are more relevant to you because of the vicinity. This comes in handy in keeping you thoroughly updated about the neighborhood.
Price: Free
22. News360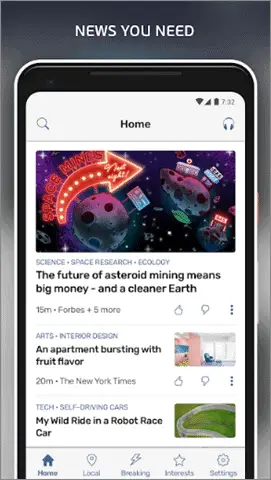 When it comes to the various news aggregator apps, News360 is the best choice for multiple reasons. The design of the app is exquisite; the user interface is convenient, simple to use, and offers rich content. News360 makes it very easy for users to look for their favorite topics and browse through specific news sites.
The news app offers integration with iMessage. If you are an iOS user, you will also find the Apple Watch feature useful. You can connect various social media accounts like Twitter and Facebook to the app and share news pieces online. Similarly, it works with a Google Plus account as well. News360 comes with Instapaper, Evernote, and Pocket integration. The best Android news app also enables users to save stories and articles for reading later.
Price: Free, in-app purchases
23. theScore
If you are interested in sports, theScore is an app you must download right now. Whether it is NFL Football, MLB Baseball, or NBA Basketball, theScore covers it all. The app is your one-stop-solution for staying updated about all forms of sports, including the uncommon ones. Cricket and tennis updates are very cliche with most news apps, but how often do you come across an app that covers live scores of the Premier League Soccer?
theScore shares a huge amount of information about all the ongoing sports events happening worldwide. They cover and display the stats in a very detailed manner, which is very rare otherwise. Users get to track real-time scores along with comprehensive details about all the players and the participating teams. The free news app for Android specializes in sports and comes with an attractive interface.
For iOS users, the app includes the Apple Watch app.
Price: Free
24. Inkl
Are you tired of clickbait articles? Well, Inkl aims to get rid of them and wants to give readers a smooth browsing experience. Inkl curates and brings you trustworthy news sourcing from credible media outlets. You can add various filters to your newsroom, which enables you to see articles from your preferred publishers and topics first. The layout is easy, fast, and modern.
The app does not display any type of advertisement. If you are looking for high-quality journalism, Inkl is the best. The best Android news app keeps you posted about local, global, and business news. Inkl supports digital privacy by not leaking your data. They source information from The Economist, Foreign Policy, Financial Times, and Bloomberg, among many others.
Their Dive Deeper feature consists of must-read opinion articles. You also learn to decipher between fake and real news through this best news app.
Price: 7-day free trial/then a subscription of $10 per month
25. News Republic
News Republic provides you with all the breaking news stories and significant developments taking place worldwide in one single platform. Be it the latest information about an ongoing event or trending news; you get it all under one roof without any cost. News Republic sources details from more than 2500 media outlets to keep readers updated.
You can personalize your news feed according to your preferences. Through an easy setup process, users can enjoy optimized videos. The best Android news app allows you to share news articles across various social media platforms. Want to follow up on the recent stories? Subscribe to the sources and receive notifications.
So, never miss out on the local news and get your hands on viral videos and headlines with News Republic.
Price: Free, in-app purchases
26. Al Jazeera English
Al Jazeera focuses on covering news stories surrounding the Middle East and is a well-known news aggregator. The best Android news app, of course, covers world news as well. You get your hands on various feature stories and viral video clips. They boast of giving users 24-hour video coverage and access to audio streaming. You can catch up with the latest developments and current episodes of your favorite news programs through on-demand videos.
Al Jazeera includes opinion pages and blogs as well. You receive alerts for breaking and trending news. The app enables you to share news on social media. You can customize your news feed to be able to access your favorite sources and topics first. They have a massive archive full of rich content for anyone interested in hardcore journalism.
Price: Free
27. Opera News
Opera News is considered a reliable news aggregator. The best Android news app is known for having the most user-friendly interface. Any novice trying his or her hands for the first time with a news app format will not be lost. All the breaking news and trending stories are categorically arranged on the first page. Finding all sorts of news topics is very easy.
Users can also directly go to the page of their preferred media house or publisher and read what they are displaying. By doing this, you are ensuring to not miss out on any new piece by your favorite media outlets. Opera News is exceptionally good at providing sports updates with videos. You can keep an eye on the current cricket or football scores.
Users have permission to share video clips or upload any form of content with the world. A unique feature of the news app is that it is available in multiple languages. Offline reading mode is available as well.
Price: Free
28. Bundle
Bundle stores all the news articles provided by various media and makes it easy for users to look for them. Quite true to its name, it includes bundles of information in the format of a news app. It is a decent news aggregator that makes multiple options available for you before you zero on your favorite sources. So, you can pick your favorites after reading what they've got.
Bundle pulls information from more than 10,000 media outlets. They do not miss out on covering important news, irrespective of whether it affects a small or big section of people. You can also turn on alerts for receiving breaking news and top headlines. Users can browse through the various genres to quickly find what you are searching for. They also have an offline reading mode.
Price: Free, in-app purchases
29. Inshorts – News in 60 Words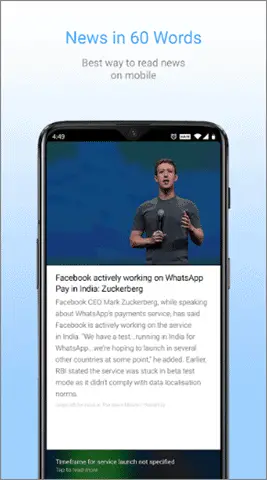 The best Android news app, Inshorts is our most favorite. It presents you with all the stories in a 60-word summary. Inshorts is the ideal choice for anyone who does not want to dive deep into what's happening around but instead wants to know the gist only. The unique concept in which the app delivers news was appreciated by Google in 2015.
The news summary they present is objective and neutral. The app does not cater to any form of sensationalization whatsoever. The 'MyFeed' tab lets you set your preferences and decide what you want to see first. The layout and design of the app is very convenient to navigate. You see only one news story at a time.
The search bar helps you to look for top international news sources. Finding content, both old and new, is very easy. Users can also share articles from the app to various social platforms.
Price: Free
30. Fast News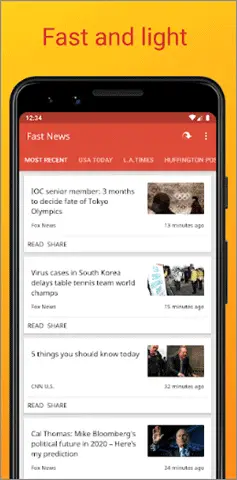 If you love reading newspapers, you must download Fast News now. The best Android news app brings you the latest news and information sourcing from the top publications and newspapers. So, instead of buying physical copies of five newspapers, you can check out and compare what each newspaper is saying and how they are covering a specific story.
Breaking news and trending topics are put on the first page. The top stories and the most read articles are marked by the app so that users brush up on the current affairs as soon as they open the app. The interface of Fast News is user friendly, which gives everyone a very comfortable reading experience.
The news app updates its content from RSS feeds worldwide. You will find news articles from all major news outlets. You can add any newspaper to the 'my favorite' list and directly view the same. Fast News is not affiliated with any newspaper. It is an excellent choice for getting access to the most important headlines quickly.
Price: Free
Final Thoughts on Best Android News App
All of us want to stay updated about what's happening around us constantly. Be it local, national, or world news, having news apps on our smartphones is a necessity these days. We've curated a list of the best Android news app options for you. All of them are deemed as reliable and trustworthy sources. They make sure you do not miss out on any significant or breaking news story.
Some of the news apps that we've listed are excellent news aggregators. These best news apps collect stories and information from the top media outlets before presenting them to you. You can choose a night-reading mode and an offline mode as well. All the Android apps for news give you the option of having a list of your favorite publications marked separately, so you always view what they are saying first.
Related: The Most Independent and Unbiased News Sources in US Today