Having a social media presence is highly essential for all businesses globally. When managing social media platforms, users need to make sure they are posting their content at times when their audience is the most receptive (at a particular time on a day). If you want the social media posts to go out at a specific time, you can use Facebook, Instagram, or Twitter scheduler to schedule tweets and your posts.
Speaking specifically about Twitter statistics, there are 330 million users globally and around 145 million daily active users on this social media platform. Knowing that there is a golden opportunity to reach a massive number of your audience, you need to schedule your posts at the right time to achieve maximum possible engagement and attention.
Use Twitter Scheduler Tools To Target The Right Audience At The Right Time
If you want to achieve the highest possible engagement on Twitter, you will have to ascertain the behavior patterns of your target audience first. It is important to know when your followers are online and when they tweet. Every social media network has a distinct peak time when users are the most active. Therefore, to ensure that you connect with your target audience in a much better manner, you have to time your posts and tweets for ensuring maximum engagement.
A Twitter scheduler is a probable solution for making posting on Twitter. Let's take a glance at 17 of the best schedulers for Twitter automation.
1. Hootsuite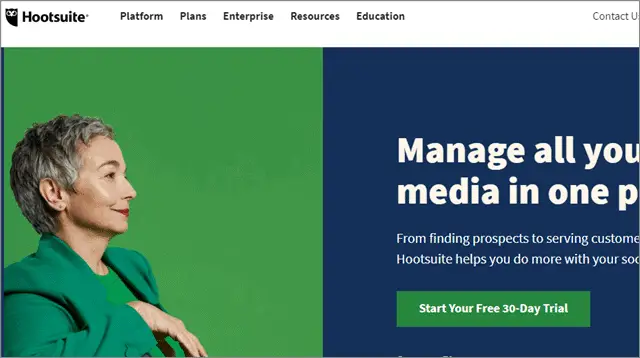 If you are wondering how to schedule a tweet, let us tell you that Hootsuite is probably the best tool that enables you to do so. You can schedule tweets to post them at your most-suited time in the near future.
Depending on the plan you go for, Hootsuite allows you to publish on multiple social media platforms, not just Twitter. The awesome tweet scheduler allows you to flexibly schedule updates, tweets, and messages at any date and time you want.
You can make use of Hootsuite's built-in algorithms to schedule as well. The tool schedules your posts using its handy AutoSchedule feature. This feature uses and analyzes your data to zero on the best time to post so that it has an optimal impact. Users can select the plan that lets them schedule tweets for free. However, please note that the free plan limits you to schedule 30 posts across three profiles. You can avail of the professional plan that enables you to schedule unlimited messages across 10 social media profiles.
2. Twuffer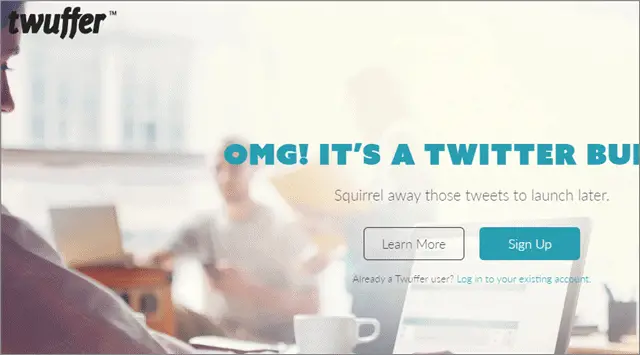 Twuffer is a stand-alone web-based application that is used to schedule Twitter posts. It also keeps track of the tweets you send. Using Twuffer is quite simple; write your tweet, fix a date and time, and click on 'Schedule Tweet.'
The only thing that you need to keep in mind is setting your time zone before you start scheduling. This also comes in handy when you wish to schedule posts for followers in different countries. The interface is simple to understand, and the tool enables you to schedule tweets for free. You can schedule and post 50 tweets per month without any costs.
This Twitter scheduler allows users to sort their scheduled and send tweets in multiple ways. You can also upload images directly and share links. So, what are you waiting for? Sign in to your Twitter account now and commence scheduling your posts for free.
3. TweetDeck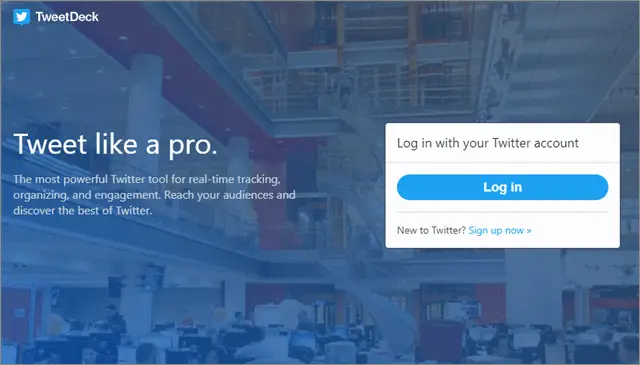 TweetDeck should be ideal for anyone whose social scheduling needs are for Twitter only. This tool enables users to schedule tweets across various Twitter profiles for free. Twitter saw its merits and bought it in 2011.
Since TweetDeck is initiated by Twitter, it's integration, features, and capabilities work effortlessly, just like the social media giant. Apart from scheduling tweets with this Twitter scheduler, you can view your content streaming, messages, your followers' updates, and all other forms of engagement.
The changes are made in real-time. It, therefore, acts as an overall Twitter management tool. You can make changes to the scheduled tweet or post before it is online. You can also add GIFs and images to your posts.
4. Buffer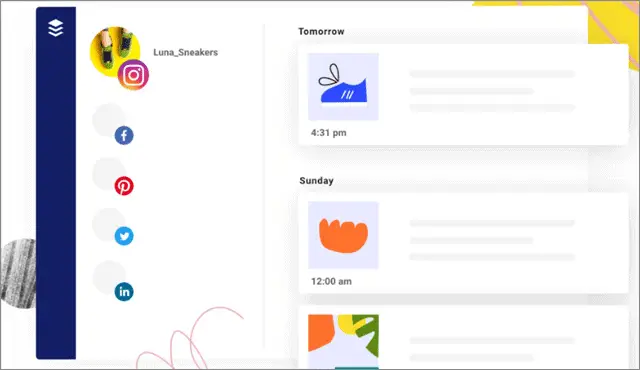 The free version of Buffer enables users to connect to three social media accounts. If you tend to tweet in short bursts, Buffer is the perfect Twitter scheduler for you.
The free basic plan enables users to schedule 10 tweets. Yes, the number of free tweets available isn't magnificent, but the advantage of using Buffer is that users do not need to schedule posts from within the tool if they are using the plugin.
While you have your Twitter account logged in, you will see that there is an option to Buffer a tweet. You can also schedule a tweet on Twitter. Buffer enables you to schedule future posts based on the best performing time of the day.
5. Twittimer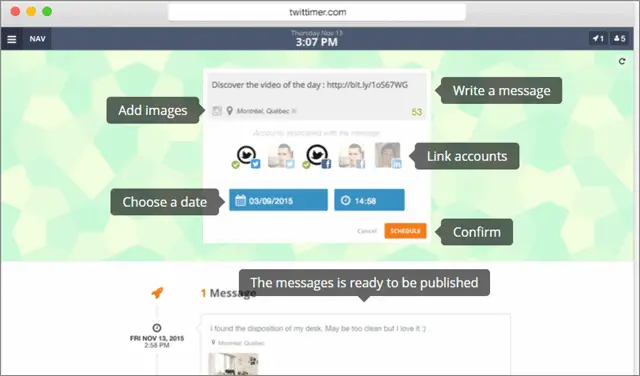 Regarded as one of the best scheduling tools, Twittimer is for people who want to leverage the power of social media to gain an audience. It enables you to schedule multiple reminder updates ahead of all sorts of podcasts, announcements, or events. You only have to select the date and time, and you're good to go.
Users also end up saving time by putting up posts on various social media handles at once using this Twitter scheduler. You can set fixed time slots during which you want your posts to go live. These timetables can be made for the entire week. Apart from saving time, you do not have to select the date and time for every single tweet individually each time before posting. Incredible, isn't it?
6. Twitter scheduler By Twitter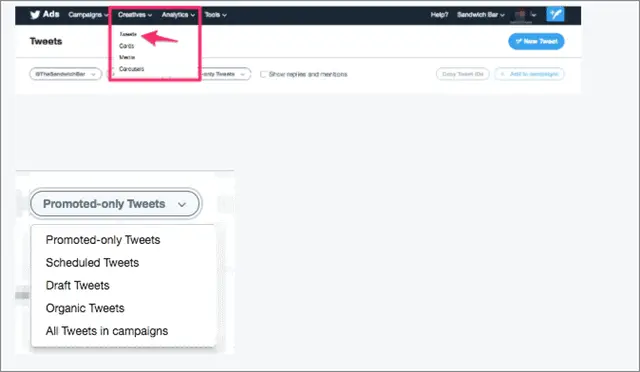 Twitter itself has a tweet scheduler. It facilitates users to schedule posts up to twelve months in advance. We'll tell you how to schedule tweets on Twitter.
First, you have to go to adstwitter.com and register for Twitter advertising. Then, you need to provide your credit card information in order to access the Twitter scheduler. Please note that only if you are willing to provide your credit card details, you can use Twitter to schedule tweets. The tool works well and is easy to use.
It goes without saying that the scheduler can only be used to schedule tweets on Twitter. You can choose from the variety of free options we've provided to schedule posts across other platforms. This tool is feasible only if you have a credit card and have no issues in signing up for the advertisements.
Why would you choose Twitter to schedule posts? Well, it comes with perks. You gain access to follower stats and engagement data. So, let's say you do not wish to use this tool to schedule your tweet, you can still get access to the analytics by not providing your card details.
Another perk? You can schedule unlimited tweets.
7. SocialOomph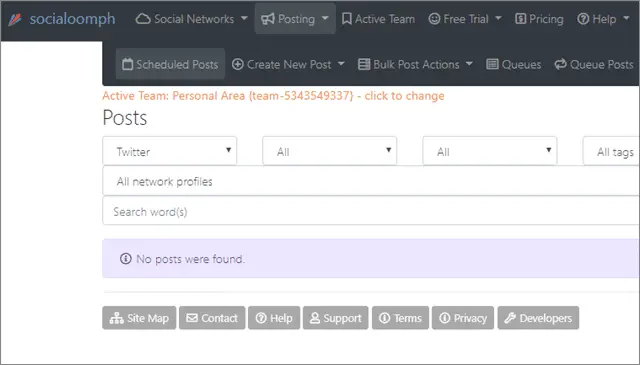 SocialOomph was previously called TweetLater and allows users to schedule tweets without any costs. You can also track keywords and shorten links. Also, how about viewing your mentions and retweets, as well? To top it all, you can get all this done across various Twitter accounts.
The downside of this tool is that if you wish to schedule posts for other social media networks apart from Twitter, you will have to pay. However, since we are talking about scheduling tweets on Twitter in this article, this isn't really a downside for most of you.
The interface has not been updated for years. So, if you are looking for an exceptional user experience, you might have to look elsewhere. Best part? You get to schedule an unlimited number of tweets.
8. Loomly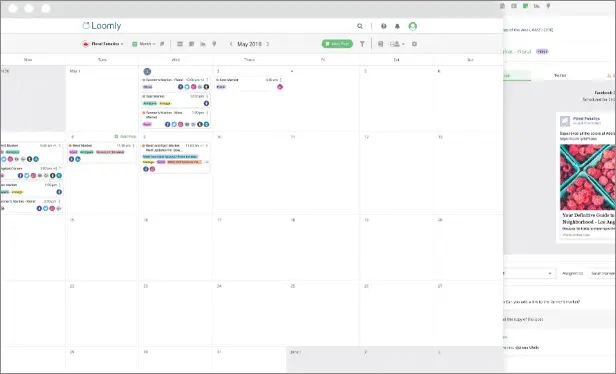 Regarded as one of the best scheduling tools, Loomly is also an extremely powerful social media management platform. It has a clean and intuitive user interface. After you are through with the 15-day trial, you can choose from the four pricing tiers this Twitter scheduler offers.
Loomly most striking feature, in our opinion, is that it gives users the ability to set multiple calendar workflows. While creating a post, you need to go through a straightforward process. Either start a post from the very beginning or grab ideas from feeds that automatically come up with draft posts from them.
It also has a very useful interaction screen. It enables users to manage comments, texts, and keep track of all their Twitter mentions.
9. Sprout Social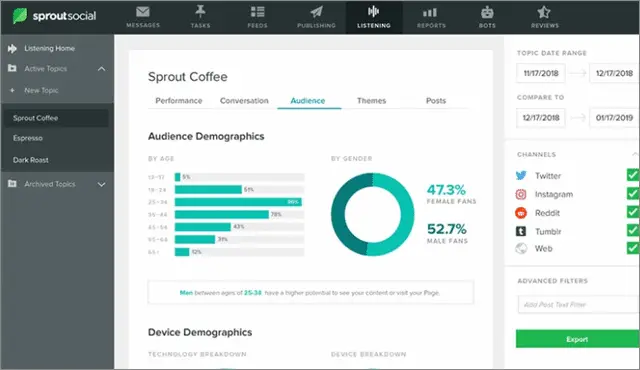 Sprout Social is a Twitter scheduler which serves an all-in-one purpose. It is an outstanding social media posting and advance-scheduling tool. It allows users to schedule posts and put them up across multiple networks.
Marketing teams have been using Sprout Social for collaboration. The tool's user-level permissions facilitate required access to marketing honchos and writers. Others use Sprout Social to make their contribution to a social media calendar.
The calendar feature gives you an overview of everything that is being published and promoted every day. You can avail of the 30-day free trial. If you wish to upgrade, the premium packages that you buy consist of various social media analytics tools that enable you to check how different content pieces are performing.
10. Promo Republic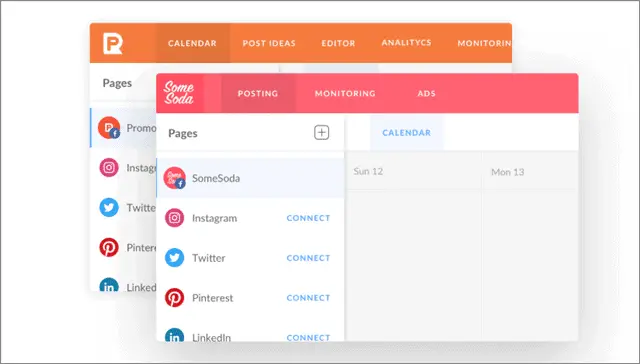 Can you schedule tweets using Promo Republic? Well, the answer is a big yes. It is a large-scale tool that manages social media. It offers a wide range of plans beneficial to small and large businesses.
Promo Republic enables you to schedule a tweet by automating social media publishing. You can add all your posts, visuals, and tweets to one social media publishing calendar. The content that is scheduled in advance is automatically posted to your multiple social media accounts. Apart from Twitter, Promo Republic integrates with Instagram, Pinterest, Facebook, and LinkedIn, as well.
Promo Republic is much beyond being just a tweet scheduler. You get to pick content from a library that has 100,000 post ideas. Yes, you read that right. Not to mention the other features like graphics editing tools and providing you with your social media account analytics.
11. MeetEdgar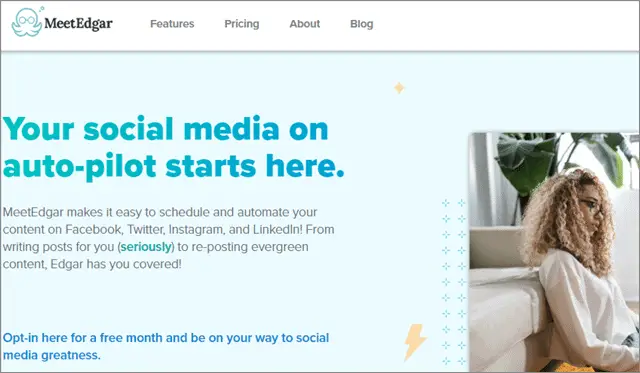 If you are wondering how to schedule tweets, look no further than MeetEdgar. This tool offers most of the usual features that allow users to schedule content across multiple platforms. Apart from Twitter, MeetEdgar is integrated with LinkedIn and Facebook.
You can use MeetEdgar to line up a sea of posts and content without being too involved. You can also come up with categories for different types of posts and content, for example, blogs, promotional stuff, and quotes. Users can also put the social media calendar to good use by adding post categories at predetermined time-intervals during which they wish them to be out.
Edgar makes reposting of content that is evergreen quite easy. The Twitter scheduler recycles your posts and updates over time, to ensure that they are not wasted after they got published for the first time. Since the tool reshares your content on its own over time, your tweets become visible to more audiences and different people, without having to do any extra work at all.
12. AgoraPulse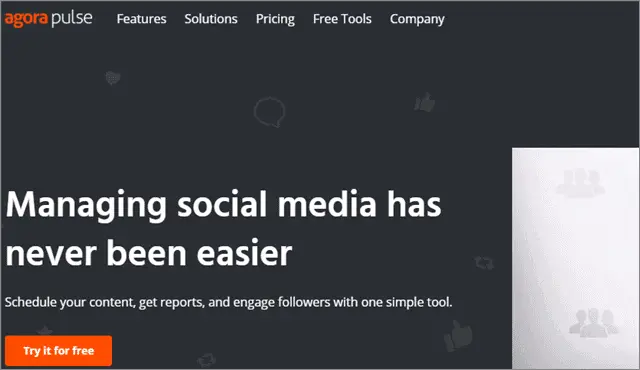 Have you been using Twitter to schedule tweets? Well, how about trying AgoraPulse? It is an exceptional social media management option for individuals, teams, and agencies. It offers four pricing plans for both personal and professional use.
AgoraPulse enables you to publish, engage with your audiences, report, listen, and collaborate with your social networks. Apart from Twitter, it also supports Instagram, LinkedIn, Facebook, Google +, and YouTube.
You can have a queue or schedule ready, which ensures that your content is always delivered at the best times. What more? The Twitter scheduler also allows you to twist posts to make full use of features that are specific to that particular social media network.
13. Gremlin Social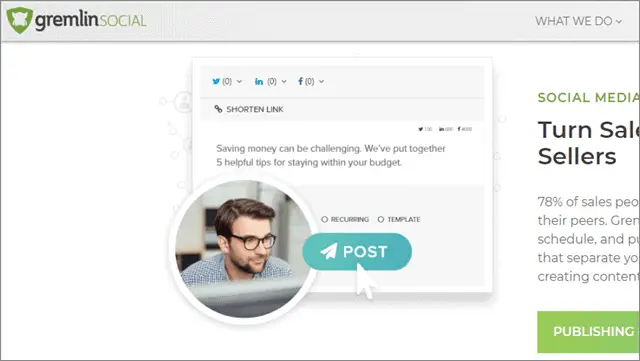 Wondering how to schedule a tweet and which tool to use? Try Gremlin Social, one of the top-tier solutions, and an incredibly useful Twitter scheduler.
Yes, Gremlin allows you to schedule tweets and posts, but this is just one of the multiple features it offers. One of its most striking features is keyword filtering for your posts. Gremlin Social also provides personal consulting to users. The tool helps you in analyzing and identifying routes for growth to better your social and content strategies.
Planning tweets have been made very easy with Gremlin's Tweet Calendar and RSS integration. The tool also offers various paid social media scheduling plans. Twitter monitoring, post scheduling, content libraries, analytics and reporting, post moderation, and much more. So, what are you waiting for? Try out Gremlin Social now.
14. Missinglettr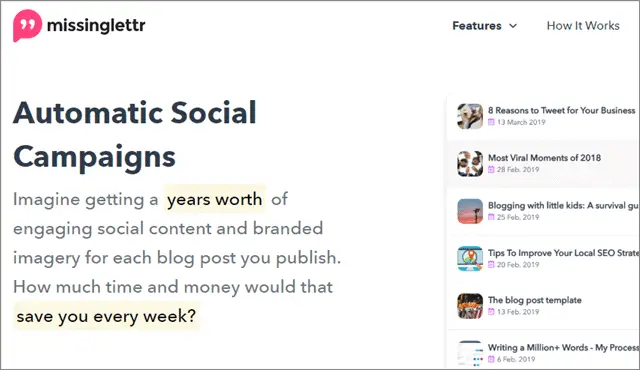 Do not want to use Twitter to schedule posts? Well, we'll give you the best option available. Apart from allowing you to schedule posts on Twitter, Missinglettr automates blog promotion on social media.
Irrespective of whether you are a solopreneur or a small business owner, Missinglettr enables you to embrace automation by using the right features. Therefore, you can maintain your personal interaction, as well.
Missinglettr is an extremely useful Twitter scheduler that maximizes the engagement for your tweets, posts, and blogs. Instead of only sharing your post once, they create a campaign that runs for the entire year, dripping out content one post at a time.
The free plan allows you to link one site, gives two campaigns in a year, and one social profile. You can also avail of the other Individual and Team plans.
15. Amplifr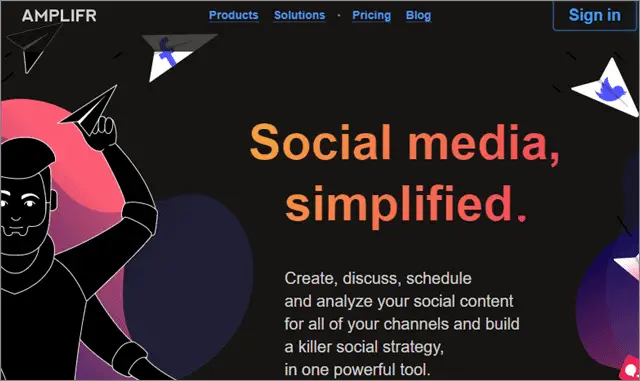 Want to get more work done in less time? Switch to using Amplifr. It is probably the best tool for growing your social media channels and getting more out of the content you or your company is already producing.
Amplifr finds you the perfect time to publish your tweets and other stuff that gets your posts just right for every social media network. Their weekly review facilitates scheduling posts days or weeks in advance, thereby allowing teams to understand what all is planned before it goes live.
You also get to know what's working and what is not through Amplifier's built-in analytics tools daily. Based on the performance, the scheduling tool also sets up time slots for your posts.
So, make full use of the 7-day free trial with this Twitter scheduler and get going. After the trial is over, you need to select a payment plan that suits your needs.
16. CoSchedule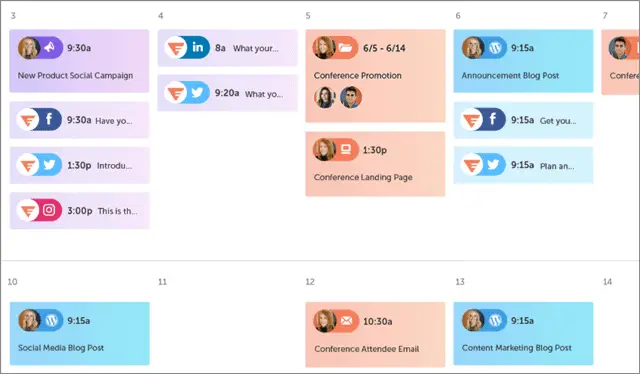 Apart from scheduling tweets, CoSchedule also organizes your marketing. If you are an influencer or solopreneur, this might involve coordinating your social posts and blogs. If you run a business, irrespective of big or small, you might be catering to certain marketing activities that require being centrally organized. CoSchedule also enables agencies to organize all of their client projects.
Therefore, as we said, social media scheduling is just one of the multiple features offered by CoSchedule. The basic plan gives you an integrated social media calendar with blog and marketing projects. Also, you can get your hands-on business analytics information using this tool.
So, CoSchedule lets you publish all your blog content efficiently and manage social promotion pretty well in one place. Apart from Twitter, you can use this Twitter scheduler to easily schedule posts on Pinterest, LinkedIn, Instagram, and Facebook.
17. Sendible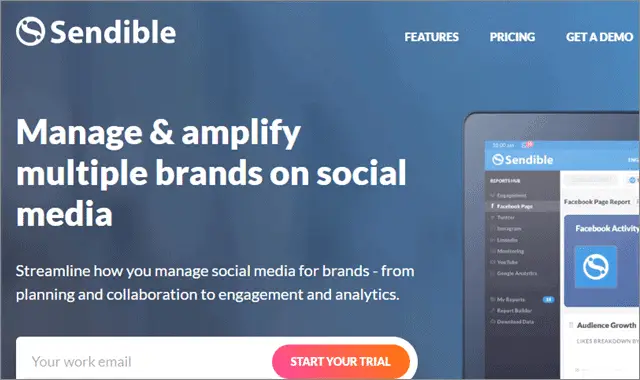 Sendible is undoubtedly the best social media management tool for agencies. It offers four pricing plans on a yearly and monthly basis for different purposes.
Users can connect to any of their social media networks. They can also post directly to their WordPress, Tumblr, Blogger Blog, or Medium accounts. You can use the tool's geo-targeting features to aim at certain segments of your target audience. You can also upload videos on Youtube, Facebook, and Twitter.
Sendible has an integrated dashboard and features tools related to publishing, analytics, custom relationship management, and collaboration. When it comes to publishing, this tool enables you to plan, publish, and schedule posts in the form of text, images, and videos to various social media handle at the same time with the help of it's robust compose box.
Using this Twitter scheduler, users can schedule posts that they will put up on social media either individually or in huge numbers. The tool also enables you to put the content that performs the best on repeat to ensure that your profile is active.
Conclusion
If you are optimizing social media for personal purposes or businesses, it is important to post consistently for growth and engagement. However, if you are always busy creating content, it might not always be possible for you to be engaged in tweeting and commenting constantly. This is why the tools to schedule tweets that we've listed above come in handy.
Twuffer, Tweet Deck, Buffer, Social Oomph, and HootSuite are the best free tools that you can use to schedule tweets. If you are looking for enterprise-level Twitter scheduler tools, check out Sprout Social, Loomly, Promo Republic, and MeetEdgar.
Most of them are free while the others give you a free trial. Certain advanced tools, however, are paid since they are meant for agencies and businesses. Regardless of the suggestions, users can choose to go with any tool that fits their bill of requirements.
Related: How to Track When Someone Links to your Website on Twitter
Frequently Asked Questions
1. Can you schedule tweets for free?
Yes, you can schedule tweets for free using tools like Twuffer, Twitter Deck, HootSuite, and Buffer.
2. Can you schedule a tweet to be posted sometime later?
Yes, you can schedule a tweet that needs to be posted later. By using the tools we have mentioned above, you can plan your tweets in advance, and the tool posts them at your pre-decided date and time automatically.
3. Can you schedule Twitter polls?
Yes, you can schedule your polls on Twitter. Just like the third-party tools allow you to schedule tweets and posts, you can schedule Twitter polls as well.
4. How can you schedule a tweet on mobile?
Tools like HootSuite and Buffer have apps for Android and iOS devices as well, apart from a web presence. Therefore, by using these apps, you can schedule a tweet from your mobile phone.