Most of us start our days by reading or watching what's happening around us. It is easy to get our daily dose of news. But, what if you wish to read something that was published in the print media decades ago? Well, digitization of content has led to the healthy preservation of reading material, significantly old newspaper articles, and magazines.
With online newspaper archives at your disposal, you get a historical perspective of events and important aspects like data representation, images, names of some places, of individuals. The rich resource gives us deep insights into the past and makes us aware of the critical events that shape history. It is especially useful for users looking for historical information.
22+ Sources To Read Old Newspaper Articles And Magazines
Online sources can be an intimidating place for reliable and trustworthy sources of news. So, how to find old newspaper articles? Our team of experts has researched and curated a list of websites that cater to old newspaper articles and magazines. With everything just being a click away these days, you get to read old newspapers as you would any current edition lying on the side table at your place.
1. Google News Archive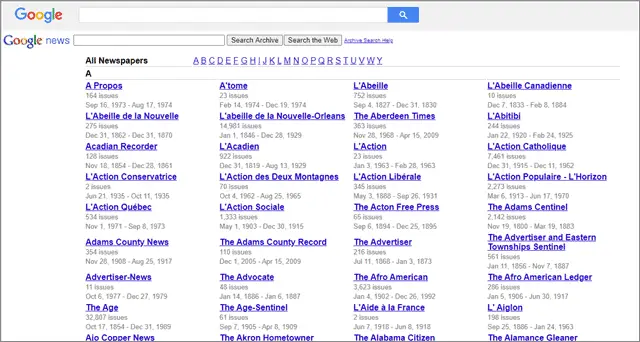 One of the top and the most reliable sources that allow you to get your hands on old newspaper articles, Google News Archive rightly deserves the numero uno spot. It is known for indexing thousands of worldwide news websites and gives you access to old content for free. Google newspaper archives organize reading material in clusters, thereby making it easy to read and decipher.
Most pictures available on the site are scanned versions of the actual images that were published decades ago. Google displays the list in alphabetical order, and you can click on any news source to see what they have to offer. You can also type in anything specific in the search bar. Google newspaper archives use OCR technology to bring you stories wrapped inside old newspapers.
2. UFDC (University of Florida Digital Collection)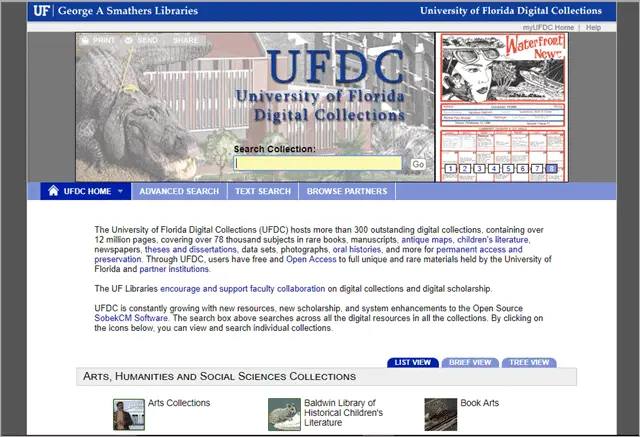 UFDC (University of Florida Digital Collection) contains 12 million pages covering various subjects like children's literature, newspapers, datasets, and photographs. You can access it for free if you are wondering how to find old newspaper articles.
One can start the search by typing what you need in the search box. The website will search through all the digital resources in its vast collection. With the interface being user-friendly and straightforward, all you need to do is click on the icon to search through the collection.
You can specify and filter your search using the drop-down menus in the advanced search option, like choosing the title, creator, and keyword for your search. If you place quotes around a phrase, it will search for that exact phrase.
3. Elephind
The website derives its name from the animal elephant and includes content as giant and massive as the four-legged creature. They have more than 191 million items in the form of old newspaper articles, and the count is increasing as we write this. Apart from the mammoth collection of newspaper pages, Elephind incorporates over 4,000 magazines and titles as well. You will find content representing all countries worldwide and reading material dated as old as you can imagine.
Users can use the search bar to indulge in advanced search and look for multiple articles at once. Most of the website's content is available for free, unless, of course, the author decides to charge you for it. The interface is simple to use, keeping a larger audience in mind, and you will have no difficulties in browsing through the pages.
It works on the same lines as Bing or Google and primarily deals with historical digitized reading material in newspaper articles and magazines.
4. Library of Congress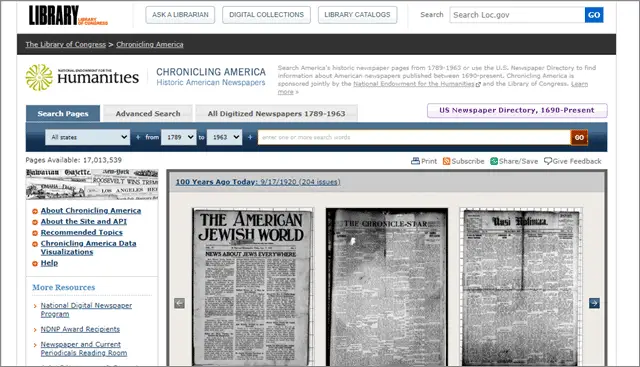 The Library of Congress is well-known for chronicling America. It consists of a vast collection of old newspaper articles and printed pages that were published in America. The historic repository includes files in the PDF format, which makes it easy to read. The most significant period in American history, you will find all articles published between 1880 and 1922.
The massive library boasts of newspapers, magazines, and printed publications from 48 American states and Washington DC. These states are famous for having the world's best and the largest sources of news and information; therefore, the online newspaper archives are considered valuable. Additionally, the Library of Congress successfully chronicles American history with the database incorporating every published article from 1690 to the present day.
You will also find snippets of some newspaper articles and magazines that have not been published yet. These are currently unavailable for the general public and have been made available only on this website. More than 15.5 million news articles and over 3,000 pages and titles, the Library of Congress gets as big as you can imagine.
The interface looks a bit Gothic but is easy to browse and manage. The digitized copies are exact replicas of how an actual newspaper looks.
Check out the Library of Congress
5. Trove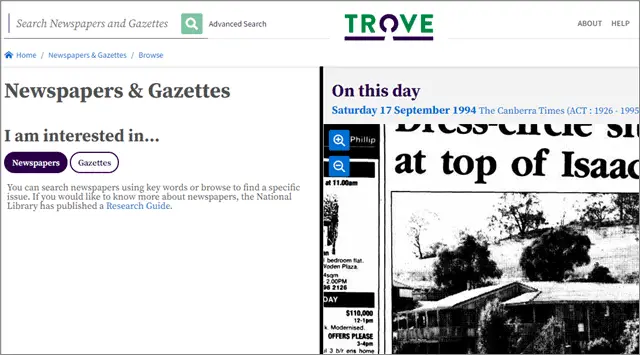 Trove is the official website of the National Library of Australia. You get to explore excellent collections of old newspaper articles and magazines for free. Everything that was a part of Australia's print media is available on the website as part of the archives. Apart from the library collection, you get your hands on exquisite pieces and written material from museums, universities, and galleries.
The website is known for bringing together tons of reading material for its users every day. All the art that you have physically witnessed in the Australian public places is a part of Trove. They have OCR copies of all Australian publications, including some rare ones which were not made available to the general public easily. On visiting the website, you are first asked to choose between newspapers and gazettes.
You also get digital copies of newsletters, Government Gazettes, and maps. Trove incorporates music pieces, interviews, photographs, and books as well. They have personal diaries and confidential information about famous Australians who made an indelible mark in history. You can join the group of volunteers and become a part of their community.
The scanned versions of newspapers are available in PDF format and can be downloaded to be read offline.
6. Old Fulton NY Post Cards
Old Fulton New York Post Cards provides users with old newspaper articles and magazines printed in the United States and New York. They boast a massive collection of more than 49 million pages of reading material in digital format. Every historical newspaper and the written piece is a part of their website. Over the years, Old Fulton New York Post Cards has evolved to become the single largest source of information on news articles in New York available for free.
They cover over 450 newspapers starting from the year 1795 till 2008. They also have church records, probate records, and city directories. You will find censuses, postcards, photographs, and maps as well. Although it is easy to locate what you are searching for on the website, you might not find some features intuitive. However, there are some great hidden features that can be an excellent source to educate yourselves if used judiciously. You can learn about stemming, synonyms, phonic searching, and how to use quotation marks.
Check out Old Fulton New York Post Cards
7. NY State Historic Newspapers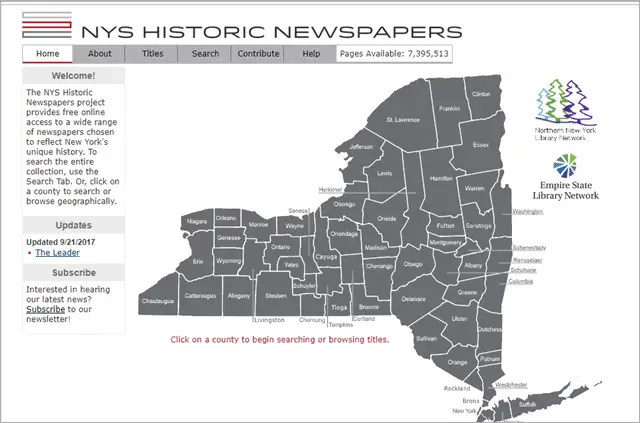 How to look up old newspaper articles for free? NYS Historic Newspapers lets you read past news with its vast collection of old newspaper articles.
It gives you free online access to its collection to search using the search tab or select a country to search geographically. When you get a result for a particular search, you see an image of the newspaper you searched for. The images are scanned and processed by an optical character recognition program. Then they are converted to files compatible with computers so that you can read them on your desktop.
Although it's all free, you cannot download a large number of files. Users who download the full titles will be blocked from the site. To know more about its usage, you may go to its help page.
Read NY State Historic Newspapers
8. Wayback Machine
Very different from the options we have listed so far, Wayback Machine is a prime source of information and news articles. Write the name of any leading newspaper on the search bar, for example, The New York Times. Once you click on 'enter', the website presents several page results with screenshots from that particular publication. You can check out all the newspapers you can think of and Wayback Machine will offer you the news in the same form as originally published.
If you are interested in knowing world history, the Wayback Machine should work wonders for you. The website is known for having detailed records of all printed articles published concerning significant world events. For instance, you will find hundreds of old newspaper articles published in the print media covering the Asian Tsunami of 2004, which is only one example.
The interface is intuitive and enables you to explore. It boasts a massive collection of 468 billion web pages and is updated continuously. You will find something new each time you open it.
9. Newspaper Archive
Newspaper Archive includes the world's most extensive collection of old newspaper articles and magazines. Everything that has been published in the history of print media since the year 1753 is a part of the website. You get online digitized copies of all articles without incurring huge costs. The browsing process is simple. The massive collection makes it a unique option as the Newspaper Archive hosts tons of historical newspapers that help students and researchers alike.
Do not remember the publication's name and wish to hunt for a particular article by merely recalling a phrase? Well, the Newspaper Archive has made that possible as well. Write whichever words you remember from the article, and if you are correct, the website will display the same article you were looking for. The website offers you a free trial first. Once it's over, you can subscribe to the website by paying a nominal amount of $5 monthly.
The archives also consist of obituaries, birth and death records, arrest records, photographs, and interesting trivia. Newspaper Archive covers several cities and countries worldwide and emphasizes the United States and all its cities.
10. Ancestry.com
Ancestry.com incorporates a massive collection of historical and old newspaper articles. As the name suggests, it is primarily meant to trace family history and obtain information from historical newspapers. The website includes thousands of print media articles that are an excellent source of information for students and researchers. The archives consist of periodicals that date as old as the 1700's. You need to sign up by filling up a detailed form and pay for the monthly or yearly subscription.
The website honors the warriors who lost their lives in the World Wars, and you get to read inspiring stories about them. Ancestry.com calls them the greatest generation of all times and reasons out this claim. You can avail of the free trial version first and then decide whether to subscribe or not.
11. Newspapers.com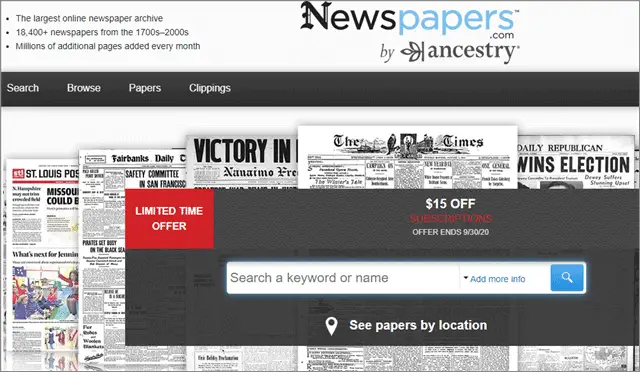 Newspapers.com is a sub-branch of Ancestry.com. Ancestry is primarily meant for tracing family history and lineage but includes a decent collection of historical newspapers. Newspapers.com is solely dedicated to providing its users with the best repository of old newspaper articles and magazines. Often considered to have the largest collection, the website has an archive where you will find everything, including controversial pieces that stirred debates and changed the course of history.
They have 18,400 newspapers from all over the world, and it dates back to the 1700s. Newspapers.com adds millions of articles every month, and their library is ever-increasing. You can use the easy search options to display all the related items, and you will find what you are looking for.
The top-right corner of the website's homepage shows the total number of pages they host currently. One of the most noteworthy features includes a section called the 'recently added newspapers,' which gives you a quick glimpse of all the new entries.
12. Europeana Newspapers
The sole purpose of Europeana Newspapers is to make digital versions of old newspaper articles and magazines accessible to the general public. They boast a massive collection of more than 18 million newspaper pages at their disposal, and the count is increasing daily. The website aims at making digital newspapers and magazines easy to search. They are moving a step closer each day towards achieving so by creating full-text versions of newspapers and have successfully done so for over 10 million pages.
Europeana Newspapers also attempts to detect tags. Therefore, users can identify, hunt, and find what they are looking for via conventional methods. The handy attributes improve the user experience and facilitate quick and accurate search results.
All their titles are available in the public domain. The free newspaper archives gives you access to all of Europeana Newspapers' content. The website boasts quality tools created by experts to make the digital search easy for users and fully accessible. They conduct workshops to raise awareness about how the digitization of old printed content works, and contribute in any form you want.
Check out Europeana Newspapers
13. ICON: International Coalition On Newspapers
The International Coalition on Newspapers (ICON) consists of digitized versions of old newspaper articles and magazines. They have a vast collection of historical newspapers, and the primary area of attention is Newspaper Digitization Projects. The website focuses on the efforts put into converting old printed material into digital online copies to be easily read by users. ICON includes a section where you will find details about the current news sources and information that they are regularly publishing.
They make content available in alphabetical order. The International Coalition on Newspapers emphasizes news articles related to the United States and the newspapers based out of the U.S. You can search for the United States cities and states separately. ICON aims to give users improved access to digitized copies of old printed material. The website has handy preservation strategies up its sleeve for ensuring the longevity of the articles and content.
Check out ICON: International Coalition On Newspapers
14. California Digital Newspapers Collection
The interface of this incredible source of old newspaper articles is clean and user-friendly. You can filter your search by browsing by title, date, tag, or country. CNDC (California Digital Newspaper Collection) has features like downloading high-resolution images if you opt for the premium plan.
The collection has 202,353 issues comprising 2,190,943 pages and 17,536,359 articles that are helpful and useful to a large extent. It has two options to search for. One is a simple search, and the second is advanced search. You can sort out the results using various filter options like a day, month, year, and publication in advanced search.
15. Newseum
An exceptional source for finding historical content, Newseum is a trustworthy website providing old newspaper articles and magazines. An exquisite feature that makes the news website unique and different from the others we have listed so far is that it allows you to download the front page of more than 800 newspapers. The newspapers are sourced from around the world, and you can have the pages saved on your devices for offline reading.
The website adds new content to its gallery every day. You can search for content by typing in significant dates. The archive search will display the results and give you what you are looking for. The one-stop solution for getting your hands on all the newspapers' front pages, Newseum complies with the U.S copyright laws to bring these to you.
The display of information and the presentation of details is excellent. On skimming through the website's homepage, you get to see thumbnail versions of the newspapers' front pages, along with the full name and date. You can avail of reading the latest current affairs as well.
16. The Ancestor Hunt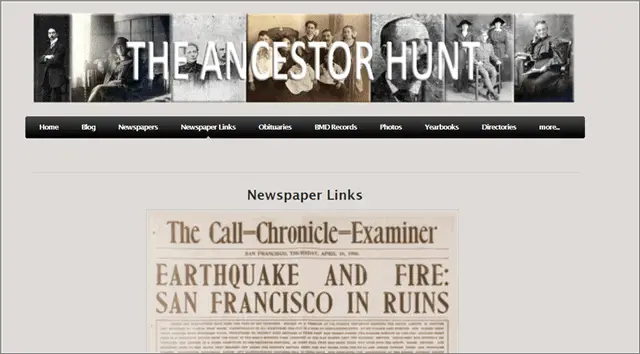 The last one to make it to our list of websites that provide users with old newspaper articles and magazines is The Ancestor Hunt. It includes newspaper pages, blogs, directories, yearbooks, photos, and obituaries. You will also find BMD records and links to historical newspapers that are well-preserved. The Ancestor Hunt includes titles from over 33,000 newspapers, and all of them are available to you for free. The majority of the content is from newspapers based out of the United States and Canada.
If you are looking for the U.S-based newspaper links, you can search by State and skim through the special collections. Similarly, users can avail of Canadian newspaper links by searching by Province and getting their hands on the special Canada collections. The other massive section, of course, incorporates newspaper articles from the rest of the world.
As the name of the website suggests, you can browse through articles to find information about your ancestors as well. There are thousands of written pieces in this niche for you to avail of, and get all this without shedding a single penny. The website updates it's content regularly and claims to provide accurate news articles.
17. Wyoming Newspaper Project 1849-1922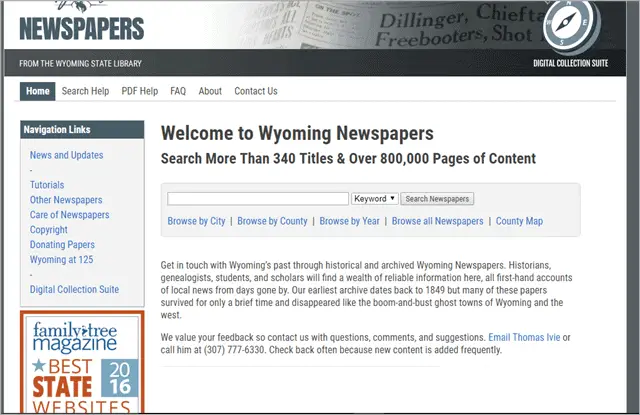 Wyoming Newspapers contains more than 340 titles and 800,000 pages of content. You can browse by city, country, and year. The site lets you find Wyoming's historic newspapers for education, historical research, and genealogy. The digitization of newspapers is done via a partnership with local libraries, museums, organizations, and individuals.
The searches are not case sensitive and retrieve from both singular and plural forms of words. You can use quotes to search for a specific phrase or name. One can narrow down the search by browsing for a particular publication, while looking among the old newspaper articles, or by using various options to filter the current result.
18. Portal to Texas History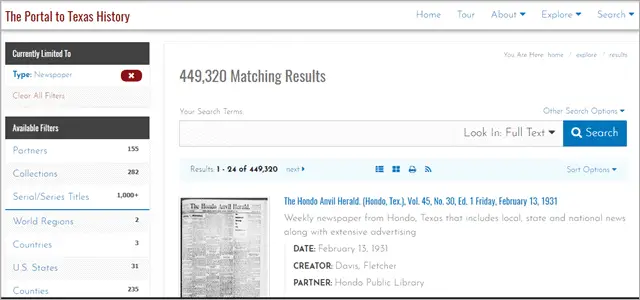 The Portal to Texas History is a great historical resource from Texas and was created by the University of North Texas Libraries.
The interface is user-friendly, and most of the portal's content is in images. The images are from text-based sources like newspapers and books. These include a link to the automatically extracted text derived from OCR (optical character recognition) software. It is a great tool to hunt for historical events and happenings, among old newspaper articles. You can filter the content using the title, subject, creators, or even names.
Read Portal To Texas History here
19. Historic Oregon Newspapers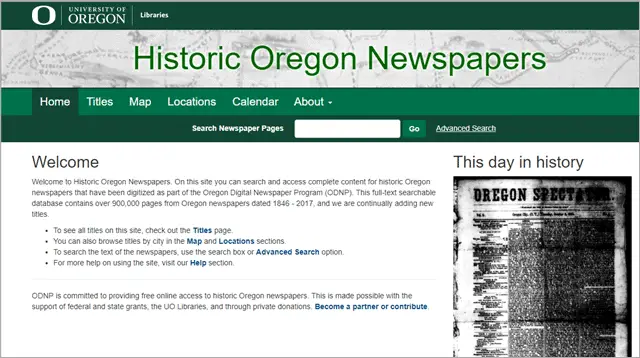 On Historic Oregon Newspapers, you can access and search for old Oregon Newspapers. On this site, the historic newspapers are digitized as a part of the Oregon Digital Newspaper Program (ODNP).
It has already crossed 900,000 pages dating from 1846-2017 and only Oregon newspapers. You can browse through the titles by city using the map and locations section for some old newspaper articles.
ONDP provides free online access to Oregon newspapers. With the advanced search option, you can filter your search using particular words, phrases, city, and country. You can select more than one newspaper, as long as it is from Oregon only, with the control button.
Read Historic Oregoan Newspapers
20. The Newspaper Genealogy Archives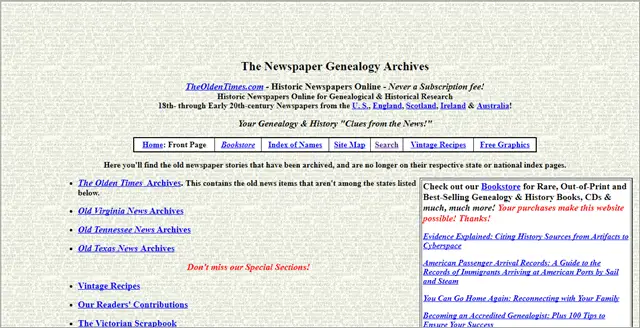 The content on this website covers a wide range of countries including the U.S, Ireland, Australia, England, and Scotland. The data is presented very well and you can get genealogical and historical information for free.
There are fewer news articles, but it is an excellent source of important birth and death announcements. Some stories have been archived here that do not exist on their respective state or national index pages. They are indeed a great collection of old newspaper articles.
21. Newspapers SG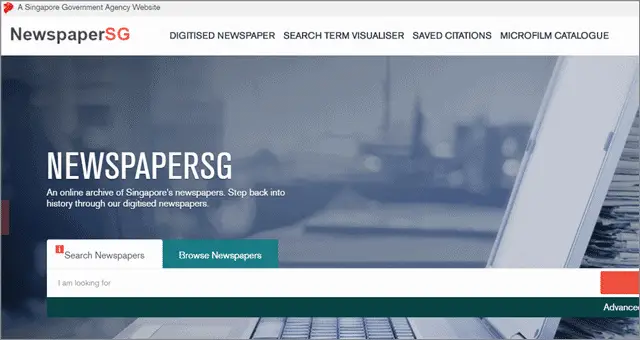 Newspapers SG is the official website of the government of Singapore. The website incorporates old newspaper articles and magazines starting from the year 1831, and they have every printed piece until 2009. If you are interested in knowing Singapore's history and what's happening in and around the city-state currently, Newspapers SG is an excellent source. The government agency website hosts digital archives of printed pieces across decades and centuries in a carefully preserved manner.
Apart from historical content, you also get your hands on current Malaya and Singapore newspapers. How amazing is that? The National Library's microfilm collection boasts a vast array of more than 200 newspaper titles. The website is an ideal go-to option for people looking out for an online archive of all Singaporean newspapers under one roof. So, are you ready to go back to Singaporean history through these digitized copies?
Newspapers SG has recently added access to Shonan Times, also popularly known as Syonan Shimbun. It is a Japanese Occupation Newspaper and quite a rare gem. The search method is convenient, and they give you advanced search options as well if you are looking for anything specific.
22. Old Magazine Articles (OMA)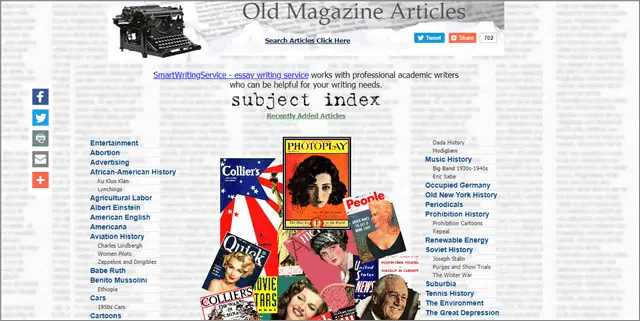 As the name suggests, Old Magazine Articles, also known as OMA, is an excellent resource for getting your hands on old newspaper articles and magazines. The website looks exquisite and resembles the look of a newspaper with written matter sprinkled throughout the background. You get cover to cover access to all the published magazines, which includes details of crucial historical events.
Users can download whichever written piece they want to read as a PDF file. You can also save it on your device and read offline anytime. The articles are slightly edited because the advertisements had to be removed in the digitized versions. Every article is available for free, and the search process is easy.
The website is based out of Los Angeles and is privately owned. It is a go-to option for many researchers, students, authors, and educators worldwide when they need any information about Europe and the United States' print media.
Check out Old Magazine Articles
Online Newspaper Archives
We are all used to grabbing our daily dose of news by either watching popular news channels every day or reading newspapers. Did you know some of them have well-preserved archives that lead you to old newspaper articles and magazines? Their collection is vast, and there cannot be a better source to get your hands on old printed pieces than the source itself.
1. Times Machine – The New York Times
Have you been reading The New York Times? Times Machine hosts archived editions of old newspaper articles and every written piece published in The New York Times. Starting right from the year 1851 up to 1922. The published articles look exactly like they did when the news items were issued in the original newspaper.
The website's look resembles a daily newspaper with the same text and font The New York Times uses. You will find all the pages from cover to cover, without the advertisements. So, fill in a particular date and start your hunt.
2. British Library
The British Library boasts a massive collection of scanned and digitized versions of old newspaper articles and magazines. You can get your hands on all that was a part of the print media in the United Kingdom and Ireland. You get to discover history as it happened right from the 1700s to the 1800s. You can browse through the newspaper archives and read what you are looking for.
However, the website does not offer this service for free, and you have to pay a nominal amount as subscription charges to get full access. Once you have paid for your subscription, they allow you to access the online archives and the digital library for 48 hours without any limit. Users can download any newspaper article they wish to read and save it in PDF format for offline reading.
As we write, the British Library has around 4 million pages on the website.
3. BBC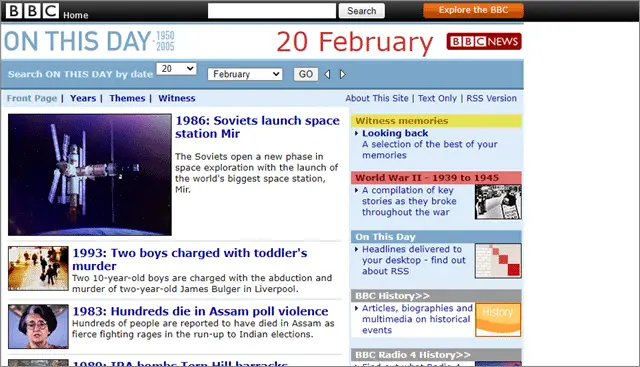 Have you been an avid BBC follower? How about getting access to all their content under one roof? BBC has a unique section called 'On This Day.' This section includes an online archive consisting of old newspaper articles and some of the most significant historical stories. All these stories have been a part of the BBC broadcast and were covered by BBC News since 1950. Pick a date from the top menu of the website's homepage and get access to any news piece you want. You can also view which historical event took place on a particular date.
4. Times Archive
The Times is a well-known and widely read newspaper from the United Kingdom. They have old newspaper articles and historic pieces right from 1785 to 1985 on their online portal. All the newspapers are scanned and organized in an indexed manner. You can skim through them by the topics as well. All that is a part of their front page can be read for free. However, you need to avail of the subscription to check out specific articles and newspaper editions.
Conclusion
We have listed trustworthy news sources that have saved and preserved old newspaper articles and magazines. The websites include a massive collection of digitized copies that replicate old newspapers with printed news items that look exactly like how they were first published.
With sites like google newspaper archives, the library of congress, and so many more, you can search by entering the newspaper's name or the date of the published piece. Some portals allow you to fill in the keyword and make advanced search options available. While most of the sources we have listed make old printed content available to you for free, some might ask to pay nominal subscription charges. So, are you ready to reread history? Let's get started!
Related: Best Android News App To Always Keep You Updated (2020)