A friend of mine had a manuscript written by her grandfather and wanted to preserve it. He was clueless and confused at the same time about how to shift it on a digital platform? When he came across the OCR scanner, he was amazed to see the various options available for the best OCR software.
In this digital era, where storing a piece of paper is fast becoming obsolete, how do you make technology help you? Well, the obvious answer is OCR (Optical Character Recognition) software. This technology enables you to transfer various paper documents into digital data/scanned document that can be edited and stored as e-documents.
Think of the numerous hard copies of bills, invoices, printouts, magazine articles, and precious handwritten letters. Optical Character Recognition (OCR) software converts handwritten or printed text into machine-encoded text.
Best OCR Software – Let's get Digital with Documents
Bridging the gap between textual documents and digital technology, OCR application facilitates hassle-free and improved workflow efficiency. The Optical Character Recognition technology has improved over the years and saves the time you'd spend in re-typing by digitizing documents containing text using word processing programs. Similarly, there are several services and programs that help you convert PDF documents to Word documents.
Let's check the best OCR software that can balance accuracy with speed, is easy to use, and also powerful.
1. Simple OCR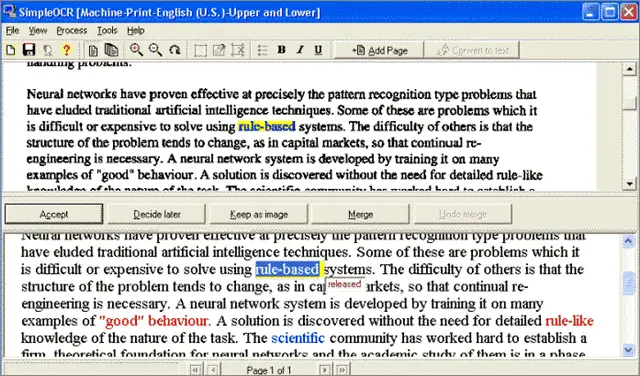 Simple OCR program accurately converts text on paper into electronic text and is one of the best OCR software. Claiming 99% accuracy in converting text, the OCR program diminishes the need for proofreading and correction.
When the paper document has text that is not clearly written or copies of photocopies that cannot be easily deciphered through scanning, the Simple OCR process labels the document as despeckle or 'noisy.' Once the 'noisy document' option is chosen, the free OCR software increases its preciseness to retain the text accurately.
Apart from text, Simple OCR has a striking ability to convert image and retain it. This thereby reduces the need to import an image file by other means.
Features:
It comes with an in-built spell checker

A huge dictionary that facilitates Simple OCR function to hardly run into words it doesn't know.

Text recognition and Image format retention
Compatibility: All Windows Versions are supported.
Price: Free
2. (a9t9) Free OCR App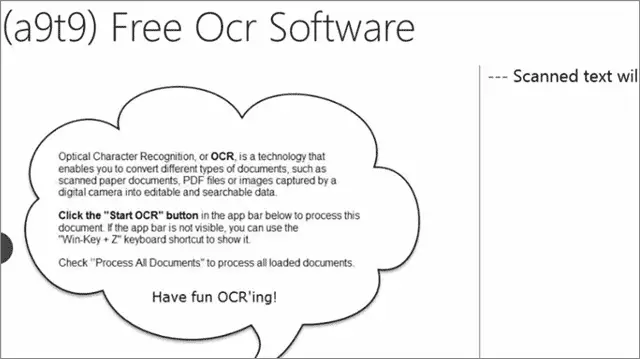 (a9t9) Free OCR App convert image and scanned images containing text from your smartphone into files and documents that can be edited. Although it is one of the free OCR software available for free, the accuracy with which it converts text and image file can match any paid software levels.
Using modern state-of-the-art technologies, this OCR software facilitates good quality OCR application and recognition. Available on Microsoft Store, this OCR application is compatible with all Windows 10 devices and is free of ads. If you are on the Windows platform, this free OCR software will work everywhere, irrespective of the device.
Features:
It is easy to use, simple to install and uninstall.

Free of adware and spyware.

Open source OCR engine, which makes it open to customizations and improvements.
Compatibility: All Windows Versions are supported.
Price: Free
3. Abbyy FineReader Online (Free)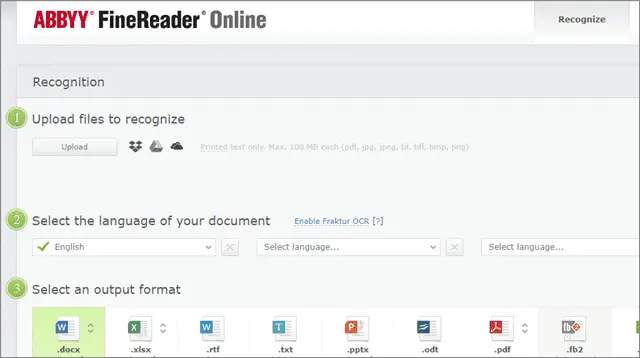 One of the best OCR software, ABBYY FineReader online, converts text on paper into editable text by uploading the particular document online. The OCR software converts PDF document and image files into editable text format documents that can be edited like the ones on Microsoft Word and Microsoft Excel. So, turning a picture into text file format can be done in no time.
The OCR program converts the scanned document and stores it in the Cloud for 14 days, making it accessible for sharing and downloading.
Features:
 The OCR scanner recognizes text file format in more than 190 languages.

Avail of the mobile app to scan and read documents.

Use the PDF document and files on your laptop/desktop to edit, comment, compare documents.
Compatibility: Online platform
Price: Free
Check out Abbyy FineReader Online
4. Easy Screen OCR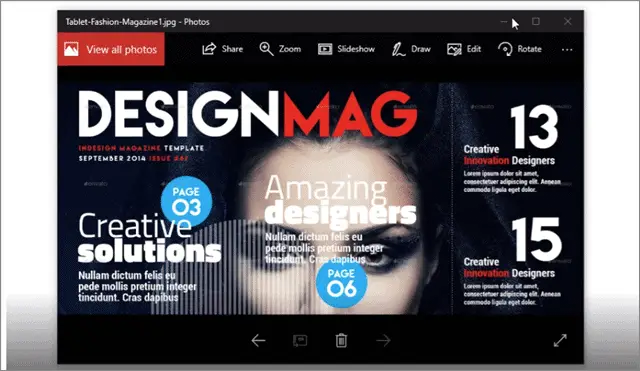 Easy Screen OCR software enables the users to take screenshots and then extract text from the image file in the most accurate way. Who thought that turning a picture to text or a photo to text file format could be done in a click!
It is equipped with a powerful Google OCR engine, and that is why this image to text converter converts with the highest efficiency.
Features:
The OCR technology recognizes more than 100 languages.

No need to upload; you can just capture and copy text.

Hotkeys make the process more convenient.

Easy to install.
Compatibility: All Windows Versions are supported.
Price: Free
5. Readiris 17: One of the Best OCR Software
Readiris 17 edits, transforms and converts all your printed documents, PDF file, printed documents, and books into editable text. The OCR software does text recognition, rapidly captures, and quickly converts the printed text into paper document formats. The intuitive and unique tool works best on all versions of Windows systems. 
Features:
Create, modify, watermark your scanned PDF easily.

Converts files into an audio format by verbal recognition.

A new user interface and faster document management.
Compatibility: All Windows Versions, Mac
Price: Free trial version available
6. Light PDF: Web-based OCR software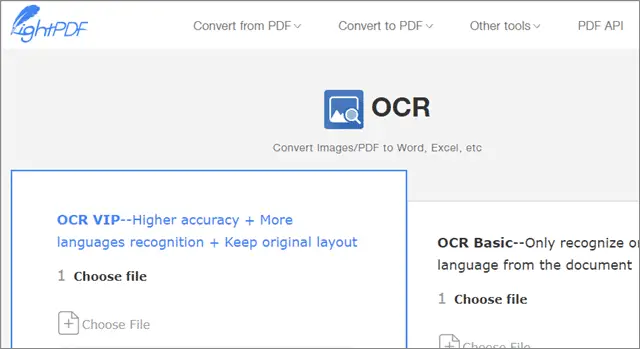 Light PDF is a web-based image to text converter which converts PDF file, PNG, and JPG image file into text documents. There is no need to download any software or create an account, Light PDF converts image format into the editable format text file.
All you need to do is drag and drop the image file on the website, select the language, click on 'convert' and download the file directly. The robust online OCR engine converts files and documents flawlessly. 
Features:
The OCR engine program recognizes dozens of languages.

The OCR tool has a clean interface and no pop-up ads.
Compatibility: Online platform
Price: Free
7.
Kofax OmniPage Ultimate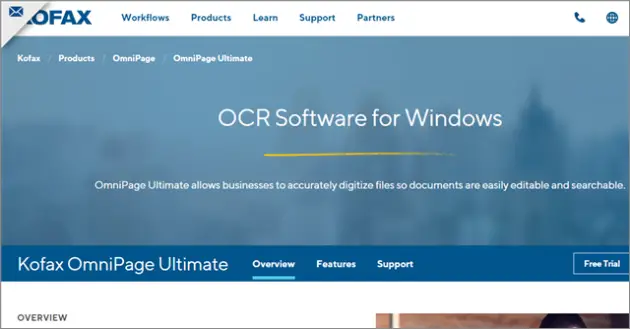 Do you want to instantly convert your paper documents into editable format documents without typing? OmniPage Ultimate instantly converts paper files and PDF file/s into editable text format documents. One of the best OCR software, OmniPage Ultimate, saves time and money spent on scanning documents and is the right choice for most business professionals.
With a pre-programmed and comprehensive workflow, Omnipage enables documents to move to a different format in a single step.
Features:
The OCR process is known for its conversion accuracy.

Top-ranking speed for text recognition.
Recognizes 120 languages and is easy to use.
Compatibility: All Windows Versions are supported.
Price: $499 (free trial available for 15 days)
Check out Kofax OmniPage Ultimate
8. Adobe Acrobat Pro DC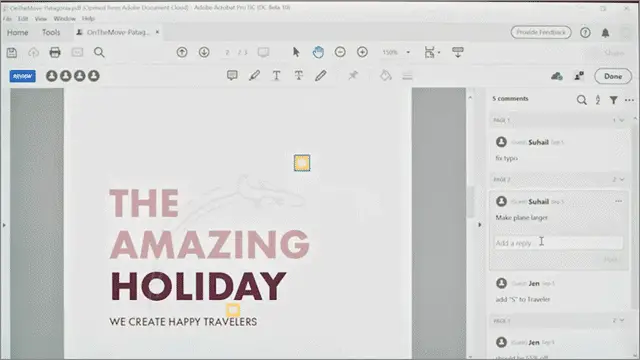 One of the best OCR software, Adobe Acrobat, is trusted by millions of organizations worldwide to convert text file and any type in PDF file format into Microsoft Office documents. Acrobat Pro DC flawlessly converts paper document text and tables, retaining the exact layout using OCR technology. It exactly mirrors the small text, text design, font style, formatting, and spacing.
Instead of sending the PDF file, it enables you to attach the scanned PDF from Cloud and send it as a link that can be downloaded; thereby overcoming size constraints. The OCR function can even be used to edit PDFs.
Features:
The OCR process is easy to install, and comes with cloud storage and integration.

With impeccable extracted text accuracy, and good speed, the online OCR program is easy to use
Compatibility: All Windows Versions, Mac
Price: $12.99 per month (free trial available for 30 days)
Check out Adobe Acrobat Pro DC
9. TopOCR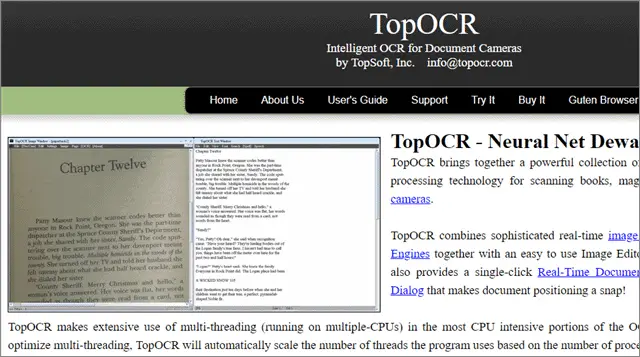 One of the best OCR software, TopOCR is at number one when it comes to converting a scanned document or images that are less than ideal. TopOCR brings together the latest image processing OCR technology for scanning text documents, books, etc.
While using this OCR software, one does not need to worry about documents that are placed upside down since it automatically modifies and convert image to their correct form. You can also convert a file to any given format of your choice.
Features:
High level of text recognition accuracy with digital cameras.

Inexpensive and gives good output format
It corrects page curvature by straightening out marginal scans.
Compatibility: Windows 10
Price: $29
10. Rossum
Rossum is quite different from the other best OCR software we've listed. It scans all your invoices, bills, and printed documents. Next, it extracts key information in an editable format and exports the details to any program of your choice. The OCR application especially comes in handy for large-scale enterprises, suppliers, contractors, and any other profession which generates bundles of invoices in paper form. 
Rossum is dedicated to meeting the needs of a specific niche and does the job pretty well. It has a clear purpose and uses OCR function AI to scan your files. If you are unsure of whether the software will fulfill your requirements or not, try the trial version for OCR accuracy.
Features:
Universal invoice service.
Avoids OCR templates that are prone to errors and resorts to AI.
98% OCR accuracy.
The online OCR program is customizable.
Compatibility: Windows, Mac
Price: Free trial available for the OCR tool, price varies according to the requirement
11. Tesseract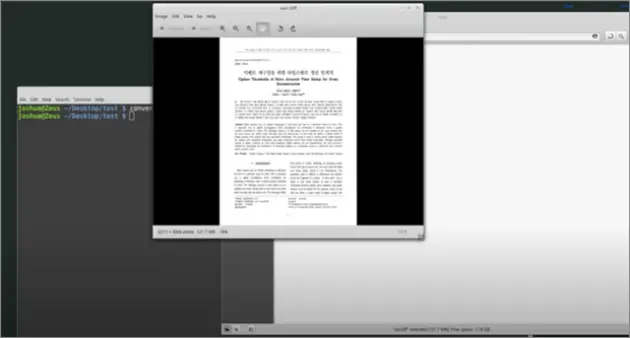 Tesseract is an open source OCR engine that is available for free. It is an advanced and powerful application and one of the best OCR software available without spending a penny. Tesseract OCR scanner uses deep learning algorithms and AI to extract text from the image file format and files that you upload. The OCR software gets extracted text from all types of image format and scanned PDF files. 
Tesseract OCR mainly functions by using OCR API to decipher, convert, extract, and save documents and files. However, we'd recommend those who are technically bent to use the software only since it does not include a GUI interface and might not be everyone's cup of tea.
Features:
The online OCR tool works with JPEG, PNG, TIFF, and BMP image file format.

With perfect character recognition, the tool scans old handwritten letters exceptionally well.
Tesseract OCR is accurate, simple, and supports all platforms.

 Ideal for engineers and those working with Python.
Compatibility: Web, Windows, Linux, macOS

Price: Free
12. Amazon Textract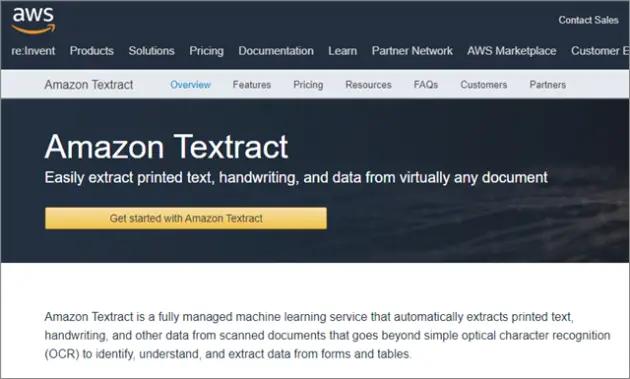 Amazon Textract is the best OCR software for scanning all types of legal files and documents. It uses machine learning techniques for text recognition from scanned files. Amazon Textract also resorts to OCR technology to take out important information and details from tables and charts and detects numbers and all forms of printed text flawlessly on its own. 
Apart from legal documents, the software is extensively used for scanning book pages and resumes. Users can also use Amazon Extract for automatically extracting facts from documents and presenting them in a tabular format. This feature comes in handy when scrutinizing medical reports, monthly inventory, and financial reports.
Features:
Detects key values in files automatically.

Works as an excellent automated document processing software.
The tool's predefined schema is beneficial for extracting data and information is convenient to view charts and tables.
Compatibility: Windows, macOS

Price: Varies depending on the requirement

13. Microsoft OneNote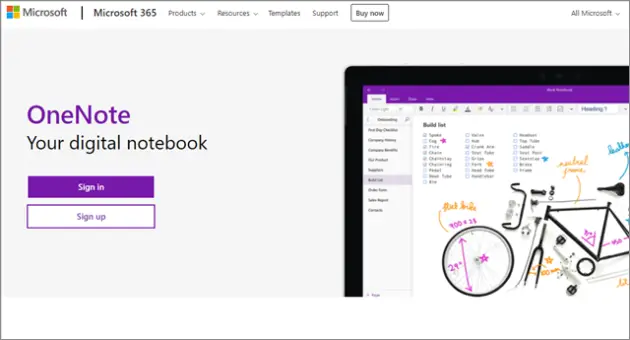 Most Microsoft OneNote users are unaware of the fact that it also works well as an OCR tool. You can take down notes, collect information, online clippings, and digital forms. The software reads the files you upload and extracts important information. Microsoft OneNote allows you to copy text from any document or image and paste it in your notes section and edit the content from thereon. 

You can also organize your notes better by creating various categories and sections. All of them get auto-saved and are easily accessible from the search bar. Work on projects together with your colleagues and employees and easily share files and ideas. Add videos, record audio notes, and create and share your digital content library.
Features:
The web clipper comes in handy for saving online content.

The in-built text recognition editor corrects Grammar and is useful.
It includes a personal vault, which can be used to save confidential documents.
Compatibility: Android, Windows, macOS, iOS
Price: Free one-month trial; three pricing plans, starting from $69.99 per annum
Conclusion
Ever wish to store an old book on the laptop? OCR software is a lifesaver when it comes to converting hard copy to soft copy. We've listed the best OCR software that will help you convert hand-written details into text that can be deciphered by a machine. 
OmniPage Ultimate is expensive so you can get your hands on Adobe Acrobat Pro DC if you're looking forward to paying for the best professional tools. Try Abbyy FineReader Online and Readiris 17 for accurate conversion for free, without compromising on speed. Whatever the need, choose what suits you the best from the selection above.
(Article Updated on 19th March 2021)