With the advent of audio assistants like Google Assistant, Alexa, and Siri; your PC's ability to recognize and speech accurately has now become an everyday reality. Having a voice-to-text app or a text-to-speech app on your smartphone is common, and there are multiple options available. However, when it comes to speech recognition in Windows 10, there's little competition in the market.
Speech interaction between humans and their PCs is essential for working professionals. It enables users to directly dictate their replies on the go to urgent emails even while boarding their flight. When it comes to speech recognition in Windows 10, there are some apps and dictation software which enables you to control your smartphone or PC with spoken words. For example, it gives you the power to open a certain app and navigate the web when you cannot do so using your fingers.
Speech Recognition in Windows 10 – Top 9
Voice to Text Apps To Check
Speech recognition is a technology that has undoubtedly come of age over the past decade. This new trend of using your voice to control devices is becoming more and more popular. Adopting this method includes a lot of advantages like it is easier, faster, and makes the interaction between machines and humans more personal.
So, we've listed the best speech to text apps for speech recognition in Windows 10 which will allow you to create emails, letters, memos, or anything else in writing using your voice.
1. Braina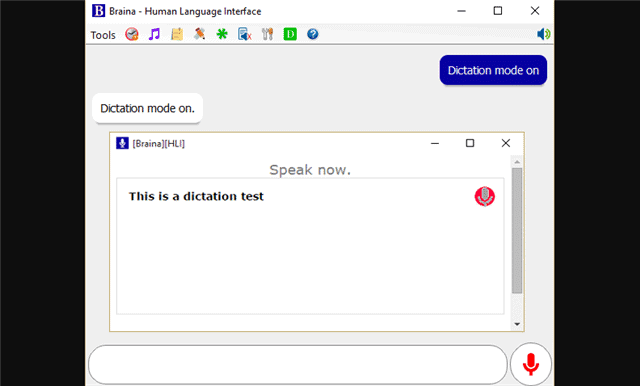 Apart from being an exceptional app for speech recognition in Windows 10, Braina is a smart personal assistant as well. It also acts as automation software and human language interface for your PC.
This voice recognition software for free is your all-round digital assistant, which enables you to achieve multiple tasks on your computer. It supports dictation to third-party software in more than 90 different languages and exhibits impressive voice recognition abilities.
You can use Braina to set an alarm, browse the web, play MP3 files, search for a particular file on your PC, or even read aloud an ebook. From mathematical calculations to making reminder notes, one can do a lot of things with this speech to text app. Moreover, users can also use multiple custom commands.
This Windows 10 speech recognition app has a free version, but it comes with limited functionality. However, it consists of all the computer commands that are basic. It also comes with a week's trial. So, you can put the speech recognition ability to test before buying a subscription. The Pro Edition costs $49 for a year.
Download Braina here
2. Dragon Naturally Speaking
Dragon is a name that needs no introduction when it comes to speech recognition in Windows 10. Naturally Speaking Premium Edition is arguably the most efficient voice to text app. The software allows you to speed through your to-do-lists only by speaking.
The Windows 10 speech recognition software enables the user to create and edit documents with 3X faster speed than at which you regularly type, surf the web, and send emails. It is ideal for people who are often on the go. They can capture notes that can be transcribed later.
Dragon Naturally Speaking also enables you to keep up with your social media. You can post stuff on Facebook, check what your friends are doing, and even communicate with your clients and colleagues. You only need to say "Post to Facebook" followed by dictating your message.
The voice recognition app allows you to do your job without even touching the keyboard. You can format papers, reports, articles, and letters using Dragon Naturally Speaking and the software does so with 99% accuracy. If you're not satisfied with the product, they have a 30-day money-back guarantee.
Dragon Naturally Speaking Download here
3. Windows Speech Recognition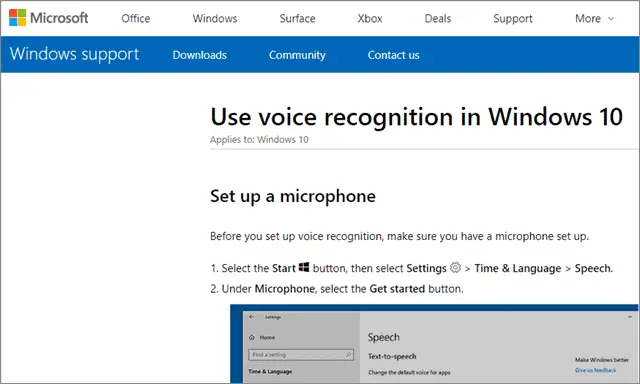 Windows has an in-built voice recognition app. To avail of this feature, you need to first write "speech recognition" in the search bar of your PC. Once done, you can enable the feature. Whenever you wish to activate the app, just say "start listening," and the microphone activates.
What makes Windows Speech Recognition the best voice-to-text app is that it lets you perform multiple functions without incurring any additional costs and with utmost accuracy. Apart from launching apps for you, this fully integrated speech-to-text app in Windows 10 enables you to write a Word Document as you're dictating it and even reply to emails.
Once you're done, just say, "stop listening." Also, Windows 10 speech recognition is available in six languages. Although some improvements can be made in this in-built app, we recommend you to first use this free tool before trying the others in the list.
What more? You can increase the accuracy of the software by training it well. This can be done by reading out chunks of text. The user can also give the system access to their documents. This helps the software in learning your vocabulary better.
Check out how to use Speech Recognition in Windows 10 here
4. Cortana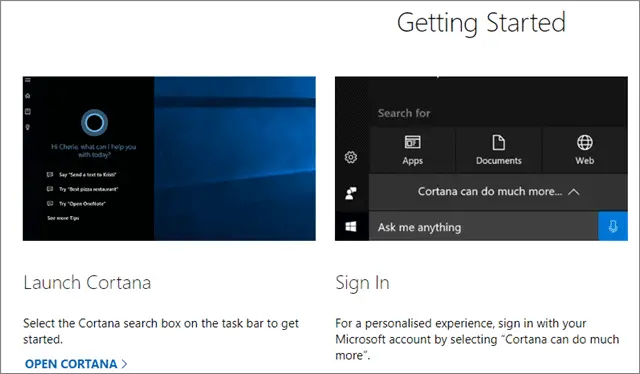 Perfect for speech recognition in Windows 10, Cortana is an efficient speech-to-text app by Microsoft. It works on all devices that support Windows. Therefore, it is very easy to use and extremely familiar for everyone accustomed to using Windows.
It is no less than a personal digital assistant. It is made to assist you in getting stuff done. This voice recognition software for free can be used to dictate emails, browsing the web, and launching apps on your PC. You can also ask Cortana to call people from your contacts list.
This Windows 10 speech-to-text app needs to collect private information about the user to function at its full potential; which has been bugging people for a long time now. On the contrary, the other speech recognition apps for Windows 10, which are present only on your PC, for example, Windows Speech Recognition software, functions even when you turn off the privacy settings.
What makes Cortana the best voice-to-text app is that it also enables you to set time-based reminders. Ask her for a preview of your day and make changes in the schedules. You can also add to-do items to your lists.
Check out the workings of Cortana here
5. VoxCommando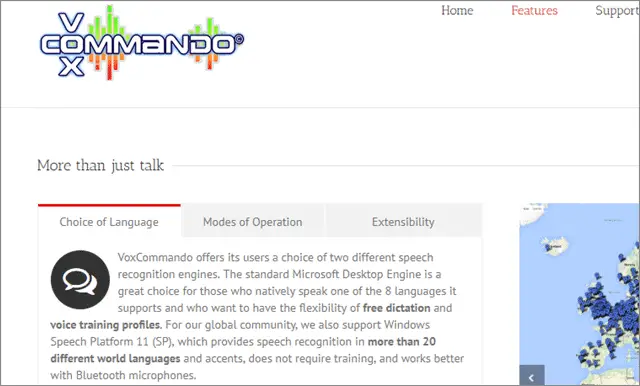 The Windows 10 speech-to-text software doesn't offer too many rich features and focuses mainly on controlling multimedia. VoxCommando, one of the best voice recognition software, allows the user to voice-control their media, personal computer, and home automation.
The users can customize the settings and the commands in order to make controlling all the devices easier. If you love tinkering, you will love VoxCommando. It allows you to add voice control to almost everything.
Using speech engine options for speech recognition in Windows 10, the app supports more than 20 languages. VoxCommando's main advantage lies in the fact that it offers a high degree of customization, but as we've mentioned earlier, you might not find this as feature-rich as the above-mentioned ones.
You can avail of the free version before buying the tool. However, once the purchase is made, there will be no refund of money. Therefore, trying it beforehand becomes necessary.
Try VoxCommando for free here
6. Dictanote for
speech recognition in Windows 10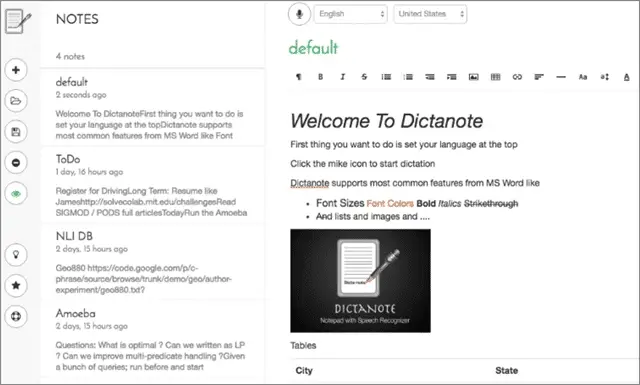 The voice-to-text app enables you to switch smoothly between using the keyboard and your voice for typing notes. Dictanote enables you to work smarter, faster, increases productivity, and facilitates accurate dictation and transcription.
The free version is amazing, but it's functions are limited. However, if you purchase the in-app Pro upgrade, you can create and save multiple notes on Dictanote Cloud.
You can use Dictanote for speech recognition in Windows 10, Mac, or even online. The basic requirements for using this voice recognition software is a Chrome version 25 or higher. It works best on Chrome 40+ and Chrome mobile browser.
Dictate an email, create meeting notes, jot down to-do-lists, draw a sketch, brainstorm ideas, create craft; and access all of these wherever you go. It supports over 40 different languages and claims to have 90% accuracy. Dictanote is definitely one of the best speech recognition apps for Windows 10. So, are you ready to make your voice work for you?
Get started for free here
7. Dictandu
Dictandu is an excellent document editor and works great for speech recognition in Windows 10. It puts together speech recognition abilities with keyboard editing and quick spell-checks. Apart from an efficient workflow, the software enables you to create content taking less time than usual.
The voice recognition app allows you to write up to 10,000 words through dictation in an hour. Apart from an efficient speech recognition app, Dictandu checks your spelling and Grammar, gives you style suggestions, and automatically substitutes words.
You can use Dictandu on your Windows PC, Mac, on your Android devices, and even online. While you are focusing on dictating content, you do not need to worry about correction and editing as both can be taken care of later. The app also lets you check your text for readability, content, style, and errors.
Try Dictandu for free here
8. Voice Report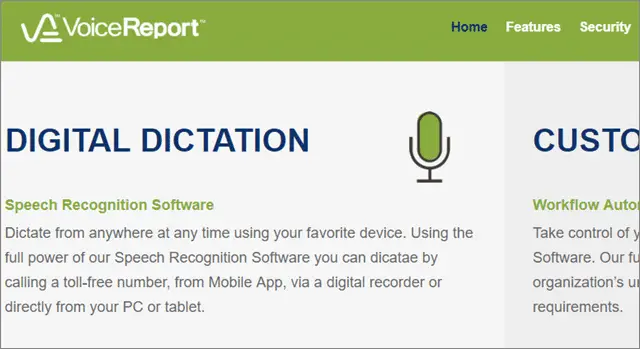 Voice Report is a speech recognition software that you can use to dictate content from anywhere, at any time, and from any of your favorite devices. It works for speech recognition in Windows 10, Mac, on the web, and has apps for Android and iOS.
Voice Report has a fully customizable workflow engine that supports the distinctive business processes of professional organizations and document requirements. It has a vocabulary of 30,000 words, and you can customize the vocabulary by adding words too.
Its advanced speech recognition technology maximizes productivity and rapidly improves document turn-around time. The transmission of data is secure because the software uses multiple levels of encryption. It also helps in maintaining the client's privacy.
The best voice to text app for your work environment gives you flexibility in recording options, and you can work online as well as offline.
Checkout Voice Report here
9. Speechnotes
You cannot have a list of the best speech recognition software for Windows 10 and not include Speechnotes. It is a free speech-to-text online notepad. The professional speech recognition text editor transcribes text with utmost accuracy.
Speechnotes is a robust speech-enabled software. It is designed to empower your ideas and it achieves so by exhibiting a very well-organized and neat design. Therefore, enabling users to focus on their thoughts.
This easy-to-use web application for dictation and typing is distraction-free and fast. It aims at making the most useful online dictation tool available to its users. It ensures that advanced speech recognition in Windows 10 delivers the best results with the utmost accuracy.
Speechnotes also has a set of built-in tools, both manual and automatic, which increases the efficiency and productivity of the users and provides.
Checkout Speechnotes here
Final Thoughts
Once you get accustomed to using a voice-to-text app, you will realize how these dictation tools speed up your writing and make your work more productive. Apart from helping you to multitask, the voice to text apps for speech recognition in Windows 10 facilitates generating better ideas since the concentration is undivided, and you're not stuck on revising and editing only.
Braina is the leading voice recognition app with digital assistant capabilities. However, you can try built-in options like Windows Speech Recognition and Cortana first to understand how it works before actually paying. Dictanote and Dictandu are ideal for the web. Voice Report is best-suited for professional purposes and business organizations.
Also, check: