Most of us tend to read a lot of articles, documents, web pages and even e-books on our smartphones. At times, reading tiny letters can cause a strain on our eyes and also makes us feel uncomfortable. We are blessed as there are a number of Text-to-speech apps that can convert text to speech in the most natural way.
If you are an Android user, you should take advantage of these cool text reader apps.
Text to speech Android apps is a great option to read aloud a document, an e-mail, a favorite e-book or news when you are walking, driving, or even rushing to the office.
It is also a blessing for the visually impaired, physically challenged, dyslexic, and at times elderly people. We have curated a list of some of the best text to speech software for the Android platform that helps you make your daily commute smooth when you intend to handle a lot of texts.
Best Text to Speech Android Apps You Should Know About
(1) Talk Free
How is it like when your phone talks as you type something? With Talk Free, it is impressive to see how your phone speaks things that you want to listen to! You can even import web pages to listen to them later.
Whether you want to convert text to speech, export audio as a WAV file, or read your favorite books, Talk Free app brilliantly does the needful. It is a blessing in disguise for visually impaired people, disabled or paralytic users.
There is a special note mentioned by the app on the Play Store that you must have a Text-to-Speech engine to use this app. If you don't have that on your phone, you can download it on Google Play.  The latest version commits to improved background reading with the new "Speak with talk" option.
(2) Text to Speech (TTS) by TK Solutions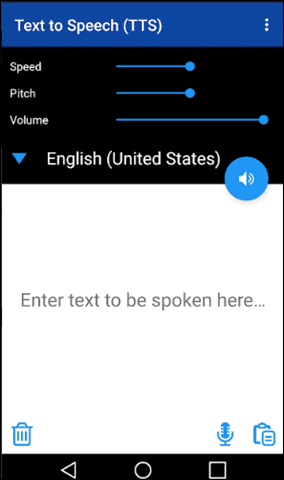 Text to Speech(TTS) by TK solution is a simple yet powerful app to help you convert any text to voice. The UI is kept minimal with all the niche features.
It synthesizes with different settings and languages purely based on your preference. If you have something to read but are running out of time, you can save it for later. The output files are in the WAV format.
The output voice is customizable, where you can set Speed, Pitch, and volume to an acceptable level. You just have to install the app and enter the text that you want to listen to. To extend its application over text, Text to Speech (TTS) app supports HTTP server mode as well.
(3) Pocket: The perfect Text-To-Speech Android App
Well, don't be confused! We are not talking about your pockets here.
So, what is Pocket?
It is one of the best text to speech software that swears to blow your mind. A leading app in which you can save articles to read later, Pocket has been integrated with Amazon's Polly text-to-speech service. Everything from the latest news to magazine articles, to videos to recipes, you can save anything.
Although the app is more biased to readers instead of listeners, it has a text-to-speech feature that allows you to listen to any news story, article, or blogs delivering a fantastic hands-free and eyes-free experience. Thus, you can turn any content into knowledge when you are cooking, driving, or working out!
(4) Narrator's Voice: The Funny Text-To-Speech Android App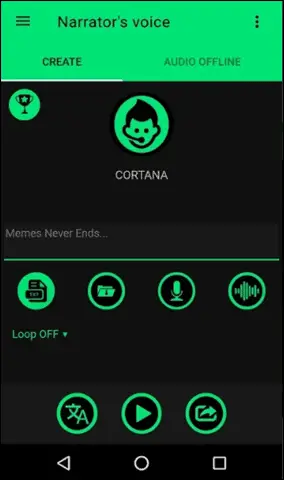 Well, Text-to-speech apps are not only for some serious readings with a monotonous voice. You can also have some fun with a few funny texts to speech apps.
If you are looking for an app that allows you to listen to pink sheep voice, then the Narrator's Voice is one of the rare options. A perfect Text-to-Speech app that lets you create and share funny and humorous messages using various narrator's voices.
You can type the text or speak and convert it into audio. The fun begins as you can now choose from the vast variety of languages, various narrator's voices, and then apply the effects. You will be amazed at the level of creativity that you can explore.
By default, it has a regular voice, but by customizing it, you can add a variety of effects like echo, chorus, reverb, etc. Some other voices that this app can speak with are Daniel UK, Cortana, Pink sheep, to name a few. This android text to speech app sets itself apart from the others and lets you enjoy by sending funny messages to your friends.
And yes! Narrator's voice can also be called one of the best funny text-to-speech apps that not only allow you to experiment with different voices but also works offline.
The updated version caters to a premium membership plan, is faster and includes audio waveform graphics.
Download the Narrator's voice here
(5) T2S: Text to Voice – HE Soft tools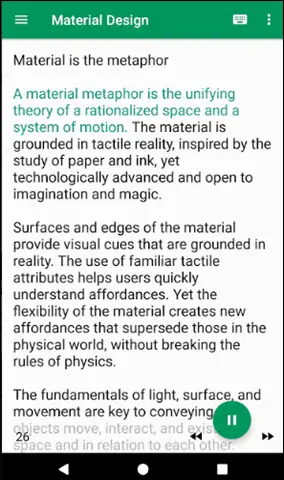 Another addition to text to speech android apps is text to Voice (T2S). While its primary task is to turn your text into voice, the app lets you export the speech as an audio file.
There is a built-in browser that allows you to open a website and let the app read it aloud for you. It is best to use the Google speech engine with T2S as it has high compatibility with the app. You have to install the app, type something, and let the T2S speak it for you.
As a precautionary move, make sure that you select the right language for the speech engine, or else it may not work smoothly.
(6) Voice Access: The Functional Text to Speech Android App
The next Text-To-Speech app, which is a functional and practical app for people with accessibility issues, is Voice Access. Be it a temporary injury, or someone who is visually impaired, or paralytic, this app is a blessing for people who have difficulty with the touch screen.
This TTS app allows you to control your device using your voice. The app allows you to manage and control your smartphone with voice commands. There are multiple voice commands to have full control over the phone like "go back," "go home" for the navigation, "click next," and "scroll down" to interact with the current screen.
You can navigate, open apps, and edit text hands-free. The updated version of Voice Access supports Italian, German, French, and Spanish too.
(7) @Voice Aloud Reader
@Voice Aloud Reader is a diversified text-to-speech app for Android. From reading web pages to reading text formats TXT, DOC, PDF, RTF, DOCX, OpenOffice documents, MOBI, EPUB, AZW, PRC, and FB2 e-books, the app does the impossible. People hunting for pdf text to speech apps must not miss this option.
If you have a variety of text formats on your phone, @Voice Aloud Reader is all that you need. There is an option to instantly open the clipboard and read its content, as it is a combination of a document reader, HTML, and e-book reader. You can also record your favorite spoken files to sound files in WAV and OGG formats.
There is a Desktop/laptop Google Chrome browser extension to help you add articles to the app and listen to them louder. There are a plethora of some unique and exclusive features that you will find in the @Voice Aloud Reader app. To explore the app, you must install it right now and have fun playing with texts.
Download @Voice Aloud Reader here
(8) FullReader: The B
est Text to Speech Software
Basically, a fantastic e-book reader app, FullReader can also be used as a text to speech app for Android devices. It supports formats like fb2, ePub, txt, PDF, doc, docx, cbr, cbz, rtf, DjVu, DjV, HTML, and much more.
Being a multifunctional app, FullReader has a feature called Reading Aloud that not only aids you in reading an e-book loud but also with customizable parameters like TTS engine, Speed, and tone. You can also change the voice and color of the highlighted part that the app is currently reading.
Other notable features of FullReader not as a TTS app but as an e-book reader are Cloud Storages, Customizable toolbar, built-in translator, Notes and Bookmarks, Day/Night modes, and a lot more. In the updated version, you will find an option to assign titles to notes, and bookmarks.
(9) Google Translate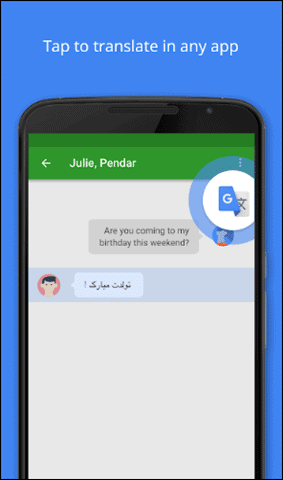 Known as one of the popular translator apps worldwide, Google Translator tends to be used as a text to speech app. Apart from translating any language to English, Google Translate app flawlessly read web pages, e-books and convert them into an audible file.
One unique feature of this app is its Instant Camera Translation. You have to place the camera in front of any text and get it instantly translated into multiple languages.
Some great features that are worth mentioning are Offline mode, Camera Mode, Conversation (two-way instant speech translation in 32 languages), etc.  The latest version provides enhanced offline translations with improved language downloads.
Download Google Translate here
Did you know that there are Android apps that can help with Calculations too?
Check out: 8 Awesome Android Apps to Help You With All Those Calculations, Conversions, Formulae and Equations
(10) iTranslate Translator & Dictionary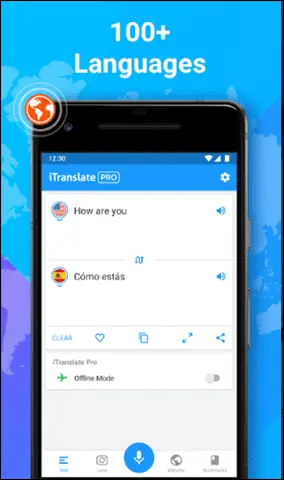 If you have a preference for male-voice over female-voice or vice versa, this app is undoubtedly the one you should not miss. iTranslate is a free translator and a dictionary app that also supports voice-to-voice conversations in over 100 languages.
Along with doing an exceptional translation job, the app is best when it comes to text to speech utilities for Android. There is a pro-version available that adds functionalities like Offline translation, instant camera translate, and verb conjugations in different languages.
Download iTranslate Translator & Dictionary here
(11) AIReader
AIReader is a popular textbook reader that also has an inbuilt Text-To-Speech feature. While using this feature in the app, permission to calls needs to stop the app while making a call. It supports significant formats like fb2, fb3, txt, fbz, epub (no DRM), doc, HTML, docx, rtf, odt, mobi (no DRM), prc (PalmDoc), and much more.
The app is supremely versatile, with a lot of incredible features that elevate your reading experience like never before. The updated version for AIReader comes with a TTS timer.
Special Mention
(12) Cereproc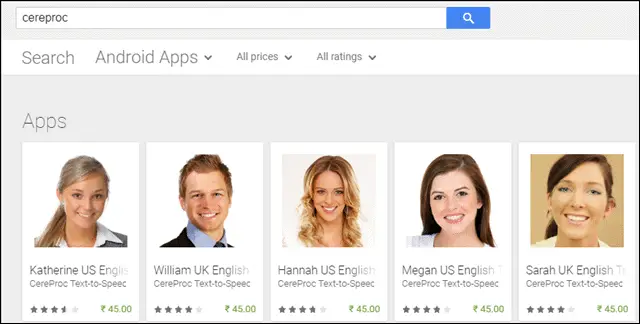 If you have a particular liking for a popular character's voice, you are at the appropriate place. One of the best text to speech app, Creproc, has the most advanced TTS technology that not only makes a voice sound real but also lets you enjoy a character.
It works with almost all the apps that support speech output. Whether you need navigation while riding a bike or want to read aloud your favorite e-book, Cereproc is the solution.
With the highly developed voice software and text to speech (TTS) technology, Cerebroc uses voice-building technologies like the unit selection synthesis and parametric modeling. It creates a speech synthesis mechanism which offers realistic voices – be it voices with emotion, and regional accents or custom-built voices in several languages like English, German, Spanish, Austrian, Catalan, Italian, Romanian, Mandarin, French, and Japanese.
Let's Reflect
There are times when you want to set your hands and eyes both free and let your ears work.  When reading becomes a bit tiring after a long hectic day, you can still have the pleasure of reading with these best text to speech software. But with innumerable Text-To-Speech Android Apps as your disposal, it sometimes becomes confusing. The article is to provide you with an insight into the best possible versions for you.
From VoiceAloud Reader to Talk Free to Pocket To Cereproc, each app is different yet helps you attain the goal. We would love to know which ones did you use and how did it help!
Planning add-ons for Android?
Do check the 9 Essential Firefox Add-ons for Android That You Must Install Today
Also, if you'd want to discover some more apps, do read:
16 Best VR Apps For Android You Should Try Today