Android Auto is a system developed by Google that helps users mirror their Android device in the car. It makes it easy for users to control their smartphones while driving and have fun and entertainment during a long drive. You simply plug your phone via USB and set it up. But which ones are the best Android Auto apps?
Many Android Auto apps help users satisfy different needs, such as listening to music, news, podcasts, or getting the right guidance in directions while driving in an unknown area.
Best Android Auto Apps – Make Your Drive Entertaining
Let's check and know more about the best Android Auto apps in different segments and categories.
Best Android Auto Music Apps
While driving a car, music proves to be a great entertainer, especially on long road trips. Several Android Auto music apps enable you to listen to the songs you love while driving.
1. Spotify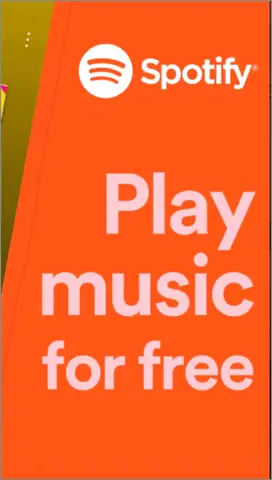 Spotify has gained worldwide recognition as one of the best music streaming apps in the world since its release. Regarded as one of the best Android Auto apps for listening to music, Spotify lets you savor your favorite songs while driving your car. You can create playlists and albums and listen to a bunch of genres in several languages as per your wish.
Spotify's main charm lies in the fact that it lets the users customize the app and build their playlists. The premium version of the Android Auto Spotify app will save you the trouble of listening to 30-second advertisements and also offer you advanced features.
2. Rainwave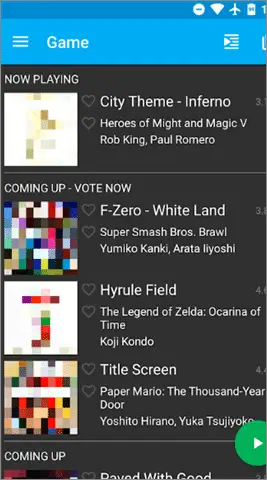 Game music can give you an adrenaline rush when you are diving on long trips. If you love getting pumped up with game music, look no further than Rainwave, the best video game music streaming service.
Regarded as one of the most excellent Android Auto music apps, Rainwave can play remixes, chiptunes, and game music only. It has five different stations and a simple user interface that will help you operate it with ease.
If you love playing some great GameBoy Advance Games and like the music related to them, you can find those songs on this app. Make sure you don't miss out on Rainwave if you love expanding your musical taste horizons.
Messaging Apps
Texting and chatting can be a dangerous activity to perform while driving, as it can make you lose your concentration. If you want to check the latest messages, you have received while behind the wheel, you can use messaging apps that work with Android Auto to serve your purpose.
3. Facebook Messenger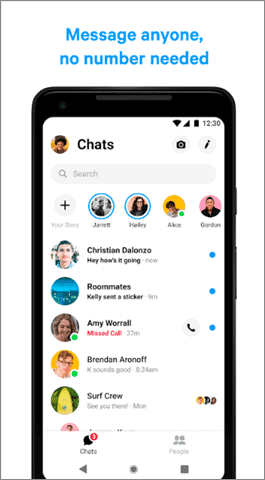 If Facebook Messenger is your go-to app to contact your near and dear ones, you can use the Android Auto version of the application to chat and text simultaneously while driving.
No need to worry, because you don't have to type anything simultaneously while driving. The app is programmed to send automated replies to your contacts at just one click. For example, you can reply to your friend by tapping on the 'I'm driving right now' option, and it will do the needful.
You can also listen to the latest incoming messages before you send the automated text replies. Facebook is one of the best Android Auto apps for chatting and messaging in a car.
4. Whatsapp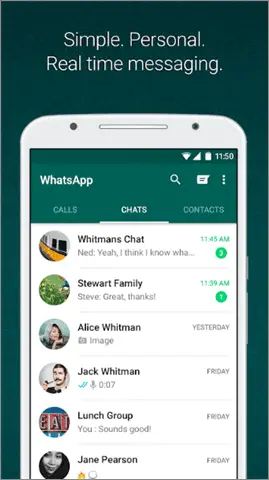 Whatsapp is the most widely used messaging application for chatting and texting. Like Facebook Messenger, you can listen to the incoming messages and reply to them with automated text messages.
The Whatsapp Android Auto app makes sure you can reply to your contacts without compromising your safety while driving. It is a must-have app for all the working-class people who commute long distances and require constant communication with their teams at their workplace. Whatsapp is one of the best Android Auto apps you can use for texting and chatting while driving, since it connects you with the people you contact daily, unlike the Facebook Messenger.
Android Auto Radio Apps
When driving a car, many people also love listening to the radio. If you are one of those enthusiasts who like to keep his ears glued to the latest radio programs, here are the best Android Auto apps to help you in your cause.
5. iHeartRadio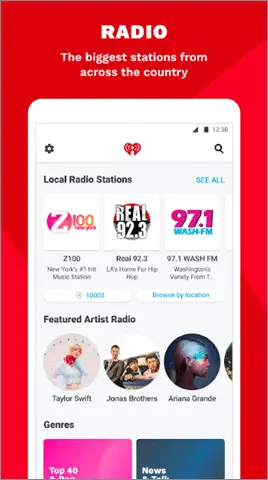 iHeartRadio is a boon for every person who loves listening to the radio while driving. Radio gives an entirely different feel compared to the charm of listening to your favorite songs on the car music system.
In iHeartRadio, there are many radio stations you can tune in to listen to the programs.
iHeartRadio also offers a slew of genres like Pop, Rock, R&B, Hip Hop, and so on. iHeartRadio is one of the best Android Auto apps to go for as it also offers podcasts on various topics.
6. TuneIn
TuneIn is very similar to iHeartRadio Radio in the types of services it offers. You can listen to your favorite radio station in sports, news, music, and much more.
TuneIn is one of the best Android Auto apps to have if you love listening to sports podcasts, discussions, and news related to your favorite game. This Android Auto radio app also allows users to live commentaries of sports – a handy feature to use if you miss an important match due to commute.
7. Scanner Radio
Scanner Radio is a bit different compared to the aforementioned Android Auto radio apps. This Android Auto app allows users to listen to police, emergency, and amateur radio, which might appear weird to some of the lot.
The best benefit Scanner Radio's content offers is it helps drivers to stay awake during night drives. The radio stations are referred to as 'Scanners' in this app. You can choose to listen to any of the top 10 scanners in the country or else listen to the local scanners and get to know what's happening in your city.
Car Maintenance Android Auto Apps
When it comes to owning a car, maintenance is an important aspect that cannot be overlooked. A vehicle requires proper and timely servicing to keep it in good shape. Here are some best Android auto maintenance apps that will help you keep a thorough check on your car.
8. Drivvo
Drivvo is one of the best Android Auto apps for keeping a check on the proper maintenance of cars. You can keep track of everything using this application. With Drivvo, you can track your repairs, maintenance, expenditures, mileage, and more. This app also keeps an eye on your taxes and records of your maintenance. Plus, it also lets you know when it is required.
Fuelio is yet another app known to provide the same functions. You can choose any of the two apps according to your requirements.
9. GasBuddy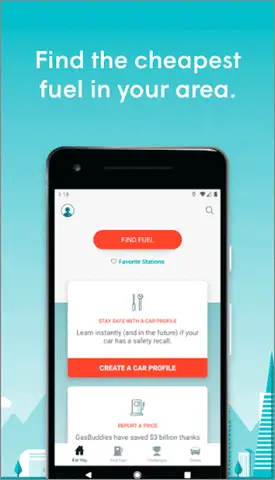 How cool would it be if we came to know about the cheapest gas stations? Well, GasBuddy does precisely that. It is one of the Auto Android compatible apps that help you get to know the cheapest gas station.
GasBuddy is managed by a community of users who contribute to updating the gas station prices. Every contributor gets points and achievements after updating the prices of gas stations. GasBuddy is mostly useful on long road trips. It is one of the best Android Auto apps in the maintenance segment.
Android Auto Navigation Apps
Navigation apps are the most important and useful apps that can be availed while driving. They help a driver in showing the correct road directions to an unknown place. Let's look at the best Android Auto apps for navigation that can save you from being lost while driving in unfamiliar areas.
10. Google Maps
Google Maps is an Android Auto navigation app that shows correct directions to a particular place you want to visit. It's relatively simple to use and helps a lot if you drive or go to an unknown area in the city. It is one of the most used and best Android Auto apps if you wish to access city maps.
Google Maps also accepts voice commands, so you don't have to use your hands to set the destination. If you want to, you can tap on the Set Destination option and select your go-to place.
Google Maps also has a voice function that commands you in the right direction. You can take a right turns just by listening to the voice as well. In all, your Android Auto will be incomplete without the Google Maps app.
11. Waze
Waze is the best live traffic monitoring app for Android Auto. This Android Auto navigation app lets you know about road closures, car accidents, and traffic-related warnings.
Waze also alerts users about the traffic police waiting to catch speed breakers as extra precautions so that you don't land a driving ticket. It also shows cheap gas stations on the route you are driving. The Waze Android Auto app has also proved to be tremendously helpful during natural disasters. It is also a great alternative to Google Maps, given the additional features it offers.
12. Parkopedia Parking
Parkopedia Parking is another useful and must-have tool on this Android Auto apps list. It allows users to find the correct space to park their cars and also enables them to pay for some of the parking through the app.
Parkopedia has a database of 60 million car parking spaces in over 8000 cities globally; it is the best car parking app to have on your Android Auto. The app also shows the availability of parking spaces, hours, and pricing.
News Apps
Not every car driver loves listening to music or radio while he is behind the wheel. Some also prefer listening to news and consuming information about the latest happenings in the world with android auto compatible apps.
13. NPR One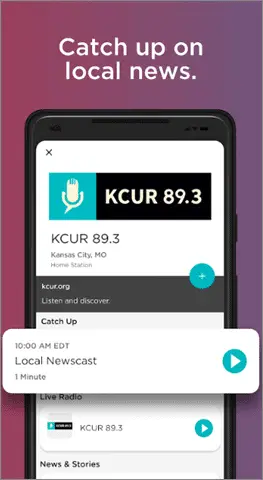 NPR One is one of the best android auto compatible news apps to turn to if you love to have the latest news stories and updates while driving a car. It allows users to personalize the type of news you wish to listen to. You can skip, rewind, pause, and share stories on NPR One. Just click on the lightbulb button to tell the app that you find a particular story interesting, and it will start personalizing itself.
NPR One has a relatively simple user interface, which is why it is regarded as the best news Android Auto app.
14. NY Times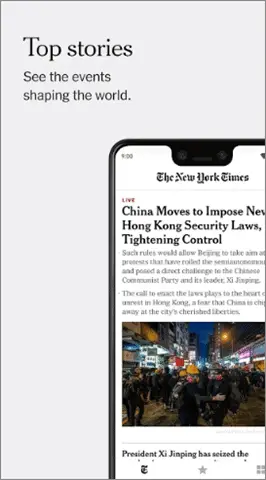 When it comes to scouring the latest scraps of news, you can trust NY Times to deliver the best and the latest news across the globe. Be it in any category, the Android auto compatible apps will make sure you get the required news updates while driving.
You can listen to the top stories for the day, breaking news, and analysis of various news topics. Regarded as one of the best Android Auto apps for news, NY Times is a great app to have if you are habitual of a daily morning dose of news while commuting to your workplace.
Conclusion
Once done, Android Auto makes sure you have great infotainment while driving on the roads. It helps them in providing entertainment as well as important information through the best Android Auto apps in different categories. Be it audio, navigation, weather, these apps work seamlessly in the car and provide you with what you want.
While the inclusion of some apps such as Audible, Spotify, and many others is a matter of choice, some apps like Google Maps and Gas Buddy are mandatory because they provide essential services while traveling.