In spite of the social network buzz, email still remains the core of business communication on the Internet. As such, it is just important to evaluate the best email services available and make a choice that suits your need. Many people are just complacent with the email service provider they currently use.
In spite of occasional hiccups and challenges, the ignorance of other free powerful email service providers keeps them glued to just one or two. You should consider the offerings of other free email service providers online to decide whether to switch or retain your current free email service provider.
In good email services, you should watch out for an effective spam filter, enough storage space, user-friendly interface, mobile access and maybe the availability of a desktop client. If you haven't attempted to explore other free email services, this may be a starting point for you. In this article, we have tried to highlight a few of the important features that may concern you and help you select the best email service for you.
MUST READ: The Smart Way to Discover If Your Email is Being Tracked and 2 Methods to Counter It
11 Free Email Service Providers You Will Love
Here, we shall look at 10 solid email services that you should consider if you are planning to switch email service providers.
Gmail is arguably the best free email service provider at the moment. Gmail is simple and user-friendly. It offers over 10 GB of free storage, has an excellent spam filter and enables access via mobile devices. Its built-in chat allows voice and video chat as well the regular chatting by text.
It offers search capability to find lost or old messages. Also, Gmail messages are grouped nicely with relevant replies such that you can read messages in the context.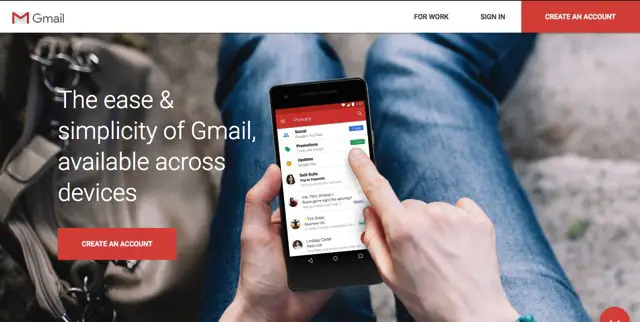 Gmail also offers customized email service for businesses, individuals and organizations. Once you can prove a website belongs to you, Gmail helps you manage your customized email (yourname@yourcompany name.com), and you can even host it on their server.
Other Gmail Articles That Might Interest You
Zoho mail is aimed at professionals. It features a calendar, task manager, notes and instant chat as well as other business app found in Google apps for business. It is easy to set up and manage.
Impressively, Zoho mail does not display adds to protect your privacy. Email messages are not even scanned for keywords for the purpose of marketing.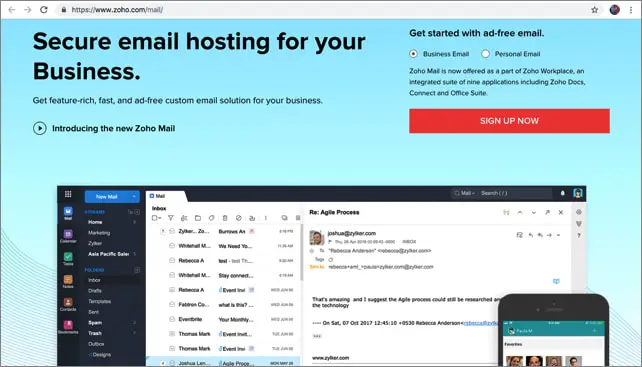 You can opt for their free Lite Plan that features 5GB mail storage per user, push mail, mobile sync and email support.  You can register only one domain name on the free Lite Plane, and your email address will appear as username@your domainname.com.
3.  Outlook.com (Reinvented Hotmail)
Outlook.com is the new, reinvented Hotmail.com email service. It builds off the power of Outlook on PCs and Macs, and it features a more tidy user interface without display ads. It is built based on the latest trends in Internet communication.
You can connect with social networks from inside your email account, integrate SkyDrive which include Office Web Apps for Word, Excel and PowerPoint files.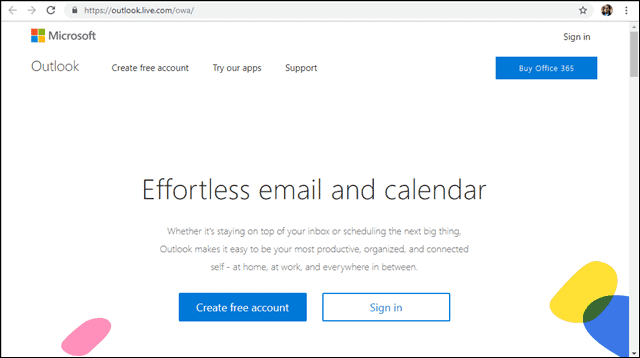 Here's a full review of Outlook.com.
Other Outlook.com Articles That Might Interest You
Mail.com offers most of the important email features that you might be thinking about. Most importantly, you can select the email domain name that will suit you best from over 200 domain names e.g. yourname@consultant.com, yourname@journalist.com, yourname@engineer.com, yourname@lawyer.com, yourname@cheerful.com, yourname@contractor.com and so on.
However, the default one is yourname@mail.com.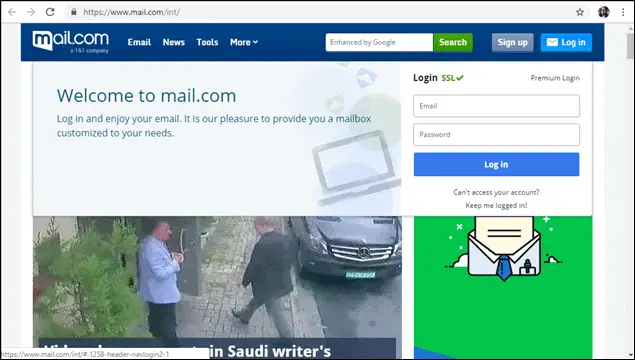 They provide unlimited email storage capacity and you can attach up to 50MB of a file in one attachment. You can also set up your email to receive and reply all your emails from this one address. They also provide mobile support.
You can use your email on BlackBerry, iDevices and Android devices. You also have an online calendar to use.
The new Yahoo! mail stands among the best free email services available on the web and mobile devices. They offer unlimited email storage, social networking, instant messaging and SMS texting.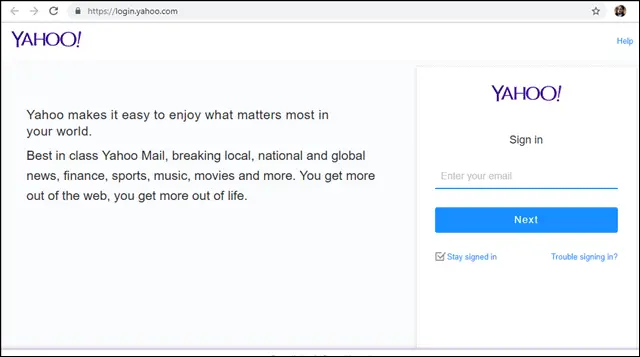 You can view slideshows, photos, and videos right from inside your mailbox. You can send up to 50 files or 100MB file size in a single email. Your messages are automatically sorted, and lower priority messages like newsletters and coupons are organized into folders.
GMX is not so popular, but it offers quite a reliable email service. Spams and viruses are well filtered. It provides unlimited email storage and allows up to 50MB of attachment. You can manage all your email accounts using their email collector. You can manage your emails on the web and mobile.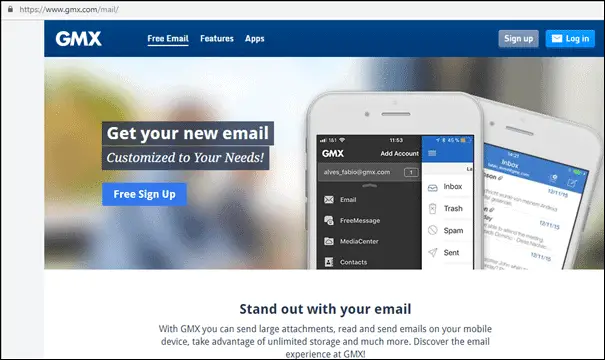 They make use of SSL encryption to protect your email from spam and viruses.
7.
ProtonMail
The ProtonMail is committed to developing and broadly deliver important fundamental features to protect your data online. It features end to end encryption, zero access to user data, open source cryptography, hardware-level security, SSL secured (Secured Socket Layer) connections, calendar, and good contact features.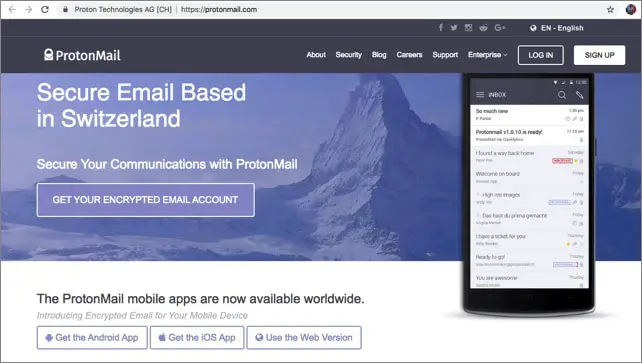 They claim to be the best free email service and available for everyone. ProtonMail does not log IP address, even there is no requirement of personal information for signing in. They also are available on all mobile platforms.
8.
AOL Mail
AOL Mail is a free email service provider. It provides complete security against Spam and viruses as well as it provides unlimited storage facility to the users. AOL's email attachment limit is 25 MB. It links with other email accounts from other service providers.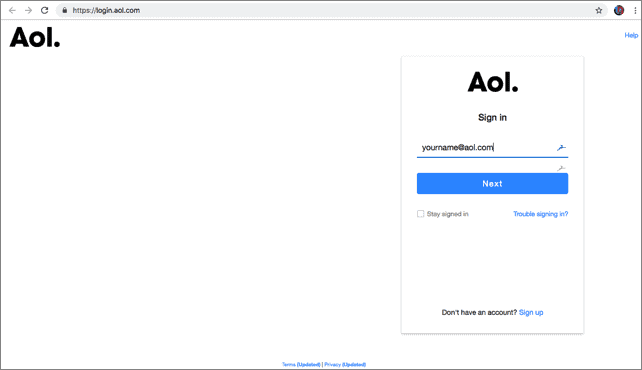 They boast of strongly encrypting all emails for adequate security. Those who are wary about keeping their email privacy might want to give them a chance.
9.
Yandex.Mail
It is Russia's major search engine with email and other social portals. In this email service, an email account includes 10 GB storage and can attach 30 MB file in your email.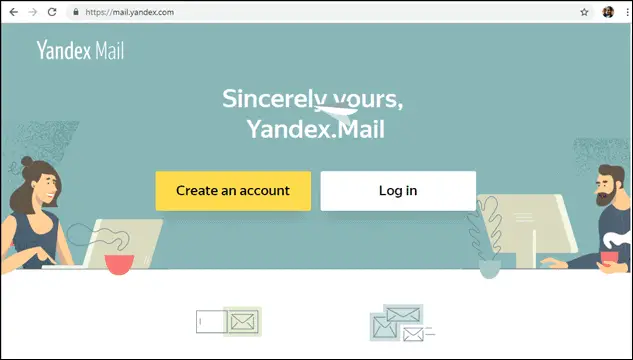 In the Yandex Mail service, a phone number is not required for the sign-up process. Yandex mail features an easy to use interface. It is a well-protected webmail service and has a good spam protection. It handles emails efficiently with the options available to schedule emails and set reminders when you don't receive a reply for an email.
10. 
Tutanota
Tutanota webmail service primarily takes care of your privacy. It provides end to end Encryption, multi-select drag, and drops, extra features for headers and manage push notifications.
Your email subject line and attachment are also encrypted to ensure you full security and privacy. You can access this email service from any browser and device with Android and iOS apps included.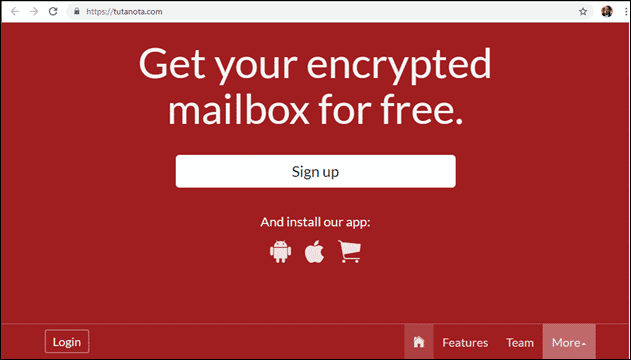 Try  Tutanota Free Email Service
11. 
iCloud Mail
iCloud takes your Apple ID to sign in that you use with your iCloud account. iCloud Mail gives you full access to your emails that include folders of Inbox, Sent, Drafts, Trash, VIP, Archive, Junk. As iCloud Mail is linked with your Apple ID, you can access to your contact list also.
It also allows you to send, receive, and organize email. You must have an Apple ID to use iCloud Email and if you don't have one, you must set up an @icloud.com email address before using iCloud Mail on iCloud.com.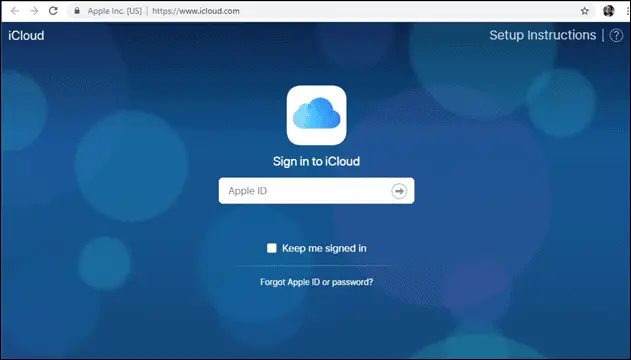 Notable Mention: FastMail
You should also consider using FastMail. They have been online for 10 years now. They boast of reliable junk mail protection, temporary secure SMS passwords, web folders for photos and files and much more. Their free or guest plan offers 25MB email storage, IMAP and 120 days inactivity time.
Although they are a paid service, they have a solid reputation for privacy and they do not scan your data for showing you any ads. So if you are a private person, who wants to keep his emails private, this is the best email service for them.
Final Thoughts
When you make a choice, be sure to explore all the options available to you so that you can make full use of their capacity. We would like to see your opinions in the comments section.
(Article updated on 27/12/2018)