In spite of the social network buzz, free email service still remains the core of business communication on the Internet. As such, it is just important to evaluate the best email services available and make a choice that suits your needs. Many people are just complacent with the email service provider they currently use.
In spite of occasional hiccups and challenges, the ignorance of other free powerful email service providers keeps them glued to just one or two. You should consider the offerings of other free email service providers online to decide whether to switch or retain your current free email service provider.
In good email services, you should watch out for an effective spam filter, enough storage space, user-friendly interface, mobile access, and maybe the availability of a desktop client. If you haven't attempted to explore other free email services, this may be a starting point for you. In this article, we have tried to highlight a few of the important features that may concern you and help you select the best email service for you.
11 Free Email Service Providers You Will Love
Here, we shall look at 11 reliable email services that you should consider if you are planning to switch email service providers. But before we do that, here's how these services stack up against each other when compared by features and numbers.
Now, let's dive into the details for each one.
1. Gmail
Gmail is arguably the best email service provider at the moment. Gmail is simple, secure, user-friendly, and very reliable. It offers 15 GB of storage space with the free email account, seamlessly integrates with services like Calendar and Drive (where you can save attachments from the emails), and offers feature-rich apps for mobile devices. It supports built-in chat functionality that allows for voice and video chat as well.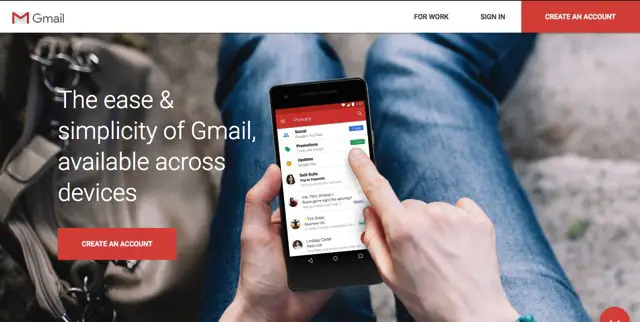 Best Gmail Features
1. Inbox Layout:
The inbox can be configured to operate and look as per your wish. Enabling the tabbed interface prompts the service to auto-classify your incoming emails into Primary, Updates, Promotions, Social, or Forums. 
While this is a simple configuration, it has a major impact on how you deal with emails, and can really help you stay on top of important emails that land up in the Primary tab.
2. Gmail Themes and Interface:
The inbox interface itself can be set up to be a list or a panel-view with a vertical or horizontal split. Simple Gmail themes let you add color and personality to the inbox and make it truly our own.
3. Gmail Smart Composer:
A standalone composer lets you write emails while keeping the inbox easily accessible. Smart compose and suggested reply features make the composer extremely powerful and can help you craft replies within seconds. 
Of course, you can make use of email templates to quickly draft an email and send it out. You may schedule the email to be sent at a specific date and time as well. 
4. Retract and Rearrange Mails:
See an error in the email you sent out a moment ago? You can undo the sent email if you catch it within a few seconds. 
Long email threads are often unavoidable but Gmail does a good job at grouping them nicely with relevant replies such that you can read messages in the proper context. 
5. Spam Filters:
Gmail has exceptional spam filters and you can mark emails as spam or block any unwanted contacts anytime. Gmail gives you the option to configure filtering rules to automatically classify and tag emails with custom labels. 
6. Multi-functional Platform:
As is expected from Google, the search capability of Gmail works wonderfully and makes it very easy to find lost or old messages. 
It allows you to easily import contacts, check email from other Gmail accounts, and level up your email productivity with keyboard shortcuts, canned responses, and set up vacation responders. It also supports built-in chat functionality that allows for voice and video chat as well.
7. Privacy Matters:
At times Gmail's privacy practices are under suspicion. However, with powerful and easy to use privacy tools, Gmail is one of the most secure email providers. You can review and adjust your privacy settings as per your needs.
8. GSuite for Business email providers:
Gmail has tons of features but if you find some functionality that is missing from Gmail, you can add and enable add-ons from the G Suite Marketplace to add specific features to Gmail.
9. GSuite Business Email Service:
Gmail also offers customized email services for businesses, individuals, and organizations under its GSuite program. Once you establish the ownership of a domain, Gmail helps you manage your customized email (your-name@your-domain-name), and you can even host it on their server. Note that custom domain email is a paid version of Gmail and related services (G Suite) and starts at $5/user/month, and is one of the most popular and best-paid email account options for business use.
Other Useful Gmail Articles:
2. Zoho Mail
Zoho has an entire suite of applications for individuals and businesses, including Zoho Mail that offers an excellent, free email account with 5 GB storage. Zoho Mail is a completely ad-free email service and if the storage space is insufficient, you have the option to pay for additional storage space at affordable rates.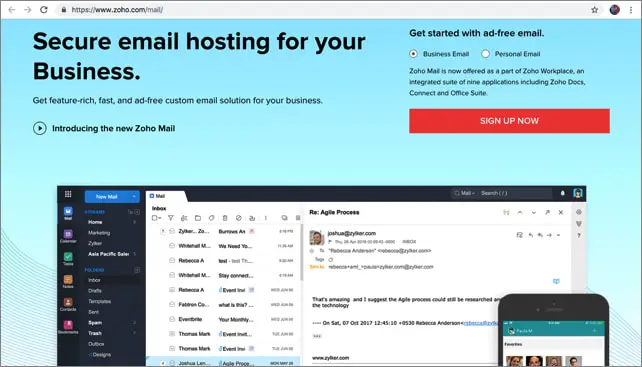 Best Zoho Mail Features
1. Safe and Secure
Zoho mail does not display adverts to protect your privacy. Email messages are not scanned for keywords for the purpose of marketing.
2. Minimalistic Interface
Zoho Mail gives the impression of being a dashboard of applications and services you use, with email smoothly integrated into it. It is highly flexible and lets you customize the look and feel of your inbox, work with plain or rich text, choose a horizontal or vertical email preview panel, and change the font settings.
You can access your email, tasks, calendar, notes, bookmarks, and contact list in a tabbed interface that avoids cluttering and keeps you in control.
3. Send and Undo Send in a Click
You can even add external email addresses to be used as From and Reply-To email addresses. An outbox delay can be set, allowing you to cancel or edit them before they are actually sent out. Enabling Undo Send feature will allow you to cancel sending an email up to 30 seconds after you hit the send button.
4. Flawless Classification and Filters
Settings for Zoho Mail are nicely classified and grouped, allowing you to quickly navigate and find the configuration item you need. You can tag and flag emails, and create custom filters for incoming as well as outgoing emails for easy sorting, and aid the spam filters by creating email blacklists. The ability to import contacts and also import email makes it easy to switch to Zoho Mail. Also, I just love the dark mode and distraction-free reading – it can make checking emails a pleasure again.
5. Seamless Integration
Your Zoho Mail account integrates with Zoho Docs, Zoho Sheets and several other free services, making it an excellent alternative to Gmail. One distinct advantage you have with Zoho is that, since it is aimed at businesses, you get features like recurring or scheduled emails, read receipts, custom reminder options, templating, multi-factor authentication, and vacation replies for no cost at all.
6. Custom Services for Business/Professionals
Zoho offers custom domain email services for businesses. Zoho mail is aimed at professionals. It features a calendar, task manager, notes and instant chat as well as other business apps found in Google apps for business. It is easy to set up and manage. supporting email encryption in transit and Digital Signatures to avoid spoofing.
You can opt for their free Lite Plan that features 5GB email storage per user, push mail, and email support, but only has web access. You can register one domain name on the free Lite Plan, and your email address will appear as username@(your-domain).com instead of the regular-email-ID@zoho.com.
7. Signature Management
Premium users have the option to use S/MIME which adds a layer of security to your emails by supporting email encryption in transit and Digital Signatures to avoid spoofing.
As an individual user, you can get premium features or more storage at affordable rates. Nonetheless, Zoho Mail offers a secure, free email account and is definitely one of the best free email service providers on this list.
ProtonMail is an email service with one primary objective – private, secure, encrypted email. This email service does not sell your data since they have paid accounts. As such, it does offer a free email account so that everyone has access to secure email service. However, the free account is quite basic.
Protonmail Features for Free Users
Their free email account comes with 500 MB storage, one email address, and only 3 folders/labels. However, the security features are not restricted to free email accounts. They also get all the security features that are available with their affordable paid plans.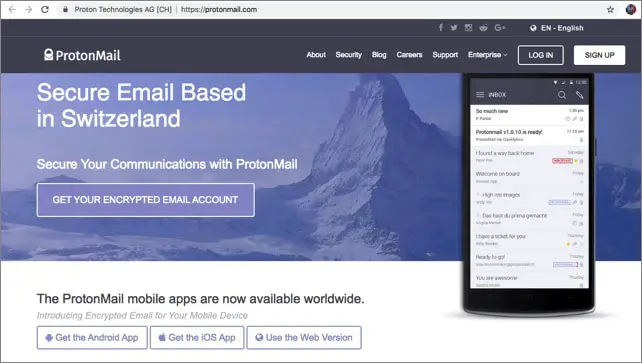 Protonmail Features for Premium Users
1. Autoresponders
Other features like Auto-responder can be enabled by purchasing a premium offering, which also increases the storage space, and gives the option to have additional email addresses and use many more folders/filters. 
2. User-friendly Interface
The user interface of ProtonMail is simple and easy to use. You can personalize the layout, composer view, button layout, and even switch the theme. The ability to create filters and maintain a whitelist/blacklist of addresses helps keep your inbox manageable.
3. End to End Encryption
One of the features I absolutely love about ProtonMail is the ability to send completely encrypted emails to other email addresses, including non-ProtonMail ones. They need to be password protected and only recipients who have the password can see the contents of the email. Another feature is to send an expiring email, which can no longer be accessed once the timer runs out. (SnapMail, anyone?) It is extremely easy to configure these settings via the composer for any mail you send out. 
4. Advanced Features
ProtonMail has some way to go before it can offer some of the advanced features that other services can offer. What it does very well though, is to offer an ad-free, secure, encrypted email service. You can set up two-factor authentication, monitor your login logs, and manage active sessions to have peace of mind when using this service. 
5. Secure and Private
If you are currently concerned about the privacy and security of your email for any reason, ProtonMail is one of the most secure email providers out there and a great option for you to consider.
4. Outlook (Reinvented Hotmail)
Outlook.com is the flagship email service from Microsoft that offers free email accounts for personal use. It is the reinvented Hotmail and Live.com email service that offers an advertisement-supported web client and feature-rich apps for Windows, iOS, and Android platforms.
Outlook has a simple but very efficient interface. You can customize the email preview panels, set simple themes, use the dark mode, or do detailed customization of the actions available to you as you read or compose emails. Outlook email service is also very intuitive about the options it offers you when you right-click on any email. For example, you can pin, flag, categorize emails, or create a new rule, unlike many other services on this list.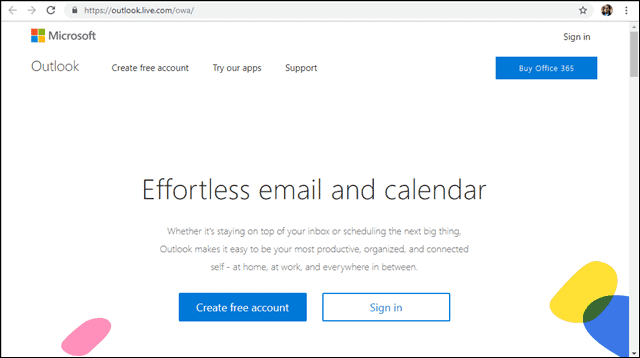 Outlook lets you enable Focused Inbox, which is supposed to let you focus on actually important emails, but it has not really worked out very efficiently for me. It would probably perform better with continued usage and with custom rules that I can set up for emails that are more important and relevant to me. Hopefully, their automatic sorting feature will improve with time.
Being a Microsoft service, Outlook does integrate seamlessly with Office Online allowing you to work with documents, spreadsheets, notes, and other files. You do share your free email storage space of 15 GB with these documents though. The Outlook email is also ideal for heavy Skype users, as it integrates smoothly in the interface and enhances Outlook with the chat functionality. It also allows you to connect your social media accounts right in the inbox. 
Outlook supports multiple aliases that you can use to keep your primary email address more private. One of the strengths of the service is that it allows you to connect 20 other email accounts and check your emails right there in Outlook. Perhaps to make it easy for you to keep your primary email address more private, it allows you to customize the keyboard shortcut configuration to suit your style.
The Outlook client is not perfect, but it is pretty powerful and has the ability to be your default email hub.
5.
Tutanota
Tutanota is an encrypted email service with a focus on security. As such, it competes with PhotonMail in the secure email service space. The free email account comes with 1 user, 1 GB storage, a limited search capability, and is restricted to the Tutanota domain only. 
Tutanota is an ad-free email service and relies on premium subscriptions which offer many more features than free accounts including Inbox rules, aliases, custom domains, and even an unlimited search.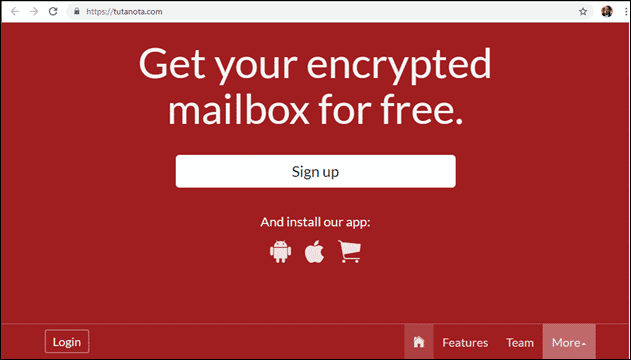 Tutanota is a service for people who put the utmost value on their privacy and security when using emails. It relies heavily on encryption. All emails sent to other Tutanota users are end-to-end encrypted.
When sending emails to other addresses, you can set a password and the recipient would need to have access to the password to access the contents of your email. They can also securely reply to the encrypted email without having to create an account on Tutanota. 
Tutanota focuses on security and thus lags on features that might be commonly seen across other free email services. A paid account does offer better features, but you may still find some features missing. That is a compromise that you have to do to use a privacy-oriented and free secure email service. 
Yahoo Mail has been around for over two decades now and the good thing is that they have evolved quite nicely over this period. It is easy to sign up and get a free email account with a massive 1 TB storage – that is as good as unlimited storage for emails! The interface is sleek and friendly and can be easily customized by choosing a theme of your liking. 
Yahoo Mail lets you add up to 10 send-only email addresses to your account. You have the option to connect up to 50 mailboxes (other email accounts) and use them through Yahoo Mail. There is a 'travel' view that focuses on your travel plans and it can do that for all the connected mailboxes. Your impressions might vary, but since I do like the interface of Yahoo Mail, I can consider making use of these mailboxes and using Yahoo Mail as a hub for some of my email accounts.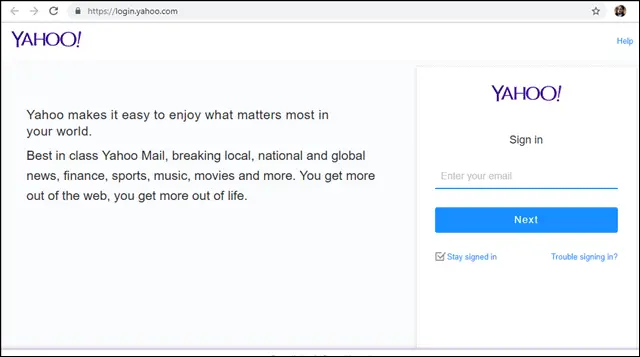 The differentiating feature for Yahoo Mail is the ability to create 500 disposable email addresses. That is definitely more than most people would ever need. You can use these to subscribe to all sorts of services and newsletters that you are not sure you would like to keep receiving, and just delete them to stop receiving the emails. 
The feature is quite nice but Yahoo needs to do a better job at walking the user through the process of creating these disposable addresses. It is not very straightforward and you might end up with an unchangeable, unintentional base key for the disposable email addresses, as I did. So be careful with that. 
The service itself is quite feature-rich. You can customize the inbox layout, settings for writing and reading emails, and create filters to manage the incoming emails. Yahoo Mail is ad-supported and the ads can even be suppressed for a while, making it a fair deal for the users and Yahoo as well!
Yahoo's services have had multiple security breaches over the last few years, which makes me very vary against using it as my primary email account, but it is definitely a good option as an alternative email account. 
iCloud Mail is a service offering a free email account to Apple device users. You need to have an iOS or Mac device to enable the mail service for access via the browser. Once enabled, you can just log in to iCloud.com with your Apple ID and don't need to create a separate account or credentials for it. 
Your Apple ID can be different from the iCloud email ID. You get a 5 GB storage with the free email account that can be accessed online and can sync to your Apple devices. The service itself does not have any outstanding features and actually falls short of the capabilities of the best email service providers in this list.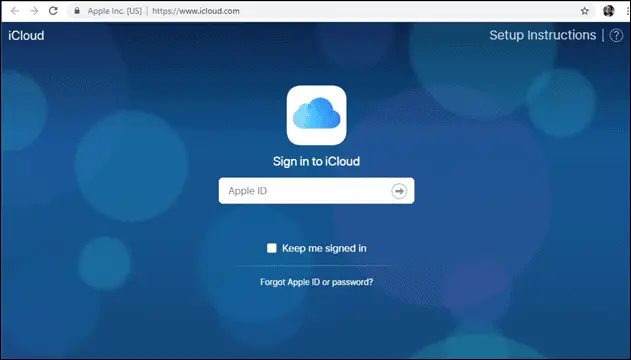 iCloud Mail is completely ad-free. You can set up email forwarding to some other email address, create folders and rules to filter emails, have up to 3 aliases, and set up vacation responders. You can share very large files via emails using the Mail Drop feature, where the file is kept on your iCloud and shared with the email recipient as a download link. 
The inbox and compose views have a minimalistic design, giving you very few features and functions. Some may find it disappointing while others may consider simplicity as a feature that lets them focus more on managing emails. 
Apple as a company has a growing focus on its customers' privacy. As such, iCloud Mail has the promise of privacy that comes with Apple products. Though it is a definite plus for iCloud Mail, it falls short compared to services like ProtonMail which are built from a privacy-first perspective. 
That's about it. iCloud Mail does not have any outstanding features compared to its competition, but it is a perfectly usable free email account. (For Apple device owners only, obviously.)
AOL Mail was one of the first public email services. The feature that makes it stand out from the competition is unlimited storage with your free email account. The service has most of the basic features – general customization of the settings, a variety of themes to choose from, some tweaks to the layout and composer, and the ability to add filters to manage your incoming emails. 
AOL Mail has an integrated calendar and you can easily add events to it. There is also a todo list that you can maintain alongside your inbox, but it is quite basic. There is a 'Today on AOL' section built into the email service that brings the latest from AOL to your email. Based on your preference, you may like it or you can choose to not set it as the default view from the settings like I did.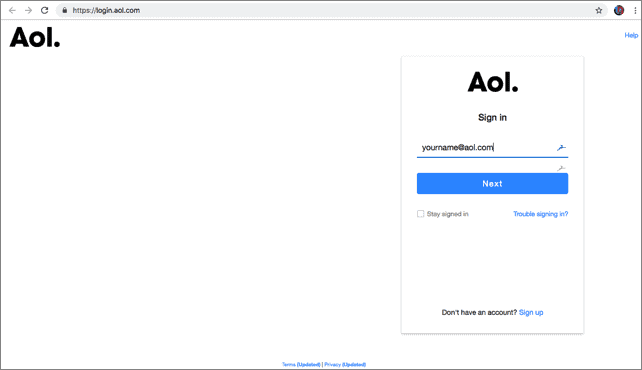 AOL Mail has been around forever, and it shows. The interface feels a bit dated, and the service is heavily ad-driven. Ads are pushed into every empty folder, the sidebar, and every other place possible. There is an option to go ad-free by buying a subscription if you would like to go that route. The ads and the interface might not be much of a problem if you use the service on their mobile app.
Unless you are already invested in the AOL ecosystem or are already a user of AOL or its related services, I would recommend that you choose some other service from this list for your new email account. I don't believe there is anything exceptional offered by AOL Mail that warrants you to open a new account with them. AOL Mail is the service to choose, though, if you need a free email account with unlimited storage.
9.
Yandex.Mail
Yandex is the primary search engine service in Russia and Yandex Mail is the free email service offered by the company. The service is ad-free and gives the definite impression of a business that is not dependent on the email service for revenue streams. 
The free email account of Yandex Mail comes with 10 GB storage, an integrated calendar, and a linked account with Yandex Disk for storing your documents. The interface is easy-to-use with a default layout that is tabbed and can classify your emails as Conversation, Travel, Purchases, and Social.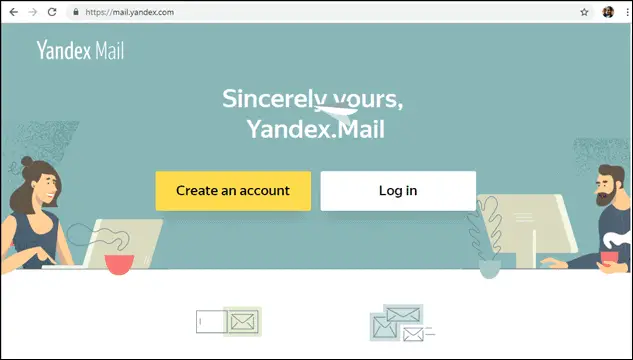 You also have a simple Task list that sits at the bottom right corner of your screen, but it has to be enabled from settings. The email composer is also feature-rich with thorough formatting options, the ability to attach files from Yandex Disk or your computer, and an option to save email templates. The emails can be scheduled for a later time and you can set reminders to remind you to follow-up on your emails if no response is received. You can also request for received-receipt for specific emails. 
You can customize your inbox by applying themes, and they look great with the clean interface. To manage your incoming emails better, you can leverage folders and labels and can create filters to automatically classify them. Spam protection is built-in, adding to the security of your inbox. 
For access on the move, the service offers a mobile app for iOS and Android platforms. You can import emails from other accounts, primarily Gmail, Outlook, and Mail.ru accounts, and use Yandex as the hub for your email management. On the contrary, if you want to import Yandex mail into third-party apps or services, you can create specific passwords using Yandex Passport so that you don't have to use your main password outside of Yandex. It is a nice feature to keep your primary password secure. 
Overall, Yandex Mail is a solid option for a free email account with no particular downside, feature-wise. Some users have shared apprehensions about using a service hosted in Russia. But if that does not bother you, Yandex Mail is definitely one of the best email services amongst the ones on this list. It's a good idea not to have all your data in a single country anyway. 
10. Mail.com
The main reason you might want to get a free email account with this service is that you can choose from 200 domains to get the email address you desire. This can be based on your location, occupation, hobbies, spiritual interests, and more, allowing you to get email addresses like @nycmail.com, @artlover.com, or @techie.com.
It is definitely more fun to have an email ID that you can relate with, or you can pick one from the more popular domains like @mail.com, @email.com, @myself.com, @usa.com or @engineer.com amongst others. The default email account is always yourname@mail.com.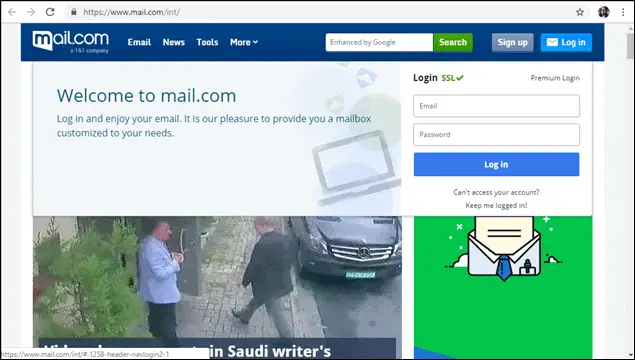 It is easy to sign up once you choose an email ID and domain. It does force you to add a recovery option when you sign up, but that is mostly a positive feature, in case you lose access to your account for any reason. Once signed up, you have an email account with a 2 GB storage and support for an online calendar. You can attach files up to 50 MB in size with your emails and have 10 aliases linked to your account.
The free email account also gives you access to online file storage (which shares the 2 GB limit with email) and an online office to work with docs, spreadsheets, or presentations. If you are moving from any other email service, you can import contacts to get started quickly. For use on the go, the service does have a mobile app for both Android and iOS platforms.
You can connect with other email accounts and use them through your mail.com account, but I cannot imagine why you would want to do that. The service is heavily ad-driven. The ads are not subtle and can be quite distracting.
Editor's note: This service has received terrible reviews from users on TrustPilot along with complaints of their accounts being blocked without cause. We have received emails regarding the same from our readers and though we have not experienced it ourselves, we thought our readers should be aware of it. We'd recommend that you choose one of the above services for a free account if you are looking to create a new one.
The service does push you to go premium, it does a pretty poor job of informing you about the advantages of a premium account, which can make this service much more appealing. 
Mail.com's Parent company 1&1 Mail & Media Inc has another free email service at GMX that is almost the same in terms of features and interface, with the exception that it offers 65 GB storage with your email account. The downside is that your domain options are restricted to gmx.com and gmx.us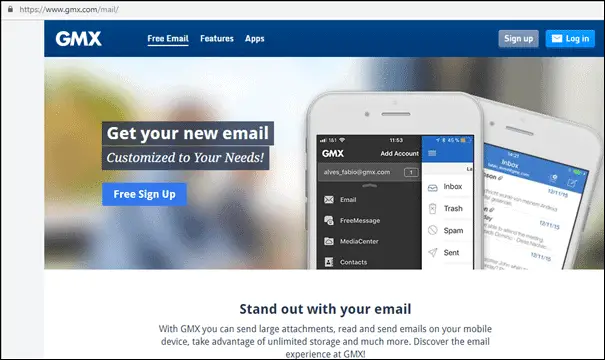 GMX is not so popular, but it offers quite a reliable email service. Spam emails and viruses are well filtered and the service allows up to 50MB of attachment. You can manage all your email accounts using their email collector. You can manage your emails on the web and mobile.
---
Personal Email Service Providers Compared
Scroll table to the left for more details on each email service <<<
| Service \ Attribute | Service Type | Advertising | Storage Space | Maximum Attachment size | Max Large File Attachment | Max Number of Contacts | CC and BCC limits | Outgoing Email Limit | Incoming Email Limit | POP support | IMAP support | Email Forwarding | Two Factor Auth | Labels |
| --- | --- | --- | --- | --- | --- | --- | --- | --- | --- | --- | --- | --- | --- | --- |
| Gmail | Free | Ad-supported | 15 GB | 25 MB | Up to 5 TB via Google Drive | 25000 | 500 (web), 100 (Mail client / SMTP) | 500 emails every rolling 24-hour period | Unknown | Yes | Yes | Yes | Yes | Unlimited |
| Zoho | Freemium | Ad-free | 5 GB | 25 MB | Up to 1 GB via Zoho Docs | Unknown | 50 | 250 emails per day | Unknown | Yes | Yes | Yes | Yes | Unlimited |
| ProtonMail | Freemium | Ad-free | 500 MB | 25 MB | 25 MB | Unlimited | 100 | 50 messages/hour, 150 messages/day | Unlimited | No | Yes | No. | Yes | 3 (Free), 200+ (Paid) |
| Outlook | Free | Ad-supported | 15 GB | 34 MB | Up to 10 GB via OneDrive | 60-120 | Up to 100 recipients total | 300 emails per day | Unknown | Yes | Yes | Yes | Yes | Unlimited |
| Tutanota | Freemium | Ad-free | 1 GB | 25 MB | 24 MB | None | None | 100 messages per hour | None | No | No | No | Yes | Unlimited (Paid feature) |
| Yahoo Mail | Free | Ad-supported | 1 TB | 25 MB | Up to 2 GB via Dropbox | 5000 | 50 | 100 emails per hour | None | Yes | Yes | Yes | Yes | Unlimited |
| iCloud Mail | Free | Ad-free | 5 GB | 20 MB | Up to 5 GB via Mail Drop | 50000 | Unknown | 1000 messages per day | None | Yes | Yes | Yes | Yes | Unsupported |
| AOL Mail | Free | Ad-heavy | 225 GB / Unlimited | 25 MB | 25 MB | 5000 | 100 total | Unknown | Unknown | Yes | Yes | Yes | Yes | Unsupported |
| Yandex Mail | Free | Ad-free | 10 GB | 22 MB | Up to 2 GB via Yandex Disk | Unknown | 50 (web) or 35 (Mail client / SMTP) | 500 emails per day | None | Yes | Yes | Yes | Yes | Unlimited |
| Mail | Freemium | Ad-heavy | 65 GB | 30 MB | 30 MB | None | Unknown | Unknown | None | No | No | Yes | No | Unsupported |
| GMX | Free | Ad-heavy | 65 GB | 50 MB | 50 MB | No Limit | Unknown | Unknown | Unknown | Yes | Yes | Yes | Yes | Unsupported |
There are plenty of good options for you to get your free email account and which one is most suited for you depends on your requirements.
When you make a choice, be sure to explore all the options available to you so that you can make full use of their functionality. We would like to see your opinions in the comments section.
(Article updated on 2nd June 2020)