It sounds strange how Gmail still lacks in appearance given that it is the most popular email service accepted globally. The user interface is simple enough to get familiar with, but at the same time, it's not that appealing. That lazy white background is enough to make all the tabs and filters lose their charm. However, if you are wondering on how to change Gmail background, here's the good news for you!
Now, you can customize your Gmail look with a lot of themes and backgrounds. If you want, you can also customize your Gmail inbox. Let's take a look at doing a makeover of Gmail to get you to feel fresh and it's a way better than it was ever before. There are some limited Gmail themes that look reviving than the default one.
The Easiest Way to Change Gmail Background
Gmail has an in-built themes section that allows you to choose a theme and set it as a background. These Gmail themes are much better than the default look. It's quite easy to get into the theme section.
To start with, click on the Gear icon and select Themes.
Here you see a variety of beautiful photos including sceneries, nature and much more.
Click on More Images to look for other image options. Click on the one that catches your eye and the effect behind it.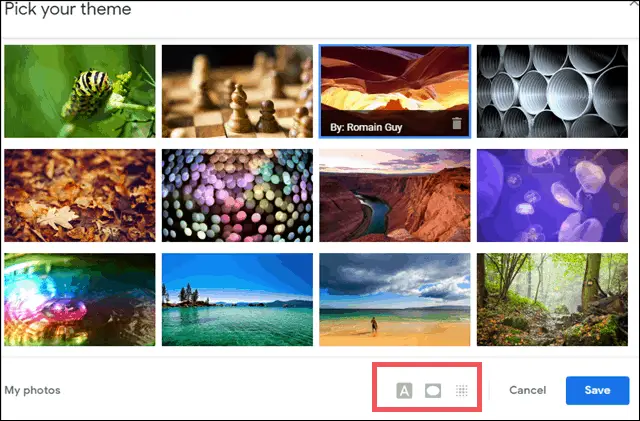 You can exit from the Settings once you have selected the theme.
Moreover, once you click on the theme you want, it expands to more options like changing text background, adding a vignette and adjusting blur.
You can choose the Text background from the Dark and Light options.
If you want to add Vignette, use the slider for the same to make the corners darker.
If you want to reduce the intensity of the background image, you can blur it using the Blur option.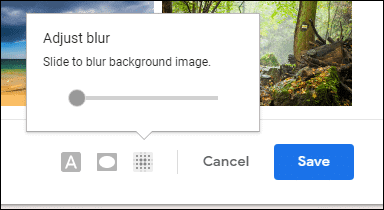 The question of how to change Gmail background only arises when the default theme starts appearing monotonous to the user.
In such cases, Gmail has a number of other themes that he or she can use to make their account more visually appealing.
How to Change Gmail Background Using the Dark and Terminal Modes
Once you are into the Theme in Gmail, you have two options to turn the look into dark mode.
One is named as Dark and another Terminal.
The difference between these two dark themes is intensity. Dark has more grays with black, whereas Terminal is pure black with no gray.
The Dark and Terminal themes have recently been rolled out by Google. In case you wish to change the Gmail background, make sure you experiment with the Dark and Terminal modes.
How to Change the Overall Text and Compactness in Gmail
Text and compactness play an integral part in enhancing the look of your Gmail background. The change of text color or font and its compactness can also add a pleasing look and make your eyes feel more comfortable, depending upon the color selection.
If you think the texts are too far or close to each other, Gmail has given you choices to adjust the overall appearance.
Click on the Gear icon and select Display Density.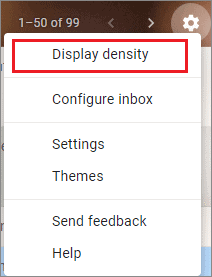 You get three choices-
Default,
Comfortable, and
Compact.
The Default Mode is visible when we log in to our Gmail account for the very first time. It has a white background and a simple design.
The Comfortable mode is quite shrunk and less than the Default mode with no file attachments icons.
The Compact mode is true to its name. It is compact and takes less space than the Comfortable mode.
The Comfortable Mode and the Compact Mode haven't yet gained much popularity amongst Gmail users. However, there's no denying that when we do need a change of scenario in our Gmail background, these two modes hardly disappoint.
Change Font In Gmail
Gmail does not allow you to change the font for Inbox, but you can customize the fonts that you use in the messages.
It's quite easy to set a cool font of your choice.
Go to Settings.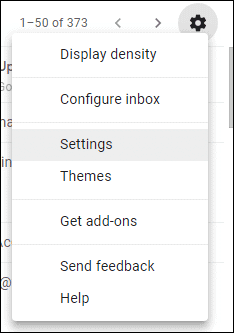 Now, in the General tab, you see a section named Default text style.
Select the font that looks cool to you. You can see the sample text with the applied font.
Then, you also have a variety of options to change the font size and color shades. Make the changes you feel appropriate taking care of things should professional since many tweaks can make your text look a mess.
Changing the font is also a fine way to enhance the look and tweak it so that your Gmail account looks more vibrant. Make sure you don't forget to experiment with this option when you change your Gmail background.
Also, you can install various Google Web Fonts on your system.
How to Customize Gmail Theme with Your Own Photo
It sure does look cool to have a Tom Brady or a Taylor Swift as the wallpaper in your Gmail account. But, what if the wallpaper was your own photos smiling widely at you?
Let's look at how to change the Gmail background and swap the traditional theme picture with your own photo. But, first, a user needs to upload his photos to Google Photos.
To start with, click on the Gear icon in Gmail and select Themes.
Now, click on the My Photos option in the bottom left side and select the photo of your choice.
Moving forward, click on Select to save your choice.
Customizing your Gmail background with your own photo is hardly different from what we did in the very first method mentioned in this article. This approach allows you to personalize your Gmail background, thereby offering a landscape you will always love to see when you open your mail.
Conclusion
When it comes to how to change Gmail background, there are a couple of methods we can resort to. There's no fixed way of changing Gmail background and most of it depends upon the kind of theme that you like.
Gmail customization is limited and does not offer many ways to work on the appearance of the interface. Previously there were some browser extensions to work with Gmail but now they are no longer available. Having said that, you can still work with limited options and come up with some impressive output. The available themes are good and look quite refreshing than the default one.  You can select and change the theme at any given time as per your requirements.
Related: