Are the emails sent and received by you private and secure? Many email services promise the safety and security of your data, but do you find them so trustworthy to entrust your emails to them? Many people are drawn to ProtonMail primarily because of its security features. In this thorough ProtonMail Review, we explore what makes this private email service one of the most trusted email services for security and privacy.
ProtonMail Review
ProtonMail is a part of Proton Technologies. Available for personal as well as organizational use, the email service has left no stone unturned in ensuring data privacy and security for its users. This mail service provider is based in Switzerland and leverages the strict Swiss privacy laws for their email service.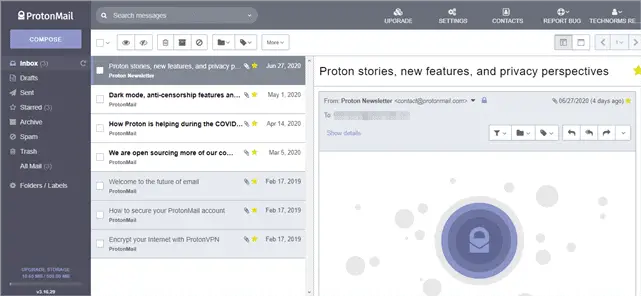 The ProtonMail review will help you understand it from a broader spectrum. We look at everything ProtonMail offers, including features, pricing, pros, and cons to give you a detailed look at the service. All the details should allow you to make an informed decision and judge the value for money aspect of the service.
ProtonMail Features
ProtonMail has an extensive features list that we have sub-classified based on what they offer and how you would use them.
End-to-End Encryption Features
ProtonMail encrypts your emails end-to-end automatically, which means that the emails are encrypted on ProtonMail servers, on your devices, and even during transmission between them.
The communication between ProtonMail users and other users are end-to-end encrypted.
You can be assured that all the emails are secured so that the email cannot be read even on ProtonMail servers because they don't have access to encryption keys. And because of this security provision, your data cannot reach third-parties.
All the messages sent and received are encrypted, which lowers the risk of message interception.
Swiss Privacy and The Guarantee of Security
As mentioned above, ProtonMail is based in Switzerland, and also all their servers are located there. It means they follow the strict privacy policy of the Swiss government.
They also leverage the world-famous Swiss neutrality to the benefit of the email service.
The codebase for ProtonMail is open-sourced and can be checked by anyone.
Ease of Handling ProtonMail
ProtonMail is quite easy to use and look like any normal email account
The incorporation of modern inbox design brings ease in reading, organizing, and sending emails.
Even though your mails are encrypted end-to-end, you can still receive and send emails to email ids belonging to other email services.
You can use the email service on Android, iOS, or any other devices without downloading the mobile app/software.
Anonymous Email Features
It protects your privacy by not keeping IP logs.
You don't need any personal and confidential information to create an anonymous ProtonMail account.
Email Security Features
You can set an expiration date for emails so that they are not accessible once the timer expires.
Two-factor authentication to add another layer of security for access.
Detailed authentication logs and the ability to revoke sessions to verify that there is no unauthorized use of your account.
Verification
Although ProtonMail uses email and phone number verification, it does not store your details with it.
The phone number and email are stored in hash form. It is because if you are an existing ProtonMail user, then they can compare your phone number and email hash with the hash stored in the database. This is done to avoid service misuse and reduce the chances of people getting more than one account with the same numbers and emails.
Cross-Platform Features
ProtonMail can be accessed via mobile apps on iOS and Android platforms
The web app is available for desktop usage. In case you wish to use ProtonMail on Mac, Linux, or Windows, all you need is a browser.
ProtonMail Bridge Features
ProtonMail bridge allows integration of ProtonMail with other email clients like Mozilla Thunderbird, Microsoft Outlook, and Apple Mail.
The features mentioned above clearly demonstrate that ProtonMail never compromises email security. But it is not just a list of features that build trust in ProtonMail. The open-source codebase for verifying its practices and generous free versions of their software makes it easy for end-users to trust this email service.
ProtonMail has also been engaged in helping activists and protestors against surveillance states and restrictions on freedom of speech. Based on our ProtonMail review, ProtonMail is a product with privacy-oriented philosophy. When coupled with its solid security features ProtonMail makes an excellent private email service.
ProtonMail Pricing
Pricing is an important aspect to consider in this ProtonMail review to judge if you should pay for this service which offers a decent free version as well.
As seen in the above image, there are four plans for ProtonMail.
Free Account – The free version of ProtonMail offers limited features, but provides you an option to upgrade anytime you wish. With the free plan, you will get 500 MB storage, 150 messages per day, and limited help and support. You also get 3 folders and 3 labels with the free plan, but the auto-responder and custom filter support are not available for the free version of ProtonMail.
You won't be able to send encrypted email to the recipient of another email service provider with the free plan.
The storage is too less and won't suffice if you communicate a lot via email. If the communication is more, then 150 messages won't fulfill your needs, and you will need to upgrade soon. You should also know that new accounts are not allowed to send a ton of emails to avoid spam and abuse of the service.
If you want to test ProtonMail before paying for its services, you can sign up for free email services provided by ProtonMail. People who use mails only when required and don't rely heavily on email communication can opt for a free plan.
Plus Plan – The Plus plan is a paid plan option provided by ProtonMail with mostly all advanced features. There are 5 GB storage capacity and 1000 messages/day allowance with this plan. You can send encrypted email to external recipients, use your domain in your email id, and get priority customer support with Plus plan.
The other features included in this paid plan are 200 labels, customer filters, 200 folders, auto-responders, and allowance of up to 5 mail aliases. The pricing for the Plus plan is USD $4/month. If you are looking for a completely secure email service, then you should opt for this plan.
Visionary Account – The Visionary account has more features and services than the Plus plan. The price of the Visionary plan is also on the higher side. With this plan of ProtonMail, you get 20GB storage capacity, unlimited messages, and up to 50 mail aliases. You can also get support for 10 domains, multiple users (6 total), endless labels, custom filters, and unlimited folders.
The best part of this plan is that you get access to ProtonVPN, which is a secure, privacy-concerned VPN as noted in our detailed ProtonVPN Review. When you sign up for a Visionary ProtonMail account, you will get early access to all new features introduced by ProtonMail. Although with this plan, you can send unlimited messages, you cannot abuse it to send mass emails as ProtonMail does not allow that.
The charges for this plan is USD 24/month. Well, this is the last plan for individual use. If you want the most of Proton services, then you can take up this plan.
Professional Plan – If you are looking for secure email services for your company, ProtonMail provides that. You can host an encrypted email for your organization with your custom domain. For example, you can have an email address like abc@your_company_domain.com.
When you opt for a Professional plan, each employee having a ProtonMail email account gets 5GB storage space and an allowance of 5 email aliases. Each user also gets unlimited messages, unlimited folders and labels, custom filters, auto-responders, and priority support with this plan.
The charges for the Professional plan is USD 6.25/user/month. With this plan, you can only pay for the number of employees in your company. The limited storage capacity can eventually be an issue with the organization that relies more on email communication.
There is a 20% discount if you opt for both ProtonMail and ProtonVPN. So, if you are interested in both the services by Proton, then you can opt for this discount. Based on our ProtonMail review, the pricing of ProtonMail is on the higher side compared to some other email services providers. However, if the security, privacy, and protection is something you are looking for, then ProtonMail is the best option. Whichever plan you opt for, secure email services are guaranteed by the email service.
ProtonMail Review: Pros and Cons of the service
| Pros | Cons |
| --- | --- |
| Best when it comes to privacy, security, and protection | Do not have a desktop app for Mac, Windows, and Linux, you need to use Web-app for these platforms. You need a paid account to use ProtonMail Bridge with email clients. |
| Offers a free plan | The storage in the free plan is 500 MB, which might not be sufficient for most users, and hence people need to upgrade. |
| Provides spam filters and also custom filter option | Do not provide support for tasks and notes. Calendar support is limited. |
| Mobile apps are available for Android and iOS platforms for using ProtonMail | The subject is not encrypted because it is the part of the header |
| Provides end to end encryption of emails | The paid plans are a bit expensive. |
| Open source email service provider | Cannot recover your existing data in case you lose the password |
| Does not store IP logs. | |
| Ensures strict Swiss privacy law to ensure user's data security | |
You should be careful while choosing your password for the email service because you cannot recover your existing data if you lose the password. This is because ProtonMail doesn't have access to the encryption key and hence cannot recover your encrypted email and data.
The email service has some really solid features as pros, and it is indeed an outstanding email service. Based on our ProtonMail review, you can read the recommendation section to know which plan you should opt for based on your need.
Our Recommendations
For anyone who needs a private and secure email account, we would definitely recommend a ProtonMail account. But if you are looking for a full-featured email account with all the bells and whistles, it might not be the right choice for you.
If you are unsure of ProtonMail being the right service for you, you might want to try out the free version of the service. There are no time restrictions, and you can use it for a while before deciding. On the flip side, if you already like it and want to choose a paid account, the above section should help in selecting the correct premium plan for you.
When there are four plans from any email service provider, then choosing one can be confusing. We recommend you to go for the plan which suits your needs and pocket. ProtonMail offers a lot, but then everything comes with a price. Therefore, you should be careful while picking up a plan.
Whenever you wish to start with it, you should opt for a free plan first. With this, you can get used to the services, user interface, and features. As mentioned above, the 500 MB storage likely won't be enough for you, and you will need to update sooner or later. However, you will get to know in a day or two if the email service works for you or not with the free account.
If you are a professional and already know how the email service can help you with security and privacy, you can opt for Plus or Visionary plan. The plan you choose depends on your daily usage. If you communicate a lot via mail and need more than 1000 messages per day, opt for a Visionary plan. Please note that even if you opt for a Visionary plan, you cannot send spam emails or bulk emails from your ProtonMail account.
People looking for professional, secure email services for their company have only one option, that is a Professional plan. There is a limit on the storage of each user, so if you want more storage, then you can either speak to the customer support or opt for another email service provider.
Based on our ProtonMail review, the only issue in Plus and Professional plan is storage. If you need more storage, you need to go for a Visionary plan, which is expensive. However, if security is your biggest concern and not storage, then going with any paid plan can work for you.
ProtonMail Review: Final Thoughts
ProtonMail is an excellent private email service that stays true to its promise of keeping your data private and secure. They have tons of features focusing on security while offering a perfectly functional email service. They have been around for a long time now, and are doing well. Based on our ProtonMail review, it bodes well for you as you can rest assured that your emails are private, secure, and always available to you.
Security is their USP, but that does not come without its own drawbacks. Complete encryption makes it difficult to develop advanced features or integrations; and makes for some noticeable features missing from this service. This ProtonMail review should help you take a thorough look at the service based on numbers, features, and pros and cons and make an informed decision about using the service.