Communication is the key to a successful business, and email is one of the best ways to do it. There are many excellent email service providers available for big and small businesses and personal use. One of those is Zoho mail. Users across the globe are curious how well this service works, and we wrote this Zoho mail review to highlight it's best features.
Zoho free mail is one of the leading email service providers giving stiff competition to other major names in the email services business. We have used this service for a while now and wanted to let our readers know about an alternative to other reliable free email services. This Zoho mail review will help you make a better choice for your business in terms of value for money as well as services and features.
Zoho Mail Review – Is it Right For Your Personal and Business Use?
Zoho provides email hosting services for your business. With Zoho mails, you can get secure, encrypted, privacy-guaranteed, and ad-free email service. You get an extensive list of features and different plans to meet the needs of a wide range of requirements.
The review consists of features, pricing, pros, and cons, as well as our recommendation for the pricing plan you can opt based on your personal or business needs.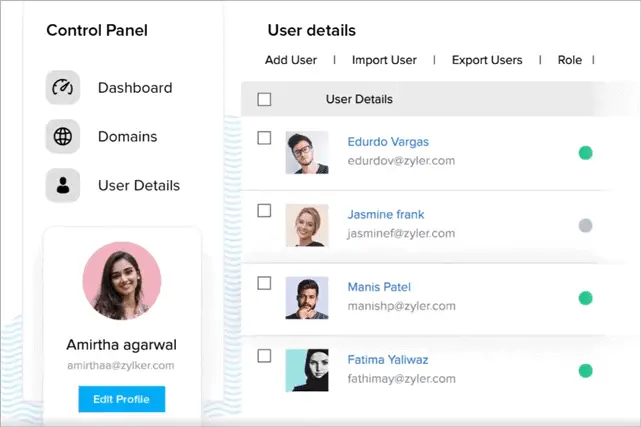 Features
Zoho Mail comes with a ton of useful features. We have picked the best features for you and classified them to help you understand if it provides what you need.
Zoho Mail as a Business Email
Zoho provides a custom domain-based email address for your company, enabling you to have your email account with your company's domain name. For example, abc@your_company_domain.com.
Zoho mail offers user and group management options that help you organize your employees as per their role in the organization.
Collaboration Features
You can access notes, calendars, tasks, contacts, and bookmarks app in your email window. Now, this makes it easy for people who tend to use all this with their emails.
Create events, assign tasks, and make essential announcements with your Zoho mail. Your teammates can also like, share, and comment, just like social media platforms via their email ids.
Attachment Features
You can upload your emails and attachments to the dedicated cloud storage provided by Zoho mail.
Zoho also provides an attachment organization option. With this feature, have your attachments organized by type, so you don't need to look for them in your entire inbox. You can also preview and share your attachments.
Zoho Mail Email Management Features
Need to deliberate on the contents of your emails before sending it out? Zoho mail allows you to share the drafts with the seniors and team members to review before sending it to the client. This saves you from sending individual emails to your team members for review, which you need to do in other email services.
Organize your email as per notifications, events, and relevant emails in your Zoho mailbox, making it easy to find specific emails in your inbox. Zoho allows you to put signatures with company logos in your mails.
You can set an auto-response email when you are on leave so that your team members can know about your availability without disturbing you.
There is a pretty solid spam filtering in Zoho, which filters all unwanted spam emails from your account.
Security Features
Zoho mail offers a powerful control panel that helps you control your organizations sending and receiving parameters.
There is two-factor authentication for every email account so that the accounts are secured.
Integration Features
You can connect your Zoho mail with 750+ third-party applications as well as other Zoho apps.
Support
Zoho provides 24*7 help and support to resolve all your issues and queries.
If you have any issues migrating from your old email provider to Zoho mail, you can ask for help from Zoho mail. They provide migration help as well.
Now, with the features, another decision making factor is pricing. Know about Zoho mail pricing in the section below.
Pricing
Zoho mail has both free and paid pricing options. The pricing plans vary based on the included features.
You can get a 15 days free trial and a money-back guarantee in case you don't like their services, which shows the confidence they have in their service, and hence we mention this point prominently in the Zoho mail review.

Free Plan –
The free version of Zoho Mail, also known as Zoho free mail, can be used for five users with 5GB per user of storage space, and up to 25MB attachment limit. There is only web access for this version/plan, and only a single custom domain is allowed. Well, this is an excellent plan if you are a startup with less than six employees and don't wish to invest more in email services as of now.
Paid Plans –
There are two plans under the paid version of Zoho mail, one is Mail Lite, and another is Mail Premium.
Mail Lite – This plan can be used for USD 1/month for one user and 5GB/user. You can have any number of employees under this plan, but you need to pay for each employee. With this plan, you get calendar features and email hosting for multiple custom domains. Get mobile apps for iOS and Android, along with other elements. A good deal for small businesses and midsize companies.
Mail Premium – This plan is for USD 4/month for one user and 50GB for each user. You can send huge attachments and get email backups and restoration with this plan as well as all the Mail Lite features. It is ideal if you are a large organization with most of the conversation happening via emails and need 50 GB of storage.
Workplace –
You can get a complete communication suite that comprises business email and online office apps. The pricing for this is USD 3/user/month. The list of apps includes business mails, file manager, word processor, spreadsheet, meeting software, online training, and much more. If you are looking for a complete package for your business, then this is a good option.
They offer a 20% discount (approximately) if you opt to bill annually. There are unique pricing options available if you have a non-profit or charitable organization.
Pros and Cons of Zoho Mail
You need to know the pros and cons of Zoho mail before using it. And any review is incomplete without the pros and cons of it. However, they are upgrading themselves and making their mail services best for their customers.
| | |
| --- | --- |
| Pros | Cons |
| Zoho free mail is available with 5GB/user storage capacity for up to 5 users | Only the Mail Premium plan can work best for any organizational use because of limited storage in other plans |
| Secured and no-ads. Values your privacy | Difficult to set up and use initially. It takes time to get familiar and acquainted with the interface |
| Offers money-back option if you are not satisfied with services | A single window has too many features which make the user interface look complicated |
| The integration of different apps makes life easier and helps you become more productive | It limits the number of emails that can be sent in free plan per day (50 * active users in the organization = number of allowed emails per day) |
| Get calendar, tasks, notes, and contacts in one window | Difficult to manage the created email accounts on the admin side |
| Offers special pricing for non-profitable and charitable organizations | There is miscategorizing of emails sometimes |
| Workplace plan for the complete business solution which includes business email and online office apps | |
| 24*7 help and support available for all your queries and problems | |
Zoho is working on every problem faced by customers and trying to deliver the best email services. Although there are some cons related to difficulty in managing and using the Zoho mail service, you can reach out to their customer help available 24*7 for support.
There are more pros compared to the cons. Hence, based on the Zoho mail review, you can go for this mail service if the pros outweigh the cons for your specific needs.
Our Recommendation
With so many features, anyone will be tempted to go for the Zoho Mail service. Choosing a plan is a task, especially when there is a free one too in the list. With Zoho Mail, you don't need to worry about the money paid, as you can get cashback if you are not satisfied with the service.
Here's what we recommend based on our Zoho mail review: 
If you are a startup with less than six employees and don't run critical work via email, you can opt for Zoho free mail. Well, you won't get app access as well as offline access in the free version. You need to use the web app version only. If the 6th employee joins in, you need to go for the Mail Lite version and pay for all six employees.
If you opt for the Mail Lite plan, you do get app access, but there is a storage limit. The 5GB/user storage can fill up quickly if you have attachment heavy email work in your company.
Therefore, the best plan is Mail Premium. Many users who are using Zoho Mail for years have recommended the Mail Premium plan in their Zoho Mail review. This is a highly recommended plan because it offers a storage capacity of 50GB/user and extraordinary features like archival and eDiscovery and white labeling.
And as mentioned above, you can get complete business communication with their Workplace plan. This is for businesses that use docs, spreadsheets, meeting software, chat features, and online training too often via email service.
The final choice depends on the pricing budget and the features you are looking for in the email provider.
Final Verdict
Zoho provides a secure, robust, and ad-free mail service for your business communication needs. And the free plan is cherry on the cake for the small businesses who don't wish to invest in email services from the get-go. The integration of other Zoho apps and third-party software in your business accounts brings ease in using this email service. It is like a one-stop window to access everything and anything in your organization.
While it may look a bit busy initially for many, but once you go through the Zoho mail review, you can make the most of it. You may need help and expert advice while setting up the Zoho mail for any business, as it is a tad complicated process initially. Once you get over that line, it is a reliable product backed by an established company that will keep improving with time. And yes, don't forget the privacy aspect – Zoho has no particular use of your data, so that ensures a much higher level of privacy for you.