Google Alerts has been the go-to service for knowing when certain things are happening as soon as they happen. But since Google announced it was dropping Google Reader, many are reporting Google Alerts has become slow.
TalkWalker Alerts has become a popular alternative. Just like Google Alerts, TalkWalker is a free service that scans online news sources, blogs and discussions for keywords you specify. And it works just like Google Alerts, only better, and best of all it's easy to set up.
Our guide will outline the benefits of TalkWalker Alerts, how to set it up and creative uses for this emerging notification service.
Better results
What you get from TalkWalker Alerts that you don't get with Google Alerts is an advanced boolean search query that completely blows Google Alerts out of the water. It works by offering information extraction algorithms that are more sophisticated than Google, helping it pick up more stuff. It can also filter your results by language and set up alerts for multiple languages. You're allowed up to 100 free alerts.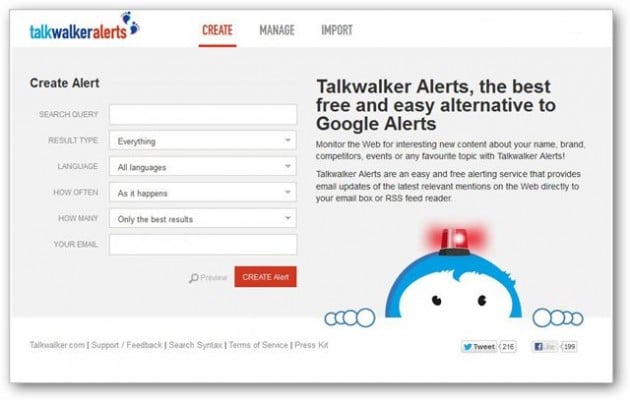 Setting up alerts
The only way to fully utilize TalkWalker is to set up the alerts themselves, and doing so is incredibly easy. First, start by visiting talkwalker.com. Directly on the home page is a section that reads, "Create Alert." In this area, first specify what you want it follow in the "Search Query" field (and it can be as short, one word, or as long as you like it). Remember to use quotations around phrases as well.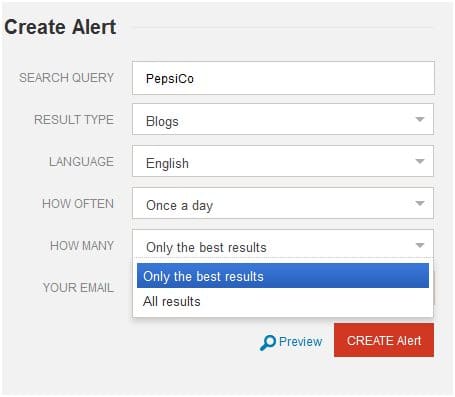 Next, specify the "Result Type" (whether it's Everything, News, Blogs, Discussions), "Language," "How Often" (whether you receive alerts, either daily or weekly), "How Many" (will you receive "only the best results or "all results") and your email address. You can also edit your alerts under "Manage" at the top of the screen.
Save time – Import alerts
If you're an avid Google Alerts user and have several alerts already set up, you can import them into TalkWalker Alerts to save yourself time from having to set them up all over again. To do this, export your alerts from Google Alerts and import them (via a .CVS file) by clicking "Import" at the top of the screen.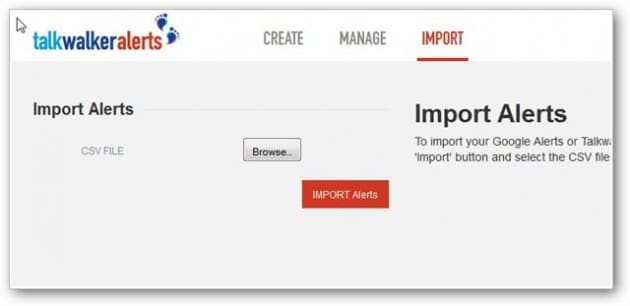 Monitor your favorite brands (and yourself)
 Keeping abreast of your favorite brands (and companies) is one of the most popular uses of TalkWalker Alerts. For example, by creating an alert for PepsiCo, you'll be kept avail of everything the company is up to, from its shareholder information to new products they're rolling out.
It's also a good idea to create an alert for your name. Maybe you're not a media personality, but TalkWalker scans blogs and discussions as well. You never know where your name may come up in conversations online. And since 97% of employers Google possible applicants nowadays, making sure you have a good online reputation is paramount.
Top-notch job hunting
Along with protecting your online reputation to score your dream job – finding the job itself. TalkWalker Alerts is a great tool to find a job hundreds of people haven't applied to yet. It does this by informing you of job openings that may be happening in your area as soon as possible, but this only works if it's set up smartly.
To find jobs with TalkWalker, create an alert that has your state as well as one of the phrases, "new jobs" or "new businesses." This will alert you to new companies that may be moving to your region or expanding. Also, you can create alerts for industries you'd like to work in.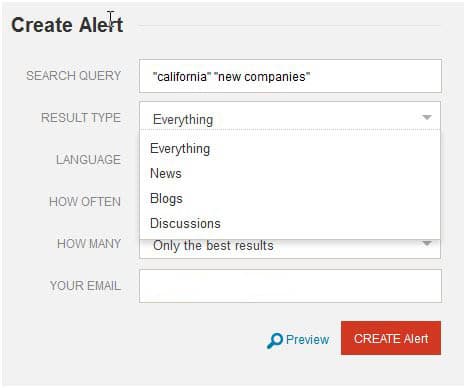 Whatever you're interested in, know the latest
It's also fun to track your favorite interests with TalkWalker. Maybe you're an avid Colorado Rockies fan. You can create an alert for "Colorado Rockies" and receive all the latest news and chatter about your favorite team. This can also be done to follow celebrities, favorite TV shows, alma maters, and politicians.
Notification services keep getting smarter and more thorough, and TalkWalker definitely sets the bar high. To try out TalkWalker Alerts for yourself, their site. And check out this link for more creative uses of notification alerts.