Have you ever written a thoughtful, multi-paragraph comment on a web site only to lose it before it was posted? Maybe your browser crashed, maybe your battery died or maybe a four legged friend decided to take a walk across your keyboard.
However you lose your data, an exciting app for Chrome is now turning back time and recovering data you thought you'd never see again. Lazarus is it's very apropos name and it's become one of the top-rated extensions in Chrome for form recovery.
Our guide will outline how to install the Lazarus Form Recovery app in Chrome and how to use it to recover forms you've written in and lost.
Installing Lazarus
To get Lazarus up and running in Chrome, you'll need to install the extension into your Chrome browser and this can be done two different ways. First, you can visit the Google Chrome Web Store and search for "Lazarus Form Recovery."

Otherwise, you can go to Interclue's official site for Lazarus.
When adding the app from the Chrome store, click on the blue "Add to Chrome" button. A warning dialog box will open asking you to confirm the new extension. Click "Add."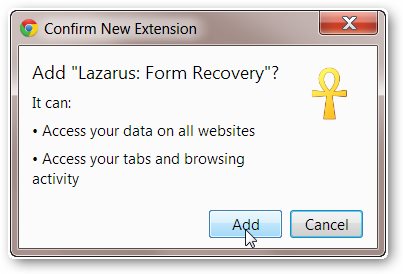 The app will install instantaneously and a dialog box will appear in the upper right-hand corner of Chrome letting you know Lazarus has been successfully installed (note the gold Egyptian ankh symbol used to represent Lazarus.)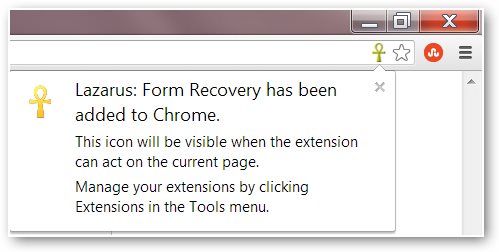 Using Lazarus while you're surfing to recover forms
Once Lazarus is installed and ready to use in Chrome, surf the web as you normally would. When you arrive at a page requiring you to fill in a form, hover your mouse over the top right-hand corner of the field. You will now see the gold "ankh" symbol which represents Lazarus. Here is an example in Craigslist (another place where this app definitely comes in handy).
A dialog box will also pop-open when you hover your mouse to inform you it's currently saving what you're typing. It will automatically do this in any form in Chrome.
You can also click the gold "ankh" symbol once and a grey dialog box will open. This is where you'll recover your lost form data when you revisit the page after you've been booted out.
As you can see in this image, the sentence I had been writing in the form to recover, "I'm searching for a…" is listed as the top option in the dialog bo.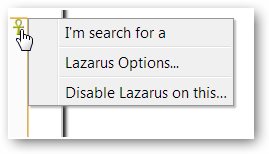 To re-add it to the field, hover your mouse over the sentence to see a preview of it.
If you want to add it, click it once and it will instantly appear in the field.  You have now successfully used Lazarus for form recovery in Chrome.
Adjust settings
You should also add a password to your Lazarus account if you're using a shared computer. Right-click the gold "ankh" symbol in any field and select "Lazarus Options…."
The following tab will appear where you can also disabled sites and edit password options.  This can be helpful to ensure that nobody has access to your form recovery data should they hop onto your computer.
We've been waiting for something like Lazarus to become available for years for form recovery, and now that it's here, it's almost too good to be true. Whether you think you'll use Lazarus a lot or just once in a blue moon, the frustration it can save you is worth every second you spend on the installation. For more information on recovering lost data, check out this post on how to recover deleted files in Windows.