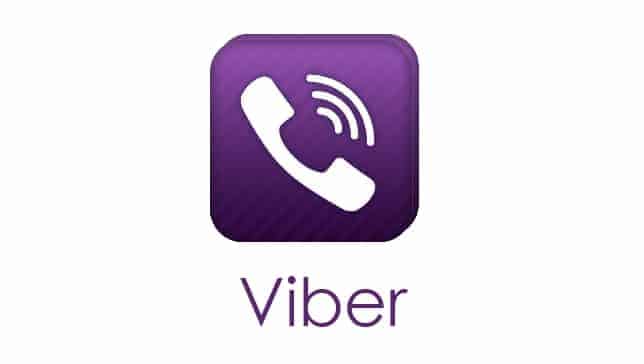 As technology improves and Internet connections become faster, services which originated as expensive luxuries have slowly become accessible to everybody – for free. One example of this is the Viber for iOS app, which makes calls and text messages completely free, so long as you have an Internet connection.
The Viber app allows you to send unlimited free messages and make unlimited free calls from across the globe, via any network or supported device.
Additionally, Viber keeps you updated socially with photo supported instant messaging, profile status updates and more.
How to use Viber for iOS
To download Viber for iOS, visit the app store or the official Viber iTunes page. Once you have successfully installed the app on to your iOs device, you will be presented with the Viber welcome page. Tap "Continue" to proceed to the set up page.
Viber will then ask for your mobile number. Ideally, you should use the number on your current device, or one nearby. This is due to the fact that Viber will send you an SMS containing a verification number. Once you have enteredt your phone number, tap "Continue".
A verification window will then be displayed. Review your mobile phone number, and tap "Ok" to proceed.
Once you have received your Viber access code, enter it in the access code box, and press "Enter Viber".
Once you have entered Viber for the first time, a window asking for permission for Viber to access your phone contacts will appear. Click "Ok" so that you can connect with your contacts who have Viber installed. You may then choose to sign up using Facebook, or by simply inputting your name. Click "Continue" to complete the set up process.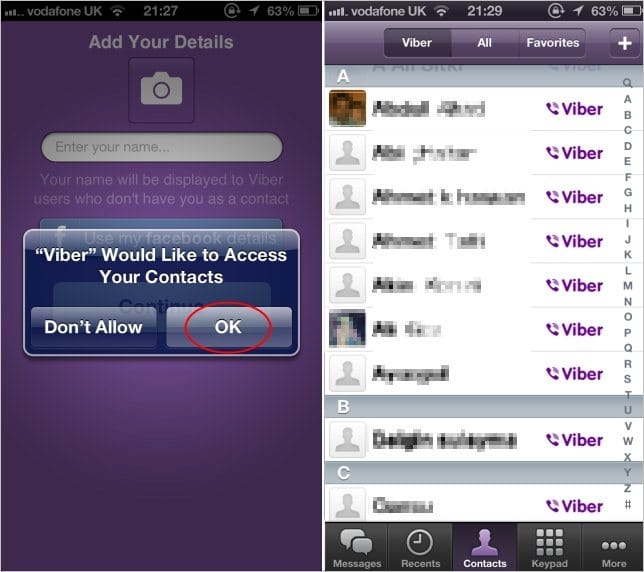 Once you have signed up, Viber will show you your Viber contact list, To connect with any one of them, simply tap their name or photo. The layout is strikingly similar to the standard iOS phone contact interface, and thus you should have no trouble adjusting to the Viber menu.
Once you click on a friend, Viber will dislay their name and image, along with the option to call or text – for free. Viber also allows you to select certain contacts as favorites.
The good and the bad
Viber is a great way to connect with friends and family on a completely free basis. To evaluate the app fully, we have compiled its pros and cons below.
Pros:
Viber offers a great, free alternative to calling and texting normally – which usually comes at a price
Group Instant messaging with photos and social status updates gives Viber an extra dimension
No real registration needed, allowing for a simple, fast set up process
Huge user base means most of your contacts will already own it
Cons:
In order for Viber to work, both parties must have the app installed and set up
Low quality internet connection will make Viber virtually unusable – whilst no connection at all will disable its services
To conclude, Viber seamlessly replaces standard calling and texting with a free alternative. The easy set up process, paired with its massive user base make it a real force to be reckoned with for mobile phone service providers everywhere. Even if don't on using Viber often, its definitely a great app to keep lying around.