The sheer number of system utilities and drivers on our computers is staggering. Beneath the shiny exterior and forefront programs, there lies hundreds of utilities which need to be monitored, checked and updated every so often to keep things running smoothly.
Windows System Control Center uses two utility suites which work together in tandem to monitor and update existing utilities and drivers, as well as install missing or broken ones. The software is extremely small in size, requiring no installation.
Since running such checks and updates is often at the bottom of our to-do lists, Windows System Control Centre's ability install, update, execute and organize the utilities from various system utility suites, creates a perfect solution for utility and general computer maintenance.
How to use Windows System Control Center
To download Windows System Control Center, head over to the download page on their website. Once there, you will find a portable and standard version of the application. Downloading the portable version will allow you to transport Windows System Control Center around easily, thanks to the fact that it does not to be installed.
Once you have downloaded Windows System Control Center, a super fast scan will be run by the software. Any updates which are required will then be automatically fulfilled. Once this process is complete, you will be presented with the home window.
On the home window, you will see a list of utilities and drivers which can be accessed directly. Clicking on their corresponding buttons will open each utility, along with the option to check for updates and fixes – if necessary.
On the left hand side bar, you will notice the two utility suites which Windows System Control Center support, which are Sysinternals Suite and NirSoft Utilities.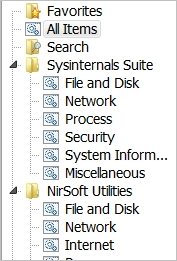 An example of the functionalities of Windows System Control Center can be seen below. After clicking "InsideClipboard", the Windows clipboard utility was run.

The utility is opened in a new window, allowing me to modify its settings and parameters if i wish. finding and altering such utilities which are usually difficult to find, is one of the main strengths of Windows System Control Center .
Additionally, Windows System Control Center has a fully functioning search engine, which allows you to search directly for the various utilities and drivers lurking within your system. This feature is especially handy for the computer experts who know exactly what they are looking for.
The good and the bad
Windows System Control Center does a great job of checking, updating and installing drivers and various system utilities. To fully evaluate the application, we have listed its pros and cons below.
Pros:
Windows System Control Center is a fast, simple solution to utility and driver maintenance
Upon startup, Windows System Control Center automatically scans and updates your system's various utilities
If you know what you're looking for, the application can act as a comprehensive system utility or driver search engine
Information and services which are usually difficult o find and use are easily found using Windows System Control Center
Cons:
Windows System Control Center can be slightly confusing to navigate at times, as each menu looks exactly the same as the last
The search function can sometimes be slow and unresponsive
To conclude, Windows System Control Center is a fantastic utility program for anybody looking to keep tabs on their computer's utilities and drivers. Keeping such elements of your system can often be a chore, but Windows System Control Center does a fine job of simplifying the matter once and for all.