Every day there are technological advancements and services that help us to get more efficient get better and better. These include phone services, camera aids, and data transfers too.
While some products and services, like simple text messaging, get lost in this advancement, there are many that simply change the mode or medium of utility. Faxing machines and online faxing services fall in this latter category.
Ever since the introduction of the Internet, many people have expected the fax as a system of communication to die out. However, for professionals working within specific industries, faxing documents remain an integral part of communication.
While email remains a grey area, faxing is a guaranteed delivery technology. To put it simply, fax is considered a legal document because the transaction can be confirmed while an email cannot.
This is why online fax services have begun to appear in numbers, offering all the speed of the internet, along with the safety, security, and legality of the good old fashioned fax machine.
The Top 15 Winners As The Best Online Fax Services
While there are a number of services that are vying for your attention, here are the ones that we will vouch for. While the absolute basic features like being quick, easy and reliable are being met ardently, most also offer additional features that may prove to be a boon.
1) HelloFax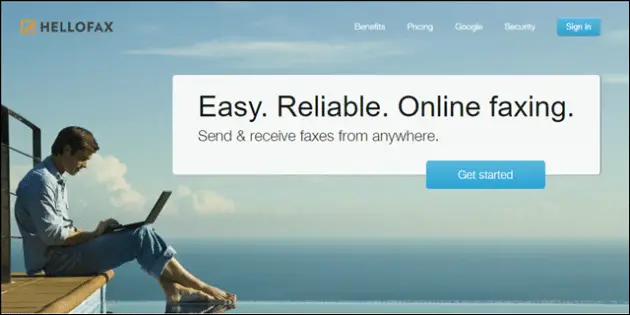 Thanks to its extensive functionality as a result of its potential link to Google Drive and Microsoft SkyDrive, HelloFax is one of the best free online fax services around.
Linking HelloFax to these cloud-based services opens up many possibilities. This is especially when it comes to how you can send and store your faxes.
However, for complete convenience, you can choose to sign up through Google, Microsoft or just your e-mail address.
Working through SkyDrive and Google Drive with HelloFax is easy. You can upload, download and drag files from your computer, Google Drive, DropBox, Box, OneDrive, Evernote, and other cloud-based services.
The only downside to HelloFax is its price plan. The free option only allows you to send a total of five faxes before charges apply, whilst the lowest price plan starts at $9.99 per month.
Aside from that, HelloFax is indeed a professional, reliable online faxing choice.
2) FaxZero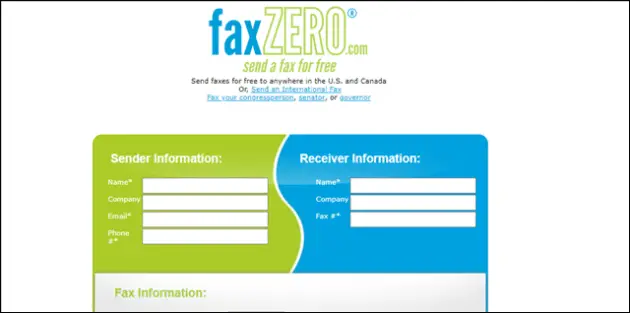 There may be times when we want to send one-off fast fax, yet we don't have access to a fax machine. At times like these, FaxZero offers a quick and comprehensive solution.
FaxZero is among best free fax services, as you are not required to create an account or log in. The entire process can be started and completed right on the home page.
You simply have to provide some basic details about the sender and the receiver, followed by the message or document you would like to send.
FaxZero allows you to upload.DOC, .PDF, and .DOCX files, as well as typing your own messages.
The free version of FaxZero offers 5 free faxes per day, with a maximum of 3 pages each. However, free users will be subject to an advertisement appearing in their fax.
FaxZero also offers a monthly, paid subscription plan. This service allows a user up to 25 pages per fax, priority delivery, and no advertisements.
3) eFax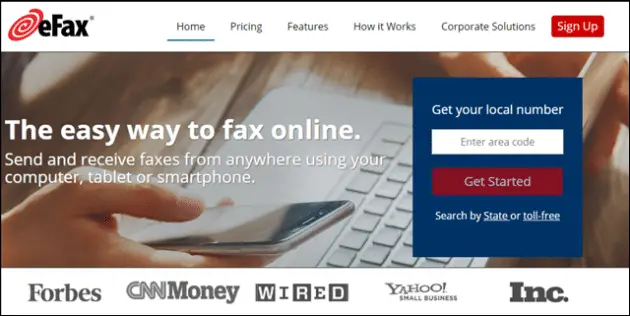 Another good contender for the best free online fax services is eFax. It is one of the giants of the online faxing industry, with over 11 million customers around the globe.
eFax allows you to send faxes on computers and mobile devices, create digital signatures, transfer large files, use cloud-based storage. The services offered by eFax are extensive, professional and reliable.
Apps for iOS and Android mean that checking, sending and receiving faxes whilst on the move is also more convenient than other services. You can test eFax out via their 30-day free trial, but all other usage plans require monthly subscriptions.
4) MyFax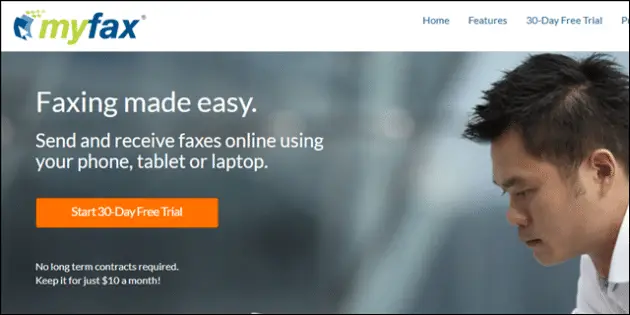 MyFax offers an executive online faxing experience. It offers a robust, reliable fax-to-email and email-to-fax service.
You can go ahead and use your existing email address to set up an online faxing system, which can be accessed via mobile devices. You can also choose between local and free phone fax numbers.
MyFax can be linked to up to 5 different email addresses, making it perfect for working within a team. However, it appears that MyFax does not offer a cloud-based storage system to its customers.
A 30-day free trial is offered, while all other methods of usage require monthly subscriptions.
5) Send2Fax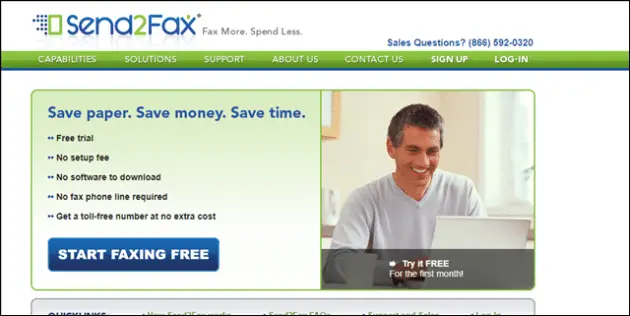 Send2Fax is an online fax service which is easy to use. Along with fax-to-email and email-to-fax, you can use the Send2Fax web-based interface as is with your browser.
Additionally, Send2Fax enables you to use the Microsoft Office 2003 and Microsoft Office 2007 "Send to Recipient Using Internet Fax Service" feature. When you use this feature, one doesn't have to use the web browser.
A 30-day free trial is also offered, while other usage plans require a monthly subscription. Despite its extensive features, Send2Fax doesn't appear to offer cloud-based storage.
6) GotFreeFax
Got FreeFax is the one and only free faxing service that has no ad on its cover pages. It explicitly avoids promoting its brand using any of your documents.
It allows you to send two free faxes per day where each fax can go up to three pages.
If the free version is not sufficient to meet your goals, then getting the paid version that starts at $0.98 is a better solution. It has a very simple interface.
To send fax via GotFreeFax, it needs you to enter the receiver and sender info while adding some text as a cover page.
7) Fax Plus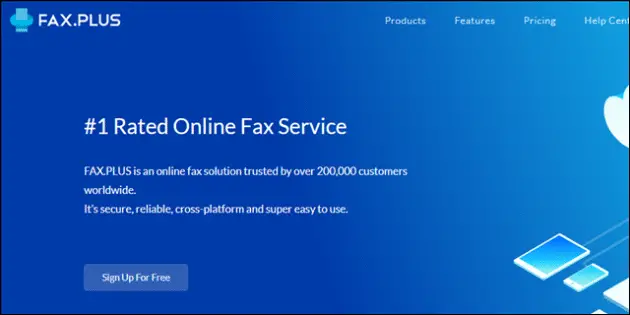 People searching for Google Fax usually end up using Fax Plus due to its availability as a Chrome extension.
Fax Plus doesn't contend anywhere as a Google Product, but since it is available over multiple platforms, it is trusted by millions of users worldwide. This service assures you of a secure and reliable platform services to fax any matter over the internet.
You can sign up for free. This is where you are allowed to send 10 pages and each extra page will be charged at $0.20.
The different monthly plans have a lot to offer. For example, a dedicated fax number, priority support, and exporting fax logs to CSV.
The versions to chose from are Free, Basic, Premium, Business, and Enterprise.
8) FaxBetter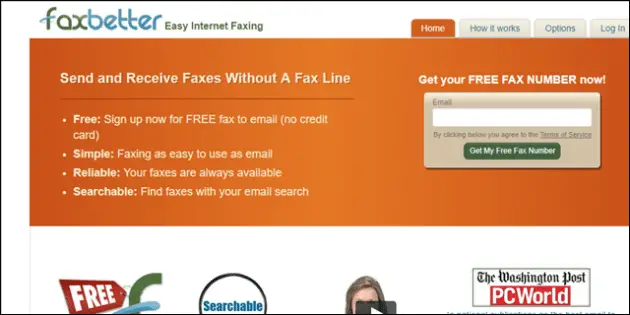 FaxBetter, as the name says it, has made it even easier to send and receive faxes. It renders you a dedicated toll-free number where you get notifications each time you receive a fax.
There is a space for 1,000 pages where you can anytime access your faxes on faxBetter.
If you opt for the paid version, FaxBetter allows you to send PDF, Word, Excel, Jpg, Html, or Text. With these, one can send and receive over 500 fax pages.
Both the free and paid version, don't have any advertisements on the faxes or the webpages that are sent to and fro.
Premium FaxBetter also let you have unlimited storage with their cloud-based fax backup system.
9) PamFax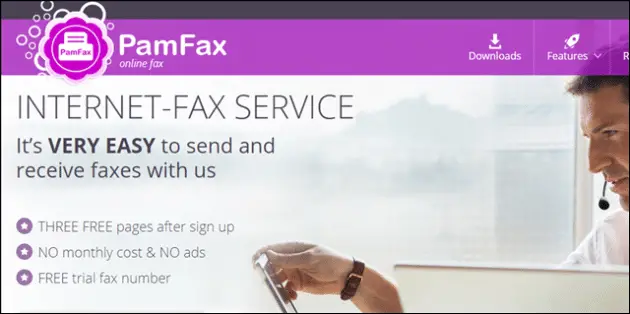 PamFax is also a free service to join and allows you to fax three pages without paying a buck. To enjoy its advanced features, you need to try its paid version.
It supports a range of platforms including Windows, Mac OS X, Android, iOS, Windows phone and Blackberry 10. Direct access to DropBox, Google Drive, and OneDrive is another popularly used feature.
With PamFax you can fax any document. If you want to have a dedicated personal fax number, then the Professional and Basic plans will be best suited for your purpose.
10) Windows Fax Driver
The Windows Suite is a comprehensive communication package. Unfortunately, its fax feature is not very known. If you are a diligent user of Microsoft Suite then you might not have to look for other online faxing services.
You can directly send a fax using Outlook, Powerpoint, Word, and Excel provided you have Windows Fax printer driver or Fax services installed on your computer.
If you already have the drivers or services, then you must install them to fax from Microsoft Suite, itself.
Else download them for your compatible Windows version.
To get more information on this, you can directly head to Microsoft official website.
11) RingCentral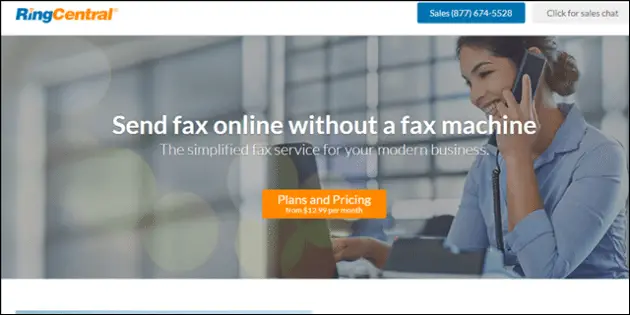 RingCentral is one of those best online fax services that besides the regular features also offers the facility to schedule your faxes in advance.
Its advanced, elegant and feature-rich interface is worth paying, especially if you have to send faxes in bulk, as RingCentral supports large bulky files.
However, despite being a bit costly, and not allowing any international numbers, RingCentral still has a lot to offer. This includes a larger number of pages, modern UI and some really advanced feature-set.
12) Biscom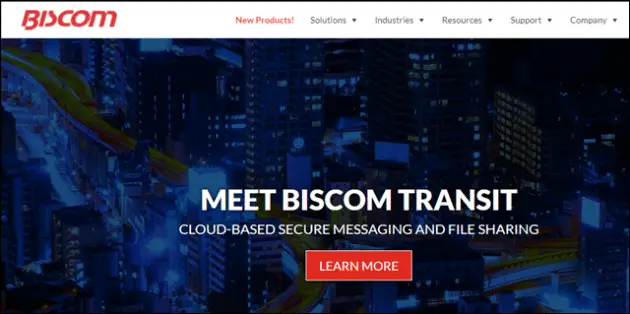 Biscom offers cloud-based messaging and file sharing, faxing, and file transferring so well that it easily becomes a good contender as the best online faxing service.
Email to fax has tremendously taken over the traditional faxing and contagiously spreading its wings in the organization where the fax is still a norm of their work.
Biscom integrates some of the exceptional faxing features, unlike its competitors. These include seamless integration with applications, control, and flexibility from any location, and even mobile apps including Android and iOS.
Whether you want a perfect faxing solution for Enterprise, SMB/Office, Individuals, Biscom has got you covered.
13) XenFax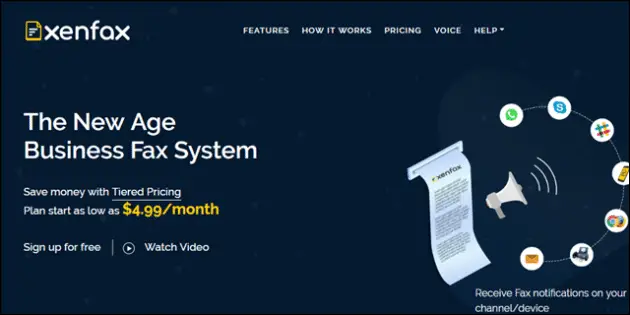 Starting just at $4.99/month, Xenfax is an all-new online faxing service that makes faxing over the internet easily. 
You can edit, sign and send any file via browser or its mobile app. One gets notifications so that no important files are ever missed.
Xenfax can be used on platforms like Skype, Slack, Whatsapp, and Mobile apps. With Xenfax sending a fax via email is simply like sending a normal email
Some documents need your acknowledgment, signature, and initials and to do the same, you have to first download the document to make changes to it.
Xenfax allows you to add checkmarks, digital signature and cover pages to the documents wherever and whenever you require without downloading them.
14) SmartFax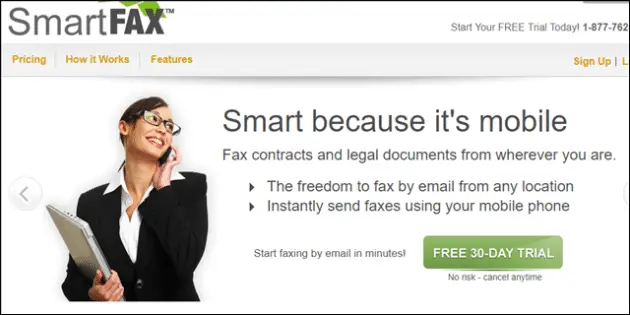 The easy-to-afford SmartFax comes with a 30 days trial that costs $6.95 for a month. SmartFax has the ability to send immediate faxes using your mobile phone.
If you are a  professional who is always on the move, SmartFax is the perfect mobile faxing service. It offers features like international faxing, email to fax, online fax storage, and fax to email. This makes it one of the best online faxing services available.  
15) FAXtopia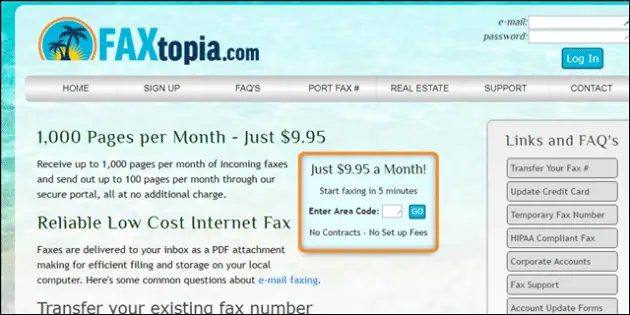 Paying $9.99 is a good price to pay when it means getting the best and most reliable faxing features. This means you can send or receive faxes up to 1,000 pages per month.
With its internet fax, you can receive faxes right in your inbox in PDF format.
FAXtopia may not be the best online fax service but efficient enough for a corporate culture to have a smooth set up and management of multiple fax numbers.
It also allows you to port your fax number to their e-fax service which will cost you $25.
Conclusion
So there you have it. These online fax services will certainly help make faxing easier, faster and more cost-effective when compared to traditional faxing. Online faxing rid the need of physical machinery, toner, paper and so on, and we therefore cannot recommend the above online fax services enough.