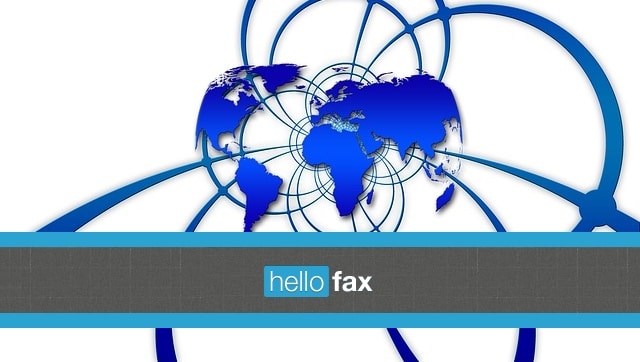 Following up from coverage of the very best online fax services, we now look to simplifying the world of online faxing even further.
Sending faxes online is a relatively simple task, especially if you happen to be using a well-rounded service such as eFax. However, what about if you're looking to send faxes even faster, with no sign up or subscription fees?
The HelloFax Chrome extension has the answer. This extension allows you to immediately send and receive free faxes, as well as giving you the ability to get documents digitally signed. Additionally, HelloFax links up with third-party services such as Google Drive, allowing you to quickly and easily import and fax documents right from the cloud.
How to use HelloFax
To start using HelloFax, head over to their official Google Chrome extension page and add the extension to your browser.
Once successfully added, you will be able to access HelloFax via your new tab page.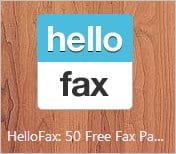 Upon opening HelloFax for the first time, you will be asked to log in using your Google Account, which allows you to skip any dire and unnecessary sign up processes.
After logging in, you will be presented with a very simple menu, allowing you to choose between faxing a document, and requesting a digital signature. These two functionalities make up the core uses of the HelloFax Chrome extension.
By clicking "Fax Document", you will be directed to a page which enables you to upload the document you wish to fax, along with the fax number. You even have the ability to import documents from Google Drive, Evernote, and so forth.
Once your fax is ready to go, you can simply hit "Send it Now".
Additionally, you can receive faxes via this page by simply entering an email address for faxes to be forwarded to, organize your uploaded documents and configure general settings. all of these options are accessible via the left-hand side bar.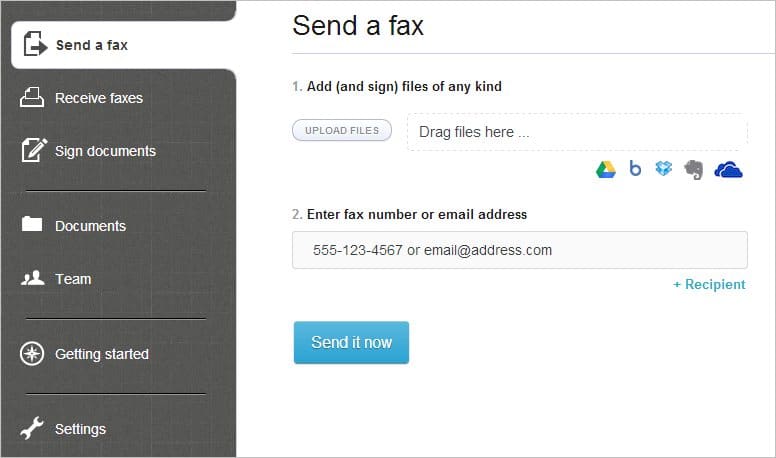 Alternatively, if you were to click "Request Signature", you can upload or import documents which need to be signed, followed by the names and email addresses of whoever needs to sign the document. You may also include a short message to send along with the fax, to perhaps leave instructions.
Once your fax is ready to send, you can click the "Request Signature" button.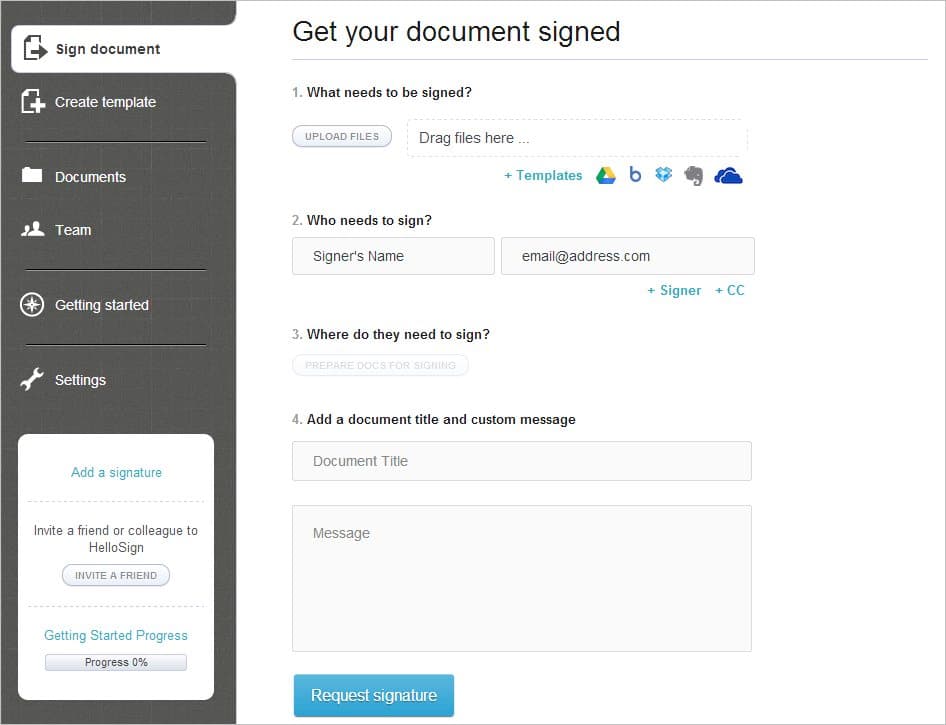 The good and the bad
The HelloFax extension offers users an extremely fast online faxing solution, which is far more accessible and handier than the full HelloFax service found on their website. To fully evaluate this Chrome extension, we have listed its pros and cons below.
Pros:
HelloFax is extremely easy to use, and requires no configuration or sign up to get it started. Online faxing has never been faster.
Outdoes the full web-based HelloFax system in terms of speed, accessibility and user friendliness.
You can send, receive and request signatures for up to 50 free fax pages.
User interface is clean, understandable and easy to navigate.
You can organize uploaded documents, create fax templates, and save fax numbers.
Links to Google Drive, Evernote and other third-party services makes importing documents so much easier.
Cons:
Although 50 free fax pages is a generous amount, perhaps a more favourable offering would have allowed five free fax pages a day, or perhaps an option to choose between the two plans.
On rare occasions, HelloFax produces errors whilst sending faxes, forcing you to send your document again.
Conclusion
Overall, HelloFax offers one of the most simple, effective and reliable online faxing solutions on the internet, and certainly on Google Chrome. The ease of not having to sign up or subscribe will make it appealing to anybody looking to send or receive a quick fax, whether it be a one-off, or a more regular event.
Despite only offering 50 free fax pages before fees are asked for, HelloFac does a wonderful job of simplifying the faxing process, right from your Chrome browser. Long gone are the days of physical fax machines, and if this extension has anything to say about it, the idea of having to register on a website for online faxing solutions may well be gone very soon.
In any case, whether you're looking for a speedy, free online faxing solution for a handful of faxes, or you just wish to send or receive a one-off fax, HelloFax is certainly worth keeping around.