The Call of Duty franchise has delivered a series of highly popular and top quality shooter games. The latest edition in this series, The Black Ops, was released under a pressure of very high expectations and it not only lived up to the reputation but took it a notch higher. Though the campaign is relatively short, the game offers a thrilling campaign and exciting competitive multiplayer gameplay.
Set mostly during the 1960s, Black Ops single-player campaign takes you to Cold War hot spots like Vietnam, Cuba, and Russia. You play the character of a élite covert operative, and the storyline is like pieces of a puzzle–a puzzle that your mysterious captors are trying to put together by interrogating you. Though the campaign story is engrossing, the campaign is short. The huge plus point for Black Ops is the multiplayer gameplay – which is made all the more exciting by customization options, experience points, and character level ups.
The Call of Duty: Modern Warfare 2 Theme is one of the most popular themes in our Windows 7 Themes gallery. Based on the latest edition, The Call of Duty Black Ops Theme consists of 35+ Hi-Res wallpaper, character icons, custom game sounds and a beautiful cursor pack for a complete Call of Duty experience.
Screenshots For Call Of Duty Black Ops Theme:
These are just of the few awesome Hi-Res wallpapers that packaged in this theme. Download the theme to get them all.
Custom Icons, Sounds And Cursors For COD Black Ops Theme:
Call Of Duty – Black Ops is an Exclusive Theme created for all the TechNorms subscribers. So along with Icons and cool sounds, it comes along with a set of Cursors. Check them out.
Icon Set:
We have selected a set of Custom Call Of Duty icons that go perfectly with the theme.
Cursor Set:
This theme comes with a cool animated cursor set. The animation is subtle but effective in giving a cool vibe to the theme.
Download COD – Black Ops Theme for Windows 7 and Windows 8: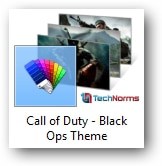 Download from the Windows Themes Gallery