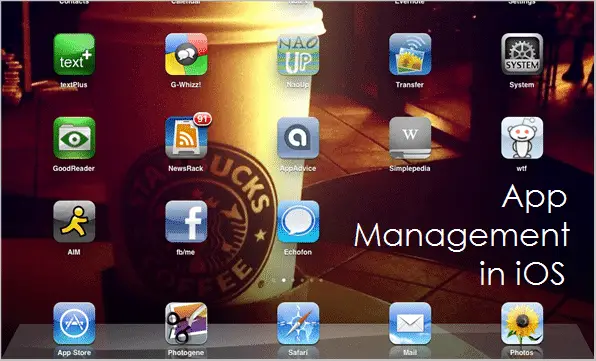 Using some handy built-in iOS device settings, you can quickly and easily disable App installation and deletion functions across the App Store and your App collection. This temporary feature can help protect your installed Apps, and even your bank balance.
We have all heard the horror stories from around the world, of young children unknowingly – and knowingly – racking up ridiculously large bills for their parents via the Apple App store. Such a scenario could be waiting to happen for many of us, especially those with technologically curious children.
Luckily, via the iOS settings, you can temporarily revoke the device's ability to install and delete existing applications, giving you peace of mind whenever you next hand your phone over to a minor.
SEE ALSO: Control iOS from the Command Line
Disable App installation and deletion on iOS
Your first step to disabling iOS App installation and deletion is to head over to device Settings. Once there, tap the "General" button, and scroll down until you see the "Restrictions" button. Tap this to proceed to the restrictions menu.
Within the Restrictions menu, you will need to first tap "Enable Restrictions," which is located at the top of your screen. You will then be presented with the option to enter a Restrictions Passcode.
Using the passcode would give you access to restricted areas if you need to visit them quickly, allowing you to override restrictions without the need to remove them entirely.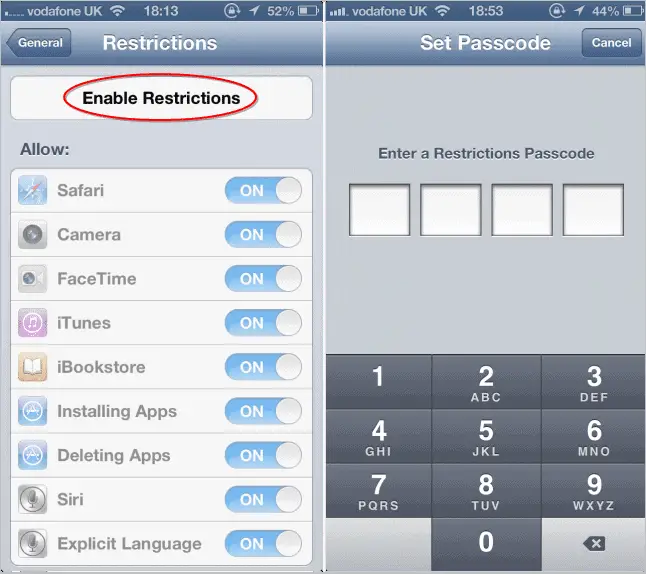 Once you have entered your Restriction Code, all of your installed Apps will appear in a list, allowing you to switch restrictions on and off for each specific app. Also, and more importantly, you will have the option to toggle restrictions for "Installing Apps" and "Deleting Apps."
Additionally, if you scroll further down the page, you will notice an option which allows you to toggle the restrictions for in-app purchases which is another handy feature, especially for when young children wish to use your device for gaming purposes.
Furthermore, you will notice the Apps button. Tapping this will reveal options restricting Apps with content which is aimed at a particular age group. You may restrict Apps depending on their age rating or restrict apps altogether by tapping "Don't Allow Apps."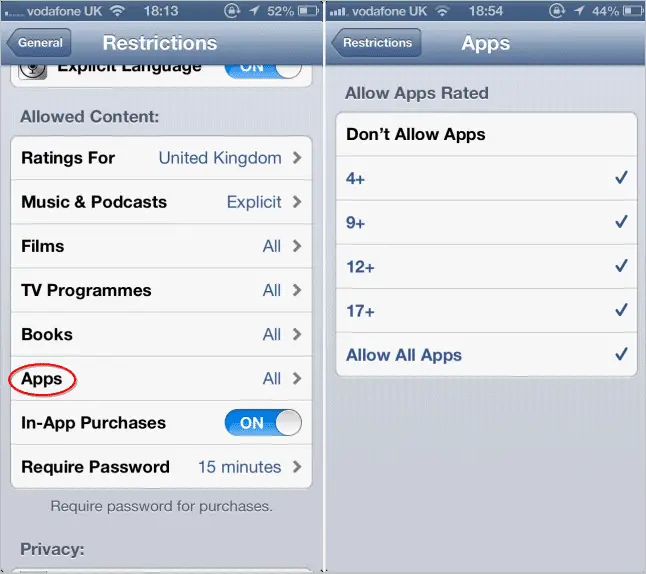 Conclusion
Being able to restrict access to App installation and deletion is another fantastic feature of iOS. Much like its ability to provide multiple keyboards, App management adds a little something extra to the usability and functionality of iOS.
Gone are the days of peering over the shoulder of a prank-loving friend or a young child as they browse through your device, deleting your most prized Apps and replacing them with costly, yet useless games and tools. With these easy to access features, you can rest assured that your Apps are secured and that your bank balance will remain intact.