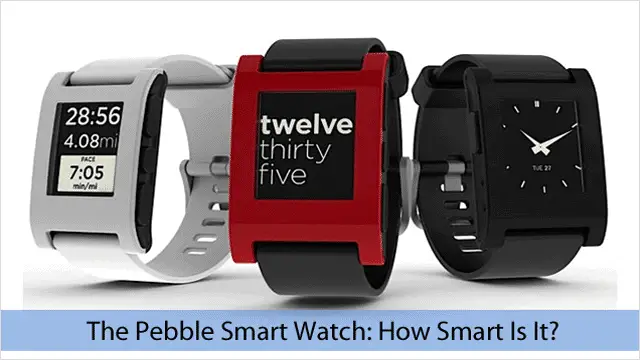 Over a year ago, the Pebble Smartwatch for both Android and the iPhone made news for being the most popular funded project ever on Kickstarter, raising over $10 million to create a unique smartwatch. It was the brainchild of 26-year-old Eric Migicovsky, and today it's become one of the most popular computer-based watches available.
But is the Pebble a true smartwatch, or just an amped-up version of a digital watch with a few new flashy features? Designed to send social media, email and incoming call notifications, directly to your wrist, the Pebble's most exciting use lies in this feature. However, there are certain bugs and glitches that may leave some customers questioning their purchase.
To make sure you know exactly what you're getting before purchasing a Pebble, our review will set the record straight as to whether the Pebble is a viable smartwatch contender.
Pebble Smartwatch: The Big Features
Notifications and Music Control
Let's first talk about the exciting aspects of the Pebble that make it worth checking out. The main feature – it has smartphone connectivity enabled via Bluetooth. The Pebble's most noteworthy purpose is how it can display notifications that would otherwise be displayed on your smartphones, such as notifications from your social media haunts like Facebook and Twitter.
As you receive a notification, you will feel a tiny vibration on your wrist.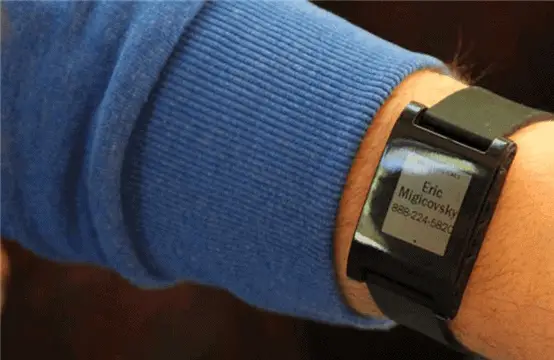 It will also display email notifications from Gmail or any IMAP email account, iMessages (iPhone users) and calendar and weather alerts. Many love this because it allows you to instantly see all of these things without having to take out your phone.
For anyone doing activities where their hands are otherwise occupied – hairdressing, driving, cooking – the ability to look down at your wrist and see what kind of communications are coming your way and decide if you want to stop what you're doing and reply, can be quite nice.
The Pebble watch is compatible with both Android and iOS platforms. However,the Pebble is definitely more compatible on the Android, as it can provide notifications from multiple apps.
iPhones, for example, can only display Gmail notifications on the Pebble, along with regular texts and call notifications. There's word however that these glitches will be resolved soon so that all platforms can receive the same notifications.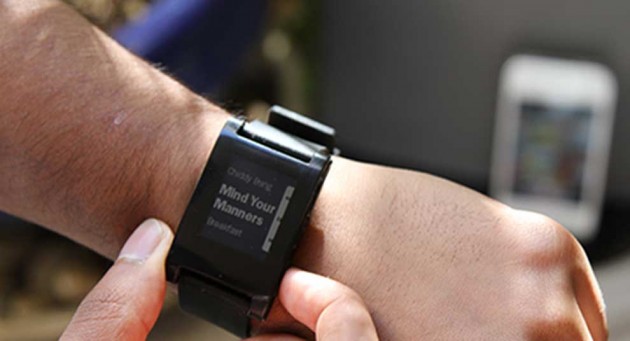 Another impressive feature of the Pebble is the option to flip through the songs on your smartphone directly from the watch, removing the need to access your phone each time you want to change the tune. This is great for anyone driving, exercising, running, and any other activity where your hands are busy. You flip through your smartphone songs on the Pebble by accessing the left hand up and down buttons.
Display and Materials
As for the display, the Pebble has an e-ink screen similar to that on eReaders, making it a breeze to view the watch face, aka "lens," in both direct sunlight and at night. It also has a backlight that only turns on when a button is hit to make viewing it in minimal light even easier. The fact that it only turns on when needed helps save on battery life.
The e-ink is also a smart design choice when it comes to battery use. Other smartphone watches have more graphic intense screens, and those have to be charged much more frequently. The battery life span on a Pebble is an impressive 5-7 days so you don't have to remember charging it as often as your smartphone.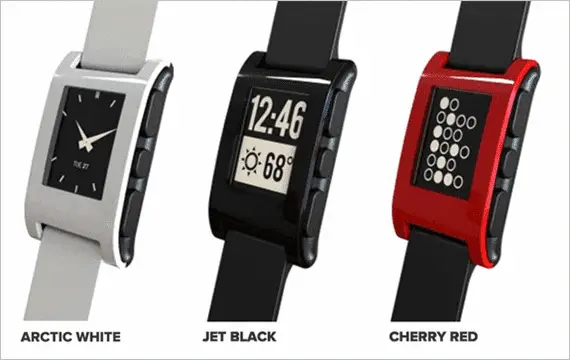 The weight of the Pebble is another selling point. It's quite lightweight at a mere 1.3 ounces. While some feel it could be more comfortable, the light weight of the watch definitely negates this fact.
As for the materials used to create the Pebble, it's nothing special. The watch itself is made of plastic and it has a rubber wristband. At $150 each, many scoffs at the choice of materials used in the construction of the Pebble. These materials, however, minimize the weight so you can barely tell you wearing it.
If you are one to swim often or you really like to wash dishes, the Pebble is 100% waterproof thanks to the USB magnetic connector for charging. It can even operate at 5 ATM, however, it's not recommended to wear the Pebble when diving.
Bonus Features and Games
Other design features of the Pebble include multiple watch face designs, many which you can download from their site in the forum area. Some of the basic options include having the time displayed in the text, a traditional watch face, a digital or analog look, and dozens of other interesting options.
Some also come with weather notifications and can tell you whether not you're connected. Make no mistake – the Pebble lingers on the geeky side, but it's a statement piece of jewelry to be sure. It also comes in five colors – black, red, white, orange and grey.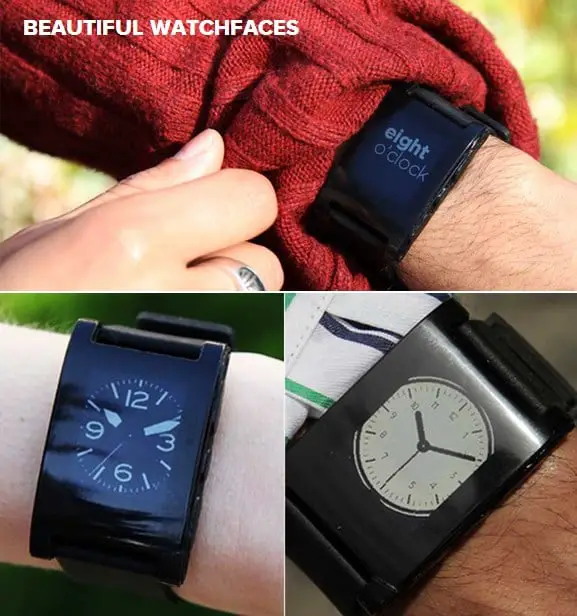 The Pebble has other design features you'd expect from a normal wrist watch, such as an alarm, vibrating alarm and a timer. It also has dozens of retro games available for download that will remind you of your early cell phone days. Snake, Pebblis (their version of Tetris) and Pebbloid, similar to the old arcade game Breakout!
Glitches and Drawbacks
For many, the Pebble is just another screen for their smartphone since it lacks in one major area – the ability to reply in any form. Unfortunately, you cannot reply to texts, Facebook and Twitter notifications, or receive calls from the watch. It simply is a "notification alerter." Many find this frustrating because most will want to take their smartphone out right away to reply. Others, however, are busy and would just like to know who's trying to communicate with them at the moment without needing to reply.
Also for those who use the iOS platform, the Pebble may not be the best watch for you quite yet. As mentioned above, you can only receive Gmail notifications if you have an iPhone. No social media notifications are compatible with the iOS platform. Also when you receive multiple notifications at once, they tend to clutter the screen. As for the apps for the Pebble, they are all from third party apps so be wary as you download them since those at Pebble does not have time to approve each and every one.
Check out the unboxing video for the Pebble Smartwatch:
Conclusion: Pebble Smartwatch Worth Buying?
The Pebble Smart Watch is definitely a unique product for specific people only. Those who love high-tech gadgets will surely find it's features exciting, but for the masses, it may not be quite ready for the big time.
Many expect their "smartwatch" to act smarter and have the integrated option to reply to notifications, which it lacks. The best use of this watch definitely lies in the hands-free option it gives to anyone wearing it.
To learn about the Apple smartwatch rumored to be coming out, check out our post – Apple iWatch May Be Here Sooner Than You Think