It's that time of the year again: the time when the kids are out of school, it's hot and (mostly) sunny outside, and many families go on vacation. When I was younger, we didn't have smartphones around to help our family on trips when we got lost or needed to find important things around us like hotels, restaurants, or bathrooms.
It's amazing how much times have changed! We now have phones that are just as smart as us, if not smarter in some cases. Best of all, our smartphones support apps that guide us on our trips and even serve as personal assistants. So thanks to technology, we have this list of the best travel apps for the iPad and iPhone.
I've tried to categorize these apps the best that I could, so please bear with me if a few seem to be out of place.  All apps listed are optimized for both the iPhone/iPod Touch and iPad, so you can enjoy them no matter which device you have. Without further ado, let's take a look at these essential apps that one should not be without when traveling or planning a trip.
Navigation Apps
Google Earth (Free)
Google Earth lets you view over a million high-resolution images of global satellites and aerial objects from around the world. Just search for cities, places, and businesses and then swipe your finger to change the views and navigate around those locations. You can also use the GPS to see your current location and see what's around you.
Download the Google Earth app
Wanderlog (Free)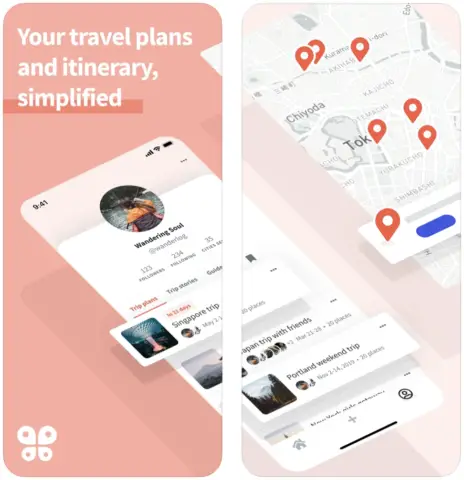 Wanderlog is a trip planner app that lets you make lists of places to visit, organize them into an itinerary, keep track of your reservations, and collaborate in real-time with your friends. In addition, you can also book Airbnbs or hotels within the app for a complete trip-planning experience.
Another great feature is that you can visualize your itinerary on a map, and access it offline. Heading out for your trip? Get the Wanderlog apps for iOS and Android to have your entire plan and itinerary handy when on the move.
Check out Wanderlog Trip Planner. Also available on iOS and Android.
The World Clock ($1.99)
The World Clock app can show you the current time in more than 230 countries around the world. It also has a real-time day/night map so that you can see where the sun is currently shining and where it's not. The app also includes a time converter, network time syncing, alarm clock with notifications, time zone auto-updating, scrollable maps, and the ability to display up to 24 clocks.
Download the World Clock app
MapsWithMe (Free)
What's a trip without a map? MapsWithMe is the perfect companion to any trip because it provides offline maps and travel guides for any location. Once installed, just select the countries that you'll be visiting and you can download maps and relevant information (including restaurant locations) regarding that country.
Maps are based on OpenStreetMap and travel guides are from Wikitravel.
Download the MapsWithMe app
World Explorer ($1.99)
The World Explorer app lets you do just that, explore the world or just the area around you. You can see what's nearby and view articles (over 350,000) regarding important places and monuments. All locations have maps and ratings so that you can see which are the best places to visit on your trip. You can also connect your Facebook account to share with your friends.
Download the World Explorer app
Orient ($.99)
Orient lets you see which direction you need to go to get to your next destination. "This app is exclusively built for devices with a built-in compass;" plus you must have a Wi-Fi connection in order to use it. You can place pins on the map to represent your favorite places or the places you'd like to visit and then see how far they are from you.
Download the Orient app
AroundMe (Free)
If you want to quickly find out what's around you, this app is perfect for that. It will show you your exact location on a map and then you can see the nearest stores, banks, bars, gas stations, hospitals, hotels, entertainment spots, taxis, and more. All locations are sorted by category and you can see how far they are from you.
You can also get directions, see phone numbers, add locations to your favorites for easy referencing, and even share on Facebook or Twitter.
Download the AroundMe app
Maplets ($3.99)
Maplets is "the most comprehensive map app on the app store, with over 4,000 maps in the US and worldwide." You can download and store high-resolution maps for parks, metro areas, subways, bikes, ski resorts, college campuses, theme parks, and the list goes on.
After purchasing the app, all maps are free to download and are kept up-to-date for free. The app even remembers the last map you used and where you were looking
Download the Maplets app
Ariadne GPS ($2.99)
While we have a ton of navigation apps on this list already, it wouldn't be complete without Ariadne GPS. This app lets you explore maps and what's around you, but it goes a step further with talking maps. You must have VoiceOver activated on your device in order to take advantage of this awesome feature.
Just tap the "Where Am I" button to find out your location and the street names and numbers around you. You can also add locations to your favorites and then receive an alert whenever you're within a certain distance from them.
Download the Ariadne GPS app
Recommendations' Apps
Yelp (Free)
Yelp helps you find local businesses, restaurants, gas stations, bars, hotels, entertainment, shopping and much more. You can use the GPS to find places that are near you or use the search function. Results can be narrowed by hood, distance, price, and what's currently open. You can also see ratings and read reviews by other users and leave your own.
Download the Yelp app
Wi-Fi Finder (Free)
Wi-Fi Finder helps you find the nearest free and paid Wi-Fi hot-spots using the GPS function. You can search over 545,000 locations in 144 countries. While you do need an Internet connection to initially use the app, you can download all of the locations to your device so that you can use the app offline. Locations can be filtered by location type (restaurant, hotel, etc.).
Download the Wi-Fi Finder app
TripAdvisor (Free)
TripAdvisor is another great app for finding hotels, restaurants and other attractions in your area. You can read over 45 million reviews and opinions from other travels. You'll also have access to images, maps (including street-level view), and forums where you can ask questions and communicate with other users. TripAdvisor is also great for finding cheap flights.
Download the TripAdvisor app
Booking.com (Free)
Booking.com is the ultimate app for quickly finding and booking hotels. You can see over 135,000 hotels from all over the world. The booking process does not involve any booking fees and it's very secure; plus they guarantee that they'll have the best prices.
There are over 8.6 million reviews and over 1 million hotel photos that can be viewed from this app. Best of all, you can use the app to show your booking confirmation to the hotel front desk clerk; so there's no need to print anything out.
Download the Booking.com app
Urbanspoon (Free)
Urbanspoon uses the GPS features to find restaurants that are nearby and in your "hood" and also compare restaurant picks with friends. Locations can be viewed in either list or map mode and filtered by neighborhood, cuisine, or price. You'll also have access to ratings and reviews from newspapers, bloggers, and other users.
This app currently only covers restaurants in the US, Canada, and large metro areas in the UK and Australia.
Download the Urbanspoon app
HotelPal (Free)
HotelPal lets you browse over 100,000 hotels worldwide and make reservations. You can search by city, zip, or use the built-in GPS to see what's nearby from the built-in maps. The app gives you full-screen photos and lets you compare hotels, plus see live availability, rates, amenities, and directions. You can also add locations to your favorites for later referencing.
Download the HotelPal app
ZAGAT to Go ($9.99)
ZAGAT to Go is not just an app that shows you nearby restaurants and ratings, it also lets you reserve tables instantly. Plus you can get recommendations on where to take your dates, clients, friends, etc. Results can be filtered by food, decor, service, or cost. Additionally, you can browse images of actual food dishes and get tips on what to order.
Are you a Foursquare members? If so you can also check-in from within this app.
Download the ZAGAT to Go app
Communication Apps
SnapShot Postcard (Free)
With SnapShot Postcard, you can send real postcards with your own photos to family and friends. Once you find the postcard that you want to use, simply choose your photo, enter a message and address, and then tap send. Your postcard will then be printed and mailed out (via US Postal Service).
While your first postcard is free any after that will require credits, which can be purchased for as low as $.80 each.
Download the SnapShot Postcard app
myLanguage Translator (Free)
myLanguage Free Translator supports 59 different languages. You can search through your previous translations, even when offline. Translations can also be emailed to family and friends. The Pro version goes a step further and lets you both translate and listen to HQ (high quality) voices in 20 languages.
Download the myLanguage Free Translator app (or get the Pro version)
Translator (Free)
Translator free lets you quickly translate words and sentences into 53 different languages. You can also edit existing translations and make modifications to them. It integrates with Google Translation to give you accurate translations, therefore it will require an Internet connection. Translations can be emailed to friends. With the Pro version, you can hear translations in over 35 languages.
Download the Translator Free app (or get the Pro version)
Travel Assistants
TripIt (Free)
TripIt helps you keep all of your travel plans organized and up-to-date. It magically works after you forward your travel confirmations to plans@tripit.com. It then creates a "smartinerary" (which can be shared via email) by combining all of your plans with maps, directions, and other relevant information.
While you travel, the app also alerts you of any emergency alerts or flight changes. Additionally, you can also keep track of frequent travel miles/points.
Download the TripIt app
Hipmunk (Free)
Hipmunk is a very unique flight search because it lets you see all relevant flights on a timeline so that you can "visualize the right choice." Flights are sorted by "agony," meaning that it uses other factors, like how long you'll be traveling and how many stops you'll make, to find and sort your results. Once you find a flight you can book it right within the app on finish on your computer.
Download the Hipmunk app
FlightTrack ($4.99)
FlightTrack lets you track your flights around the world; it covers more than 4,000 airports and 1,400 airlines. Plus you can stay-up-to-date on the status of your flights via real-time updates on departures, delays and gate numbers; you can even see the weather radar and forecasts for the area where you're flying to.
You'll be alerted regarding any cancellations and be able to find alternate flights if needed. The app also syncs with your device's calendar so that you can view your flight from there.
Download the FlightTrack app (or get the Pro version)
FlightBoard ($3.99)
If you've ever seen a flight board in an actual airport, then this app will look very familiar. FlightBoard turns your device into flight board by showing you the Arrivals and Departures boards for any airport in the world; that's over 4,000 airports and 1,400 airlines.
All info is updated every 5 minutes and you can even search within the app to narrow down the results (if you're looking for a specific flight).
Download the FlightBoard app
Camp & RV ($5.99)
If you own a camper or RV, then this app is a must-have. Camp & RV is the "only camping app that lets you find Campgrounds, RV Parks, and related services with or without Internet." It has access to over 20,000 campgrounds in the US and Canada along with images, coordinates, directions, and phone numbers.
You can see everything that's around you including parks (state, national, county, city), forests, hiking and boating routes, truck stops, overnight parking, rest areas, welcome centers, amenities, and much more.
Download the Camp & RV app
Packing Apps
uPackingList (Free)
uPackingList Free makes packing fast, easy, and (dare I say) fun. You can create an unlimited number of packing and shopping lists for your trips. Additionally, you can add quantities, pictures, and notes to each item and choose your own icon for categories that you create yourself.
It includes a catalog of approximately 300 items that you can use within your lists so that you won't forget anything. Once you're done, lists can be shared via email.
Download the uPackingList Free app (or get the Full version)
Packing (+TO DO!) ($.99)
Like uPackingList, Packing (+TO DO!) serves as your "personal packing assistant." You can create an unlimited number of packing lists and even save lists as templates for easy duplication. You can keep track of quantities and even list what bag the item will be packed.
To make it easier to see what is left to pack, you can sort items by what's packed and what's unpacked. Once done, you can share your list on Facebook, Twitter, or via email.
Download the Packing (+TO DO!) app (or get the Pro version)
Weather Apps
iDress for Weather ($1.99)
iDress for Weather is not your average weather app: instead of using words to tell you about the weather, it uses pictures. Each parameter (hot, warm, cool, cold, rainy, really cold) has a set image that it uses to show you how to dress. These images are customizable though, so you can use any image you'd like – even your own personal photos.
Also the 10 more recent locations that you check the weather for are stored within the app. iDress for Weather provides updates courtesy of WeatherBug.
Download the iDress for Weather app
RadarScope ($9.99)
Lastly, but certainly not least, we have RadarScope. Though the app is a bit pricey, it delivers on quality and functionality. "RadarScope is a specialized display utility for weather enthusiasts and meteorologists that allows you to view NEXRAD Level 3 radar data along with […] Tornado, Severe Thunderstorm, and Flash Flood Warnings issued by the National Weather Service."
Information and conditions are updated automatically every 5-10 minutes for the US, Guam, Puerto Rico, Hawaii, and Alaska.
Download the RadarScope app
Now it's your turn! Let us know what is your favorite travel app and if we have missed out on any?