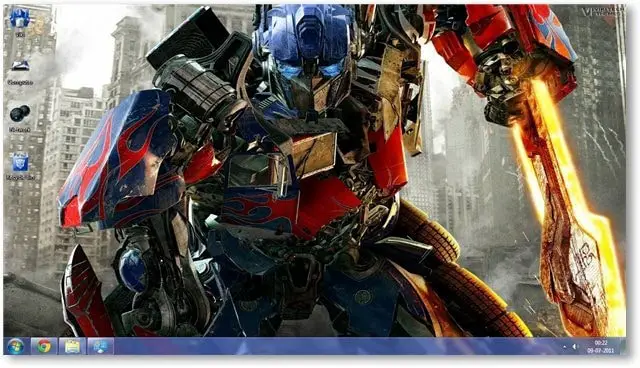 The first movie of the Transformers series was released in 2007 followed by Transformers : Revenge of the Fallen in 2009. Based on the Transformers toy line, the movie series is hugely popular and is one of the highest grossing movie series. Transformers 3: Dark of the Moon is the latest release in the series, released in June 2011.
The storyline of Transformers 3: Dark of the Moon revolves around The Sentinel Prime, who was the leader of the Autobots before Optimus Prime. The Sentinel is revived by Optimus, but he combined forces with Decepticons in an attempt to enslave Earth and save their planet Cybertron. The only ones standing in their way is Optimus Prime and the Autobots.
The Transformers Theme that we have published earlier is one of the most popular themes in our Windows 7 themes gallery and here we present a theme based on the latest movie in the series – Transformers 3: Dark of the Moon.
The Transformers 3 Theme consists of 30+ Hi-Res Wallpapers, Custom icons, sound bits from the Transformer movies and a set of beautiful cursors. Transform your desktop and bring the excitement of Transformers to your system with this Transformers 3 Theme.
Screenshots of Transformers 3 Windows Theme:
These are just a few of the 30+ Hi-Res wallpapers that come with this theme. Download the theme to get them all.
Custom Icons and Sounds:
Like all our themes we have chosen a select set of icons to go with this theme.
The sounds from Transformers are also part of the theme and you can hear them while starting and shutting down your Windows as well as while applying this theme.
Custom Cursors:
We have chosen a set of beautiful cursors to go with the theme.
Download Transformers 3 Theme for Windows 7 and 8:
Download from the Windows Themes Gallery