I use Google Chat within Gmail quite a lot. Most of my online acquaintances, colleagues, friends or even members of the family have Gmail accounts. I use it because I am always logged into my mail. But, I have to admit, I didn't use GTalk's call function that much. That's what I have Skype for.
I don't think I will be using Facebook's video chat function neither; I think each product has to have its own purpose: GTalk for quick chat discussions, Facebook for glimpsing at your friends' photos and Skype for voice or video calling.
Gmail has supported calling since 2008, when the Gmail chat and Google Talk alongside it, received voice and video chat features. It wasn't until much more recently (in August 2010) that Google allowed users to make calls through their Google-powered email. Gmail is continuing the expansion of its feature armada. The most recent addition is the option to make or take multiple Gmail calls simultaneously.
Multiple calls in Gmail:
The recent improvement in Gmail makes your messenger act as a real phone. Google's official state "Receiving incoming calls while you're in another call is just as easy: you'll receive a notification of the incoming call and can choose to accept it or not. If you take the new call, the previous call will be put on hold." The same thing when you're using your mobile phone.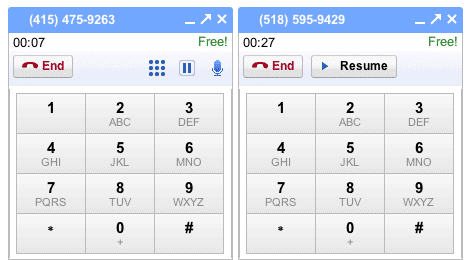 But wait, there's more. It can work even on video-calls, great, isn't it? And if I forgot to tell you, this works only when you use GTalk to call "real" phone numbers, not your GTalk buddy. The GTalk international rates are quite ok if you'd ask me, some countries have even a lower calling rate than Skype has.
What does this mean? In the short run, it simply means that Google thinks about its customers and their needs. In the long run, Google's showing their support even more for "official" telecommunication methods to be inserted or interlinked with online solutions.
While Skype is 100% VOIP, Google tries to make the transition for everybody much smoother. If not in the next 5 years, most surely in the following 20  years traditional calling methods will be abolished, the single condition being that everybody has a smartphone powerful enough to host such a feature. And if we look a little around at the iOS vs Apple battle, we realize that soon, the battle will make manufacturers reduce prices, thus making awesome phones available to everybody.