Thanks to the web and the various free tools that if offers, one is able to really explore one's creativity to the fullest. Be it editing photographs, documents or stable or streaming online audio-visual content.
You can add in the text in form of titles, sub-titles, quotations, graphically designed words and so much more. The fonts that you can use for each of these needs vary and using different creative fonts can make the end product stand out from the regular mundane stuff!
So the good news is that you can now install Google Web Fonts on your PC. Don't be misled by its name. Although Google web fonts are supposed to be made for websites, you can use them on your computer too.
The fonts have a superb array of shapes and sizes and can help you make all your presentations unique! They are accessible on the internet for free and you can use these fonts in all the Microsoft Office applications, as well as photo editing apps like Photoshop.
Let us see the two ways the simplest ways to install Google web fonts on your PC.
See Also: 5 Reasons Why Google Chrome Should Be Your One and Only Browser
Steps to install Google Web Fonts on your PC
Simply click on Google Web Fonts download option and scroll to the various fonts which also have a preview to show you a demo. Click on the "+" sign to add that font to your collection.
The collection is like a cart that you find on e-commerce sites (to add products to your collection which you want to buy in the future). From that cart, you can either download all those fonts or use them directly on your websites. You also have the option to delete the fonts from your collection, when not required.
Note: It does not require you to download the fonts to use them in your websites. You can directly embed the code (given into the Embed section as shown below in the screenshot) on your website.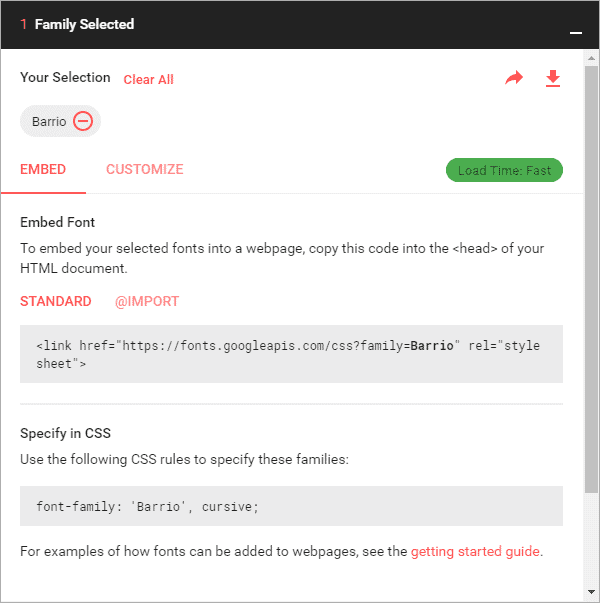 To download the font, click on the download arrow provided in the right corner at the top of the panel. As you can see below, you can customize the font which has different versions. You can tick, untick, the type you want or don't want respectively.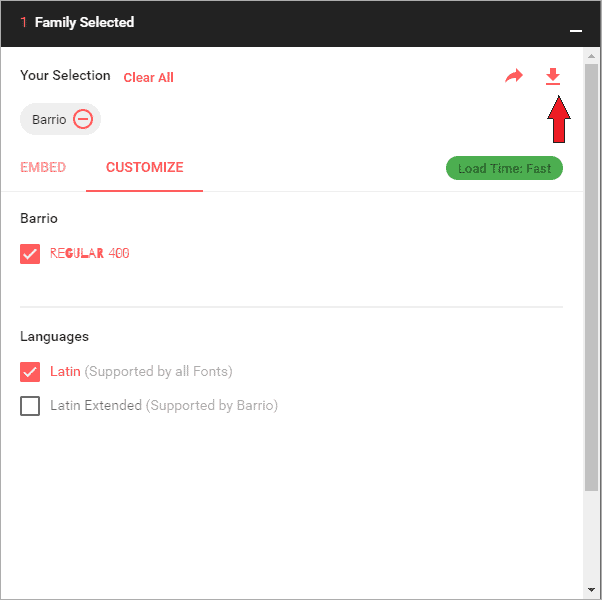 As soon as you click on "Download", the process starts. You can then "Extract" the zipped file to your desired folder.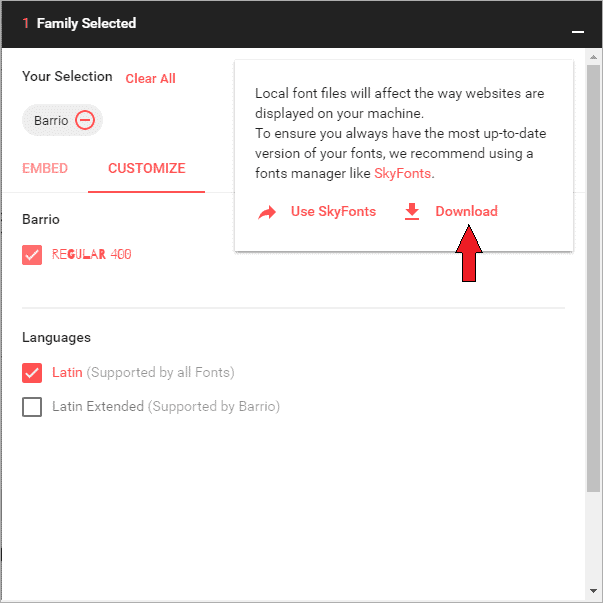 Install the font by doing Right click on the .ttf file format.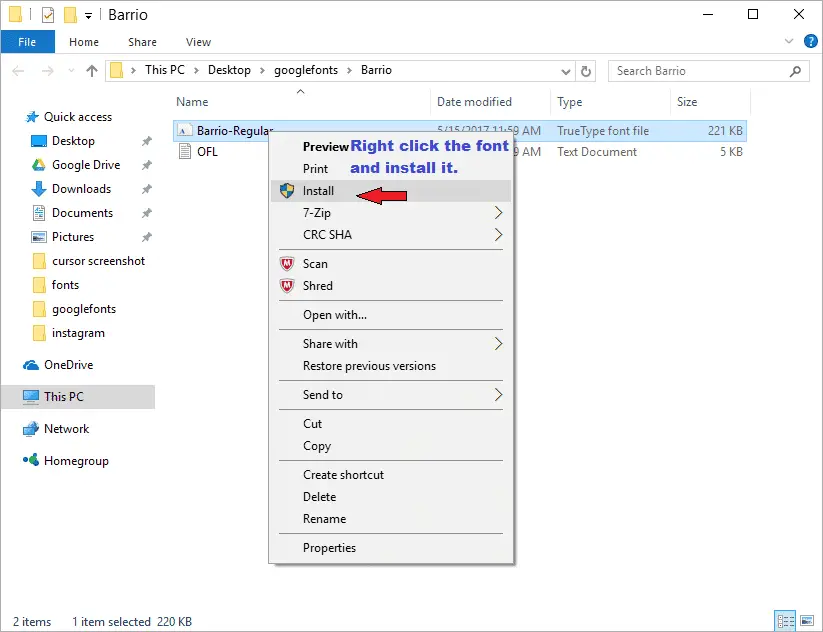 You will find that particular font by browsing in your font section in any of your applications where you want to utilize that font.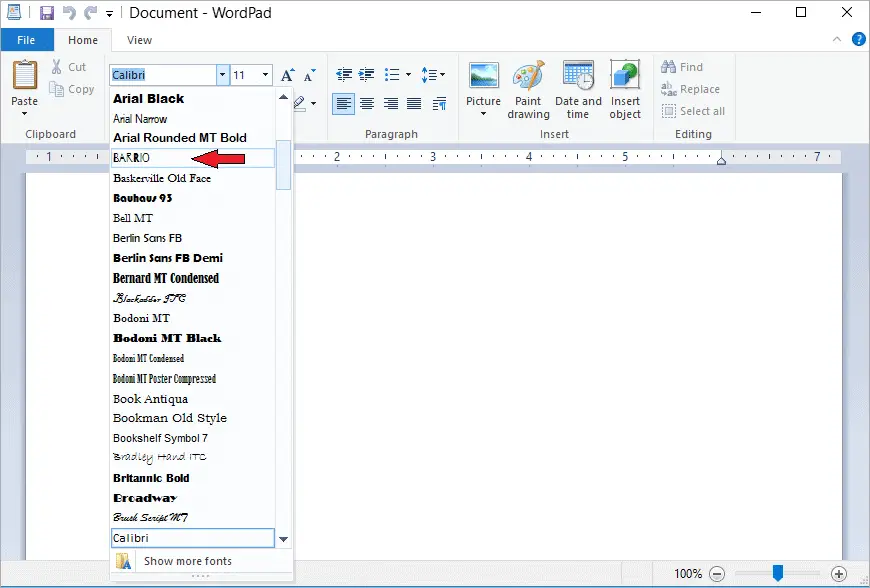 You can see below the preview of "Barrio" font we installed.
How to install Google Web fonts using a third-party app
SkyFonts is used not only to download the Google Web Fonts but also to keep you updated with the new version of the fonts you choose to download. You can install SkyFont for free. Here's how to get started with Skyfonts.
Download SkyFonts
Go here and click on Browse Google Fonts.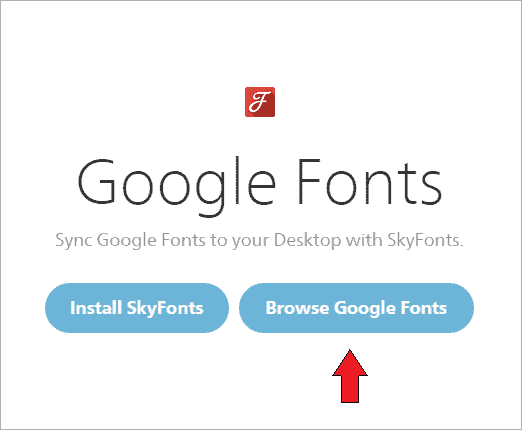 You will see the list of all the Google Fonts. Select one using SkyFont as shown in the screenshot below.
Click on "Add" to add the font to your font collection.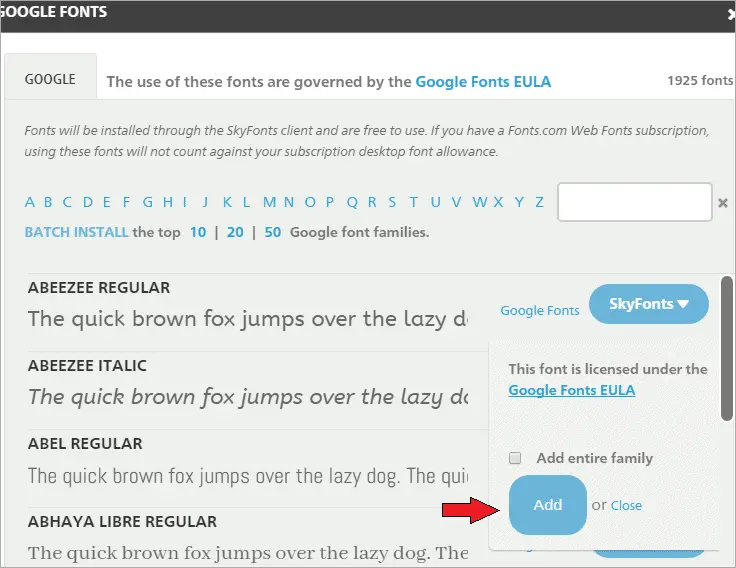 You will get a confirmation that your font is installed successfully.

How to install Google Web Fonts collectively all at once
If you don't want to go through the effort of choosing one font at a time and then downloading it, then we have another easy way for you!
Instead, you now have the option to download all the fonts at once. It will be simple and effortless.
Here's how it's done:
You just have to go to the GitHub page Google Fonts.
There you can read all the required information about fonts. When you scroll down a bit, you will see the download link in a zip file format.
The download file will come with a size of 300 MB.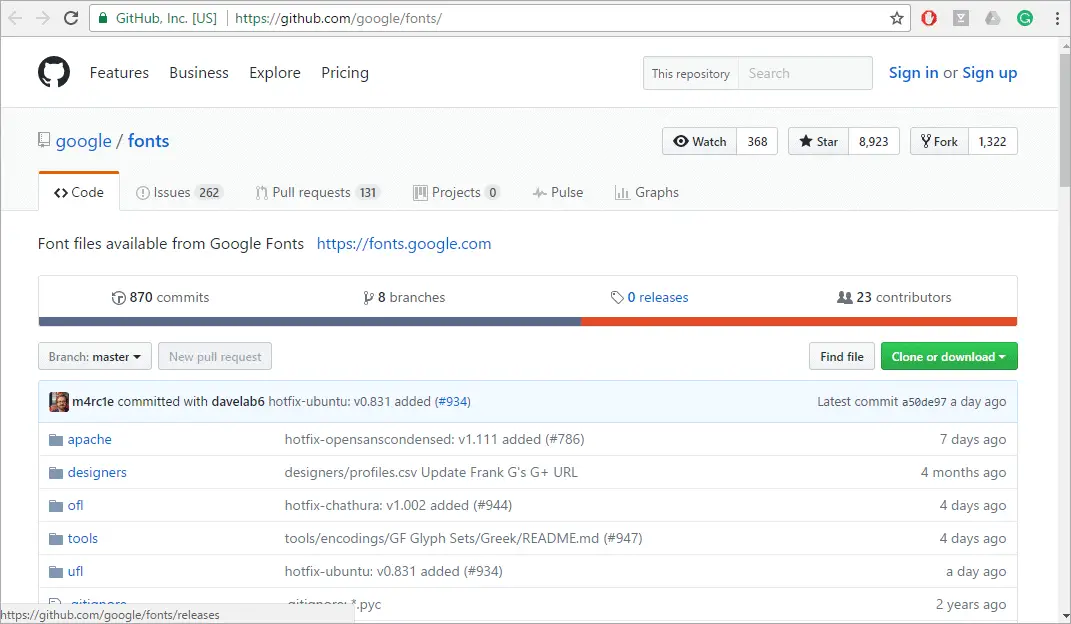 After download, you will have to extract the zip file, and then you will see the following folders containing the various fonts.
Conclusion
So now, with Google Web Fonts into your Microsoft Office applications and other photo editing apps, you can create exciting portfolios of your personal work.
These are sure to stand out from the crowd of other's regular presentations or audio-visuals: with the option of downloading it for free!
Do you know of any more interesting ways that are simple and effective? Do share these with us in the comments below. We look forward to interacting with you!
Further Reading: Project Ara: Is this the Future of Smartphones?
(Images Source: Fonts Graphics Concept by Rawpixel.com/Shutterstock)