You know how Twitter GIFs are, right? They are hilarious and a lot of fun to share. But I'm sure you're also aware that there is no direct option to download or save GIFs from Twitter. But that need not disappoint you. We have the perfect solution or rather solutions for that.
We've listed various ways to help you save GIFs from Twitter – if you want to save just one or a bunch of them. Since GIFs and videos are a rage on the web, who wouldn't want to save them from Twitter for sharing on other platforms.
See More: Twitter Now Has a Dedicated Windows 10 App – Check All That It Has to Offer
Top 5 Ways to Save GIFs from Twitter
1) Download Twitter Video and GIFs online
Twitter Video Downloader is one of the easiest ways of downloading video/GIFs from Twitter and Facebook. The most exciting thing about this online downloader that it has its mobile version also that allows you to download Twitter videos on your mobile.
Copy the GIF or Video link from the Twitter that you want to download. To copy the video address, go to the video, "right-click" on it and click "Copy Video Address".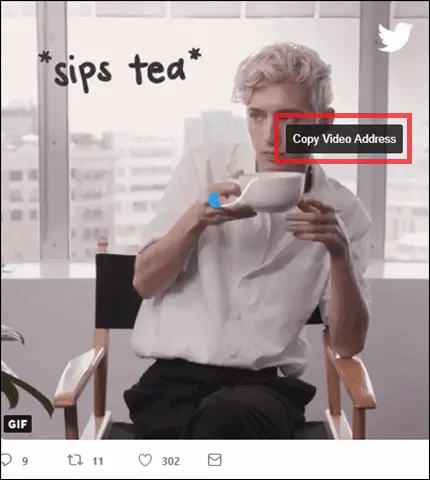 Now, go to Twitter Video Downloader, and paste the video/GIF link.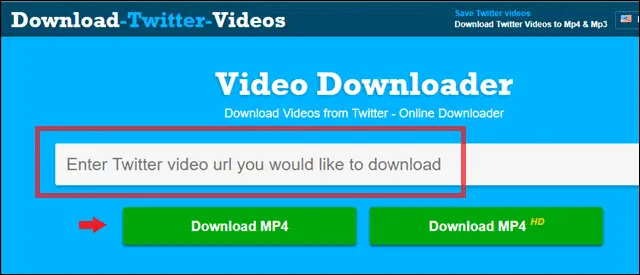 Next, you have to click on the preferred quality download link; Basic MP4 or HD.
Give it a name and save it in the folder you want no matter in which device you are. This Twitter GIF downloader makes it super easy to save GIFs from Twitter.
2) Save Twitter GIFs from Twitter using a Third-party Tool
Gihosoft TubeGet is a reliable Twitter GIF Downloader that you can use for videos on YouTube, Facebook, or Twitter. These you can enjoy your favorites even you don't have an internet connection.
Here is the step-by-step guide to see how this third-party software works wonder downloading Twitter GIFs and videos.
Now copy the Twitter video or GIF link.
You can do it in two ways.
One way is that we mentioned in the first method of downloading Twitter video/ GIFs by doing a right-click on the video and clicking "Copy Video Address".
Another way of copying a Twitter video link is to expand the drop-down menu at the top right corner of the Tweet, and select "Copy link to Tweet".
Both ways will download the video link.
Now open Gihosoft Tubeget and click on "+Paste URL".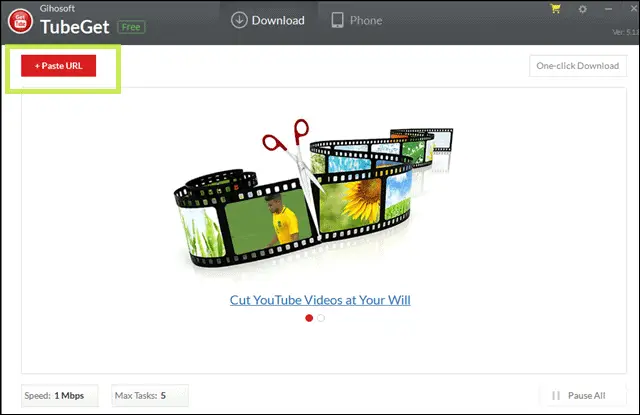 The tool will analyze the link for its validation.

Now once your video link has been analyzed, you get various options.  Choose the quality (MP4 quality), download subtitles or even convert that video.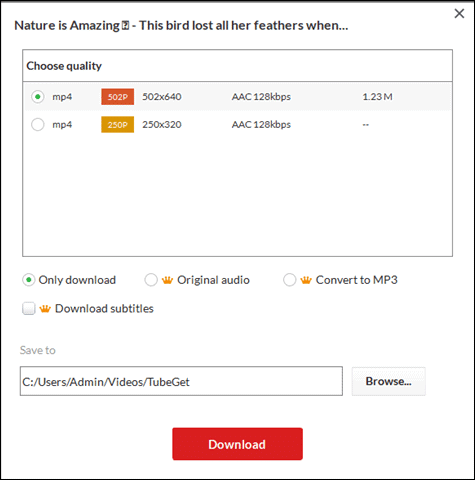 Select the appropriate option and click on "Download" at the bottom.
Note: You have to follow the same process if you are a Mac user. The Gihosoft TubeGet download link for Mac users is here.
3) Download Videos from Twitter using an Extension
It's always better to get your favorite video/GIF saved on your device to watch it later offline. Google Chrome browser has given many useful extensions making so many tasks easier than ever before.
Twitter Media Downloader is a useful Chrome extension for saving GIFs from Twitter. It's an extension that not only downloads Twitter videos but also allows batch download of video files.
Steps to download Twitter videos/GIF are below:
First, get the extension by clicking on Add to Chrome. Install it.

Get the Twitter video URL that you want to download. Now go to the video's owner's account. You must have the Tweet ID.
Each tweet on Twitter has a unique ID. For, e.g., if the URL is:
https://twitter.com/i/status/1073173660112834560
then 1073173660112834560 is the Tweet ID.
Once you have the ID, click on the arrow beside Media.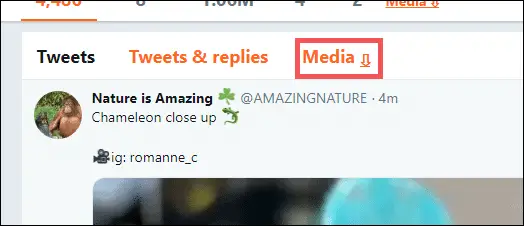 Now Paste the IDs you want to download in batch (make sure the ID range is correct).
Note: This plugin is the best option for saving GIFs from Twitter as it allows you to download batch files. It also saves you from doing manual work on each tweet.
Once you enter the ID range, you have the option to limit the download.
The Dry run option gives you a blueprint of what you are going to download. You can select and deselect that you want to download inducing Images, Videos(GIF), Videos, No Media.
Click on the Start button to begin the download.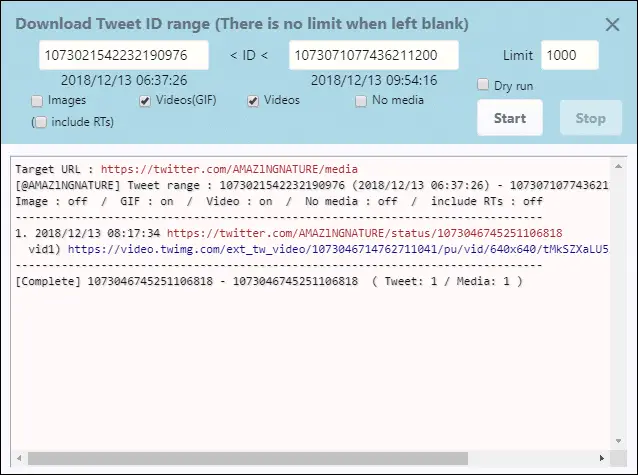 Your videos will be downloaded in a zip file that you have to extract, and even that gives you the liberty to transfer it anywhere you want to.
4) Save Twitter GIFs and Videos without using a third-party tool
Those who don't like downloading third-party software will find this option the most convenient.
You just have to tweak the URL a bit and you're done.
Copy the Tweet link as described in the above methods.
Open a new tab in your browser and paste the URL in the address bar. Now add "sss" before "https://".
Now select the quality of video you would prefer to download with.
5) Twitter GIF Downloader for Android and iOS.
There are some incredible apps for Android and iOS that makes downloading Twitter videos/GIFs a piece of cake.
One of the useful apps is Video | GIF Downloader for Twitter. Get it on your smartphone then we will start the process of downloading Twitter videos/GIFs on Android.
There are two ways you to this app.
i)  Either you can directly copy the Twitter video link and paste in the app and then download it.
ii) Another way is to go to the Twitter app on your smartphone and move to the video you want to download.
Now, you see a Share button, click on it. You may see various sharing options on the list, but you have to choose Video/GIF Downloader app.
Choose the preferred option to download the video.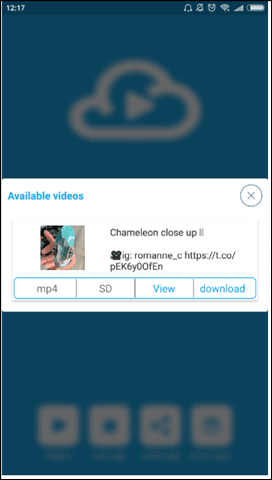 Choosing the View option – In the Video Downloader after sharing
Once the download completes, you get confirmation in your notification bar.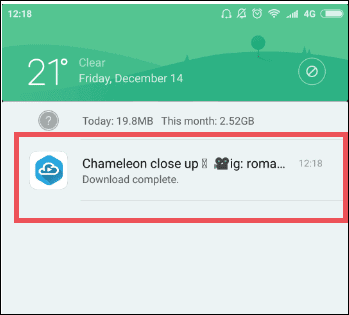 Another app you can use to download Twitter videos/GIFs is Tweet2Gif.
iOS users can use Gifitize Save Twitter Gifs to download Twitter GIFs and videos. The process to download the GIFs is somewhat similar to what we've described above for Android.
Conclusion
These are some simple and time-saving methods that allow you to get your favorite GIFs and videos from Twitter. If doing manual work on an individual file, is tiresome, then the Chrome extension serves as the best option to batch download Twitter GIFs and videos. Take your pick and enjoy the GIF hilarity.
Further Reading: Search Twitter Like Never Before with These Tricks