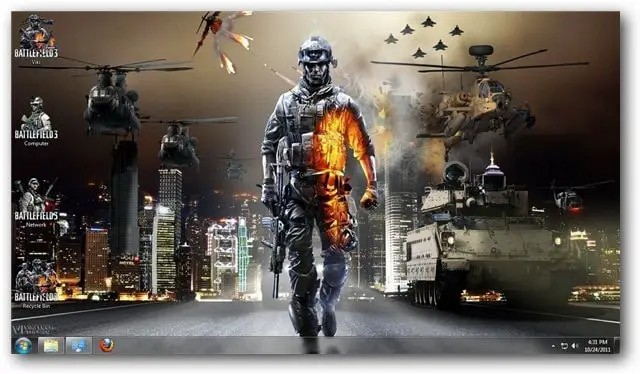 Battlefield is one of the longest running first-person shooter action video game franchise in history. The game is published by Electronic Arts and is available on Windows, PlayStation 3 and Xbox 360. It is also going to be ported to iOS platform as announced by EA Mobile.
The Battlefield series games have traditionally focused on large scale multiplayer infantry combat. You have to play in squads that consists of players of different classes, each with distinguishing weapons and equipment. Battlefield 3 carries forward this tradition while offering a lot more.
Battlefield 3 consists of campaign, co-operative as well as multiplayer gameplay. There are four roles that the player can take in multiplayer matches. There are also several modes like Conquest, Rush, Squad Deathmatch, Squad Rush and Team Deathmatch that promise countless hours of entertainment. Here is a theme dedicated to one of the best FPS games – Battlefield!
Battlefield 3 Game Theme consists of 25+ Hi-Res Wallpapers, custom sound clips, icons and cursors to form a complete theme package. The wallpapers from other installments of Battlefield series are also included in the theme. Bring the battle to your desktop with Battlefield theme for Windows.
Battlefield 3 Game Theme Screenshots:
These are just a few of the 25+ wallpapers included in the theme. Download the theme to get them all!
Custom Icons and Sound Clips:
As with all of our Exclusive Themes, this theme includes a set of custom icons and cursors.
Icons:
Cursors:
Download Battlefield 3 Game Theme for Windows 7:
Battlefield 3 is an Exclusive Theme created for TechNorms Email subscribers and Facebook Fans. You can subscribe to our Email Newsletter or download it from our Facebook Page.