The default new tab page in Chrome is way too simple with a Google search box and an option to add a shortcut. Many of us are used to this new tab page as it pretty much helps to get the work done. However, some users find the default tab page boring and want to change it often. Well, the best way is to know how to change new tab page in Chrome browser either by using extensions or Google customization options.
You can also customize your startup page and home page as per your preferences. The startup page in Chrome is the one you see when you open the first browser window. Whereas, the home page is where you can have your custom pages set as per your wish and usage. Chrome offers many options in customizing your browser experience, as every individual has different tastes and likings.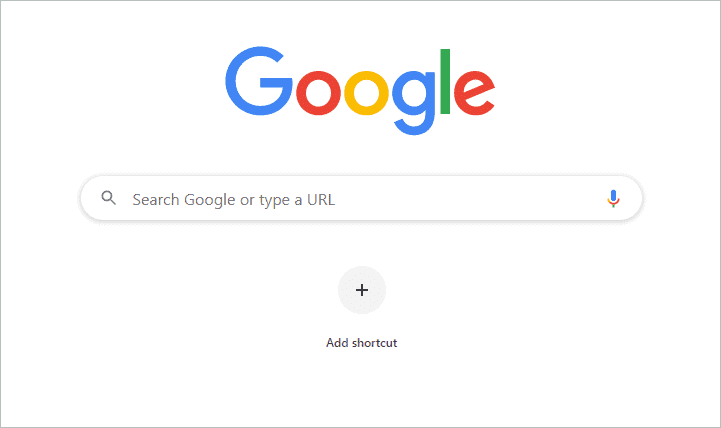 Change New Tab Page in Chrome using Settings
You can use built-in settings to customize the new tab page in Chrome and add your personalization touch to it. Check out different sections below and follow the steps to change the new tab page completely.
How to Add Background Image to a New Tab?
The first thing to add life to the new tab is to add a background image. The image can be from your system or categories provided by Google. Follow the steps given below to change the background image in a new tab.
Step 1: Open a new tab in your Chrome browser by clicking a plus sign next to the opened tab. You can also press Ctrl + T to open a new tab page.
Step 2: Click on Customize in the lower right corner of your browser.
Step 3: You can click on Upload from device to select an image from your device gallery. If you wish to choose the image from Google's available category, click on the category, and select the image.
If you like solid colors in your background, you can select the Color category from the list and select your favorite color.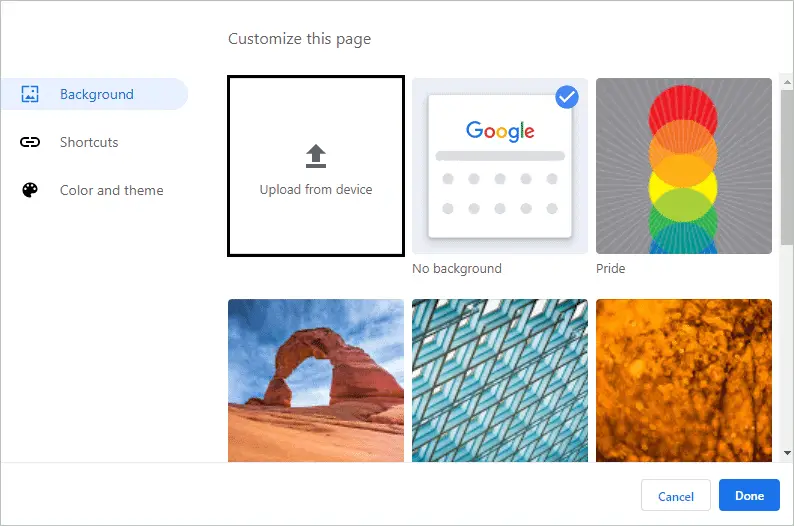 Once you finish selecting the image, click on Done. You will have a background image visible on your new tab page.
How to Add Shortcuts on the New Tab Page?
The next thing you can do to change new tab page in Chrome is to add shortcuts. The shortcuts are the website links which you use often. Adding a shortcut can navigate you to your favorite website with one click.
To add shortcuts, click on the plus sign (+) above Add shortcut seen on the new tab page. Next, add the website name and URL to the respected text box and click on Done.
You will see the added shortcut on the new tab page. If you have made any mistake while adding the name or URL or wish to remove the shortcut, you can follow the instructions below.
Hover over the shortcut that you want to edit or remove, and click on the three dots next to it.
The Edit shortcut window will appear on the browser; you can edit the link and name as per your wish. You can remove the added shortcut by clicking on Remove on the Edit shortcut window. Now, you can access your favorite sites with just one click.
With the Google settings mentioned above, you might be having a self-customized new tab page in Chrome, something just like the image below.
You can change the homepage and startup page in Chrome to display a new tab page for you by referring to the section below.
How to Set Homepage on Chrome?
You can customize the Google homepage to open a new tab page or any particular site. Many users need a new tab on the homepage, so you can easily get it by tweaking in the Chrome settings.
Step 1: Click on the three dots in the top right corner of the browser window and select Settings.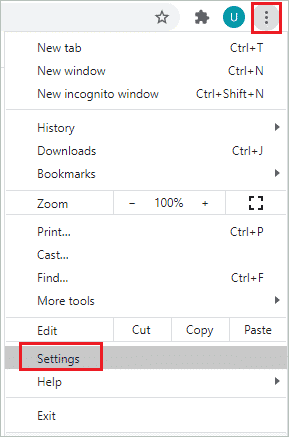 Step 2: In the Settings, go to Appearance from the left panel. And then toggle the switch next to the 'Show home button,' such that it is enabled.
Click on the 'New Tab page' to have that option on the Chrome homepage. You can go to the homepage and check if you can open a new tab using the home button. Click on the home button, next to the address bar on top of your browser.
There is an option to add a custom web address on homepage settings. To do so, click on Enter custom web address and enter the address of your choice.

Whenever you click on the home button, you will be navigated to the web address you add there. In our case, it is technorms.com.
Customize Google Chrome Start Page
Whenever you open the Chrome browser, you will see a new tab. It is the default setting, but you can change new tab page in Chrome to the site where you left your work last time you opened the browser.
It is easy and convenient not to open all the tabs again to start working. People who use Chrome for work or educational purposes daily can make the most of this feature. Follow the steps mentioned below to open Chrome on the same web page it was last closed.
Step 1: Open Chrome Settings by clicking on the three dots in the browser's top right corner.
Step 2: Go to On startup from the left panel. To open the browser with the same set of pages you used last time, select 'Continue where you left off.'
If you wish to launch a specific web page or set of web pages on startup, you can click on 'Open a specific page or set of pages.' You have an option to add a new page and use current pages.
If you want to open a new tab every time you launch the browser, click on Open the New Tab page.' Once done, close the browser and relaunch it to check if your settings change work.
Change New Tab Page in Chrome using Extension
If you want more than shortcuts and a background image, you can opt for some exciting Chrome extensions. We have listed some perfect extensions serving different purposes and making your new tab page customized as per your likes.
To search for any extensions, you can click on three dots and then More tools ➜ Extensions. Click on three lines in the upper left corner, and from there, click on Open Chrome Web Store. You can search for any required extensions on the Chrome Web Store. Alternatively, you can click on the Chrome web store link.
1. Momentum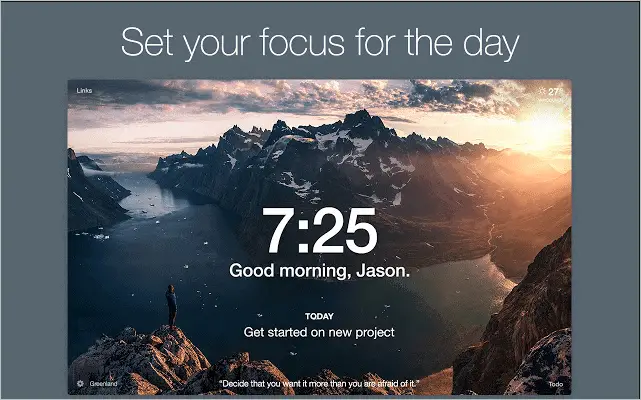 With Momentum extension, you can change new tab page in Chrome and get inspirational quotes, background images, and to-do lists. If you prepare a to-do list every morning, then this extension can help you. The inspirational quotes and pictures change every day and inspire you to stay focused. More than 3 million users use the extension.
Key Features
Set a daily focus
Have information about weather and forecast
Show or hide the widgets are per your choice
Set your up and downtime with Balance mode
Update your to-do list every day
Momentum comes with a paid version called Momentum Plus. With the paid version, you can add customization, integrations, and widgets. You can integrate Asana, Google Tasks, Todoist, GitHub, Trello, and Wunderlist.
We recommend you to start with a free version first and then opt for Momentum Plus if you like this extension.
Average Ratings – 4.5/5
2. Blank New Tab Page People who don't want Google search bar, shortcuts, and bookmark/app bar on their new tab can use the Blank New Tab Page extension. This extension simply does what its name says. You can type in the URL you want to visit on the new tab page. The Blank New Tab Page is recommended for the people who don't like clutter on the new tab.
Key Features
Remove the bookmark bar without making any change in Chrome settings
Keeps it simple
Average Ratings – 4.6/5
Get Blank New Tab Page Chrome Extension
3. ProductivityTab – Custom New Tab Dashboard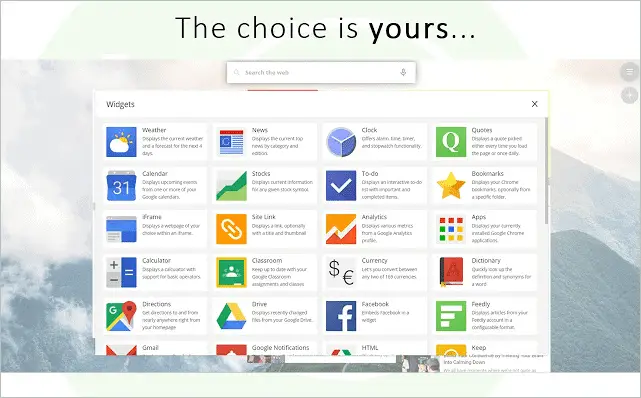 If you feel inspirational quotes and the to-do list is too little to boost your productivity, add the ProductivityTab extension to your Chrome browser for many more features. With the ProductivityTab extension, you can add 50+ widgets to your new tab page, including a news feed, sports, dictionary, etc. There is limitless customization with this extension.
Key Features
Integrate Notes, Google Analytics, Clock, Todo, and System Statistics
Updated information in new, sports, and YouTube widgets
Get quick access to Drive, Gmail, Calendar, Task, and Keeps
Voice search available
Customize your new tab page easily with drag and drop
Automatic backups
Google authentication, so the customized new tab page can be taken to any system you work on
ProductivityTab comes with a Pro version. In this version, you can get more options for themes, maximizable widgets, live backgrounds, and hourly weather updates.
Average Ratings – 4.4/5
Get ProductivityTab — Custom New Tab Dashboard Chrome Extension
4. Humble New Tab Page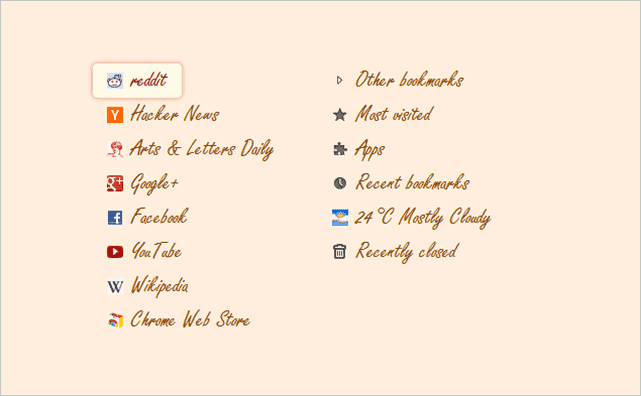 The Humble New Tab Page will display all the required information in the form of rows and columns. If you are someone who doesn't like clutter because of widgets but needs quick accessibility in the new tab page, this extension is perfect for you. You can have bookmarks, apps, most visited sites, and apps in the new tab page. With this extension, you can change new tab page in Chrome easily.
Key Features
Clean and simple page design
Lightweight, so that the new tabs load faster
Customize background color, fonts, and spacing as per your wish
Easily create new columns by drag and drop
Average Ratings – 4.7/5
Get Humble New Tab Page Chrome Extension
5. Toby for Chrome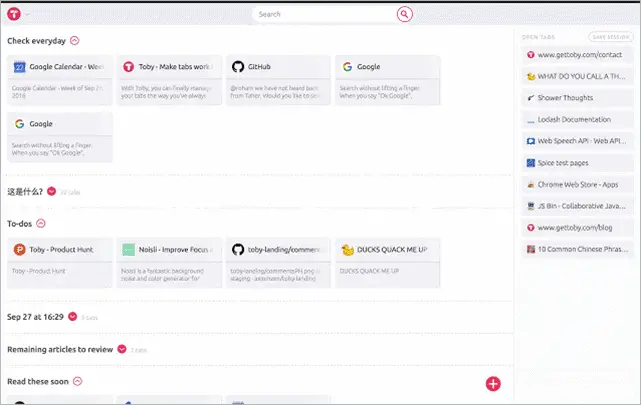 You don't need to bookmark any sites or mail the link to yourself when you use Toby for Chrome extension. If you don't want 1000s of tabs open, you can save your sessions in Toby and access the sites as per your wish. It can save you from the Chrome browser's unwanted load and avoid confusion and clutter in Chrome.
Key Features
Save sessions with the websites of your choice
Create a to-do lists
Give tags to your collection
Save sessions with one click
Drag and drop websites to the collection
Average Ratings – 4.4/5
6. Universal Search Tab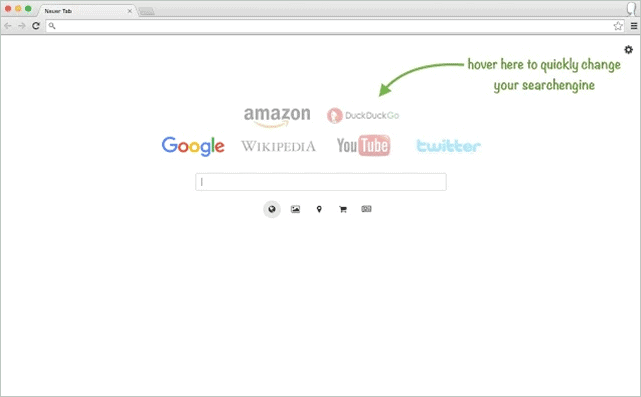 People like to browse different stuff based on their needs. If you want something informative, you will search for it on Wikipedia, and for videos, it is best to use YouTube. With Universal Search Tab, you can have your choice search engine on the new tab page. It is a simple extension that does not offer fancy backgrounds or widgets, but it is a useful extension for people who love to browse different websites.
Key Features
Provides the option to use multiple search engines on new tab
Intuitive startup page
Average Ratings – 4.2/5
Get Universal Search Tab Chrome Extension
7. FYI: Search, Find, and Organize Documents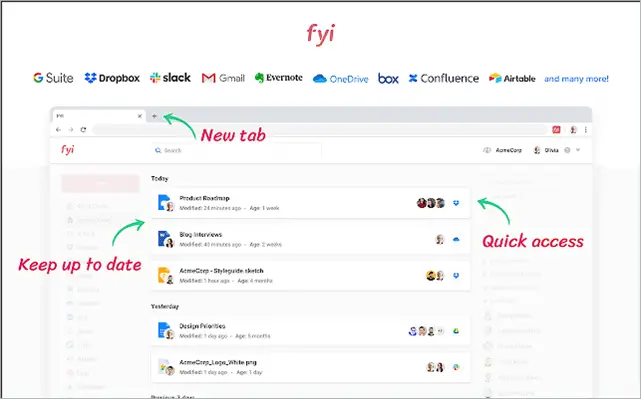 If you access documents frequently, then you should try the FYI Chrome extension for once. It allows you to access all the documents in less than three clicks. You can change new tab page in Chrome in a dashboard to help you work efficiently. With this extension, you can manage and access documents from multiple sources like G Suite, OneDrive, Dropbox, Slack, Box, and Evernote.
Key Features
Get easy access to recently created and updated documents
Find the documents using the apps
Allows to connect multiple accounts to a single app, so that app from multiple users can be accessed in one window
Share the links directly
Average Ratings – 3.7/5
Get FYI: Search, Find, and Organize Documents Chrome Extension
Conclusion
The new tab page in Chrome is much better when you can tailor it as per your use. Well, the Chrome browser provides you with a minimum number of options to change the new tab page, which can suit many of us. However, if you want it to change completely into a dashboard or a simple blank page, then you will need Chrome extensions to do it for you.
The above article covers different ways to change new tab page in Chrome. You can either use Chrome settings or extensions to set up a new tab page. If you want a customized homepage or startup page, then the above guide will help you do that too.