Gone are the days when insurance was limited to cars and houses. The increase in the cost of cell phone devices and their limited manufacturer warranty duration has led to a rise in demand for cell phone insurance. If you buy a sophisticated mobile phone with a long list of features, your phone is more prone to theft, and hence insurance is necessary.
There are many other such scenarios in which the insurance fits best. However, before selecting an insurance policy for your cell phone, it is essential to look into different criteria. The guide below will help you understand cell phone insurance and some best options to go for.
What is Cell Phone Insurance and How it Differs from Warranty?
Many people think of cell phone insurance as the cell phone warranty they get when purchasing the phone. However, there is a difference between the two. The cell phone insurance covers the theft, loss, damage, normal wear and tear, accessories damage, and many more, depending upon the plan and the company you opt for. You need to pay a premium monthly, quarterly, or yearly depending upon the selected option.
On the other hand, the cell phone warranty covers hardware and software malfunctions. If the malfunction is because of physical damage or misuse, the warranty won't cover it. The amount for extended warranties is paid at once, and there are no premiums in case of a warranty. So now, as you know what cell phone insurance is and how it differs from cell phone warranty, you can make a better choice between the two.
Is Cell Phone Insurance Worth it?
This question is on the minds of many of us purchasing cell phone insurance for the first time. The cell phone insurance plans are worth only under some conditions. Some of them include.
If the cell phone is too expensive and there are high chances of it getting stolen
You work in an environment where there are chances of your cell phone being damaged.
You have young children at home, who use your cell phone frequently and can damage it.
If you travel a lot along with your cell phone, which increases the chances of theft, loss,  and damage
If you are not in any of the above situations, avoiding the insurance plan will be the best option. We often buy the insurance plan and eventually don't use it because of the safe and secure environment around us. However, if you decide on insurance, choosing the best company and plan is the next step.
What is Covered in Cell Phone Insurance?
Each plan and company offers different coverage when it comes to cell phone insurance. However, most of them provide the following range.
Accidental Coverage – Cracked phone screen, physical damage, liquid damage, and other damage
Mechanical failures
Expired Warranty
Thefts
You can find insurance companies that provide more or less than the coverage mentioned above. Some also offer local repairs, accessories, and normal wear and tear. It all depends on the plan you choose, as the plan for which you pay more will probably provide more coverage (depending on the company).
How does cell phone insurance work?
You need to buy insurance for your working phone and then pay monthly premiums for it. The insurance policy will take care of damage, theft, repairs, and failures of your cell phones (the coverage may vary). You can claim for money or phone if your cell phone is beyond repair. You will get a refurbished phone or a cell phone with less or the same features as your phone in most cases.
Cell Phone Insurance Companies
We have shortlisted some best phone insurance providers to help you find your mobile phone's best plan. You can check out the different programs and coverage and choose the one that fits your needs. Also, there is some deductible per claim, which you can check while taking an insurance plan.
Note – Asurion provides phone insurance for AT&T, Sprint, and Verizon company. So, if you opt for any of these companies, the primary service provider will be Asurion.
1. AT&T Device Protection
AT&T provides cell phone insurance that covers screen repair, device replacement, damage repair, out of warranty malfunctions, liquid damage, and thefts. There are different plans available with this insurance policy provider. They also provide secure storage to store your photos/videos and AT&T ProTech app, depending on the protection plan you opt for.
Cell Phone Insurance Plans
There are three plans for AT&T phone insurance, starting from USD 8.99 per month to USD 40 per month. With an 8.99 plan, you can get coverage for one device, two claims in 12 months, USD 49 screen repair deductible, and provides replacement phone on the next day.
The second plan is USD 15/month, which includes an unlimited battery replacement, secured storage, streaming support, three claims in 12 months, device tune-ups for one device, and provides the replacement phone on the same day.
The last plan, which is 40 USD, covers up to 4 devices, provides eight claims in 12 months, and all other coverage included in USD 15/month.
2. Verizon Total Mobile Protection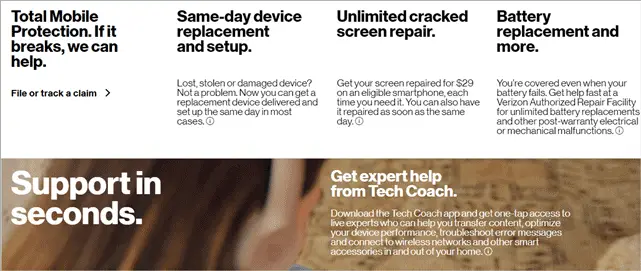 You can get the total phone protection with Verizon cell phone insurance. They offer multi-device coverage options for the people who want protection for multiple devices. You can get coverage for a cracked screen, battery replacement, theft, lost, and damaged devices.
Verizon provides you an option to insure your other gadgets like watches along with the phone. And also, filing a claim is a painless process with this insurance provider.
Cell Phone Insurance Plans
There are two plans available for single device insurance based on the type of phone you are using. The USD 15/month insurance plan covers tier 1 smartphones/watches and USD 12/month is a plan for tier 2 smartphones/essential phones/watches. You can check out their brochure to know which tier your cell phone falls into. Both the plan gives three claims per year, which excludes cracked screen repair.
The multiple device plan is available for USD 45/account. It allows you to have nine shared claims in a year (excludes screen repair). The replacement deductible ranges from USD 9 to USD 249, depending on the device type.
You can buy additional coverage for a new device at USD 11/month, where three claims are allowed per additional line.
Buy Verizon Total Mobile Protection
3. SquareTrade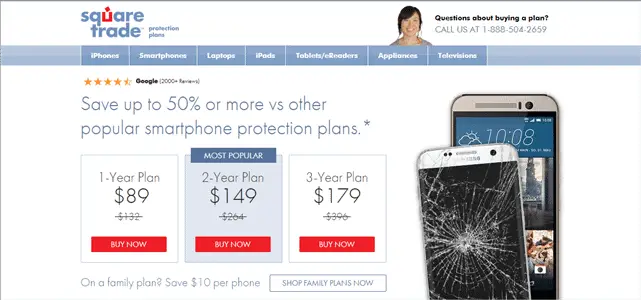 Got too late to buy cell phone insurance? Don't worry, SquareTrade got you covered with an insurance option that offers complete phone protection. You just require proof of purchase to buy the insurance for your working phone from SquareTrade.
The SquareTrade covers touchscreen malfunction, headphone jacks, speaker, battery, microphone failure, and cracked screen and liquid damage. One of the drawbacks of this insurance provider is that it doesn't give theft and loss protection.
Cell Phone Insurance Plans
There are three plans available with SquareTrade. The one-year plan is USD 89/year; two years plan is for USD 149/year, and three years one is for USD 179/year. You can cancel your plans anytime you want. The deductible per claim is USD 99.
They provide an option for the family plan, starting from 19.99/month covering the insurance for four phones.
Buy SquareTrade Phone Insurance
4. Samsung Care+
You can buy Samsung Care+ for your new Samsung smartphone. However, you need to purchase the Samsung Care+ phone insurance within 60 days of your phone activation. It provides remote technical assistance and coverage for hardware failure and accidental damage.
You don't get theft and burglary protection with this insurance policy provider. It means if your device is stolen or damaged, the claims cannot be made. There is no limit for mechanical repair in any of the plans. People who live in the continental United States, Alaska, Hawaii, and Washington, D.C can only buy Samsung Care+ phone insurance. It is not available for people outside these regions.
Cell Phone Insurance Plans
The plans available are $3.99, $8.99, and $11.99 per month, and the plan depends on your phone. You can have three claims per year in each plan.
Now, you have an option of 4 providers for your cell phone; hence making a choice can be easy. If you feel this is not something you want, then check out the alternate options to cell phone insurance in the next section.
Alternate Options for Cell Phone Insurance
There are some alternatives which you can try instead of buying cell phone insurance. The alternatives may or may not work for all, but having other options handy is always helpful.
1. Cell Phone Insurance with your Credit Card Company
Many credit card companies offer cell phone insurance free of cost if you pay some particular amount using their credit card per month. You can check if your credit card provides any such benefits.
One may need proof of purchase in some cases, or the cell phone needs to be purchased using the same credit card you wish to avail the benefit with. Also, you can check the credit card company's benefits guide or website to get the details.
2. Use Local Repair Shop
You can opt for local repair shops to get your phone fixed in less amount. There are many options available when it comes to local repair shops. Some shops will give you a warranty for the hardware or software changes they made to the cell phone.
You can find repair shops online as well, which gives better services. So, before opting for any insurance policy with costly premiums, check out the local repair shops near you and ask if they provide any plans.
3. Get a Cell Phone Case
One can avoid accidental damage to a cell phone by using a protective cover/case for it. Many cell phone cases provide features like shockproof, full-body protection, rubber bumpers to avoid hardware damage, and much more.
You can buy a good case with all the features mentioned above and avoid the damage to the phone caused by falling from the height. There are significant protective cases available on Amazon at a price less than the cell phone insurance.
4. Fix your Cell Phone on your Own
If there are any software issues in your cell phone, you can fix it on your own by using the workaround available on the web. Many people fix their laptops on their own. The same can be done with cell phones.
There are many guides on different phone related issues available on the internet. You can Google the query and get the issue resolved. However, some technical expertise is recommended before digging into severe cases.
You can either go for the above mentioned alternate options or get insurance; the final choice depends on the cell phone owner.
Conclusion
Cell phone insurance is an individual choice. Two people can buy the same cell phone, and then one may opt for insurance, and the other may not. The choice depends on different factors like environment, experience, and pricing. Although insurance is typical nowadays, people are a bit skeptical about it. With the above guide, you can clear all the doubts about it and opt for the best insurance for your mobile phone.
FAQ
1. Does cell phone insurance cover crack screens?
Yes, most cell phone insurance covers cracked screens, and in most cases, they are excluded from the claims. However, you may still need to check with the insurance policy provider about the same before purchasing it, as each plan and company differs.
2. Which cell phone insurance is best?
The one that fits your needs is best. We have listed four best cell phone insurance options above, which can help you choose a better one.
3. Do cell phone insurances cover theft?
Well, it depends on the company. Some of the companies like SquareTrade and Samsung Care+ don't cover theft. Verizon and AT&T cover theft and loss protection.
Related: Best Phones Under $200 With Great Features And Design