They say, after laughter, music is the best way to lift your spirits. With online streaming, you can listen to music at any time. But, what if you want to hear music when there is no internet? Well, in that case, the best offline music apps come to your rescue. They work seamlessly even without an internet connection.
The music streaming apps are convenient to use and do not eat up your mobile data. So, the next time you are about to exhaust your Wi-Fi limit or traveling to a remote location where there is poor connectivity, you need not worry. The offline music apps enable you to listen to your favorite numbers and save them too.
9 Best Offline Music Apps That You Must Download
The Google Play store has many good options to offer. The choices might be intimidating, so we have picked out the best offline music apps for you. All the apps that play music offline allow you to listen to music without any issues. The offline music apps are legal, so you can keep your infringement worries at bay.
1. SoundCloud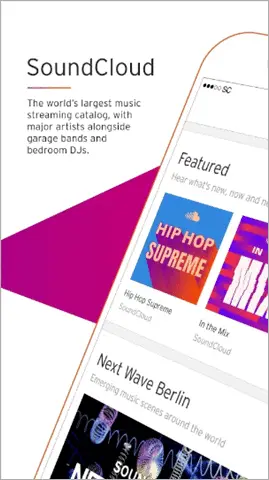 SoundCloud is a service that constantly keeps adding to its collection with the latest tracks. It is the perfect choice when it comes to the best offline music apps. With millions of users all over the world, it is one of the largest music and audio streaming platforms. This is also where you can easily save songs offline to listen to them later. It is a paid version.
You can even personalize your playlist by liking or adding songs to your playlist to listen to them later. The app uses machine learning to recommend music based on your likes. At present, it contains about 150 million tracks, and it is still growing. The app lets you like, share, pause, and play music. You can even go to your favorite artist's profile to listen to more songs.
Pros
The content is massive and fresh.
There are no ads in between songs.
You can use your single account from multiple devices at once.
You can upload your own songs if you are an artist.
It offers a podcasting service too.
Cons
It focuses on new artists.
The sound quality can be better.
2. Spotify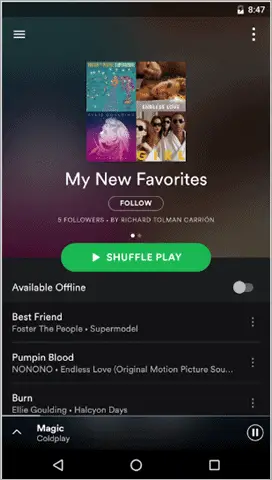 One of the best offline music apps to listen to music offline is Spotify. The top-rated streaming service gives you the option to choose ready-made lists. These are bound to suit your mood, or you can even get a personalized recommendation from the app.
Spotify lets you download music for offline listening. The free version comes with loads of ads while listening to music. When you opt for the paid option, you will be provided an option of 'Available Offline' at the top of your playlist. You have to turn it on to make songs available in offline mode. The sound quality of songs on Spotify is excellent, and you can cancel your paid subscription anytime you wish to.
Pros
Enhanced and fresh user interface.
Clear and crisp audio quality.
Large content.
A number of features for a great experience while listening to audio.
Cons
No live radio.
No lyrics
Lots of ads in the free version
Search options for a song, album, or artist is not very comprehensive.
3. Google Play Music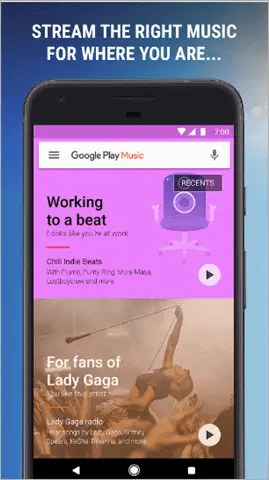 Google Play Music is a good option for music lovers where you can listen to the radio stations based on songs, artists, albums, or simply browse by genre, activity, mood, and much more. It lets you upload your own 50,000 songs to listen to across Android, iOS, and the web for free. The free feature also allows you to discover and subscribe to podcasts.
If you are in a no-network zone or traveling to places where the network could be a problem, Google Play Music lets you download music to your device. To use Google Play Music in offline mode, you have to opt for the paid subscription where you are assured that its ad-free listening zone.
One of the best offline music apps, Google Play, includes subscription features that allow you to access over 35 million songs. Most of the Android phones already come with Google Play Music but if you don't have one, download it.
Pros
The expansive content is for free.
It has free access to YouTube Red.
The interface is intuitive.
Comes with a simple setup and it is easy to use.
Cons
4. Apple Music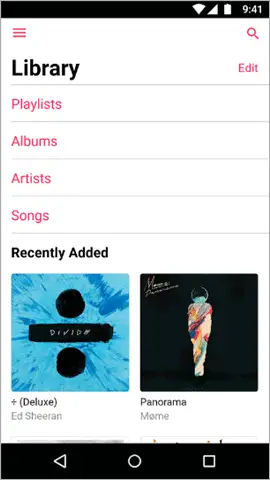 Apple Music is one of the offline music apps that doesn't need Wi-Fi or internet connection while playing your music library. Yes, Apple Music has the option to save audio offline.
You see three dots beside every song or album that you have to tap, and the download option will be seen. Even if you don't see the download option, you can click on the plus sign to Add Songs that will add that song to the playlist.
Although it is disappointing to download each song individually if you have a large number of tracks. Apple Music works with iTunes as well. You can create a profile and follow your friends to see what they are listening to and check out their favorites.
Apple music enhances your music experience by recommending your music based on what kind of tracks you listen to. The availability and features vary by country.
Pros
Just like the option of having Google Play Music for iPhones, we also have an Apple Music option available for Android.
It comes with three months of free trial to decide whether you want the paid subscription or not.
Cons
It doesn't offer anything for free.
The Beats 1 lets you listen to radio stations but with DJs, that is not the choice for many music lovers.
5. LiveXLive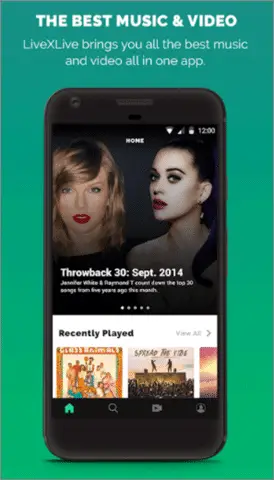 LiveXLive is the best option if you love listening to radio stations. It gives you access to high-quality curated music that you won't find on their stations. You can download and listen to your favorite stations, plus the patented offline mode allows the subscribers to dynamic personalization while listening to their favorite songs.
You can customize radio stations built with your favorite songs and artists. While listening to the song or station, you can easily share it with others. One of the best offline music apps, LiveXLive, displays the similar music of the artist you are currently listening to.
Simply like or unlike a song and LiveXLive will catch on.
Pros
The interface is intuitive and easy to handle.
You can listen to a huge collection of songs for free, but if you want some advanced options, then you have to go for the paid version.
Cons
You cannot skip over a large number of songs, which is tiresome if you are not getting your favorite track soon.
The in-between picture and audio ads are irritating.
6. Napster Music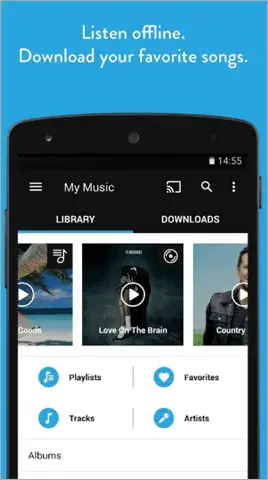 Napster has a vast stock of songs with radio streaming facilities as well. It is one of the best offline music apps that comes with great options. The good news is that it lets you enjoy the songs without any ads breaks.
You don't have to compromise with the audio quality, and it fulfills the requirement of saving songs offline where you can listen to your favorite songs without an internet connection. If you have children who are music lovers, then Napster has a KIDS feature as well. It lets you create your own playlist with its built-in Playlist Builder.
This is where you can personalize your playlists and give them a personal touch with a GIF or even your picture.
Pros
Good sound quality
It has a KID feature that allows kids to listen to their favorite tracks.
UI is easy to use with multiple interviews and reviews about new upcoming tunes.
Cons
7. Deezer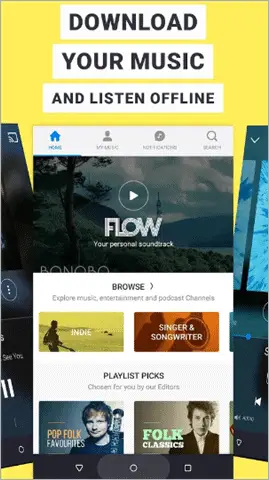 Deezer is one of the best offline music apps. Stream and download your favorite songs to access it offline when there is no Wi-Fi or internet connection. You can create unlimited music playlists and sing along with on-screen music lyrics. You can follow all your favorite artists. In addition, you get to listen to all the new upcoming hits instantly.
Deezer's smart technology helps you discover new songs and albums based on your searches and taste. You get to improve the sound quality when connected to Wi-Fi and customize the audio settings as you require. To download your songs to listen to them in offline mode, you have to go Deezer Premium+.
Pros
The collection is massive.
It has personalized radio.
It comes with built-in lyrics.
Cons
Sometimes you experience that the songs end up playing before their actual time.
8. Amazon Music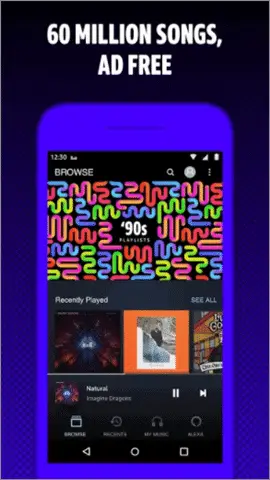 If you are a prime member, then Amazon Prime Music allows you to stream over 2 million songs. You can listen to your favorite tracks without any interruption of unwanted ads. Now you can carry your music collection anywhere you go and listen to them offline.
Simply start listening to your favorite tracks where the playlist is curated by music express or customize stations that fit your mood and every moment. The on-demand service and unlimited skips make Prime Music one of the best offline music apps that you can get offline too.
You can also try its Amazon Music Unlimited, where you get 3 months subscription for $0.99 if you are a new subscriber.
Pros
The User Interface is elegant.
It contains millions of songs from the old to the latest ones.
Cons
Amazon Music costs more than Google Music and Spotify.
9. Audiomack- Download New Music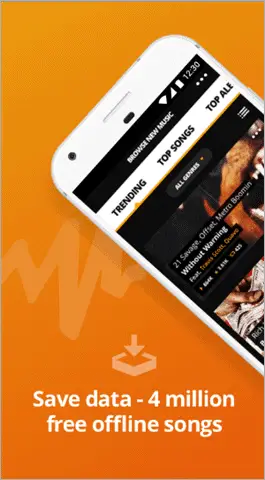 Now stream and download the best songs, albums for free and listen to them even if you are offline. It includes music categories like Rap, Hip-Hop, and EDM. With Audiomack, make any song or album your favorite choice and enjoy.
Create your own list and follow your favorite artist and new and popular artists like 21 Savage, Young Thug, and Future. Its Audiosnap feature lets you custom a 15-second video or images synced to any song that you can export and share on social media.
Install one of the best offline music apps that includes a unique collection and indulge in listening to your favorite numbers.
Pros
You can go ad-free by paying $1.99 per month or stay free forever, which is more than a perfect deal for a music lover.
The collection is new and fresh with trending ones.
Cons
No lyrics can be a disadvantage if you want to sing along while playing your favorite tracks.
Conclusion
We have listed the best offline music apps that allow you to save tracks offline and listen to them when there is no internet connection available. All the apps that play music offline are available on the Google Play store and can be downloaded for free.
With more and more people resorting to music in their daily lives to overcome stress, a great variety has surfaced on the internet. Some of you might be music enthusiasts or simply love to have some soulful numbers run in the background while running everyday errands or commuting. Whatever be the purpose, you can now enjoy offline music as well.
Related: Beat the Stock: Best Alternative Music Players For Your Android Device