The PDF editors come in many different forms, targeting different sets of audiences based on their complexity and cost. These tools make it easy to handle and work with PDFs. One such tool that offers far more than the normal PDF editing capabilities is PDFelement 8 by Wondershare. We have done a PDFelement 8 review below to give users our honest opinion on its performance, features, and pricing plans. 
Wondershare launched PDFelement 8 on November 27 for the Windows platform and is the upgraded version of PDFelement 7. The tool's simple to use user interface with a wide range of functionalities can target any set of users working with PDFs. 
Who Can Use PDFelement 8?
All the users who use and work with PDFs can opt for PDFelement 8. The following sets of users can make the most of this tool. 
Users who want basic and advanced features related to PDF editing without spending hundreds of dollars on the same
Professionals from HR, finance, marketing, and sales who work with PDF
Students who want to edit, highlight, combine, and pick up points from the notes that are in PDF form
Beginners who have not worked with any complicated PDF editor but wish to start working with it
Based on the above pointers, it can be concluded that anyone can use the PDFelement 8 on their Windows PCs. 
PDFelement 8 Review: Features
We have used Wondershare PDFelement 8 Pro on Windows 10 64-bit operating system. Something that stood out during our PDFelement8 review is overall speed and performance, compared to its previous versions. You can know more about it in the Performance section. The sections below are divided into categories based on the features and functionality it offers. 
Setup and Installation
PDFelement is easy to install and setup. All you need to do is download the software from the official website and install it by following the wizard on your screen. You don't need to make any change in the settings or download any additional software to use the PDFelement 8. 
If you have purchased the software, you can log in using the credentials once the tool is installed on your computer. It can be installed and set up by anyone with little to no technical expertise. 
Download Wondershare PDFelement 8
Design and User Interface
The design and user interface of PDFelement 8 is simple and sophisticated. There is no clutter on the software's homepage, making it easy to navigate to the different functionalities.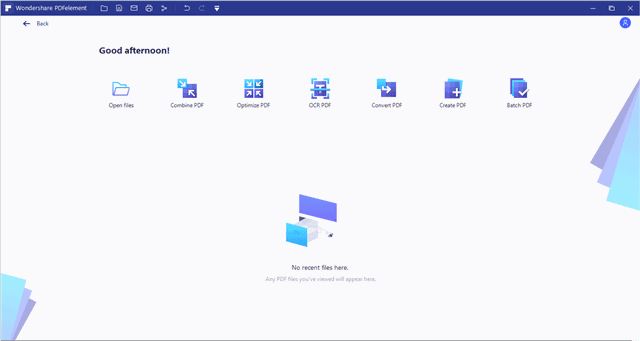 The icons on the top of the software shows what it does whenever we hover over them with the mouse pointer. The sections are separated based on the functionalities, making it easy to find and use any functionality of the tool. 
Create, Annotate, and Convert PDFs
With PDFelement, you can create PDF from any form of the document, and the created PDF can be viewed using any tool. 
You can annotate, comment, add images, backgrounds, watermark and do much more on your PDFs with this tool. All this can be done without going through any special tutorials or guides. 
You can easily convert the PDF to Word, Excel, PPT, image, and text form in one click. 
You can create and convert PDFs easily using PDFelement 8. 
Combine and Optimize PDF
You can combine many different PDFs in one using the Combine PDF feature of PDFelement. It can help students who want all their notes in one PDF, so they don't need to manage multiple PDFs. Also, resumes can be combined in one PDF, making it easy for HR to go through all candidates' resumes at once. 
Wondershare PDFelement 8 offers to reduce the size of your PDF.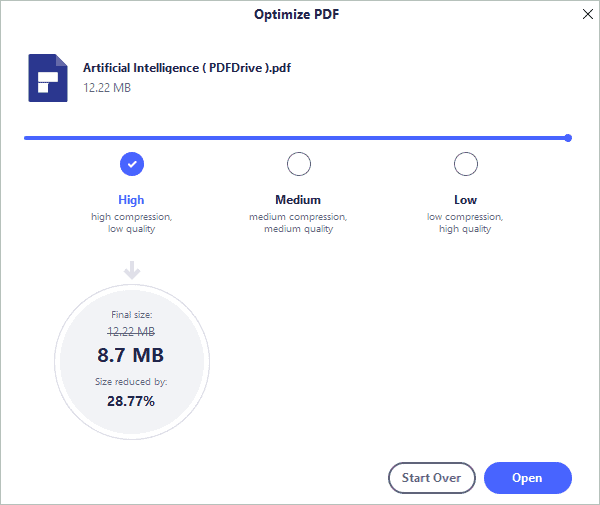 This feature can help you compress the huge PDF to attach it over a mail or messaging application. There are three options for optimizing PDFs, High, Medium, and Low. You can opt for the one you need as per your requirement. 
OCR PDF and Batch Processes
OCR (Optical Character Recognition) functionality allows you to edit the text in the PDF. This feature needs to be downloaded separately in the application. 
Once the OCR is downloaded, it is easy to use this feature to remove any information from the PDF or add something to the document. You can perform the same operations on multiple PDFs at one time with PDFelement's batch processing functionality. 
This saves you from performing the same tasks on multiple PDFs separately. 
Fillable Forms
You can add, edit and create forms in PDF or web forms using PDFelement 8. The forms can collect data so that the analysis can be carried out. You can use it to create PDF fillable forms or surveys or client's data collection. 
Security
PDFelement 8 allows you to add password protection to the PDF so that only authorized users can access it. You can also add digital signatures to the PDF for the recipients to validate the documents. 
Support
There is online support, user guides, and YouTube videos available for customer support. The PDFelement's user guide covers different sections of the tool and can help you get started with different functionalities of the tool. 
You can also watch their YouTube videos to know how to carry out any specific tasks in PDFelement 8. 
The online support has two options; one is to submit the ticket with the issue you are experiencing, and the other one to chat with their support team. With the different forms of support, it becomes easier to get the issue resolved. 
PDFelement 8 Review: Performance
While using PDFelement 8, there were no lags and delays. The large PDF was also loaded quickly in the tool for editing. 
The boot memory of the PDFelement 8 is reduced to 40MB from 120MB in the previous versions. There is a reduction in startup speed as well in this version of the software. We didn't experience any crashes on our system. However, as per Wondershare, there is a 50% reduction in crashes as well.  
The tool's overall performance depends on your system and file size that needs to be worked on, so it can be different for different users. 
Pricing and Plans
Wondershare offers two plans for PDFelement 8, one is Standard, and the other one is Pro. The pricing for PDFelement Pro starts with USD 79/year. And the pricing for the Standard plan is USD 69/year. 
The Standard version is just like the basic PDF editor and does not support advanced features. If you want more key features of PDFelement 8 like OCR, digital signature, and batch processing, you need to opt for the Pro version. 
There are yearly and one time plans for both the above versions. You can check out all the pricing details on its official website. PDFelement 8 also offers a trial version with some limitations. If you want to understand the tool before making any purchase, you can download the trial version. The trial version adds a watermark whenever the PDF is edited or annotated. 
There are also limitations on the number of pages that can be converted in Word, Excel, or any other form in the trial version. However, the look and feel of the tool is the same as the paid version. 
Pros and Cons
There are limitations and advantages in every tool we use. However, the cons can differ based on the user experience and need. Some of the pros and cons which we came across in our PDFelement 8 review are given below. 
Pros
Easy to install and setup
Easy to use without any learning curve
Cost-effective compared to other tools in the market
Can carry out simple as well complex tasks related to PDF
Offers loads of features to work with PDF
Cons
OCR functionality needs an additional download.
The pros are more than cons, which makes this tool worth a try. 
PDFelement 8 Review: Final Verdict
Based on our PDFelement 8 review, we recommend using this tool to carry out basic and advanced PDF tasks. The extensive list of features without any learning curve makes it a great choice for students who work with PDF notes. Wondershare offers an affordable tool with basic features in the Standard version. This makes it convenient for basic users to opt for the PDFelement 8 tool without spending on the features that are not required. 
The trial version can also help you explore the tool and try the limited features yourself without spending any money. Although the list of features is extensive, the tool is lightweight and does not lag at all, which is a plus point for the professional who wants to perform complex tasks on PDFs. 
Overall we would say the tool does what it says without any errors and crashes on our system, at least. The lags and performance can differ on your system based on the memory, processor, and operating system. To be sure, opt for the trial version before paying for the tool. 
If you are sure about the tool the PDFelement 8 Pro lifetime purchase with up to 50% off is a recommendation from us. The Mac equivalent of PDFelement 8 is PDFelement 7. So, if you want such a feature-rich PDF editor tool for macOS, you can opt for PDFelement 7 Mac version. There is also an option to purchase a bundle that works on Mac, Windows, and iOS. Users can also learn more updates and talk with some professionals in their community support group.