We can do pretty much anything on our mobile phones, right from attending conferences to editing documents and taking pictures; it has made our life easy. However, when it comes to switching cell phones, it becomes a tedious task to transfer all the data to a new device.
With EaseUS MobiMover software, it is pretty easy to move data and files from one iOS device to another; you can do so with one click. This iOS data transfer software can do much more than just transferring data between iOS devices.
In this EaseUS MobiMover review, we have covered all its features, pros, cons, along with the pricing aspect and it can help you make a decision regarding using this software.
EaseUs MobiMover Review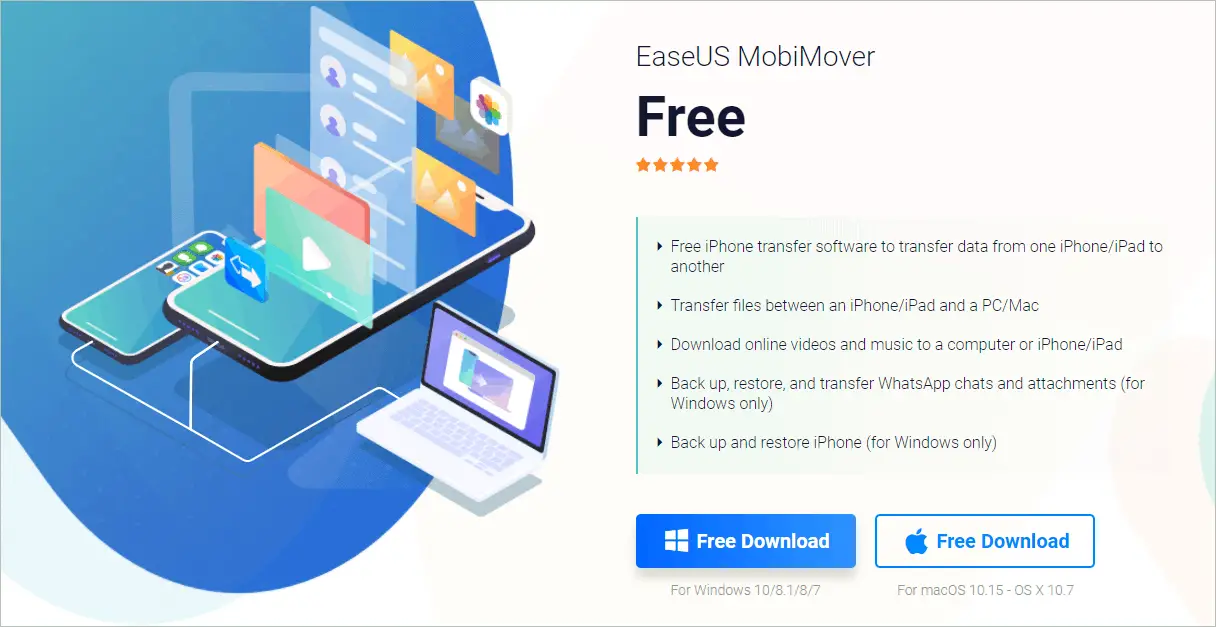 The review is divided into different sections that can help you explore MobiMover from all angles.
Download and Installation
EaseUS MobiMover is quite straightforward to download and install. Once you download the recent version of software according to your operating system, all you have to do is double click on it, and the installation starts in the background.
You may have to click on one or two buttons to start with installation, but other than that, everything is simple, and anyone can do it without guides and instructions.
Design and User Interface
There are two options of theme for the display. We liked the light theme compared to the dark theme. The dark theme makes it difficult to read some options in the user interface. Other than the complexity of reading options, the other part of the UI seems easy to understand.
The sections are divided as per features, making it convenient for users to navigate to the feature correctly. When you hover over the icons in the top-right corner of the software window, it does not give a tooltip about what they do; you have to click on each one individually to know what tasks they perform.
EaseUS MobiMover Features


EaseUS MobiMover aims to replace iTunes as it allows you to backup/restore an iPhone with one click, and do much more.
You can download music and videos from YouTube, Instagram, Vimeo, and other such platforms. We take a look at its major features below.
Ensure your iPhone is unlocked while accessing the app for the first time after it is connected to the PC. If your iPhone is locked and you don't know or remember the password, you can check out MobiUnlock from EaseUS. It can help you get your phone unlocked.  
Content Management
You can manage all the files and applications using the EaseUS MobiMover application on your PC. This feature makes it easy to delete, move, and copy content from your iPhone.
Phone to Phone Transfer
You can transfer all the contents from one iPhone/iPad to another easily with EaseUS MobiMover. All you need is a Windows or Mac computer connected to both the device, and then you can start with the transfer with one click.  
Phone to PC Transfer
With EaseUS MobiMover, you can select what type of file you want to transfer. It can be voicemail, messages, photos, videos, and so on. This gives you an option only to transfer the files you need.
The new folder is created at the destined location; you can go for the default location or customize the location. In the default location, the administrator account folder is selected, even if you are logged in using another account.
PC to Phone Transfer
In the case of PC to iPhone transfer, you can select the number of files you want from the PC and then click on the Transfer button. The process of transferring is simple and does not require any guidance to use it.
Backup and Restore iPhone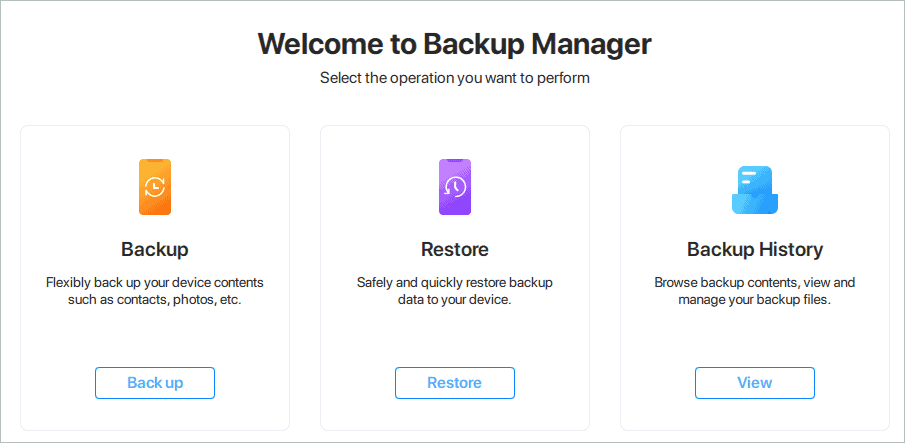 EaseUs MobiMover allows you to backup and restore data to the iPhone. If you have encrypted iPhone backup in the past, you will need the same password to start with the backup process. You cannot start the backup process without entering the password.
Again the backup is easy to carry out; you can select what files you want to backup. During our testing, we restored the created backup with one click. So, the overall backup and restore process is easy.
WhatsApp Manager
WhatsApp is one of the most widely used messaging applications. At times, some crucial chats are in WhatsApp, which needs to be backed up. You can backup and restore chats using MobiMover software.
This software also allows you to transfer WhatsApp messages directly from one iOS device to another. WhatsApp has an inbuilt option that backup and restores chats/media on other devices, so this can only be helpful if you have the inbuilt option disabled.
Video Downloader

If you like to download videos from famous platforms like YouTube, Instagram, and BBC, EaseUS MobiMover can help you with that too. You just need to paste the link and click on the Download button. Make sure you check the downloaded video path, as the default one is the admin folder.
Technical Specifications
EaseUS MobiMover does not support Android devices and Linux/Unix OS. You can use it on Windows and Mac for your iOS devices as long as it meets the below requirements.
System Requirements
Windows 7 and above.
Mac – 10.8 (Mountain Lion) and above.
Supported Devices
iPhone 4s and above;c iPad mini 2 and above, iPad Air, and Pro
Pricing and Plans
EaseUS MobiMover offers a free and paid version of the software. The free version comes with limitations. In the free version, you can only transfer 20 files per day and do not get an option to restore an iPhone using the created backup.
The transfer and backup of Whatsapp chat are also not available in the free version. If you need all the features along with 24/7 technical support, you need to opt for the EaseUS MobiMover Pro version.
There are 3 plans in the Pro version, monthly, yearly, and lifetime.
The 1-Month plan is for USD 23.95, the 1-Year plan is for USD 29.95, and the Lifetime Upgrades plan is for USD 69.95. There is a 30-day money-back guarantee if you don't like the software or have any sort of issues. Given the pricing structure, in our opinion, it makes sense to go for the lifetime option and have the option to keep it in your toolkit for use whenever required.
Support
As mentioned above, when you opt for a paid plan, you get 24/7 support. There is email support, live chat, and phone call; you can choose any one to get in touch with the support team with your queries.  
Pros and Cons
All the products come with their share of pros and cons. In our EaseUS MobiMover review, we experienced different advantages and limitations.
Pros of EaseUs MobiMover
Easy to install and use.
Fast data transfer without any configurations.
The free version supports most of the features, except backup restoration.
Clean user interface.
Offers a lifetime license with all future updates.
Has a 30-day money-back guarantee.
Cons of EaseUS MobiMover
It is iOS only and does not support Android phones.
Difficult to read some options when a dark theme is selected.
The default file storage location is Administrator account even if logged in using another account
No option to restore any backup for the free version, even on a limited basis
Final Verdict
For this EaseUS MobiMover review, we put the software's features to the test from the point of view of practical usage. We found some of its features are really useful that can make your transfer process much convenient. You can regularly transfer images and videos from your iPhone/iPad to your PC to make some space. This is a good option if you don't want to be paying for extra space in iCloud. Overall, EaseUS MobiMover is easy to use iOS data transfer and management software.
The WhatsApp manager feature didn't impress us, as the app's inbuilt capability to handle the backup-restore is more favorable. The video downloader is available in the free version as well, so you don't need an extra expensive app to download videos from famous platforms. Live chat, phone calls, and email availability for support make it feasible for all users to connect the team for queries.
Overall, the app is a good option for downloads, backup, restore, and file transfers. If you are looking for software that supports these features for your iOS device, give EaseUS MobiMover a try.