We all need a graphic designing tool to edit pictures and videos. Be it for hobby or work, we all need an easy-to-use and cost-effective tool. With the rise of online graphics editing tools, it becomes difficult to find a perfect and reliable option that suits your needs.
Crello is one such online video and graphic design tool. Our Crello review can help you make a better decision. You can explore its features and pricing plans to decide whether it is the right fit for you or not.
What is Crello, and Who can use it?
Crello is an online graphic design tool that can help you create posters, social media stories, certificates, videos, zoom backgrounds, and many more things in a few minutes. The tool is easy to use and, therefore, can be used by everyone.
People in small businesses who don't want to invest in graphic designers can use Crello to create posters, banners, recipe cards, storyboards, tickets, and much more. The marketers, social media managers, influencers, teachers, students, and hobbyists can also use Crello editor.
You can use this online graphics tool for hobby or professional purposes. It has a vast library that can inspire everyone and anyone. For this review, we explored various features of Crello and looked into it strengths and shortcomings. Let's dive into it.
Crello Review: Features
There are many professional and straightforward features that Crello provides. We have divided those features into sections below that will make it easy to understand them.
User Interface
The user interface (UI) of Crello is neat and clean. It is easy to navigate to the sections and access different features. Crello UI is pleasing to the eyes as there is no clutter or unwanted ads on their website.
Graphic Designing Tools
Crello has relatively easy tools to design your graphics. There are templates available that make it a cakewalk for newbies entering the world of graphic designing. You can create your tickets, banners, resumes, posters, menus, business cards, t-shirts, and a lot more by using the templates provided by Crello.
You can add your photos, logos, music, animation, and text to the design you are creating. It is easy to share it across social media platforms, Facebook ads, and embed it via link. If you share the created image via the link, anyone without a Crello account can also view it without issues.
There is also an option to create a custom size design as per your requirements. Professional designers and non-specialists used the tool during our review of Crello; both found it interesting and valuable to create graphic designs.
What did we like in Graphic Designing Tools?
Easy to use tools
Can align photos and texts easily
Variety of templates to choose from
Fun animation elements
Option to change the layering of templates as per requirements
What didn't we like in Graphic Designing Tools?
No template available for custom sizes
Filters are specific to images only; you cannot apply filters to the entire design.
You cannot play around with the color of background images
Cannot copy style applied to one text or images
Video Designing
You can create full HD videos, video stories, ads, and covers with the help of Crello. The editing window of the video is the same as the image editing window. Therefore, there is no learning curve between these two features.
Crello also introduced functionality to edit Tiktok videos. So, if you are a fan of making Tiktok videos, you can add animations, different music, and other fun elements to your videos.
We experienced one issue while sharing created video via link. The video plays without music when opened in the browser via link. You need to right-click on the video and select 'Open video in new tab' to play it with music.
What did we Like in Video Designing and Editing?
No changes in the editing window, which makes it easy to deal with video designing/editing
Option to add voice memos and personal music to created videos
Allows to change video duration
Brand Kit
You can create your brand kit with Crello by adding logos, color palettes, headings, and subheadings with specific text styles. Well, this feature makes it easy to design ads, covers, banners, and other such company-specific material without creating or adding everything again.
It can be improved by adding the option to add a specific set of images to the brand kit, which is used frequently. Although you can upload images to the folder in Crello, it is not part of the brand kit. And also, you need a Pro account to use this feature of Crello.
What did we Like in the Brand Kit?
Easy to manage company's logo,
Color palette, and
Text styles under one roof
Background Removal
Crello can remove the background of any image or graphics in static visual formats.
The process of removing background from any image is pretty simple. All you need to do is select the image and click on the Remove Background option in the editor window.
This feature can be beneficial when you want an image with clutter or unwanted objects in the background. You can use the same image with different locations using the Crello tool. Again, this is a Pro version feature.
What did we Like in Background Removal?
It helps to remove the background from any picture, and
It gets the removal quite right.
What didn't we like in Graphic Designing Tools?
If your image has dark shadows or colors similar to the background color, it will be removed with the background. This will crop your image inappropriately.
Support
You can send your request to the Crello support team on their support page. They also have a Crello Users group where you can post your questions and issues. Crello team members and current users can answer the questions in this group.
The group is closed, so you need to send a joining request by visiting Facebook to read the answers or add queries.
Other Features
There are some other features that we liked while using Crello and thought of mentioning them.
You can create as many folders as you want to separate your projects in Crello. Some other online graphic tools, like Canva, impose limitations.
Crello provides unlimited cloud storage with the Pro version.
It is cheap compared to some other online graphics tools.
Pricing: How much does Crello cost?
Crello is free for a single user, and you can enjoy all other features like access to template collection, tools, free stock images, and HD video clips.
The free plan, known as Starter, is lovely if you are just starting with graphic designing. You can download only five designs per month, and you cannot use the Brand Kit and some other features with the Starter Pack.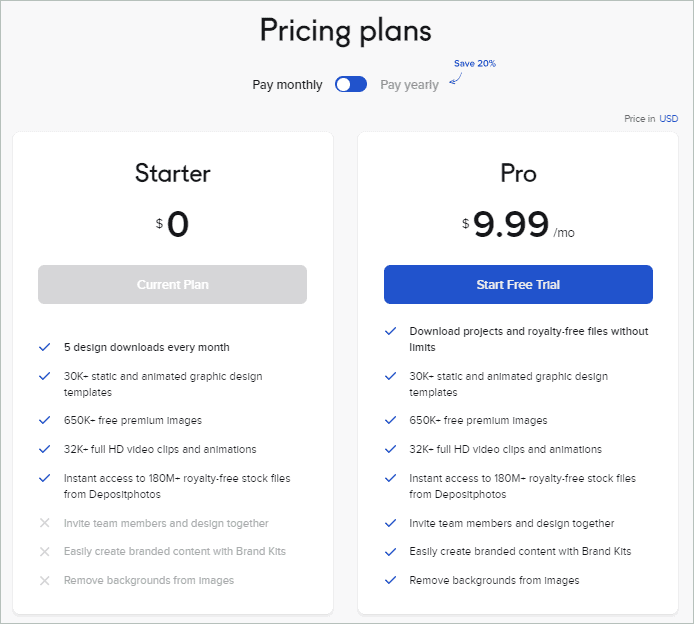 Also, five downloads per month are pretty less for companies who wish to remain active on their social media platforms or need frequent designs.
Crello costs 9.99 USD/month for the Pro plan, and if you opt for a yearly subscription, it costs you 7.99 USD/month. With this plan, there is no limit to the number of downloads per month. If you work with a team for designing graphics and videos, you will need a Pro plan as it allows you to design with a team together.
There is a free trial of 7 days before they start charging you. You can cancel the Pro subscription any time before seven days and get your money back.  
You can get access to the Depositphotos image library by paying 0.99 USD extra. The images from Depositphotos can be used for digital and printer use.
Pros and Cons of Crello
Every software and application comes with its set of pros and cons. Here are some things about Crello that are great, and some things that are lagging or can be improved from our point of view.
Pros of Crello
It comes in the form of a web application, so you can use it on any operating system without downloading or installing it.
Crello app is available on Android and iOS stores for download
Access to all major features in the free (Starter) version
Easy to use and no significant learning curve
Multilingual support
Access to Depositphotos library
Cons of Crello
Only five downloads per month in the free (Starter) version
The brand kit can be improved for professional users
Some standard fonts like Arial are not available
It does not provide blur, smart resize, and retouch features.
The pros and cons can differ from person to person based on the use and requirements.
In our opinion, the pros outweigh the cons of Crello – but you should use the web app yourself and check out what you like and dislike.
Crello Review: My Final Thoughts
Being from a non-graphics background, I found Crello very easy to use. The drag and drop feature makes it easy to move things around in the design. Crello made it simple for me to create and organize files in folders, which is nice.
I tried designing a simple poster with Crello and was able to do it in a few minutes. It is a perfect tool for beginners like me who wish to create posters or make a personalized greeting card for special ones.
Also, removing and replacing some texts/images from the templates was not possible. I tried creating a Pinterest graphic for a friend and found it difficult to replace the image on the template with my image. So, if you wish to modify the existing template, it can be difficult for a person with no experience.
Although it is a graphic designing tool, it would be great to have some photo editing tools in Crello to make it a one-stop destination for everything. Crello does have filters and crop image options. Still, an additional beautifying tool can be helpful for users who want to edit images and create greetings, posters, and stories.
A Designer's Take on Crello
We got a person from the design team to use Crello and give her opinion. She did like it for designing simple things, but she found the tool lagging when it came to complex designing compared to other graphic designing tools available in the market.
There were no effects for text in Crello; you need to use an image with a simple font style. If you wish to play around with the image, you need to change its layering and color manually, which is a lot of effort to add text to the design.
Crello falls short for professional users who need to work on detailed and intricate designs. You may like the tool if you are just starting with designing, but the professional working in the graphic industry for a long time may find that the tool is not ready for professional use.
Should You Use Crello?
Anyone with or without any knowledge about graphic designing can use Crello easily. If you are a budding graphic designer or social media influencer, you can get started with Crello to edit images and create videos for your profile.
Crello is also excellent for working with templates and patterned designs when delivering designs in bulk.
However, if you are a professional graphic designer with vast knowledge about the subject and use professional tools, you may not find Crello useful for your work. You will need tools like Adobe Photoshop for your work. This primarily depends on the type of work you do as a graphic designer.
Should you use Crello? The answer to this question depends on your profession, skill set, and requirements. The features provided by Crello can help many make exceptional designs for their personal or professional use, based on the level of detail required. As we wrap up this Crello review, we can recommend Crello, but we suggest you try it out yourself to see if it suits your workflow.