Apple Snow Leopard is the latest version of the Mac OS X series of operating systems, released y Apple Inc. The Mac OS C series was a successor to the 'Classic' Mac OS – Apple's primary operating system since 1984.
The Snow Leopard OS X was released in direct competition with Microsoft's Windows 7 Operating system. The Snow Leopard release was not a complete system overhaul, but rather a collection of hundreds of smaller refinements to make Leopard run more gracefully and offer a smoother and easier user experience.
Over the years, all the releases of the Mac OS X series have been named after the big cats:
Version 10.0 : Cheetah
Version 10.1 : Puma
Version 10.2 : Jaguar
Version 10.3 : Panther
Version 10.4 : Tiger
Version 10.5 : Leopard
Version 10.6 : Snow Leopard
The Apple Snow Leopard OS also offered some wonderful wallpapers which we present in this Windows Theme.
The Apple Snow Leopard Windows Theme consists of 30+ Hi-res Wallpapers, Custom Icons and soothing sounds from the Mac OS to get that Apple OS X feel on your Windows desktop.
Apple Snow Leopard Theme Screenshots:
Custom Icons And Sounds For The Apple Snow Leopard Theme:
We have included the icons from the Mac OS X to make this Windows 7 Theme as original as possible. They would replace the same old boring icons and enhance the desktop.
We have also included various sounds from the MAC OS in the themes. You would hear them while applying as well as starting and shutting down the computer.
Download Apple Snow Leopard Windows 7 Theme:
We have a dedicated download page for this theme. You can also explore various other Windows 7 Themes on our themes download page.
Download Apple Snow Leopard Windows 8 Theme: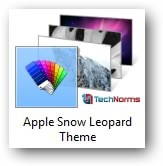 Interesting Facts and Trivia About Mac OS X:
Mac OS X, whose X is the Roman numeral for 10 signifies an Unix-based graphical operating system, built on technologies developed at NeXT.
Mac OS X project was earlier known as 'Rhapsody'.
Mac OS X is the tenth major version of Apple's operating system for Macintosh computers. Previous Macintosh operating systems were named using Arabic numerals.
Snow Leopard only supports machines with Intel CPUs.