In the browser market dominated by Internet Explorer, the entry of Firefox defined the start of a new era. With the entry of Google Chrome, the browser wars have heated up further. This war will continue, but in one area, Firefox beats all other browser – Artistic Representation. In this area, Firefox has no competition.
The name Firefox itself inspires art and imagination. This has led to creation of a variety of artistic digital content about it. Some representations of Firefox are delicate, some fiery, some artistic and some are just minimal. All of these carry a subtle feel of brand Firefox. For those who love this browser, here is a collection of some of the finest Fire(fox) – works for your desktop.
Firefox Windows theme consists of 30+ Hi-Res wallpapers, Custom Firefox icons and sounds to bring your favorite browser right to your desktop.
Screenshots For Firefox Windows Theme:
These are just a few of 25+ incredible Firefox wallpapers you get with this theme. Download the theme to get them all.
Custom Icons and Sounds For Windows 7 Firefox Theme:
Like always, we have selected a unique set of custom Firefox Icons to go with this theme.  They will replace the previous icons on your desktop with new refreshing Firefox ones, much like the one you see below.
We have also included some pleasing music to go along with this theme, something in our opinion, that would suit the Firefox theme quite well. You would hear these sounds while applying the theme as well as starting and shutting down your computer.
Download Windows 7 Firefox Theme:
We have a dedicated download page for this theme. You can also view various other themes in our Windows 7 Themes Gallery.
Download Firefox Windows 8 Theme: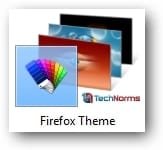 A Few Fun Facts & Trivia About Firefox:
The Firefox browser came as a public launch by the name of Phoenix browser.
After this, the browser came to be known as Firebird.
The browser took on its current namesake – Firefox – On Feb. 9, 2004.
The other animal that the developers considered for the Firefox logo was, unbelievably, The Red Panda.