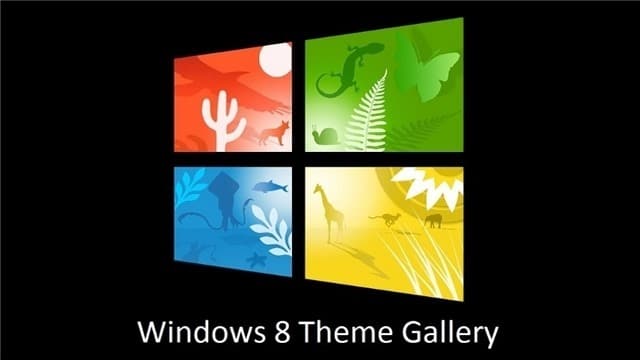 We have been in the business of creating themes for Windows 7 for almost three years now. Something which started as a hobby of creating the themes for personal desktop soon took the shape of a full-fledged gallery as our readers loved the themes we created. The Windows 7 themes in our gallery have been downloaded millions of times, encouraging us to keep on making high-quality themes for all those who enjoy customizing their desktop.
As such, the start of a Windows 8 theme gallery was a mere eventuality with the release of the latest OS by Microsoft. The Windows 8 themes gallery is now being launched with over 30 of our best Windows 7 themes prepped and repackaged specifically for Windows 8. Here are a few things that you should know about the theme format of Windows 8 and why a different file format is used here.
Difference between Windows 7 and 8 theme formats
The major difference between the theme formats for Windows 7 and Windows 8 is the file type. The extension of themes in Windows 7 is .themepack while that of themes in Windows 8 is .deskthemepack. The major feature that the Windows 8 offers for themes are support for panoramic wallpapers for multi-screen setup and automatic Aero effect.
The automatic Aero feature remarkably enhances the look of your desktop as the aero color automatically changes to match the color of your current wallpaper. The desktop never looks odd as the wallpaper is well complimented by the taskbar, giving your desktop a more pleasing look.
Support for multiple screens is not something that most users require but it is a welcome addition to the Windows 7 themes which do not support it at all.
These features bring about the need to have a different theme file extension and also add exclusivity to the personalization options of Windows 8.
Compatibility
Windows 8 offers compatibility to the .themepack file format from Windows 7. That's why Windows 7 themes can be used with Windows 8.
However, the reverse is not true. Windows 8 themes (.deskthemepack format) cannot be used with Windows 7.
TechNorms' New Windows 8 theme gallery
We have picked the most popular themes from the various categories of our Windows 7 themes gallery and repackaged them for Windows 8.  While we have created over 30 themes specifically for Windows 8, other Windows 7 themes can still be used with Windows 8. All the themes created henceforth would be created for both versions and will be added to respective galleries.
If you use Windows 8, keep an eye out on our Windows 8 theme gallery. There are a lot more themes coming!
Gallery Content: