From the introduction of the very first Google-branded phone, the T-Mobile G1, Android has heavily relied on buttons for navigation. Even more so than iOS (which limits itself to a power button, volume keys, and home button), the open-source OS from Mountain View likes its softkeys and hardware pressable. Put it this way- when HTC released the One with only two hardware buttons for navigation, people complained. A lot.
However, the announcement of Ubuntu Phone has popularized a different way of doing things. It offers navigation entirely through swipes and gesture rather than by buttons. Between that and a radical new look (that you can also get on Android with some clever theming), Mark Shuttleworth's company created something new and unique, something that you can't get on other OSes.
Or can't you? We took a look at the idea of a buttonless interface and tried to replicate it on an Android device. We've covered this once before on Android when we looked at how to theme your phone like an Ubuntu device, but it wasn't as complete as this (although this still isn't as good as straight Ubuntu).
For this challenge, we tried living without any buttons – hardware or navigation. No power button. No soft keys. No volume rocker. The results (and usability) were surprising.
Working With An Android Device Without Buttons
The first and most important app we found to assist with buttonless navigation was Glovebox. It's a great app launcher that you can activate at any time by swiping in from the side.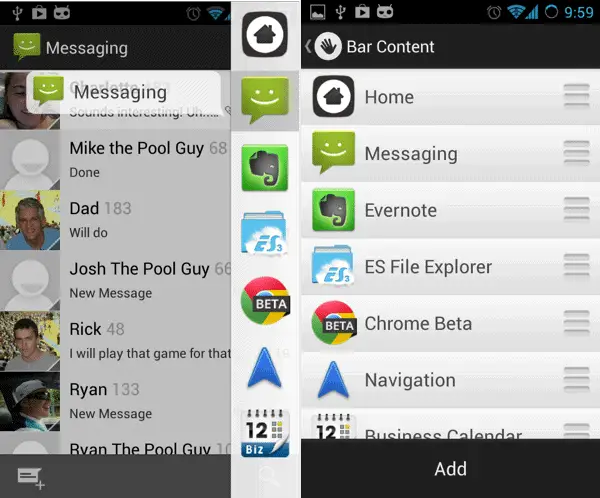 This activates a menu of quick apps, shortcuts, and widgets. You can also use it to go home and switch between recent apps or a set of favorites. The setup is fast and seamless. It feels much more friendly than the equivalent menu launcher on GMD Gesture Control Pro.
We liked the built-in customization and excellent performance. You can adjust the favorite apps, hot zones, sensitivity, active edges, and custom gestures. Even if you want to keep your buttons, definitely try this app.
The only issue with Glovebox is that it has to be used on the right side. Apps like Google Music and Spotify use the left-handed swipe for a menu. It's best that Glovebox doesn't interfere with these.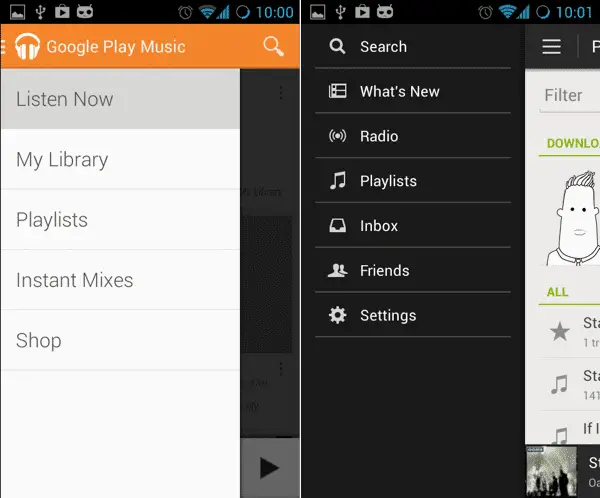 One thing Glovebox lacks is an option for the back button. That has to be added manually with GMD Gesture Control, a great app that can do almost anything with custom gestures.
If you shell out for the pro version ($5.56), you can add custom gestures to the setup to avoid using only the defaults. We added a simple swipe in from the left to go back. It's simple and effective.
Another Tip: try to keep the hot zones above the keyboard area. We ran into some issues with using Glovebox and Swype (a favorite from our time with the Galaxy S4) simultaneously. Without careful hot zone management, swiping any word beginning with "p" becomes frustrating.
Hardware Activation
Managing the power on and off state of the phone is the hardest without buttons. Simply put, turning the screen on and off is way easier with a power button.
But since we're not using that, we'll try some interesting fixes. For putting the phone to sleep, we used the built-in functionality in CyanogenMod 10.1 to put in a sleep shortcut into our quick settings panel in the notification bar. This puts sleep mode a simple swipe and tap away.
Waking up the phone is harder. The first app we tried was Tap Tap, a service that claims that it can wake the phone with two swipes over the proximity sensor. However, we found it too glitchy for regular use.
Instead, we recommend Gravity Screen Off, an app that tries to calculate whether the phone is in your pocket based on the proximity sensor and gyroscope. It's much more reliable.
For the volume, we recommend trying Slider Widget. It effectively manages your volumes for media, notification, and system sounds from the launcher.
Results and Impressions
The no-button experiment felt like a mixed success. Glovebox worked incredibly well. We liked its approach to fast multitasking and easy app access. It genuinely adds value to the basic Android experience.
However, the hardware stuff felt contrived. Using the power button is more reliable than hoping that Gravity Screen Off works. Similarly, the volume keys are more efficient than exiting to the launcher every time to change the volume.
In terms of practicality, it's all subjective. That said, we subjectively liked Glovebox a lot more than everything else. Give that app a try. It helps.