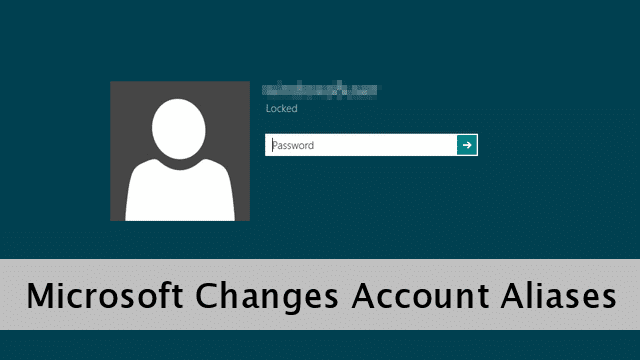 Microsoft unveiled changes to how account aliases work. You'll no longer have to create a new Microsoft account and sync it with your Windows 8 installation should you want to change accounts. Instead, you can create a new alias in your Microsoft Account and use that to login and use Windows 8 and the various other Microsoft services associated with the account.  Let's take a look at the process and how this can both harm and help you when on your Windows 8 or 8.1 PC or device.
See Also: How to Log On to Windows 8 Automatically with a Microsoft Account
How Account Aliases Work in Windows 8 or 8.1
Microsoft has always allowed users to take advantage of aliases in the past, similar to how other services use the same type of alias feature. However, many Windows 8 users wanted to use an alias as opposed to being forced to create an account when they upgraded or installed the OS. Microsoft has never allowed that until now.  This was an additional way to secure an account, have some privacy and could be used as a countermeasure to unauthorized logins.
Eric Doerr, Group Project Manager for Microsoft Accounts, explains it further:
"We're replacing rename with a simpler and clearer choice to make any of your aliases a primary alias. We've also made it clearer why you might want to do this (and why you might not).  Now that you can sign in with any alias, really the only reason to make a different alias [from] your primary one is if you want a different email name to show on your Microsoft devices, like the background of your Xbox or your Windows 8 PC."
There were a lot of loopholes to renaming an account and the process could be cumbersome depending on how a user first created the Microsoft Account. You could essentially in a worst case scenario be completely locked out of your Microsoft Account's primary e-mail account for up to 30 days if you followed the process wrong in several places. That's one of the reasons why Microsoft has made this change to how aliases work in Windows 8.
Let's take a look at how these changes work and what concerns users have with Microsoft Account aliases in Windows 8 and 8.1.
Using an Alias in Windows 8 or Windows 8.1
The instructions shared below will work in Windows 8 or Windows 8.1 and requires an Internet connection.
Head here to login to your Microsoft Account on the Web.
Enter your password and click "Sign in."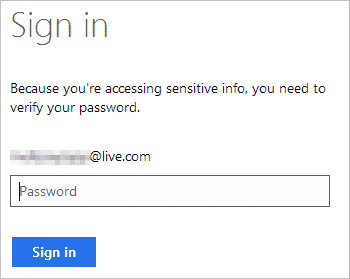 Depending on your security settings, you many need to do verification to prove your identity. Go through the steps and continue on.
On the main screen, scroll down until you see Account aliases.
Click on "Add or change aliases" to enter the options for your Microsoft Account.
If you have several aliases already set up, you can click "Make primary" underneath one to make the switch to it.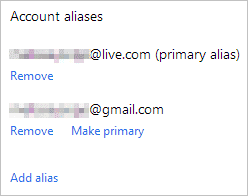 Otherwise, you can click "Add alias" to create a new one to use as your primary login for Windows 8 or Windows 8.1.
When creating an alias, you can create a new e-mail address with Microsoft or you can use an existing e-mail address, such as a Gmail or Yahoo account, to use to login to your Windows 8 or Windows 8.1 account.
You're also able to use these aliases to login to SkyDrive, Xbox Live and other Microsoft products that use the account system.
Privacy and Microsoft Account Aliases
There are some concerns with the changes, mainly related to privacy. Many users utilized aliases to keep prying eyes away from their primary Microsoft Account e-mail address.
In this case, that e-mail address can still be seen, even when using an alias, when you share files via SkyDrive. This essentially nullifies any semblance of privacy when using SkyDrive to share files and juggling multiple aliases.
For some, being able to log into their primary Microsoft Account with multiple aliases also makes the account less secure, because anybody with an alias can then access to the account with the password, regardless of whether they have the primary e-mail address.  Depending on what you want to do
Microsoft has yet to address those concerns, but we'll report on that and update this post when they choose to make those changes.
There are a variety of ways to control the privacy and security of your Microsoft Account.  You want to choose a unique, complicated password to make it harder to crack.  Using an e-mail address that is standalone and has never been used for anything else can help, too.  Making sure you always log out of your Microsoft Account on the Web, along with logging out of your PC, also protects your account and your information.
Conclusion
This process will make it easier for Windows 8 and 8.1 users to use the e-mail addresses and aliases they want instead of what they upgraded or installed with. Whether you're changing your name, your e-mail address or your only moniker, Microsoft has made it much easier for Windows 8 and 8.1 users to have control over how they log into to Microsoft products.  For those who are concerned about security, now that the changes are live, you may need to find another way to feel more secure when using Windows 8 and Windows 8. for now.
Do you use Windows aliases for your Microsoft Account?  What do you use them for or does it just make it more secure for you to logon to Windows?  Share your experiences and thoughts with us below!